Minutes with Trina Hahnemann
Dubbed the Danish Delia, Trina Hahnemann is one of Scandinavia's most popular cooks and food writers. Although based in Copenhagen she spends most of her time in the UK and US spreading the word about Scandinavian cooking.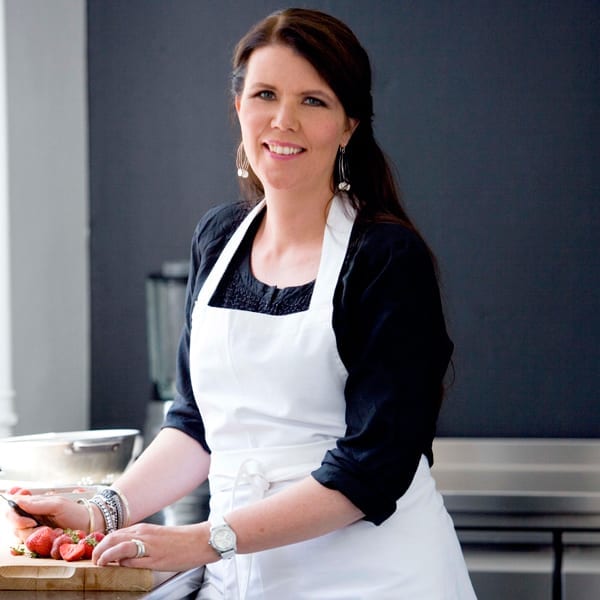 What are you currently working on?
I'm going to do a pop-up restaurant in London for two weeks in the winter, so people can see that there's much more to Scandinavian food than herrings. I'm also planning a tour of America, to promote rye bread. It could be the next big thing. Opera Winfrey went to Copenhagen and absolutely loved it. Now everybody's been emailing me for recipes and interviews.
Do you agree with predictions that Scandinavian cuisine is to become the next food trend in Britain?
The interest is there; I think because we have the same ingredients as in England. It's a new and interesting way of looking at food.
Which Scandinavian flavours and dishes suit the British palate?
All the things that are coming into season now, like asparagus, strawberries, and potatoes. And also fish like mackerel and salmon, and the many ways of doing cabbage. Just recently I did pork cheeks in elderflower cordial with fennel and people just loved it.
What is your favourite dish from your book: The Scandinavian Cookbook?
Right now it would be the spring salads; I'm always very excited when the season changes.
What are the differences in styles between Norwegian, Swedish and Danish food?
All three countries have a lot of regional dishes. In the north [of Scandinavia], they tend to eat heavier food, like reindeer and elk and a lot of potato. In the Norwegian countryside you have a lot of salted game and fish, flatbreads and soft breads. Bread is the thing that we all have in common. But the new Scandinavian food that
(voted the world's best restaurant) is an ambassador for is a modern version of the ingredients; it has nothing to do with the traditional way of eating.
As a cook, who's your biggest inspiration?
When I started cooking I learned a lot from
and
– it's from her book that I got my ideas for chutneys. But also my grandmother and mother. My mother's [style] was very modern and my grandmother's was very old-fashioned.
Now that Demark is home to the world's best restaurant – Noma – will people look at Scandinavian cuisine in a different light?
I hope so, but Noma's success has to be followed up to create more interest. We have an opportunity, there is a big window open right now, and we can make a lot out of it. All the [Scandinavian] countries are starting to increase awareness and show the lovely products that we have, and show why new Scandinavian cooking is such a great new thing; why it's healthy and tastes good.
Have you eaten at Noma? What are the differences between your approach and Rene Redzepi's?
I've eaten at Noma seven times over the last five years. The difference between us is that he works in a Michelin star restaurant. He brings cooking to another level and tells an amazing story about our food culture. It's the best restaurant I've ever eaten in. I couldn't say enough nice things about him. But you can't compare that to everyday food. He's looking for perfection. Everyday food and being healthy is not about perfection. It's about giving an alternative that is doable.
Norway Day is 17 May: what are you experiences of the day?
There's a big celebration. All the children are dressed up in national clothes and the Royal Family will be waving from the balcony, and then [everyone] will go home and have a party or a nice meal. It's a big thing.
You're an advocate of
– Norway's number one export – is it a versatile ingredient to use in cooking and how do you like to use it?
I have it in my scrambled eggs in the morning and it's very good with tarts and for baking breads. I also just eat it [as it is]. It's not as flaky as cheddar and it's a bit like Emmental, but not as salty.
Hamish Smith talked to Trina
.
You can buy Trina's excellent
.
Subscribe to our magazine
Food lovers, treat yourself this Christmas... Enjoy 12 months of magazines for £29.99 – just £2.50 an issue.
Subscribe
Unleash your inner chef
Looking for inspiration? Receive the latest recipes with our newsletter