Not a fan of online shopping? Here's why going to an actual supermarket is such a joy
Shopping online is all very well, says writer Polly Glass, but there's a lot to be said for the tactile pleasures of proper food shopping – and it doesn't have to be a fancy farmers' market.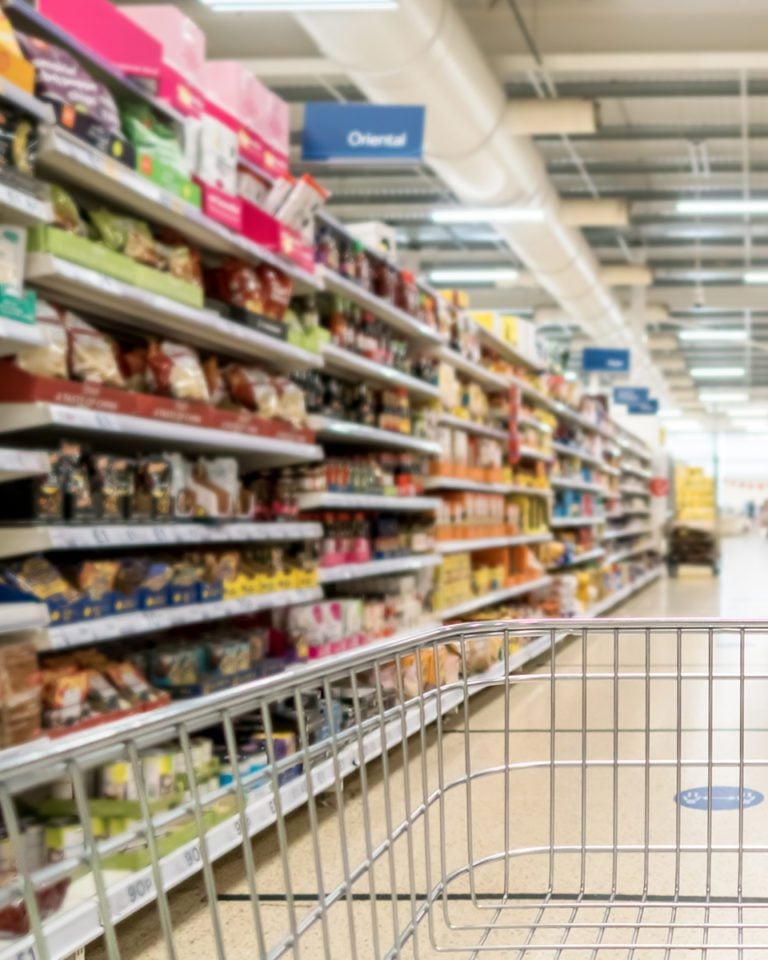 I don't know if I'm alone on this, but one of my favourite places to go on a quiet weeknight is my local supermarket. Late evenings are best, when the after-school shrieks of hangry children have given way to the silence of solo browsers – the tired, the overworked, the jubilant, the despondent, those awaiting the hour when certain items will be stickered as 'reduced'.
In times of stress, there's something peculiarly soothing about those technicolour aisles. During lockdown, my grocery runs became anticipated outings. I could have spent hours gazing up at luminous towers of cereal, taking the edge off the day's fears and existential crises.
The ritual of food shopping is one of our last everyday tools for retaining a face-to-face culture.
Okay, it's a lot less fun with a thumping migraine, say, or a shrieking toddler clinging to your legs. But post-pandemic, as we rediscover the joys of [itals] actual [close itals] shopping, I suspect those of us who like cooking can see past those occasions. All cooking starts with ingredients, so choosing them is an important part of the process. And whether we're in a superstore, market or specialist shop, it creates a connection to what we eat, short of growing the produce ourselves.
But is that connection under threat? Over the last decade, more of us have taken to buying food online. Before the pandemic hit, e-commerce accounted for 8.7% of all grocery sales – by 2022, it was 13.3%. Even with increased support for small local retailers (an upside of lockdown life), the shift to online purchasing has been huge.
It feeds the notion that food shopping is another form of drudgery we're supposed to evolve beyond, as we outsource more of our lives, distancing ourselves ever further from the journeys our goods make.
To condemn online grocery-buying altogether would be naive. It can be a serious lifeline for the stretched or incapacitated. During the pandemic, it was invaluable for millions. But as we emerge from those times, one would hope that the benefits of in-person, basket-in-hand trips won't be lost on subsequent generations.
Being too quick to 'solve' the issue of busy lives, illness or age by enabling people to remain in their homes is to sweep away the human need for communication. The ritual of food shopping is one of our last everyday tools for retaining a face-to-face culture. Even with self-service checkouts, it's one of society's small ways of combating isolation, loneliness, dependence.
Food shops also promote life skills. They're where we're forced to think on our feet about what our ratio of budget-to-available-ingredients will allow. It's often where we find inspiration for our own dishes. If you have children, it's a space for imparting such wisdom to them.
And of course there's the simple pleasure of buying food. The restorative act of browsing through baking ingredients, arrays of yogurt, pasta, spices, slabs of chocolate… There's a simplicity, a primal appeal and sense of plenty in any place that sells food, with its dependable promise of nourishment. Clothes shops tell you how you should look, often aggressively. Food shops offer internal solace.
It would be a shame to outsource that.
Subscribe to our magazine
Food lovers, treat yourself this Christmas... Enjoy 12 months of magazines for £29.99 – just £2.50 an issue.
Subscribe
Unleash your inner chef
Looking for inspiration? Receive the latest recipes with our newsletter