Q&As with Peggy Porschen
Since moving from her native Germany, Peggy has worked at London's Lanesborough Hotel and as a cake decorator for Konditor & Cook. Her beautiful creations attracted the attentions of A-list celebrities and she has made cakes for the likes of Sir Anthony Hopkins, Madonna and Elton John.
Your cakes are exquisite – more like art than food. It almost seems a shame to eat them! Do you see yourself as more of an artist than a cook?
A bit of both, I guess. I was definitely a creative person before I discovered my passion for baking but I think cake decorating gave me the perfect way to express my artistic side even more by combining it with my other passion – cakes.
In your new book 'Cake Chic' there are basic recipes to follow for cakes, icing, etc. Is it fundamental to perfect these recipes before the really creative work starts of decorating?
I have tried to make my books appealing to everyone and so I have worked on the tried and tested recipes to make them both delicious and easy for people to follow. For example, most of my sponge cakes are based on a simple Victoria sponge recipe which most readers would have done before or at least they know it from their mum or grandmother.
I also have included some helpful tips and tricks of the trade with my recipes to make sure everyone's cake tastes as though a professional has baked it! In terms of decoration it is probably best to master the basics before moving on to the more intricate skills but, again, I have included lots of detailed methods for basic cake decorating so they should be easy to master – leaving you free to get really creative with the decoration.
Can people really replicate these designs at home? What's essential? Patience? A steady hand?!
The answer is yes to all your questions! Practice makes perfect and if you are a cake novice then a little patience might be required. Your really have to follow each step carefully with cake decorating as if something goes wrong it could be difficult to go back and fix.
If this is the first time that you have made and decorated a cake I would suggest you start with one of the more simple recipes in Cake Chic, such as the Moccachino Slices or the 'I want Candy' Cookies as you don't need too many specialist skills and tools to make them.
If you have caught the cake making bug already and are up for a challenge than the Mini Orangery Cakes are very unusual or the Pink Poodle Cake is one of my favourites to really master the difficult skills such as steady piping.
A thing of beauty: Peggy's new book
How do you come up with new designs? What inspires you?
My eyes are naturally always drawn to everything pretty and feminine and I love colourful patterns and designs. Everything I see can be an inspiration: a pretty wallpaper design or a printed box, a frilly blouse or the polka dot print on a cushion. I find a lot of my inspiration from the world of fashion, interior and lifestyle, but also flowers and gardens often inspire a new floral design for a cake. I also find mood boards on blogs offer a very good source for inspiration when I have to design something themed or seasonal.
Do you have any favourite designs in your new book 'Cake Chic'?
I absolutely love the Cherry Blossom fancies and Silhouette Cookies (pictured below). They are both very chic and contemporary and perfectly reflect the tone of my new book. Overall, I am very proud of all the designs and feel that the book offers a good balance of fresh new designs that are achievable.
Peggy's portraits
How did you start making cakes and cookies for A-list celebrities, and do you have a memorable design that you made for a famous client?
I was very fortunate to have worked for Lucy Gemmel, the director of Rhubarb Food Design. I was the pastry chef at her catering company at the time when Elton John was looking for an unusual dessert to feature at his annual White Tie & Tiara Ball. The theme was Imperial Russia and the symbol of the event was the famous Lily of the Valley Faberge Egg. I guess I couldn't have asked for a better start in my career; however, the task was quite overwhelming as I had to make 500 edible Faberge eggs made from chocolate and sugar in the height of a very hot summer! The event was a success and this started the ball rolling. I made Stella McCartney's wedding cake next and the rest, as they say, is history.
What's the most unusual design request you've ever had?
It's difficult to think of one particularly unusual request – being a bespoke cake maker, every cake we do is different and many of them really stretch our imaginations! We once had a request from a bride who was getting married in Cairo. She needed a sugar craft expert to help her create a 3 meter tall tower of sugar roses for her wedding cake and asked if I would be able to supply the sugar flowers. We sent nearly 3000 roses to Egypt where the wedding planner and caterers created a cake that was suspended over an infinity pool so that the bride and groom could walk over a candle lit bridge to cut it!
Creative cupcakes
What are you working on at the moment?
I have just come back from a filming and photo shoot for Monty Don's new Channel 4 programme with Wedding Flowers magazine for which I designed a beautiful, bright and colourful Damask wedding cake. I do a lot of media work whenever my time allows – I really enjoy it; it keeps me challenged and makes me come up with new ideas constantly. Other than that we are still knee-deep in wedding cakes as it's the season to get married. After the summer I have some exciting trips planned; I will be a guest teacher at some of the world's most renowned cake colleges – the ICCA in Kuala Lumpur, Malaysia, and the Bonnie Gordon School in Toronto, Canada. I am also holding masterclasses at our own studio in the autumn and before Christmas – to book them, go to our
.
Plans for the future?
We're indeed working on some exciting plans for next year, however I shall keep them hush hush for a little longer… !
What advice would you give to young women like yourself who are interested in following a creative career like yours?
I have been asked this question a lot recently. I think the credit crunch and redundancies has made people re-evaluate what they really want from their career and many people are choosing a more creative direction. First, I would enrol in a basic sugar craft course as this will provide you with a good basic training and fundamental knowledge about sugarcraft. Westminster College in London and Brooklands College in Weybridge are very good. Don't be put off if you find the designs taught a bit old-fashioned – they may be, but it's important to learn the basic skills before you go on to develop your own new and exciting designs.
It is also an advantage to have some business knowledge as working professionally as a cake decorator will be very time- and budget-management based compared to making cakes as a hobby decorator. The next thing to do is to apply for some work experience or a permanent position with a cake decorator and you will find that a recognised course is essential to gain one of these places. The other important thing to do is practise – this will be your chance to get really creative and put together some really excellent designs for your portfolio.
Buy Peggy's beautiful new book here
Portrait photo: Georgia Glynn Smith
Subscribe to our magazine
Subscribe to delicious. magazine for HALF PRICE
Subscribe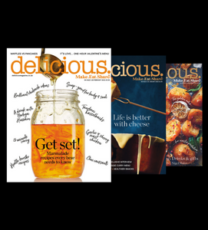 Join our newsletter
Packed with menu ideas, recipes, latest competitions and more...