Q&As with Rick Stein
The Cornish chef talks to delicious. online about his new book, Coast to Coast – influenced by his numerous travels – what cuisines we should eat to lose weight, what makes him a grumpy old man, and how he took on a Balinese delicacy made with pig's blood – and won.
Your new book is your most global, taking in most continents. Is this to set a precedent?
Not really, I just go where the food is good. Having said that though my next book will be about South East Asian cookery. There will also be a TV series to go with it.
You're known for your seafood and fish recipes, but Coast to Coast
has plenty of meat and veggie dishes; was this deliberate?
Yes it was. I wanted it to be a book of personal favourite recipes. Most of my books have been tied into a TV series; I wanted to do a book which was just about my enthusiasm for wandering around the world picking up recipes here and there as I go.
How do you choose what recipes make the book? Is it purely down to taste, or do you aim for a balance?
It's quite a hard choice of both really. I repeatedly agonised over leaving recipes out but had to because there were already too many similar ones.
Do you have a favourite cuisine? And do you find that your tastes have changed as time progresses?
Ultimately I favour British and French cuisine because it's what I was brought up with but just at the moment I'm cooking only South East Asian food because that's where I'm filming and I love the freshness and spontaneity of it. I truly believe sticking to a Thai, Vietnamese, Malayasian, Indonesian diet is the best way to lose weight and also I would say that over the years, I've become more and more keen on keeping cooking simple. Cooking shouldn't be too hard.
Have you discovered a new favourite dish or ingredient as a result of researching this book?
There's a fruit used in Keralan and Goan cooking used in the same way as tamarind called
Kokum
. Its Latin name is Garcinia Indica and it's called 'bhirnda' or 'bhinda' in Konkani (Goan), and 'murugala hannu' in Karnataka, the state of which Bangalore is the capital. Its flavour, though like tamarind, is slightly smoky. It's very distinctive in Keralan cooking. In
Coast to Coast
it's in a Keralan curry of prawns and kokum.
What was the most unusual dish you came across on your travels?
To date the most unusual dish I have eaten is a type of Balinese salad called a
which is a selection of blanched leafy vegetables including water spinach, mixed with a basic spice paste, a combination of galangal and lesser galangal, turmeric, ginger, shrimp paste, garlic, chilli and raw pig's blood. in Bali, they say "Bani ngajeng lawar?" ("Are you brave enough to eat lawar?"). I was and found it quite nice.
What culinary advice would you give to the discerning traveller?
Try everything. I draw the line at dog but try everything else; black water beetles in China were a new taste sensation.
Thinking about the current credit crunch, can you recommend a fish dish or two that are cheap to make?
In
Coast to Coast
I would recommend the Fish Pie or Nasi goreng with mackerel.
You have Cornish pasties in your book; what do you think about the recent controversy that foods can only be named as such if they're made in the place of origin (e.g Cornish pasties/Eccles cakes)?
Where's my grumpy old men hat? I think both the examples, as indeed Scotch eggs or Irish Stew, are now more of a generic description. Maybe we'll have to call it Yorkshire-style pudding!
What are you working on at the moment?
I'm currently filming and writing a book on South East Asia which will be called
Rick Stein's Far Eastern Odyssey
. Both the book and TV series will be out next August or September. It's a fabulous experience, though strong stomachs are called for!
We were saying in the delicious office about how we miss Chalky. While there'll never be another Chalky, do you plan to get another dog?
Chalky was a one-off never to be repeated. I still miss him.
Read our review of Rick's new book,
Coast to Coast
Picture copyright: Noel Murphy
Subscribe to our magazine
Subscribe to delicious. magazine for HALF PRICE
Subscribe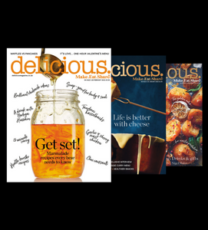 Join our newsletter
Packed with menu ideas, recipes, latest competitions and more...