Return to… Little Chef Popham
Read our Little Chef review – given a Michelin-starred kick up the backside by one of the world's most revered chefs, Little Chef has now opened Popham-style restaurants in York and Kettering. But is the original model continuing to please its diners? Web editor, Debra Waters, did what her folks did for fun in the Seventies (no, not swinging), and took a trip to the Little Chef.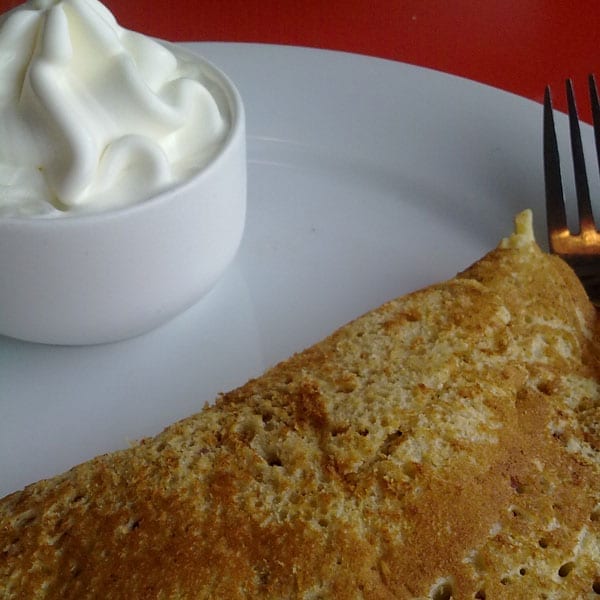 When blogger Douglas Blyde dined at Popham for delicious way back in winter he was impressed with how Heston Blumenthal had turned a shabby roadside restaurant into a destination of its own. But does Popham's Little Chef still live up to the hype? There was a lot of hope and devotion invested in the new all-singing, all-dancing Little Chef, but post-media accolade could an institution as old as your gran's biscuit tin embrace the innovative (Heston) and bid farewell to the tired and soggy (LC)?
The bright blue skies of Popham's ceiling gives this Little Chef a microclimate of its own. The room is bright and calm, the retro diner decor welcoming, and the open kitchen bustling. More importantly, it smells of fresh food cooking, not old chip fat. All this and being sung to in the toilet and soon the captive audience draw of the KFCs of the average British service station goes out of the window.
At first it all feels rather incongruous – ox cheeks, fancy specials and a overtly professional wine list while sitting by A303 is like enjoying a champagne breakfast at the end of a Heathrow runway. But then we've become so accustomed to the tat and overpriced garbage of roadside eateries that we've forgotten that it's ok for such places to actually smell of the food they're cooking. So we settle in, an easy job, given the friendly and professional staff.
To start, that fast food barometer – onion rings – so often served with soggy batter and uncooked onions, even in respectable establishments. They were of a good standard, crisp and salty as an appetiser should be, unlike the catfish bites, which my 14 year-old moggie would have turned her nose up at – too fishy, too floury.
Kettering gets the Heston makeover
The mains were a distinctly meaty affair, even for our vegetarian who used the premise of being on holiday as reason to fulfil her bloodlust. Her burger of bison was fat and flavourful, and served with Monterey Jack, rocket (no iceberg in this joint) and slices of garden-fresh tomatoes. Crunchy fries were devoured by all. The famous ox cheeks in a tangy, rich red wine sauce were juicy and soft. A Hereford steak and Abbot Ale pie was perfectly portioned; unctious steak hugged by dense suet surrounded by a 2-in-1 sauce, the mushy pea gravy. The special, so often the antithesis of its name, was the greatest surprise; a balanced dish of marinated belly pork that had caramelised in places, shred over a bouyant salad that was waving, not drowning, under the dressing.
Apart from the breakfasts, it was always the puds I remembered about the Little Chef (that and my sister claiming she was paid £1 an hour to waitress there, but then it was the Eighties). The desserts worked better revisited: the Kentish Bramley apple pie and sticky toffee pudding with a rich date sponge tasted home-made; my jubilee pancake with ice cream was the same as the ones my aforementioned sister served me gratis but then, in the spirit of nostalgia, it never needed changing. But a trifle of green tea-soaked sponge, blackcurrant jam, chocolate rice crispy sprinkles, popping candy and crumble was funny peculiar not funny ha ha and was presented in a way to impress silver surfers on a Med cruise, not the kids.
But all in all there was little to complain about and much to champion. The food was consistent, fresh, well presented and affordable (to gastropubs getting lazy – take note). Heston's presence lives on, thankfully, but Popham has grown into its own and is clearly proud of its achievements (the happy staff and busy tables are proof of that). To top it off, inspectors of The Good Food Guide 2010 have been so impressed by the cooking that they have awarded Popham a cooking score comparable to a good quality gastropub.
There's only one reason why I wouldn't visit again, and that would be if I was boycotting Little Chef Inc for not having the wherewithal to roll out this venture to all its viable restaurants and close the ones that don't. I hope LC turns its back on the red-chequered, limp salad days of yore and embraces this shiny future.
Little Chef restaurant based on the Popham model are now open in
York
and
Kettering West
.
For more information, visit the
Little Chef website
Subscribe to our magazine
Food lovers, treat yourself this Christmas... Enjoy 12 months of magazines for £29.99 – just £2.50 an issue.
Subscribe
Unleash your inner chef
Looking for inspiration? Receive the latest recipes with our newsletter