Roslin Beach Hotel, Thorpe Bay, hotel review
The Roslin Beach Hotel is perched on the waterfront, across the road from award-winning Thorpe beach. Brightly-coloured huts line a significant length of the sand and one can only assume that this shoreline is awash (sorry, pun intended) with people during the summer months.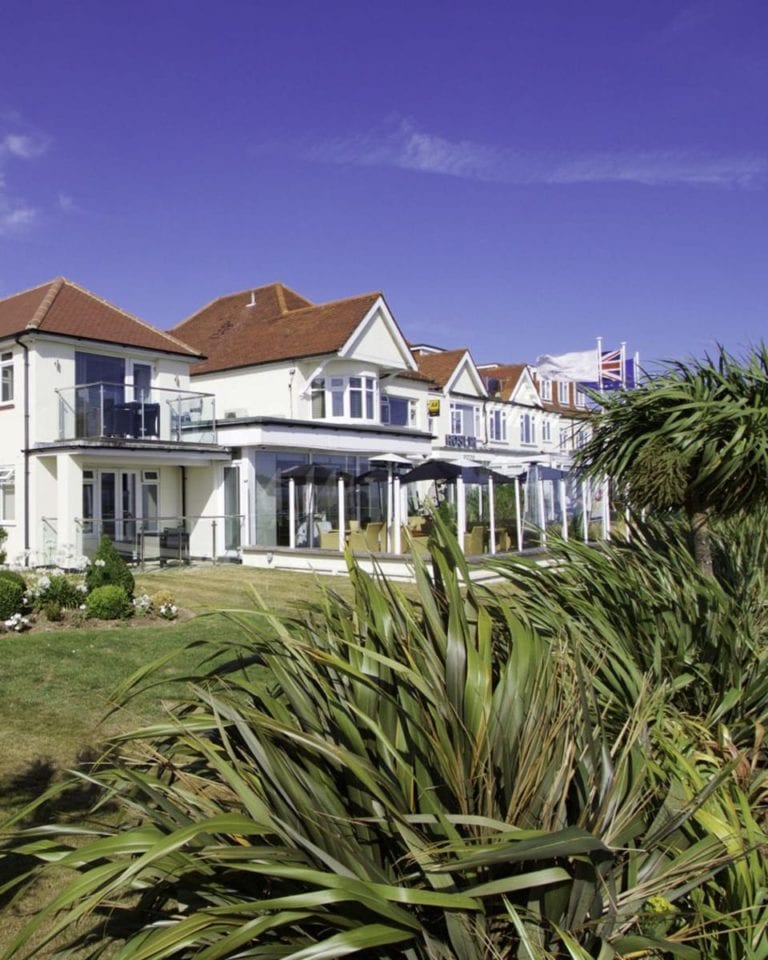 Located in Thorpe Bay, Southend-on-Sea, it's far enough from major cities that you can breathe fresh air, and perhaps even leave feeling revitalised.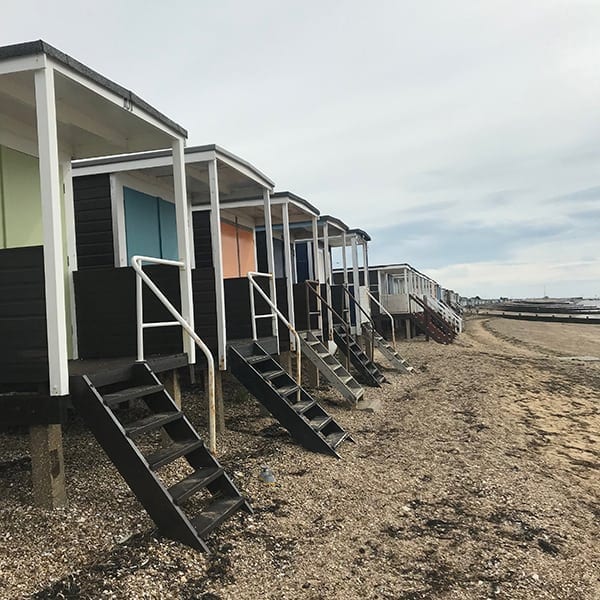 The Roslin Beach Hotel has a total of 62 rooms and suites with varying interiors. From simple and neutral to lavish rooms with sea blue tones, there's something for every guest.
Each room comes complete with handmade furniture, complimentary WiFi and my deciding factor of a good hotel – plush robes.
The Roslin boasts itself as a coastal retreat that's perfect for a weekend away. There are spa facilities onsite as well as an AA rosette restaurant, bar and terrace. Afternoon tea is also available.
How to get there?
My boyfriend Nick and I travelled via train, from London Liverpool Street. After arriving into Thorpe Bay station, it was a leisurely 20 minute walk to Thorpe Esplanade. Alternatively, you can take the train to either Southend Central or Southend Victoria and then bus or taxi from there. For those driving, there's complimentary parking onsite.
What's in the room?
We lucked out with a sea-view room. The decor was turquoise and white with touches of pink – very apt for a beach hotel.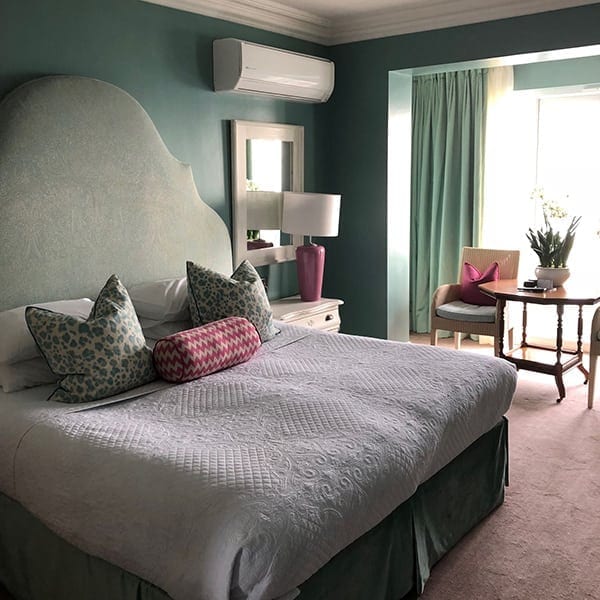 The spacious room had new plush carpets, pillowy likely-to-engulf-you bedding, and a quaint little balcony with table and chairs for two.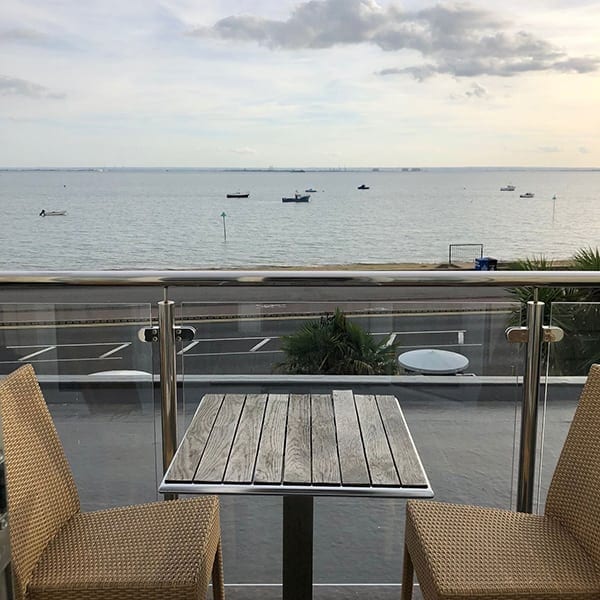 Additional touches came in the form of a sleep kit complete with eye mask, sleep spray and ear plugs. A small Nespresso machine and pods hidden away in a cupboard. And a blue and white pinstripe box filled with moreish boiled sweets.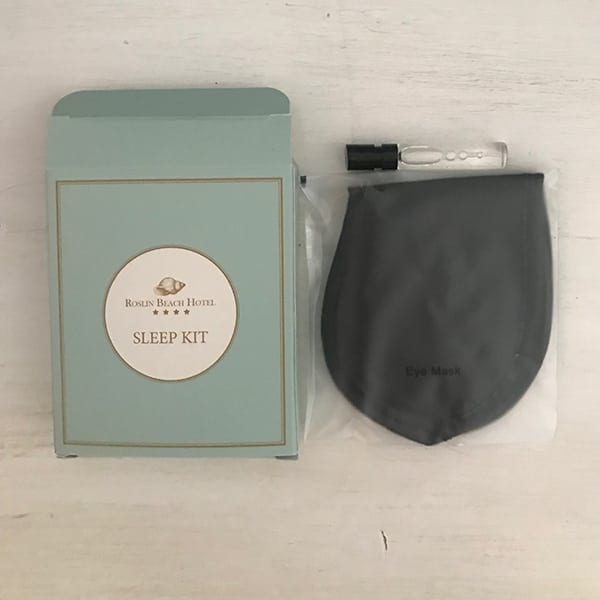 With two basins, and a large mirror, there's no fighting for space when brushing your teeth.
How about the bathroom?
Simple and elegant. No lavish bath needed here – the shower with dual heads certainly sufficed. With two basins, and a large mirror, there's no fighting for space when brushing your teeth. The abundance of towels won't leave you feeling hard done by and toiletries are provided, courtesy of Elemis.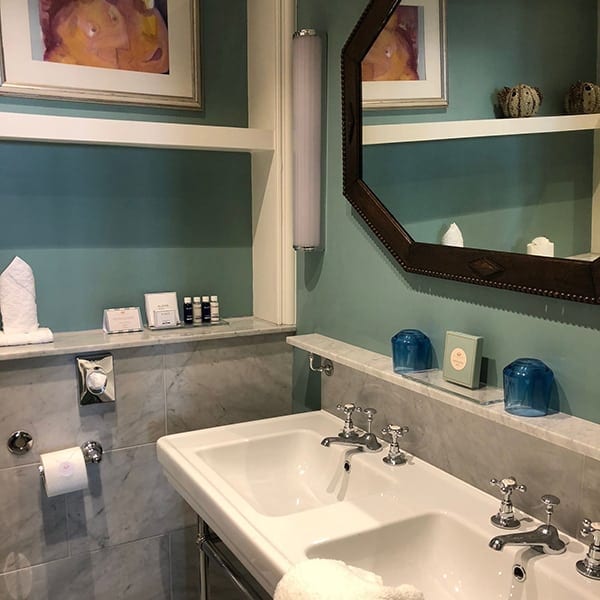 Breakfast was served in the form of an immense buffet...
How was dinner?
When we arrived downstairs for our 7.30pm booking, the restaurant, bar and terrace areas were heaving. Not to mention there was a wedding reception in full swing, in the neighbouring ballroom.
After being seated in the restaurant, we were greeted by our friendly and thoughtful waiter. He immediately suggested that we start our evening with a glass of prosecco. We agreed then ordered the olives and smoked almonds to enjoy alongside. After all, it was a Saturday night.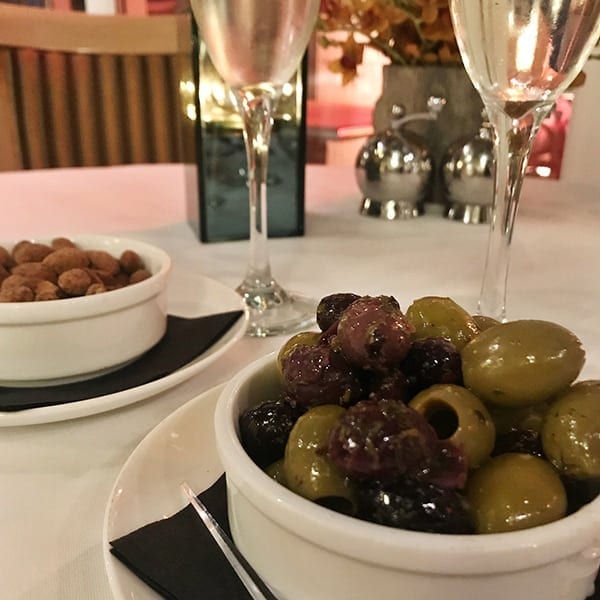 After some very helpful recommendations I chose the slow-braised ox tongue croquette as a starter, while Nick opted for the Devon white crab. The croquette was, without a doubt, the right choice to make. It sat nestled on a bed of sweet onion jam, next to a scattering of bacon crumbs. The outside was crispy and enticing, and the inside was filled with meltingly tender pieces of ox tongue.
Surprisingly, I managed to part ways with a mouthful, so that Nick may try it. But let me assure you – it's not a dish for sharing.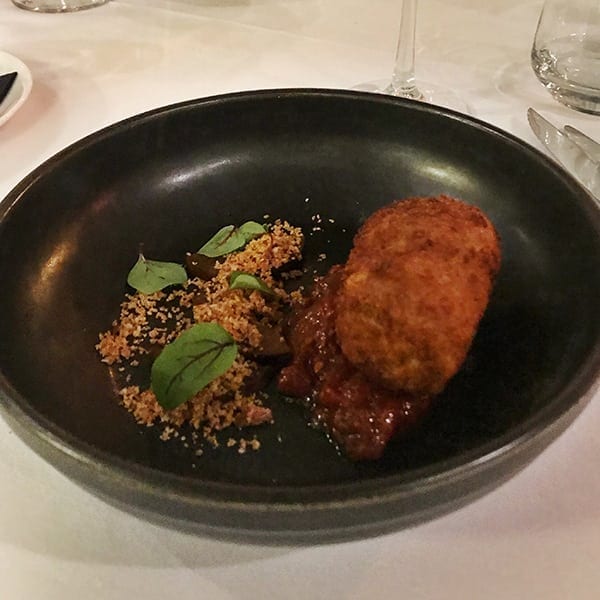 Nick's was the lighter, fresher dish of the two. The white crab was delicately wrapped in ribbons of cucumber and topped with vibrant baby cress. Caper berries were dotted around the plate and added a welcome salty sharpness.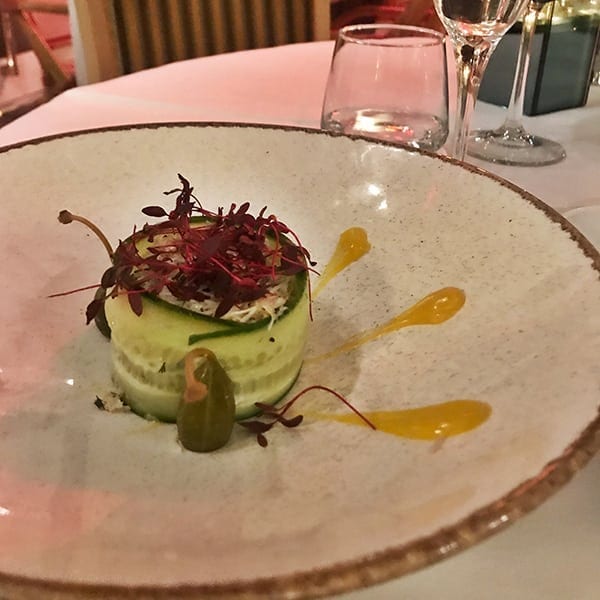 Originally Nick and I were both going to order the Angus fillet. That was until our lovely waiter convinced us otherwise. He put up a good argument saying 'Why order a steak? You know what a steak is like'. In the end Nick was persuaded to try the lamb with potato rosti  and red wine jus. I however, am a little more stubborn. I don't often eat red meat so ordering a steak is a big deal for me… And by golly I'm glad I stuck to my guns.
The steak was medium-rare, plump and juicy. In a moment of panic I ordered both the fries and the truffle mash. One can never have too many carbs. The truffle mash, paired with a drizzle of red wine jus, was hearty perfection. A mouthful of mash, steak and jus, washed down with a glass of robust red – that's what I call a great Saturday night.
Nick's lamb was tender and the fat was rendered well, adding a richness in flavour.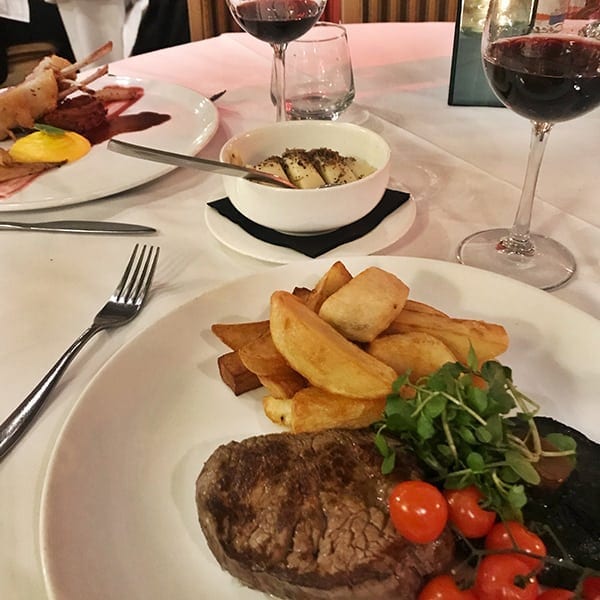 It wasn't my intention to indulge in dessert, but our lovely waiter insisted. After much toing and froing, Nick and I agreed on sharing the lemon and pistachio baked Alaska and the salted caramel delice.
The baked Alaska won by a mile. Smooth meringue encased a makes-your-mouth-go-tight lemon ice cream and sat in a pool of lemon curd. Pieces of pistachio sponge, lemon marshmallow and meringue were artistically placed around the burnt cloud. It served as a palate cleanser – one I'd happily eat over and over again.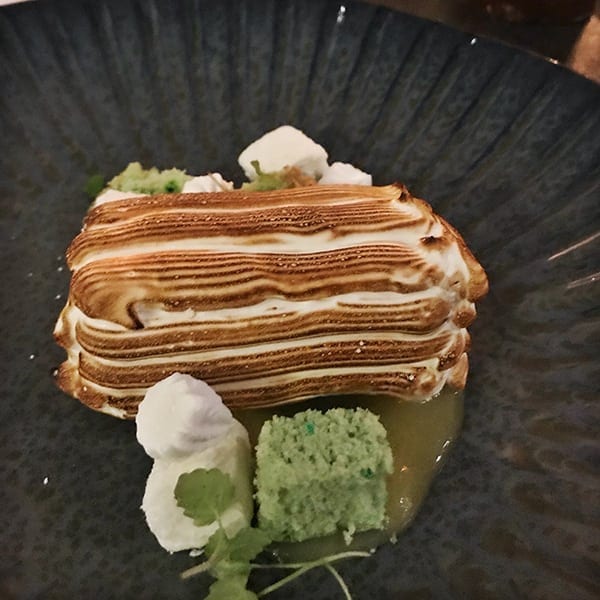 Sadly the salted caramel delice was a little too much. I'm talking a decadent chocolate sponge slathered in chocolate ganache, topped with crumbled Aero chocolate and served alongside chocolate mousse. Open up said chocolate beast to reveal a dollop of salted caramel. Complete and utter death by chocolate.
The chocolate mousse was the highlight of the dish – wonderfully smooth – I could have eaten a bowl of that on its own. I'm not sure Nick shared my thoughts on the dish as he impressively devoured over half of it, post the baked Alaska.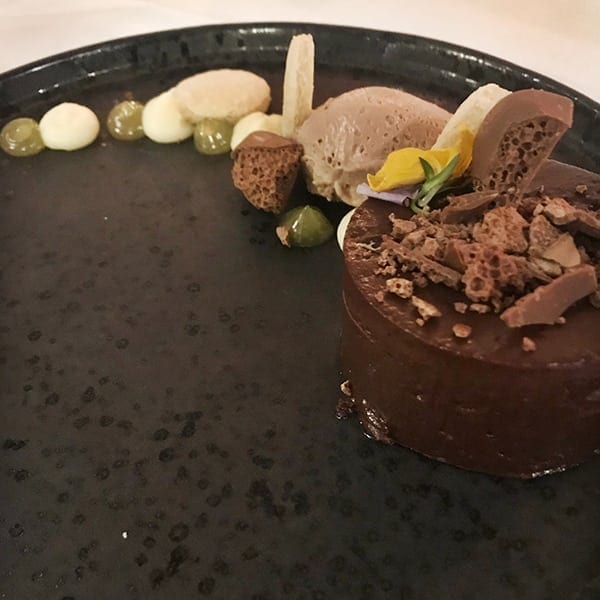 What about breakfast?
Breakfast was served in the form of an immense buffet. The hot side included the usual suspects – eggs, bacon, sausages, beans, tomatoes and fried potatoes.
There were also pancakes, waffles and a selection of pastries designed to make you salivate. Better yet, jams and marmalade came in individual jars. Cereals, fruit, yogurt and toast were also on offer. Tea and coffee orders were taken at the table.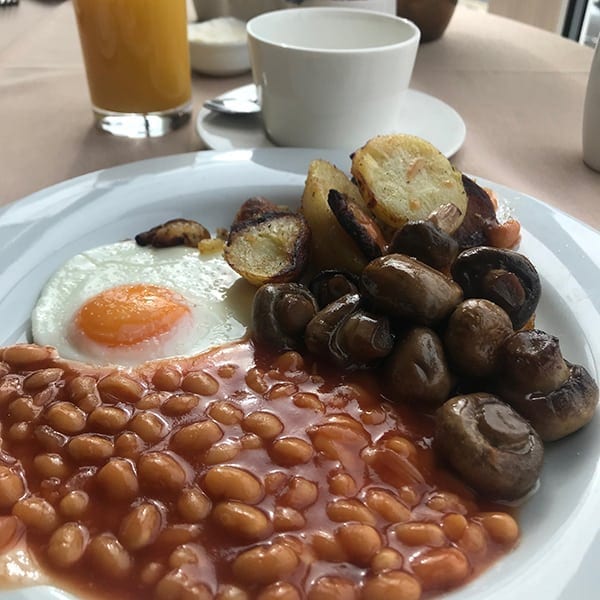 What's the damage?
Rooms start at £109 per night, including free WiFi, parking and a discount at Roslin Retreat. Packages including breakfast start at £119 or £149 for breakfast and a three-course dinner.
For more information on the hotel please visit www.roslinhotel.com.
Subscribe to our magazine
Subscribe to delicious. magazine for HALF PRICE
Subscribe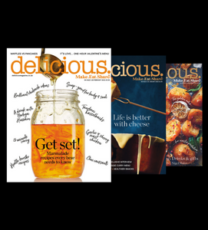 Join our newsletter
Packed with menu ideas, recipes, latest competitions and more...