Star chef: Richard Corrigan
Who better to explore Ireland's fantastic foodie heritage than Michelin-starred and TV star chef Richard Corrigan, who takes us on a culinary tour of Dublin…
Dubliners are people with a passion – it's what I love most about my home town. In the classic image, Dublin is a place where you sit with a pint of the black stuff and hold forth about James Joyce, politics or world affairs. That sounds like a cliché but it's kind of true. Go into a pub like The Porterhouse (where I'm pictured with a pint) and it won't be long before you're drawn into passionate conversation – especially on St Patrick's Day. Stay for a weekend and you'll get an injection of life and energy. You can eat and drink in fine style, too. In many ways, Dublin has gone upmarket – there are parts that could rival Chelsea in London. But if you look hard enough, you can still find the real Dublin and those are the parts I love. Here I recommend my home town's best haunts and some of my favourite winter Irish recipes.
Richard's top 10 must-visit Dublin haunts
The Cellar Bar at The Merrion Hotel
1. The Merrion Hotel
The Merrion Hotel is located in an exquisite Georgian townhouse, where you'll experience the ultimate in Irish hospitality, with every last detail honed to perfection. The general manager is the most charming man you could meet – but woe betide the staff if the guests aren't happy. If you don't stay here, visit the Cellar Restaurant for a great breakfast, or the Cellar Bar to get a taste of the fabulous atmosphere. The Merrion Hotel, Upper Merrion Street. T: +353 1 603 0600;
.
2. Donnybrook Fair
Donnybrook Fair is the best food shop in town and a must-visit for any serious foodie. You'll find all sorts of great produce – all wonderfully sourced. And if you see anything with the name
on it, please, please put it in your basket. I can't praise the producer Sally Barnes – who only smokes wild fish at her West Cork smokery – highly enough. The woman is a treasure. Donnybrook Fair, 89 Morehampton Road, Donnybrook. T: +353 1 668 3556;
.
3. Chapter One
Chapter One restaurant is located in the basement of the Dublin Writers Museum in Parnell Square, giving the place a slightly intellectual air. It offers great value for a Michelin-starred, multi-award-winning restaurant, and local artisan produce is beautifully prepared. Chapter One Restaurant, Basement of Dublin Writers Museum, 18-19 Parnell Square. T: +353 1 873 2266;
.
4. O'Donoghues
O'Donoghues is the quintessential Irish pub, with the best pint of Guinness in town, unamplified Gaelic music and the occasional rock band out the back. The trick is to buy one for the barman and you'll be looked after all night. There have been many imitators of the great Irish pub. This is the real McCoy. O'Donoghues, 15 Merrion Row. T: +353 1 660 7194;
.
5. L'Ecrivain
L'Ecrivain is another top-end Michelin-starred restaurant, but it's Dublin to the core. The owners, Derry and Sallyanne Clarke, have had the restaurant for years, and they produce exceptional Irish food that comes from the heart. Good food should never be cheap – and it certainly isn't here. But anyone who loves food can't possibly visit Dublin without stopping in here. L'Ecrivain, 109a Lower Baggot Street. T: +353 1 661 1919;
.
Bentley's, Dublin
6. Four Seasons
Nobody pours a cup of tea like the staff at the Four Seasons – if someone would send me a copy of their staff training manual I'd be very grateful. The other great thing is the pastries – the tiniest, most perfect éclairs and the most beautiful tarts. Four Seasons, Simmonscourt Road. T: +353 1 665 4000;
.
7. Town Bar & Grill
This ultra-fashionable place is fantastic for people watching. It's also where U2 once took Bruce Springsteen after a gig. You can expect good modern Italian food, reasonably priced. I really love going here. Town Bar & Grill, 21 Kildare Street. T: +353 1 662 4724;
.
8. The Porterhouse
I'm not a big pub man, but one of my favourite places to enjoy a drink is the Porterhouse. It's a pub with a warm atmosphere and a great range of traditional and organic beers. The Porterhouse Temple Bar, 16-18 Parliament Street. T: +353 1 679 8847;
.
9. Ely Winebar
The candlelit atmosphere and wines at the Ely Winebar rival the smartest wine bars in London. There are 800 wines to choose from: everything from the most affordable to wines that cost £1,000 a bottle – if you feel like splashing out. It's a great meeting place, and where I go to find out what's new and different in the wine world.Ely Winebar, 22 Ely Place. T: +353 1 676 8986;
.
10. Bentley's Oyster Bar and Grill
My recent Dublin opening, Bentley's Oyster Bar and Grill, has been doing great business since its launch last July. Even in these uncertain times, it's just the most extraordinary success story. It's situated in a beautiful Georgian townhouse on St Stephen's Square, and as well as the fine dining restaurant, there is an oyster bar, and a cocktail lounge called the Aviator's Lounge. Bentley's Oyster Bar and Grill, 22 St Stephen's Green. T: +353 1 638 3939;
.
Subscribe to our magazine
Subscribe to delicious. magazine for HALF PRICE
Subscribe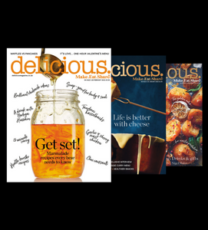 Join our newsletter
Packed with menu ideas, recipes, latest competitions and more...