The best coffee machines to buy for your home
Whether you're looking for a filter, espresso machine or keeping things 21st century with a coffee pod or bean-to-cup option, we've tested eight of the best coffee machines to help you achieve the finest brew at home. So if you're hoping to transform your morning routine with a superior cup of Joe or have a coffee lover to buy a gift for, keep on scrolling…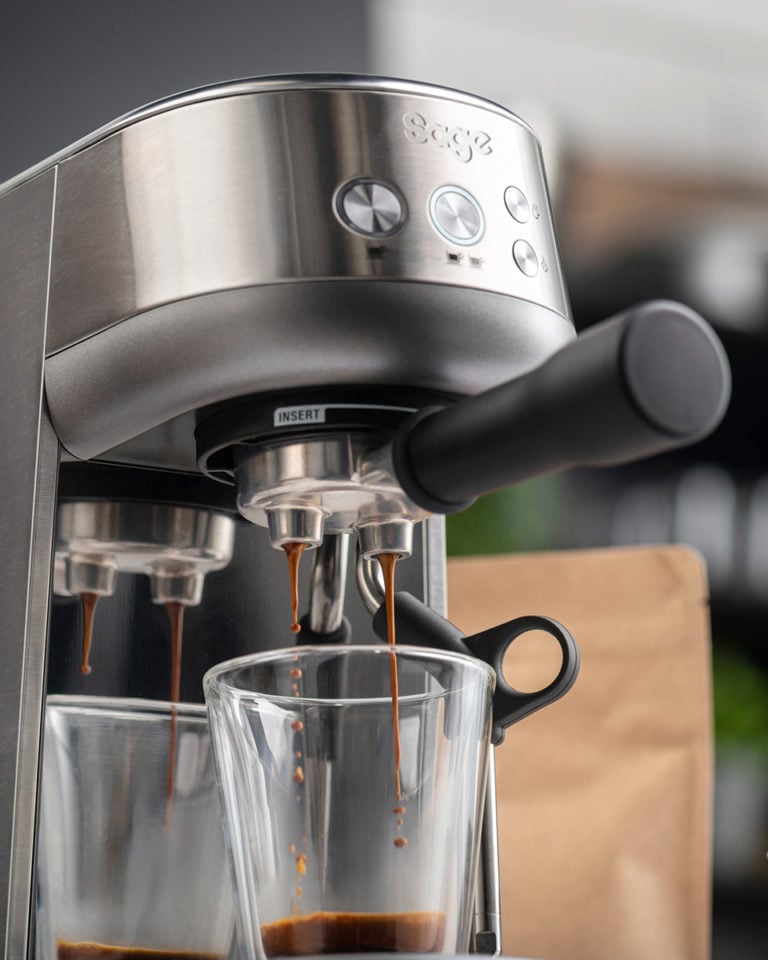 Sage the Bambino, £329
Machine type: Espresso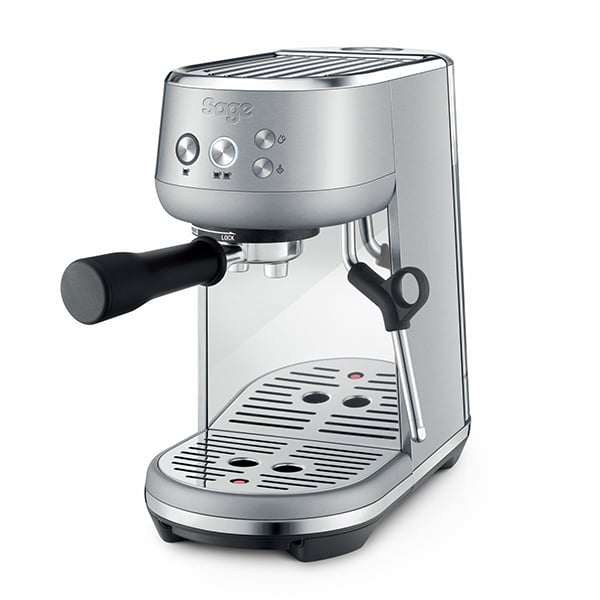 What's good about it?
Set up of the Bambino is minimal, as the machine comes virtually ready to go. All that's required is submerging the water filter for 5 minutes, then inserting it into the tank. The ThermoJet heating system reaches 93ºc in a remarkable 3 seconds, which means that from plugging in the machine, it's hot enough to use as quickly as you can say 1-2-3. It produces delicious coffee: sweet with no astringency, as well as plenty of acidity and body. Cleaning instructions are clear and easy to follow and a batch of descaling powder is included. The machine enters sleep mode soon after the coffee is made, so it it uses minimal electricity when not in use. It's the smallest espresso machine with built-in milk steamer we've seen, measuring a mere 19.5cm wide (that's about as wide as an average toaster) – a useful space-saver.
What's not so good about it?
The Bambino is suitable for couples, single people and small families, however it's not the easiest to make two coffees at once because the machine is small. That said, a latte is so quick to make on this machine that you can have two or three prepared in under 8 minutes. To make things easier when making two coffees in succession, it might be worth investing in the Knock Box and a speedy grinder like the Sage Smart Grinder, as this allows you to empty the coffee puck easily, and then refill it quickly, ready to make the next coffee in moments.
In short
Even a completely inexperienced barista can create café-quality espresso or latté with this machine, as its settings are foolproof. Due to its size, speed, and power, this is the best value machine of its standard that we tested.
Sage the Precision Brewer, £259.95
Machine type: Filter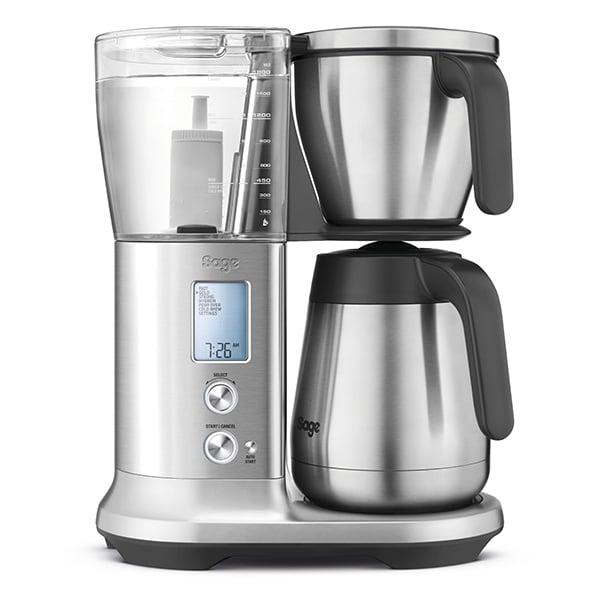 What's good about it?
Capable of not 1 but 6 filter brewing pre-sets, the Sage The Precision Brewer can brew up to 1.7 litres of filter coffee automatically, then keep it hot for 5 hours. Setting up is fast – all that's required is installing the water filter into the tank The cold brew function is impressive: it can be set at night time and brew over 4-14 hours drip-by-drip, resulting in one of the most full-flavoured cold cups you will drink, even from a darker roasted bean. The fast setting brews in 3 minutes, while the recommended Gold Cup or Strong brew settings are ready in 4 minutes. Brewing temperature is automatically adjusted with the heating system but you can alter to your chosen temperature too. The Precision Brewer can make 12 cups of coffee, so it would suit families or couples. It doesn't need a vast amount of space to store, either, measuring 16.8cm diameter.
What's not so good about it?
For best results, the water filters should be changed every 3 months. These are a little pricey at £14.95 each (and are currently not recyclable by most councils) but you can purchase them on subscription to save you needing to remember. The machine brews using either widely available filter papers or a mesh filter (the latter is included). Although the machine is easy to clean, the water tank isn't removable.
In short
The machine is among the most expensive filter coffee machines on the market, but our tester believes it provides value for money not just because of its many brewing functions but also because it produces coffee with a wonderful flavour –  and it keeps coffee hot for up to 5 hours using a thermal carafe, with the coffee never tasting stewed or burnt.
Moccamaster KBGT, £209
Machine type: Filter

What's good about it?
If it's a simple filter machine you are looking for, it's hard to find a more user-friendly option than the Moccamaster. The machine brews using regular paper filters but it doesn't have a hot plate – instead, the coffee brews directly into a stainless steel 10-cup Thermos flask. Hand made in the Netherlands since 1974, the stylish machine is easy to set up – you can put it together in 5 minutes. The KGBT marks well for sustainability because it uses Thermos technology instead of a hot plate, which means it doesn't use excess electricity to keep warm. And the metal jug means there's no risk of a glass jug breaking, so this is a machine set to last for many years – and it's transportable. Considering how much coffee it produces, the machine is surprisingly small at just 17cm diameter x 32cm wide, and when the lid is on the coffee stays piping hot for 2 hours.
What's not so good about it?
The KGBT is pricey for a filter machine with only one setting and also doesn't include a timer. You need to remember to put the lid on manually to keep the coffee hot.
In short
The super-sleek Moccamaster brews a large quantity of coffee at 92-96ºc and keeps it hot without 'cooking' it. We favoured this machine for its simplicity, speedy brew time (5 minutes), how quiet it is while it brews and for the flavour of the coffee it produces. There are four colours to choose from, too. For a smaller machine, check out the KGB select (available in 21 colours) – a good choice for smaller households or couples.
Nespresso Vertuo Next, £149
Machine type: Coffee pod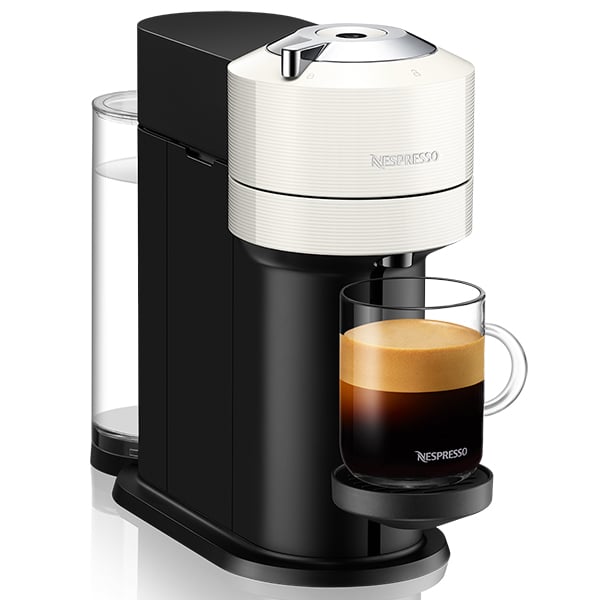 What's good about it?
There's a reason this brand has stood the test of time in this crowded market: their machines deliver top-quality coffee every time. The latest addition to the expanding Nespresso catalogue is the Vertuo Next machine, designed to produce tall drinks (as opposed to short espressos). At the touch of a button, this slick piece of machinery will scan the barcode on your inserted pod and brew your coffee to an exact specification. The range of pod flavours to choose from is staggering, and you can sign up to a monthly subscription service.
What's not so good about it?
If you're into milky drinks – lattes, cappuccinos and the like – you'll need to invest in an aeroccino as well (a small worktop gadget that efficiently heats and froths milk in moments). Or you could consider one of the Nespresso machines with built-in Aeroccinos.
In short
The Nespresso Vertuo Next is our go-to recommendation if you're looking for barista-style coffee at home, without the need for complicated hands-on action. The machine is slick, silent and powerful and its pods can be recycled using Nespresso's drop-off or pick-up scheme. It comes in a range of colours, too, and there are different bundles to choose from… The just-about-perfect gift for anyone who appreciates a good cup of coffee.
Lavazza Jolie & Milk Machine, £99
Machine type: Coffee pod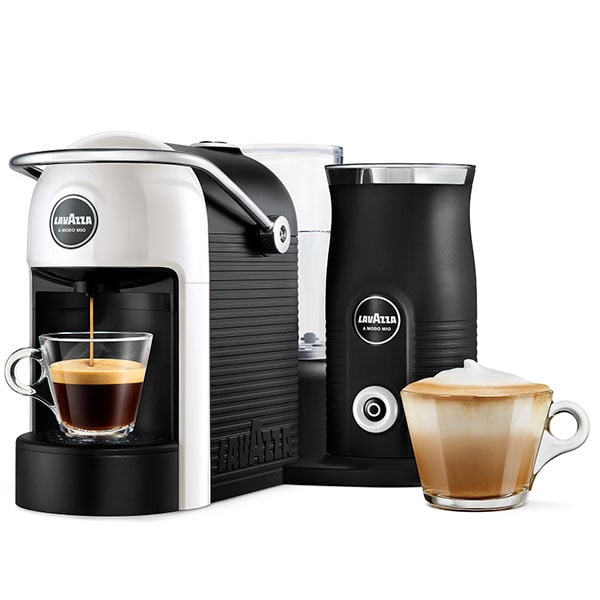 This elegant and nifty coffee machine uses pods to dispense two different sizes of espresso, plus it comes with a milk-frothing attachment to create longer milk-based drinks (lattes, cappuccinos and so on).
What's good about it?
A machine that produces some of the finest Italian espresso at a reasonable price (some competitor models sell for double or triple the RRP of the Jolie – but with very similar results).
What's not so good about it?
This particular model offers only two sizes of espresso (30ml and 60ml). If that's a deal-breaker for you, there are plenty of others in the Lavazza range that offer different varieties of cup size. We found the 60ml shot of espresso, combined with the recommended quantity of steamed milk, made for the perfect latte.
In short
Compact, silent and sleek, plus we reckon it creates coffee good enough to rival your local coffee shop. The brand now offer Eco Caps, too – compostable capsules for a more environmentally friendly coffee experience.
Smeg Bean to Cup Coffee Machine, £679.95
Machine type: Bean-to-cup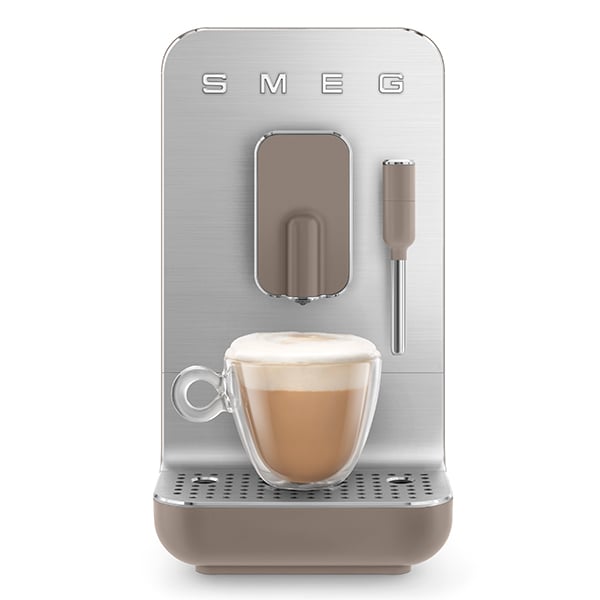 What's good about it?
The slim, compact design is sleek and stylish with appealing curves in line with Smeg's iconic 50s design style. There's choice of 4 matte colours (black, red, taupe, white), along with plenty of brushed aluminium on the front panel… In other words, this is design at its most appealing, which would look good in any kitchen or workspace.
The process is as convenient as using a pod machine – load up your preferred whole coffee beans and at the press of a button the machine grinds, then brews a coffee to order. It has a primary and secondary control panel so you can opt for a single shot (ristretto), double (espresso) or longer Americano style (coffee) or use the wand to fill a cup with hot water for teas and infusions. The secondary function brews a lighter ristretto and espresso and a longer coffee, plus it switches the wand from hot water to steam for frothing milk. Our tester particularly liked the way the machine tells you when you need to fill up the water, beans or empty the coffee grounds. There's a handy adjustable height nozzle so you can fit your favourite mug underneath, too.
What's not so good about it?
If you're a coffee connoisseur, you might find brewing one style of coffee limiting to your enjoyment as you can't switch between coffee beans. For a bean-to-cup coffee machine the price falls in the mid-range, but this is still an investment purchase.
In short
The convenience of this machine is undeniable. It brews quality coffee that you can adapt to your style, and the steam wand is powerful enough to froth a large jug of milk. A great user-friendly buy for anyone who knows what coffee they like and wants to stick to it.
This machine has already scooped a 2021 Good Design Award.
Gaggia Classic Stainless Steel Coffee Machine, £430
Machine type: Bean-to-cup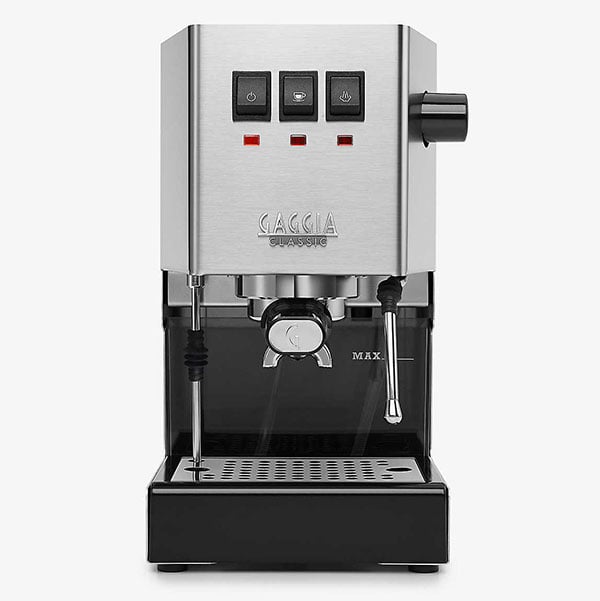 What's good about it?
Less experienced espresso machine users shouldn't be put off by the Gaggia design: the three buttons on the front (with dedicated indicator lights for on/off, espresso and steam) tell you exactly what the machine does. Plus, the easy-to-follow instructions meant the time between set-up and steaming coffee in hand was minimal. The Gaggia Classic comes with 3 filters which slot into the filter holder to allow you to vary the strength of your ground coffee. The professional steam wand is equally simple to get to grips with and ensures your frothy milk is deliciously hot and creamy too – just give it time!
What's not good about it?
Although the overall design is clean and simple, the machine is on the large side – if you're looking for a compact gadget, you might find this protrudes a little too much in your kitchen so check the measurements. When in action, the machine is quite loud, which arguably adds to the effect of a 'wake-up' coffee (!) but some might find a little too much. Finally, the stainless-steel casing isn't the easiest to clean but, we wipe it down straight after using to keep the machine looking tip-top.
In short
If you want to keep things simple, the Gaggia does what it says on the tin (or stainless steel in this case). It's less compact than others and the price point is a little higher, but if you're looking for Italian-standard coffee quality, this ticks the box.
DeLonghi Combi Coffee Machine, £309.99
Machine type: Espresso, filter or coffee pod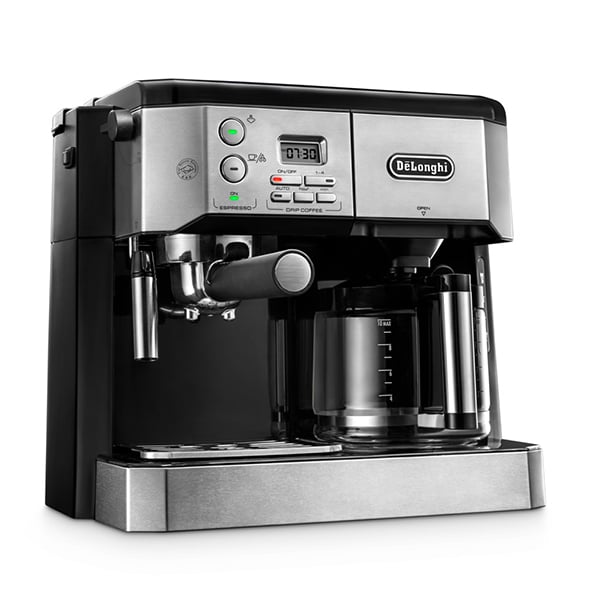 What's good about it?
A sturdy, smart gadget that's two coffee-making machines in one. Clever – but how does it do it? The machine has two water compartments, so you can make a jug of drip coffee and a cup of espresso at the same time. A charcoal filter helps cut any chlorine taste from the water (note you'll need to replace this every 80 cycles or so). The excellent foamer is fierce enough for a good 100ml of milk froth to top cappuccinos. If you want to make just a couple of cups of drip coffee you can set the '1-4 cups' function for a slower brew to ramp up the final strength. Use the auto-start function on the drip side of the machine to set a timer for filter coffee any time you like, and the warming plate keeps the filter coffee hot. There's no need to buy single-use paper filters because a permanent washable filter is supplied. The filter tank opens via a swing-out front – useful. You can also use coffee pods with this machine, and it comes with a spoon, tamper, the first charcoal filter, plus single and double-cup espresso filters.
What's not so good about it?
For the first-timer, there's a steep learning curve with this machine because you have to get your head around operating two machines in one. Before you achieve your first proper brews, you need to run through two tanks of water to wash them through, which takes some time. We found the instructions tricky to piece together with the corresponding diagrams, while one critical point said 'turn' rather than 'press'. This made initial set-up complicated, but after a few uses it's a very easy machine to work. Note: there are separate on/off buttons for the espresso side and the drip side. The machine requires manual stopping for espresso making: so you need to watch over it to get the quantity you want and finesse the extraction time.
In short
At around £300, this is a considered buy. Once you've got through the learning curve, you have multiple great quality options – drip, espresso or creamy cappuccino  – at your fingertips. A versatile machine.
Subscribe to our magazine
Food lovers, treat yourself this Christmas... Enjoy 12 months of magazines for £29.99 – just £2.50 an issue.
Subscribe
Unleash your inner chef
Looking for inspiration? Receive the latest recipes with our newsletter