The Daley Catch
delicious. took a road trip up to the Yorkshire Dales to visit the Wensleydale Heifer, a 17th century inn landlocked by stunning countryside that's celebrated for its seafood (yes, seafood) restaurant.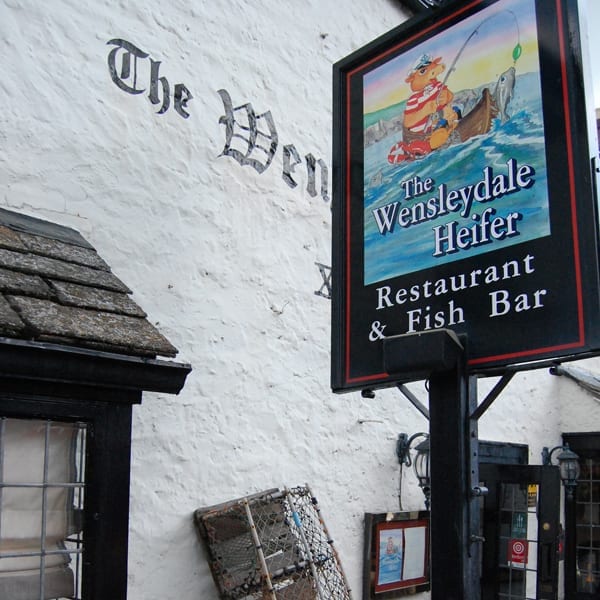 Fish may not be the first food that springs to mind when you visit an inn named after a cow in the middle of a region famed for its cheese. But proprietor and executive chef David Moss knows his seafood – he worked at Longueville Manor in Jersey and the award-winning Crab at Chieveley – and is quick to explain that the coast is only an hour's drive away, though it's hard to imagine the chilly northern waters when the verdant Dales stretch as far as the eye can see.
A typical Yorkshire stone house, the bar exuded homeliness, while the busy restaurant had a posh gastropub feel and a very merry clientele tucking in to hearty food. The number of classic, bordering on kitsch, dishes on the extensive menu was a little overwhelming at first; it is, after all, the current rule of thumb to keep a menu short. But on closer inspection the kitchen remains faithful to a few key ingredients – lobster, scallops and fish – simply cooked with a variety of sauces. All seafood is local; the Whitby cod and lobsters are especially renowned.
David spent time in Thailand and it showed in the Chilli salt squid starter with fennel and lime salad and sweet chilli salsa: the melt-in-the-mouth squid, with its well-seasoned crispy coating, married beautifully with its piquant accompaniments. Husband's fish soup with all the trimmings was a balanced, flavourful bisque.
You need the appetite of a heifer to down the Giant fish and chips (a steal at £20). We didn't have the bellies for it so I followed with Lobster Rockefeller – an indulgent retro-style dish of lobster, scallops, spinach and cream. We had to sample the wittily named posh peas – or peas mushoire as my Yorkshire-born pa calls them – an orgy of peas of different textures that will surprise aficionados. Husband opted for the Halibut, crab & brown shrimps – an equally appetizing, generously proportioned dish. Dessert – a trio of panna cottas of which the coconut shone – was wanted but couldn't be finished.
The following day, beautiful breakfasts – natural smoked haddock with a poached egg and a locally sourced fry up with the sort of fried bread gods would worship – had a similar, pleasingly soporific effect. Portions, again, were as gargantuan as the celebrated Yorkshire hospitality. This is not a county you visit if you want to lose a few pounds or feel grumpy – the cuisine and the people will find you and feed you and indulge you.
Upstairs, the rooms pay homage to people, places and activities in Wensleydale, or indulgent victuals such as chocolate or malt whisky. We stayed in the James Herriot room, named after the famous vet who incidentally used to drink in the Heifer. It wasn't the popular Chocolate room the glutton in me hoped for, but you'd be a sourpuss to grumble about the calm setting: shelves lined with medicine bottles and wooden animals; All Creatures Great and Small DVDs; and a battered vet's bag plonked on the floor like a prop on a film set.
The room was comfortable, bright and mindfully decorated while the complimentary home-made cakes and Molton Brown goodies assuaged the loss of the 'chocolate drawer' in the neighbouring room. Themed rooms can be cringingly gimmicky but great attention has been paid to the accommodation and it's clearly paying dividends – the recently acquired building next door aims to be "whacky not tacky" with even plusher rooms celebrating Chocolate, Movies and Champagne.
The light-hearted Heifer mascot – a cartoon cow fishing – is synonymous with the inn's rustic, amiable charm. Voted as a Hidden Gem by diners on Toptable and given a thumbs up by the Good Food Guide, you won't be hearing the Yorkshire war cry of: "How much?!" in this establishment. It's excellent value, from the appealing rooms to the reet posh peas.
The Heifer does it best to accommodate everyone: there's a separate vegetarian menu and it's possible to ring ahead for gluten-free options.
A two-course lunch is: £16.75.
Rooms range from £60-80pp, per night, B&B.
Stay Sun or Mon for £85pp for B&B and dinner.
West Witton
North Yorkshire
DL8 4LS
T: 01969 622322
Subscribe to our magazine
Subscribe to delicious. magazine for HALF PRICE
Subscribe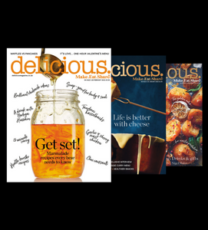 Join our newsletter
Packed with menu ideas, recipes, latest competitions and more...