The delicious. team's all-time favourite cookbooks
Here at the delicious. office we see a lot of cookbooks – from food trends to fad diets, simply wonderful to slightly strange – we've seen it all but we all have a favourite which brings back fond memories and is returned to again and again.
These are our all-time favourite cookbooks, some of which may surprise you…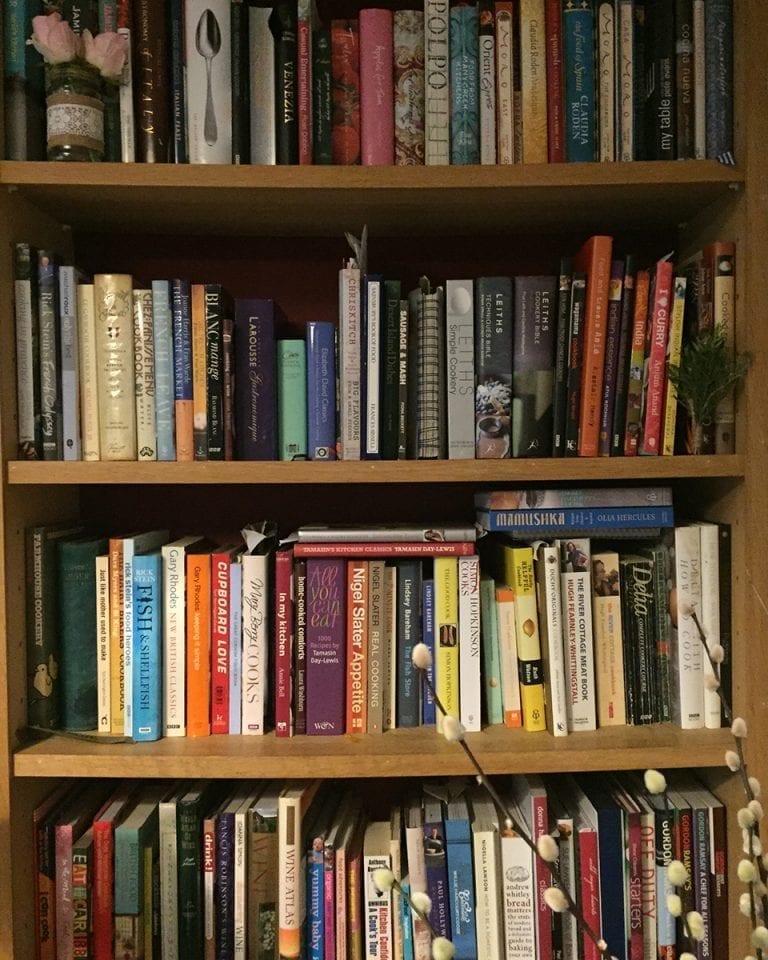 Karen Barnes, editor – Nigel Slater's Appetite
After learning so much from my mum, from Delia and from the Good Housekeeping Classic Cookbook, Nigel Slater's Appetite was the first book that taught and encouraged me to be adventurous in terms of swapping ingredients in recipes and being braver in the kitchen.
Susan Low, deputy editor – Madhur Jaffrey's A Taste of India
The book was published a couple of years before I moved to the UK from the US. At the time, Indian cooking was practically unknown where I grew up in New England and discovering Indian food in London was like opening the door to Narnia. I was blown away by its complex flavours and ingredients: things like green and black cardamom, fenugreek, cumin seeds, fresh coriander, cassia bark… How had I lived so long and not discovered these bits of edible magic? A friend gave me Madhur's book as a birthday present and I was hooked.
I soon built up an enviable spice collection and when I was meant to be studying and writing my dissertation, I spent far too long in the kitchen (clearly a displacement activity), cooking my way through the recipes and learning how to cook by following Madhur's wise words. Many years later, I had the great pleasure and honour to work with Madhur while I was at the BBC. They say to never meet your heroes lest you'll be disappointed – but not so with Madhur. She's as gracious, funny and wise in person as in her books. I felt a bit foolish telling her she'd taught me how to cook (to my mind at least) passable Indian food and asking her to sign my dog-eared, masala-splashed and falling-to-bits copy of A Taste of India, but it's now one of my most prized possessions.
Sophie Austen-Smith, deputy food editor – DK's Children's Step-by-Step Cookbook: A Complete Cookery Course for Children 
Because I can't choose my mum (although she's my greatest source of foodie inspiration) then I'd have to say DK's Children's Step-by-Step Cookbook: A Complete Cookery Course for Children (which she also bought me).
Phoebe Stone, editorial and features assistant – The Aga Book, Mary Berry
It's a tie for me between Delia's Complete How to Cook and this 1994 Aga Book by Mary Berry, which were the two most-used books in our kitchen growing up. My mum made fishcakes from the former, which were a real treat. I learnt how to make pancakes from the second, whose pages are full of slips of paper with other recipes on, and remember cooking them for my sister on one of the first occasions we were left home alone together. Despite owning a fair few cookbooks today I don't use them religiously, so my tactile experience with these two tomes stick with me.
Jen Bedloe, acting food editor – Tamasin Day Lewis's Weekend Food
I have so many cookbooks. I love them – the texture of the paper, the beautiful images, the scribblings I've made along the way (plus a few spillages on favourite recipes), but if I had to pull out just one that I always go back to, it's my trusty copy of Tamasin Day-Lewis's Weekend Food. The recipes are big on flavour but simple to follow and I love the photographs by David Loftus. If I'm ever stuck for an idea of what to make at the weekend I think 'what would Tamasin make?' and flick through the pages for inspiration. I've read so many brilliant cookery tips in the recipes, too, and her TV show always made me chuckle, especially when she insisted that you have to peel celery because it's stringy.
Jocelyn Bowerman, art director –  a folder full of all my collected & handwritten recipes from family/friends/mags
In my collection there's childhood recipes, including meatloaf and dark chocolate ice-cream, handwritten by my mum; there are printed emails from friends whose recipes I have tasted and subsequently requested; pages from magazines which were torn out in a moment of 'I must make that' and one day I am sure I will. The best bits about these irreplaceable recipes are the annotations; the little tweaks that make the recipe as I remember them and also make me smile while I'm recreating them. My mum's recipes have things like '1 teaspoon of paprika (I only use half though)' and 'optional splash of orange juice (I don't bother)'.
The recipes which I can't live without are 'golden soup' – a comforting family tomato, carrot and vermicelli soup recipe, my sisters' top secret (unless you're her sister) incredible chocolate brownie recipe, the best and easiest honeycomb ice cream from my friend Laura and a noodle salad recipe from my aunt.
Martine Tinney, art director – Donna Hay's Fast, Fresh, Simple.
It does what it say's on the tin  book! It's so beautiful, clean and stylish and it never dates. The recipes are fresh and easy to make and it certainly makes you want to eat with your eyes.
Les Dun, managing editor – Ice creams, Sorbets and Gelati, Caroline and Robin Weir
I don't really make puddings but if ever anyone's coming round to eat, I get 'the big ice cream book' out. It has a recipe for every ice cream and sorbet you can think of, and if you can't be bothered to make a custard-based ice cream there are great quick alternatives. There's an amazing recipe made from just strawberries, sugar, cream and a dash of balsamic vinegar.
You don't need any complicated kit – I just have a simple ice cream machine which you can store in the cupboard. Get it out, pour in the mix, turn the machine on, 20 minutes later, job done. Serve your ice cream in a posh cone and your friends will quickly regress to a state of childlike glee. I'll be happily making ice creams from this book for the rest of my life..
Hugh Thompson, deputy chief sub editor – De-Ta Hsiung's Chinese
Soon after I became interested in cooking I was given this book for Christmas. The recipes looked easy enough to take on but cooking Chinese food seemed pretty adventurous in the 1980s. My first success was that Chinese restaurant classic crab and sweetcorn soup. I'm sorry to say I used tinned crab (and dry sherry for shaoxing rice wine), but it tasted authentic enough for me to try a few more recipes and the soup entered my 'cooking to impress' repertoire.
Other classics followed such as steamed ginger sea bass, sweet and sour pork, egg fried rice… Years later, while working on a travel guide to China, I needed a Chinese food expert so I commissioned Deh-Ta Hsiung for the book. During our time together he took me to Chinatown for dim sum. He did all the ordering and it was a real treat to listen to him talk about the history and origin of all the dishes.
Vic Grimshaw, head of digital – An ancient Be-Ro cookbook
It was already dog-eared and flour-covered when I first met it. But my late mum's ancient Be-Ro cookbook, containing her scratchy blue Biro notes, was one of my favourite things to read when I was maybe five or six years old. It was the THOUGHT of what I could make, even if I wasn't allowed near a sharp knife or hot oven back then. It's probably worth a fortune on eBay these days, but I'll never sell it.
Rebecca Brett, digital editor – My mum's 1978 Dairy Book of Home Cookery
It may not be the book I couldn't live without now but the book I couldn't have lived without is my mum's 1978 The Dairy Book of Home Cookery. Using her well-thumbed book was the starting point of my first foray into cooking. From simple crumbles to a classic family fruitcake, I tested many baking recipes from it… some not quite as successful as others. It's a cookbook that I have fond memories of. Needless to say, she still has it.
Fiona Logan, acting digital editor – The Flavour Thesaurus
This book has taught me so much about flavour pairings and continuously allows me to think outside of the box when it comes to conjuring up new recipes. Over the years, I've always turned to it when looking for unusual food combinations and I think it's a great gift for any keen cook to have in their home. My – slightly worn – edition is now covered in splodges of sauce, dough and all sorts of stray ingredients from my previous kitchen endeavours – and I wouldn't have it any other way.
Ellie Donnell, acting digital assistant editor – Yotam Ottolenghi's Plenty
Why? It's not because I can say that I've made dozens of recipes from Plenty – although his 'green couscous' has served me well on many an occasion. Rather, it's the book that really has inspired me the most. It's the book I've cuddled up with on rainy days, with a cup of tea in hand, and the one I go to for ideas, comfort in pictures and incredible vegetarian fare (not that I'm actually vegetarian myself). I've read it again and again and each time I find some new nugget of information, nestled amongst its oil-splattered, dog-eared pages. Now, I'm just waiting for another grey day so that Plenty can come and shine a little light on it.
Julia Rich, marketing director – The Hairy Dieters
Ever since I flicked through a copy of this book in a friend's kitchen, I knew that I would make and enjoy all the recipes. I often find I only make a few of the main dishes from cookbooks and don't bother attempting the starters, desserts or baking. This book and the following series, however, has changed that. I have made almost all the recipes and regularly return to make them again or look for new inspiration.  The healthy ingredients mean that I know my family can enjoy the food and feel good about it.
Ruby Dumbrell, marketing assistant – Hetty McKinnon's Community
Because I can always count on her to provide me with delicious and inventive ways to use up any vegetable, herb or legume I might have lying around.
Gilly Smith, podcast producer – Ursula Sedgwick's My Learn-to-Cook Book
I recently spotted a battered copy of My Learn to Cook Book by Isabel Sedgwick in the office of my old school friend, Veronica Henry (she recently featured on the delicious. podcast to talk about the inspiration for her new novel). I don't think I've seen a copy since I was about six but as I leafed through the recipes for Apple Snow and Peppermint Creams, I was whisked back to those rainy afternoons filling the kitchen with icing sugar and the sink with half-licked spoons. If food is about delight, it all started with that book.
Subscribe to our magazine
Food lovers, treat yourself this Christmas... Enjoy 12 months of magazines for £29.99 – just £2.50 an issue.
Subscribe
Unleash your inner chef
Looking for inspiration? Receive the latest recipes with our newsletter