A guided food tour of Tokyo, by Nobu Matsuhisa
Japanese über-chef Nobu Matsuhisa has acclaimed restaurants around the world, including the Michelin-starred Nobu London. His passion for food began in his native Tokyo, where he takes us on a guided tour.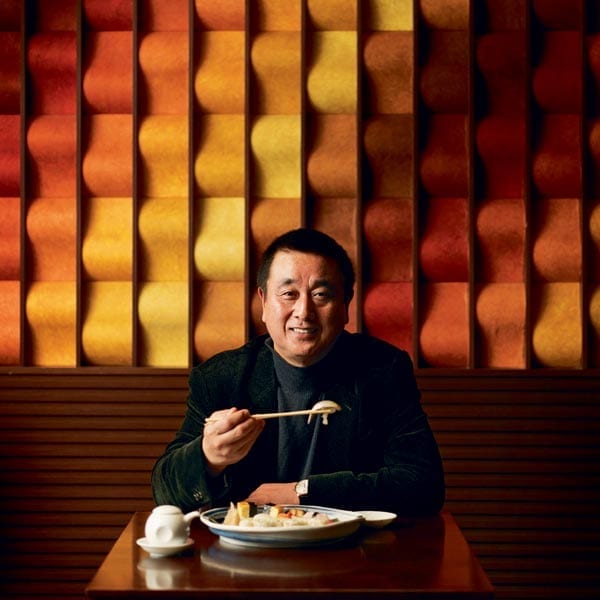 Most children dream of being actors or sportsmen, but not me. I've wanted to be a chef since I was a kid growing up in Sugito, just north of Tokyo. Aged 11, I had my first experience of a sushi restaurant. When I walked in, I was surprised to hear the staff shout: 'Welcome!' I felt such warmth and energy – and loved the sushi so much – that I decided to become a chef on the spot. Now, when anyone enters any Nobu restaurant, the staff shout: 'Welcome!' to recreate that feeling.
My roots remain in Japanese cooking, but I' ve embraced international influences, too. As a young chef, I worked in Peru, then moved to Anchorage, Alaska, where I set up a restaurant. Fifty days later – on my first day off – the restaurant burned down. I was so shocked and upset that I ran away from my problems, to Los Angeles, where I still live. After several years working as a sushi chef in LA, I opened a restaurant there in 1987. Robert De Niro was a regular and asked me to go into business with him – we opened Nobu in New York in 1994 and have since opened many restaurants and remain great friends.
At heart though, I'm happiest in the kitchen. When customers smile it makes me happy – and I hope to bring a smile to your face with this insider guide to my home town.
Where to go for a market breakfast
Fish is integral to Japanese cuisine and any food-lover who comes to Tokyo must visit the Tsukiji Market – the best, and biggest, fish market in the world. The sight of so many varieties of fish, shellfish and other seafood and the busy atmosphere make the market a thrilling place.
Most Tokyo restaurants, including Nobu Tokyo, buy their fish from Tsukiji. Check out the amazing range of seafood, then have breakfast with the locals, who enjoy the freshest sashimi or sushi at the market's many small cafés and counters.
Where to enjoy a traditional lunch
For food on the go, pick up a bento box – a boxed lunch of rice with accompaniments such as egg, fish and pickles. These boxes are a staple of Japanese life and traditionally made at home, but good ones are now available in department stores.
Alternatively, find a restaurant that serves traditional food. At the first restaurant where I worked, I spent four years learning to make sushi, which was all we served – in Japan, restaurants often specialise in just one type of dish.
A couple of years ago I found a great tempura restaurant, Tenko (see directory), which is located in a former geisha house. Tempura is battered, deep-fried seafood and vegetables. If you've tried it before and found it greasy, you must try Tenko. Its tempura is light, delicate and fresh-tasting. I love the traditional atmosphere there, with the tatami mats and sliding shoji doors.
As in many traditional Japanese restaurants, you won't be presented with a menu. Instead, the chef prepares a meal for you with the freshest seasonal ingredients – you might be served shrimp, squid, gingko nuts, lotus root and Chinese ginger, all fried in a delicious light batter. As with all conventional Japanese meals, miso soup, pickles and rice will be served at the end. This is a classic Japanese dish – our equivalent of roast beef and potatoes.
Another traditional dish I love is tonkatsu, a breaded, fried pork cutlet, and Maisenis a great place to try it. The restaurant is in a former bathhouse near the famous Omotesando shopping area, and it's not too far from the beautiful Meiji shrine – a must-see for visitors to Tokyo – where I go when I want to rediscover my Japanese mind and heart, and feel the essence of my homeland.
Where to go food shopping in Tokyo
Pickles are important in Japanese cuisine – we have a great variety of pickled vegetables, including daikon (white radish), turnips, cabbage, plums and ginger. The pickled ginger we use at Nobu is made by Niitakaya, who once made pickles for the emperor – visit the shop and buy some to take home.
More foods to take away can be found in the big department stores; especially good is Tokyo's oldest and most revered store, Mitsukoshi. There, you will find bento boxes, fresh fruit and vegetables, dried fish, Japanese sweets and foodie gifts to take back home.
Many people come to Mitsukoshi to buy food for picnics when the cherry blossom is out – it's in full bloom for only a few weeks during March and April, and the parks fill with people having picnics and drinking sake under the cherry trees.
International dining in Tokyo
Tokyo is a very international place, and its restaurants have won more Michelin stars than any other city. The trendiest new restaurant in town is Peter, situated on the 24th floor of the Peninsula hotel. The food is European with an Asian twist, and a meal there is a dramatic experience. Diners enter the restaurant via a stage, then sit at tables with stunning views. You might try the honey-tangerine glazed Hokkaido venison loin or butternut and kabocha squash velouté, depending on the season. Another international favourite of mine is Il Ghiottone, an Italian restaurant near the swanky Ginza shopping district.
For a relaxed meal with friends, I visit Wakiya, an innovative Chinese restaurant with a traditional Japanese atmosphere. Chef Yuji Wakiya, a good friend of mine, might serve tender, juicy braised shark fin and Japanese hinona turnip with shiitake, potato and carrot sauce as part of a six-course meal. Although Wakiya is Japanese, he began cooking Chinese food aged 10 and now makes some of the best in the world. It has made him a TV star here in Japan.
Nobu Tokyo
When I'm here, I spend most of my time at Nobu Tokyowith Junko, my daughter, who helps run the place. The menu displays my international influences – my Tiradito sashimi, for example, doesn't come with the traditional soy sauce and wasabi, but with sea salt, lemon juice and yuzu (a Japanese citrus fruit) and a Peruvian red chilli paste called rocoto. A signature dish – and Robert De Niro's favourite – is black cod with miso and rock shrimp tempura with creamy spicy sauce.
Sometimes customers come and thank me for the meal, and I thank them for enjoying the food. Seeing people eating and smiling is three stars for me.
Kaiseki cuisine
Hot springs are an important part of Japanese culture, and my favourite resort is Gôra Kadan, a traditional hotel that serves excellent kaiseki food. Kaiseki is as much an art form as a meal. The chef reflects the seasons using ingredients, plates, decorations and garnishes, and a meal consists of many courses. In winter, the fragrant matsutake mushroom, one of the most expensive fungi in Japan, might be served, and in spring, you can enjoy the highly prized ayu fish.
Another great place to try kaiseki is Kyoto, the ancient imperial capital of Japan. Perhaps the most famous kaiseki restaurant in the country is Kitcho, which has played host to world leaders. Also wonderful is Hyo-tei, which opened 350 years ago as a tea shop for pilgrims visiting the nearby temple. Kaiseki is often very expensive, but it's a unique experience – that's why many people consider it the most elevated form of cuisine in the world.
Tokyo and beyond
When to go: The best time to visit Tokyo is spring – especially in March and April, for the cherry blossom – and autumn.
Where to stay: The Peninsula Tokyo, 1-8-1 Yurakucho, Chiyoda-ku, Tokyo, toll free number 0800 2828 3888. Doubles from 60,000 yen (about £289).
For group tours: try Cox and Kings (020 7873 5000). The 10-day Japan Explorer tour (£2,395 per person, including flights) visits Tokyo and other cities.
Foodie market: Early morning visits to the Tsukiji Market, before 9am, are best. Most of the sushi and sashimi restaurants at the market open around 5am and close around noon. The market is closed on Sundays and public holidays.
For more information: about the Meiji shrine, Tokyo, click here. Visit the Japan National Tourist Organisation website for more information about Japan.
Tokyo Directory
£ = cheap and cheerful
££ = mid-range
£££ = splash out
Where to eat
Il Ghiottone ££
2-7-3 Marunouchi Chiyoda-ku, Tokyo
Tel: +81 3 5220 2006
Maisen £
4-8-5 Jingumae Shibuya-ku, Tokyo
Tel: +81 3 3474 007
Nobu Tokyo £££
1F Toranomon Towers Office, 4-1-28 Toranomon, Minato-ku, Tokyo
Tel: +81 3 5733 0070
Peter £££
The Peninsula Tokyo, 1-8-1 Yurakucho, Chiyoda-ku, Tokyo
Tel: +81 3 6270 2763; tokyo.peninsula.com
Tenko ££
3-1 Kagurazaka, Shinjuku-ku, Tokyo
Tel: +81 3 3269 1414; reservations essential in the Japanese language
Tsukiji Market £
5-2-1 Tsukiji, Chuo-ku
Wakiya ££
6-11-10 Akasaka, Minato-Ku, Tokyo
Tel: +81 3 5574 8861
Shopping
Mitsukoshi
1-4-1 Nihombashi Muro-machi, Chuo-ku, Tokyo
Tel: +81 3 3241 3311
Niitakaya £
3-2-2 Nihombashi Hamacho, Chuo-ku, Tokyo
Tel: +81 3 5614 9090
Outside Tokyo
Gôra Kadan £££
1300 Gôra, Hakone, Ashigarashimogun, Kanagawa, Hakone
Tel: +81 460 82 3331
Kyoto
Kitcho £££
158 Susukinobaba, Tenryuji, Saga, Ukyo, Kyoto
tel: +81 75 881 1101
Hyo-tei £££
35 Kusakawa-cho, Nanzen-ji, Sakyo-ku, Kyoto
Tel: +81 75 771 411
Interview: Jill Starley-Grainger
Subscribe to our magazine
Food lovers, treat yourself this Christmas... Enjoy 12 months of magazines for £29.99 – just £2.50 an issue.
Subscribe
Unleash your inner chef
Looking for inspiration? Receive the latest recipes with our newsletter