Angela Hartnett's foodie guide to Venice
Michelin-starred chef Angela Hartnett was an impressionable teen when she first fell for the beauty, mystery and flavours of the world's most romantic city. Discover her top picks for places to eat in Venice and top sights to see!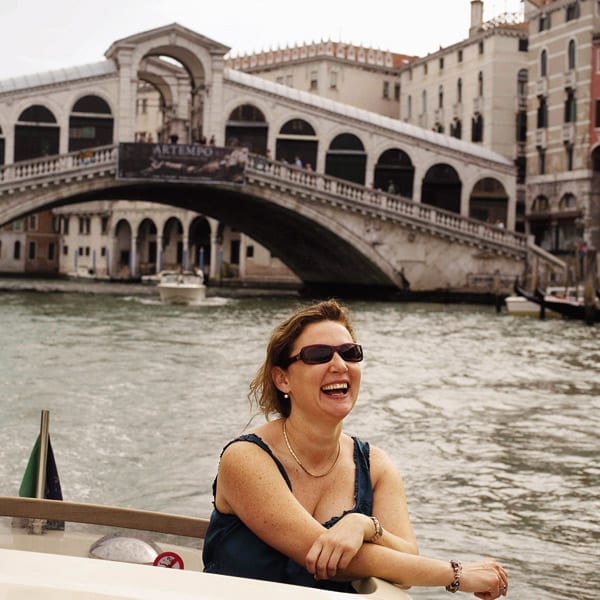 I think I know Venice, but each time I visit the same thing happens. It feels familiar – then I discover a bridge I haven't crossed, hear a gondolier belting out an unheard bit of opera, or find somewhere new and good to eat, and I realise I don't know this city at all.
I first came here in 1983 to visit relatives, and I can still see the 14-year-old me in front of the Doge's Palace, struck dumb with wonder. Today it's the grown-up me in the Piazza San Marco, looking up at the four magnificent horses that forever guard the palace.
This time, I'm in Venice to take part in the San Pellegrino Cooking Cup – and thinking I must be mad, as I have to cook a dish in the galley of a sailing boat as it slices through the waters of the city's famous lagoon. I have no idea if I possess any sea legs, but I'm cheered by the prospect of eating my way around Venice while I'm here.
But before I embark on my foodie tour of this wonderful city, there's a myth I have to debunk. Some say that Venetians can't cook, and that their food is overpriced. I agree it's expensive but think the rumour-mongers are eating in the wrong places. Venice has been trading in salt, fish, and spices for a millennium. Fruit and vegetables from nearby islands and meat from the mountains produce simple cooking such as fegato alla Venezia (calves' liver with just-caramelised onion and herbs), risi e bisi (rice and peas), bigoli (hollow pasta) and gnocchi.
There's a freshness and balance to the dishes, and no heavy sauces. The (good) chefs here rely totally on the quality of their ingredients.
First night supper
With my Italian uncle Renato, I catch a vaporetto (a Venetian water bus) and begin searching for supper – we've been told this tiny fish trattoria is hard to find. Blink, and you'll miss Alle Testiere (Calle del Mondo Novo, Castello 5801; T: +39 041 522 7220). Highly-rated by those in the know, it's in a mind-your-own-business alley typical of the city's secretive streets. It has no menu, and a handful of seats.
Proprietors Bruno Gavagnin and Mr Luca treat their customers like relatives, but not in a fussy way – just quietly, and with care. The restaurant name translates, rather randomly, as 'bed head' and there's a couple of them hanging on the walls – the only nod to any gimmickry.
We start with a refreshing glass of prosecco, the fizz of Venice, and a huge mixed fish platter: moeche or soft-shell crab, piquant with a catch of vinegar in the throat – typical of the Venetian saor, or way of cooking in vinegar; scallops with oranges and red onions; grilled razor clams; tiny breaded sardines and baby octopus in ginger, with raisin bread to dip into the sweet, spicy juices.
Look out also for sardee in saor, or sardines in vinegar, flavoured with raisins and pine nuts. The gnocchi scented with cinnamon is amazing, as is the spaghetti alla vongole – clams are abundant along the nearby coast. Spices are plentiful in Venetian cooking and the tuna with balsamic vinegar, rosemary and allspice is a triumph. Booking here is a must.
If you fancy somewhere a little more affordable and buzzy, meanwhile, try Alla Madonna (Calle de la Madonna, San Polo 594, T: +39 041 522 3824), a lively place near the Rialto that goes down well with family groups.
Food shopping in Venice
Being of Italian extraction, food is in my blood and so is shopping for it. In the bustling Rialto food market, I buy ingredients for the boat. There's been a market here for more than a thousand years, and you can feel history all around you. I have a rough idea of what I'm going to cook, but now I'm here I've changed my mind several times. The fish glisten in carefully laid out rows, including canocce, the plump local prawns.
Ingredients on display
The quality of the seasonal fruit and vegetables (which include purple artichokes called castraure) is astonishing. My shopping bags fill rapidly with fragrant herbs, radishes, squash flowers, prawns and crabs. The light is magical, sharp from a pale blue sky and golden in the early morning sun.
The only spice shop left on a street named after the many that were here, Drogheria Mascari (Ruga degli Speziali, San Polo 381; T: +39 041 522 9762), is definitely a one-off, its window dressed with pointed piles of spices and dried herbs. I buy strong and bitter dried basil flowers, and balsamic vinegar. At a corner store, I stop for eggs and Parmesan, and cram a pasta machine into my handbag.
Once on board, there's no wind, so the 70-odd boats remain almost stationary. Wallowing like basking sharks, we wait for il vente. It never arrives. The constant bobbing makes me incredibly queasy, but – I'm still not sure how – I manage to win the international category with my dishes of roasted John Dory with spinach, courgette flowers; and king prawn tortellini with a soft-shell crab vinaigrette.
Coffee in Venice
The Italians have a saying: cappuccino is for babies and breakfast. I love it when the froth is swirled into a heart shape. You probably can't get a bad cup of coffee in Italy but if you want swank, then you'll get it at the famous Caffè Florian (Piazza San Marco 56; T: +39 041 520 5641), where they serve tea in silk tea bags.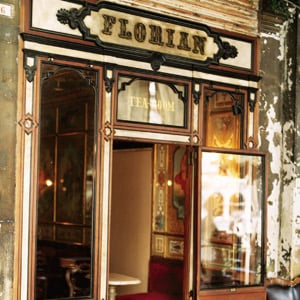 Caffè Florian
A confection of plush and sparkling glass inside, the outside has shapely wooden seats that curve round the pillars and billowing white blinds hung between the ancient arches of the piazza. Across the way, Caffè Lavena (Piazza San Marco 133; T: +39 041 522 4070) is no less sumptuous with its Murano glass chandeliers and, say the locals, the best espresso in town. Wagner, Liszt and Rostropovich were regulars here.
Drinks in Venice
Behind the Rialto market sprawls edgy Erberia in the bustling sestieri (district) of San Polo, where there's a raft of bars on the edge of the Grand Canal. Naranzaria (San Polo 130; T: +39 041 724 1035) has fusion sushi on offer, made with the freshest fish bought just around the corner. Order a prosecco or a spritz al bitter – Campari with white wine and soda – or a non-alcoholic gingerino, like ginger-flavoured bitters. I enjoy it best when it comes with a fat green olive. Any local bacari or bar is great for a quick drink, and you'll notice that the locals never sit down.
Walk back to St Mark's Square and through to the Canale della Giudecca, weave your way past the tourist tat and on a narrow corner you'll find the famous Harry's Bar (Calle Vallaresso, San Marco 1323; T: +39 041 528 5777). It's been a magnet for the great and the good since 1931 – everyone from Ernest Hemingway and Orson Welles to Woody Allen and Nicole Kidman has enjoyed the atmosphere here. The polished teak interior is strangely, immaculately ordinary; you could almost call it sparse, but the waiters and bar staff are dressed to the nines.
The bellini – a cocktail of white peach juice and prosecco – was created here, as was their famous carpaccio: a dish of thinly sliced raw beef, named after the Venetian artist who had a liking for deep reds in his paintings. The food here is good, but while I love to visit Harry's Bar for a bellini, why sit with 50 other tourists? There are better places to eat.
Lunch and dinner in Venice
Venice stifles in the heat, so a breezy boat ride to the nearby island of Burano, famous for its lace-making, is appealing. I step off the boat and find myself in a world of enchanting narrow streets and brightly painted houses. Da Romano (Via Baldassare Galuppi 221; T: +39 041 730 030) is a favourite of my friend Simon Hopkinson. Owned by the Barbero family for four generations, there's not a spaghetti strand's width between the paintings on the walls, given in exchange for dinner by artists who flocked here for the stunning light. Simon said I had to have the fish risotto. They make a broth from grass gobies, a sand-dwelling fish that's unique to the waters of the lagoon, and it does not disappoint.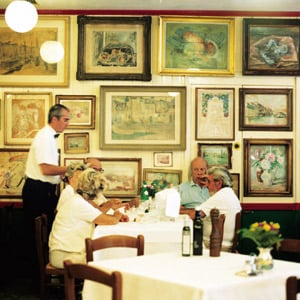 Da Romano
The waiter shows me photographs of the chefs doing the mantecatura, or stirring in, of the Parmesan and butter, taken at the moment when the quick, powerful movement of the whisk lifts the risotto out of the pan and into the air. It's an unusual risotto because butter and cheese rarely go with fish. It's quite wet and is served by spooning into the middle of the plate and shaking it Other treats include frittata di moeche, deep-fried soft shell crabs, a fantastic mixed grill of sea bass, baby octopus, sardines and spaghetti with cuttlefish sauce.
If you're weary with wandering, Al Covo (Campiello della Pescaria, Castello 3968, T: +39 041 522 3812) is just a gondolier's pole throw away from the Piazza San Marco. Run by Diane and Cesare Benelli, it offers some fantastically good food. I have vitello tonnato, thin slices of veal with a tuna sauce, and bottarga, wild sea bass and spaghetti with grated courgettes, which tastes simply of the sea. And they have my favourite kind of amaretti, made by Giraudi – soft and marshmallowy.
My uncle Renato has friends here who run a brilliant little place – Trattoria da Arturo (Calle degli Assassini, San Marco 3656; T: +39 041 528 6974). It's tiny. Minute. And with a kitchen to match. How do these guys do it? Arturo, Allessio the chef and Hani have had this place for 30 years, and apparently it has hardly changed.
We have a vegetable antipasti including aubergine in vinegar with onions, mushrooms, potato and borlotti beans, red cabbage and fennel, and thinly sliced carciofi or artichokes, which I'm going to put on my menu when I get back. We have stracetti di filetto alla rucola: sliced, soft-as-butter steak which comes in a forest of rocket, for mains. Surprisingly for a Venetian restaurant, they don't serve any fish. For dessert I have the nearest I've tasted to a real tiramisu. No sponge, no chocolate, no coffee. Just mascarpone, sugar and vanilla, with amaretti to dip into it.
As the vaporetto carries us away to the airport, a rainbow arcs over the little island of San Giorgio Maggiore and Palladio's awesome 16th century church. I can't get enough of this mysterious, glittering place and its fantastic food. I'll always be back for more.
Venice fact file
The best time of year to visit Venice is either the spring or autumn, when temperatures are bearable and the narrow streets aren't clogged with tourists.
Angela stayed at the Hilton Molino Stucky

(Giudecca 810, Venice 30133; T: +39 041 272 3311).
Photographs: Andrew Buurman and Jason Lowe.
Subscribe to our magazine
Food lovers, treat yourself this Christmas... Enjoy 12 months of magazines for £29.99 – just £2.50 an issue.
Subscribe
Unleash your inner chef
Looking for inspiration? Receive the latest recipes with our newsletter