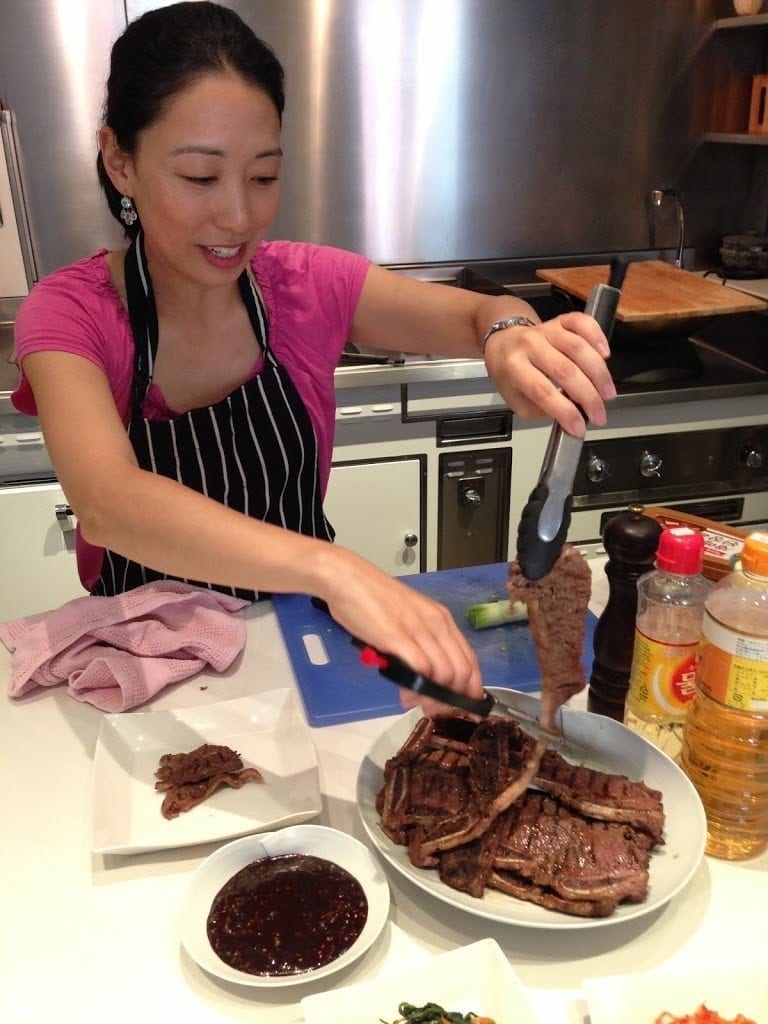 When someone invites you round for a barbecue, you don't expect it to be in their kitchen. But Korean-American chef Judy Joo's kitchen, in her enormous central London apartment, is a little out of the ordinary. Most of my kitchen could fit inside Judy Joo's oven…
The former Wall Street banker's oven is so big it has a built-in barbecue. Where does the smoke go, you may wonder. Fear not: the giant extractor hood is so powerful, as the lady herself likes to quip, "it could suck out your soul".
Judy's oven: reputedly it's visible from space
I could tell you about how the oven had to be craned into her apartment. If I told you how much it cost, you'd cry. But enough cooker-worship. Let's talk Korean barbecue.
Judy is the executive chef of the Playboy Club in London's Mayfair, and a star of the US TV show Iron Chef. The high-achieving daughter of a "classic tiger mother", she'll forgive people's ignorance about Korean food – but not when they say things like "I'm not really into South East Asian food."
"Korea is not in South East Asia. We have winter!" Judy exhorts. "There's no tropical fruit, no lemongrass, no coconut milk…" There's lots of garlic, though – and loads of chillies. Portuguese missionaries brought them to the country, says Judy – and now the nation is obsessed with the hot stuff. Good on 'em.
The Koreans love their chillies
Judy is going to make two barbecue dishes today, including one with beef. "The Japanese specialise in fish, the Chinese in pork. For us it's beef," she says.
She's fond of the 'in between China and Japan' analogy when talking about Korean food. "Japanese food is subtle, it's about the raw ingredients; individual bento boxes for each person. Chinese food is the opposite – it's all about the sauce, lots of oil, heavy, big portions to share. Korean food is somewhere in between: healthy, balanced little dishes to share."
Judy's other recipe will involve two smallish spatchcocked chickens supplied by my fellow guest, delicious. contributor and barbecue-obsessive Neil Davey. He's the one who kindly set up this whole lesson/gorging experience and I've simply tagged along for the culinary ride.
IT'S ALL ABOUT THE SIDES
Judy catches the pair of us salaciously eyeing the little side dishes spread across the kitchen table. These are the ban chan, she explains, and they come with every meal in a Korean restaurant (they should be topped up for free, she adds, "if it's a proper Korean restaurant").
There can be up to 12 different ban chan, but Judy's bought six classics (from a Korean shop): beansprouts, kimchi, spinach, fishcakes, strips of marinated Korean radish, and chunks of tofu.
It's not a Korean meal if it doesn't have the ban chan (side dishes)
It's the kimchi that's got me salivating most. I'm a big fan of Korea's national dish. When I ask Judy how fermented cabbage can be so amazing (and so varied – there are reputedly more than 100 types), she's off with another of her pet theories.
"Korea was ruled by philosophers," she says, "and even the cooking is all about the five points of chi. Everything should have balance. That's embodied in kimchi, which has that balance of the five things: sweet, sour, bitter, salty and savoury."
OK, enough philosophising. Let's cut to the beef.
KOREA VIA LOS ANGELES
Judy's using "the LA cut". It's slices from a frozen jacob's ladder (also known as short rib) joint. It has to be frozen, says Judy, to get the slices thin enough – it's sliced right through the bone too. You can only get it from specialist Korean shops, but you could use minute steak instead.
The LA cut: amazing what you can do with a chainsaw
The beef has been marinated for 24 hours in all kinds of wonderful things, including lots of fresh ginger and soy sauce, crushed roasted sesame seeds and two staples of Korean cooking: gochujang (Korean red chilli paste) and dwenjang (fermented soy bean paste – it's a bit like miso but coarser, darker and more fermented).
Once it's barbecued, Judy cuts pieces of meat off the bone using scissors. (There's a superstition in Korea that you never use knives at the table.)
We eat the beef in the traditional way: you take a lettuce leaf, then add a bit of sticky rice, a bit of beef and some ssam jang.
SSAM JANG: THE GREATEST SAUCE ON EARTH?
Ah, ssam jang. It's a mixture of gochujang, dwenjang, chopped spring onions, mirin, sesame seeds and dark sesame oil. I think I'd be happy to put it on anything. Neil wonders if he could live on it. This is all expressed later on, though. For the next few minutes, as we devour our lettuce-wrapped packages, the two of us are reduced to communicating mainly in mmms and aahhs.
Meanwhile Judy barbecues the chopped-up mini-chickens with just a little oil rubbed on the skin, as otherwise the honey in the sweet marinade she's made for it would burn. Only once the chickens are already browned does she start brushing the marinade over, turning all the time on the fearsome heat.
What do you mean, you don't have a barbecue in your kitchen?
When Judy produces the chicken, Neil and I exchange looks of unbridled barbecue-lust. And it's predictably fabulous. But which is best, the beef or the chicken? We can't decide. Better just try a little bit more of each…
Subscribe to our magazine
Subscribe to delicious. magazine for HALF PRICE
Subscribe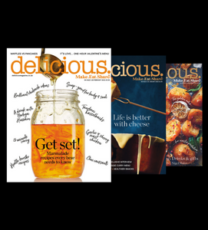 Join our newsletter
Packed with menu ideas, recipes, latest competitions and more...