Where to eat in Lyon, France
Lyon is a small city with a huge appetite. In its 30 square miles there are 3,882 restaurants, 21 of which have Michelin stars, so it's no wonder the city is known as the France's capital of gastronomy.
The city sits proudly on two rivers, the Saône and the Rhône, and is small enough for you to explore on foot or, should you need to rest your weary legs, there's a great tram service that scoots you from one side of the city to the other.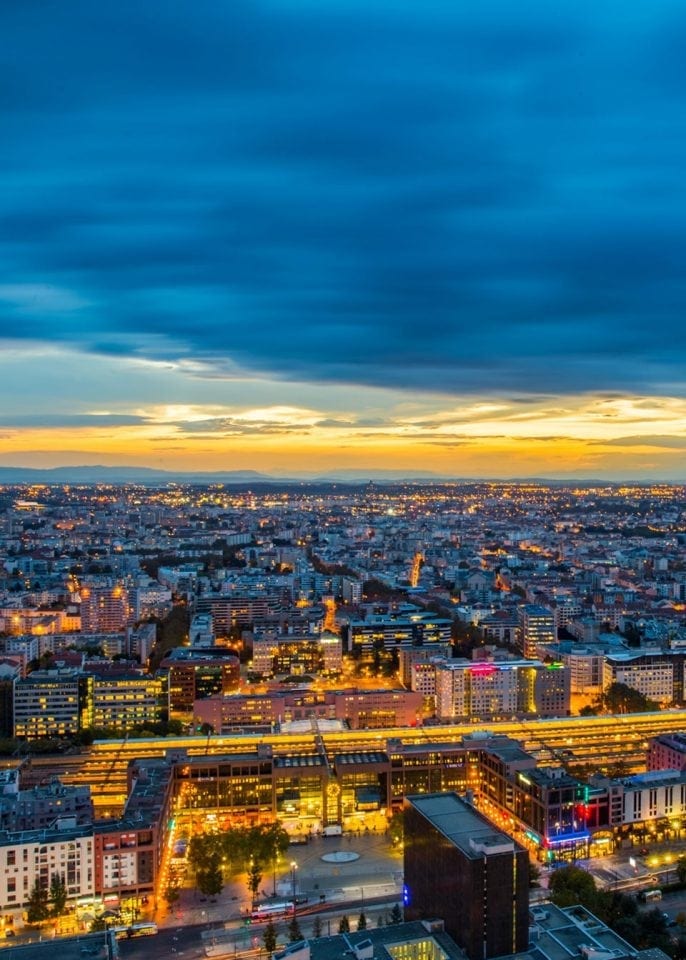 The best places to eat at are the restaurants serving the traditional cuisine of Lyon, known as bouchons – you can find plenty of them across the city, just look for the logo.
The first bouchons opened in the Croix-Rousse neighbourhood, when local silk workers were their principal customers. While the woman took care of the cooking, the man was in charge of the wine cellar and the customers in the dining room. The dishes were essentially made of the leftovers from the day before to avoid waste. Today, the bouchons remian heavily focussed on pork dishes although they also specialise in offal – liver, snout or head: nothing is wasted.
Getting there
There's a new London to Lyon line on Eurostar and it's brilliant. City centre to city centre takes less than five hours, plus you don't have to traipse all the way to an airport, wait around for boarding or check in luggage then wait for it at the other end – you can take your bags on the train and you only have to be at Kings Cross 30 minutes before departure.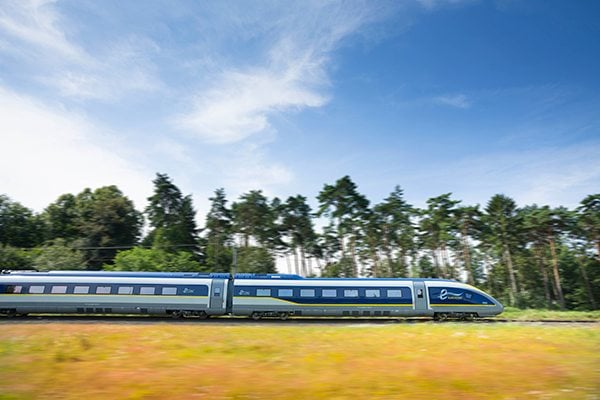 Where to stay before catching the Eurostar
The very best way to arrive for an early Eurostar departure is to sleep on the platform – not literally but almost. The St Pancras Renaissance hotel has rooms with views over the Eurostar trains so you can watch your train getting ready for departure while you do the very same. Rooms start from £209.
Where to stay in Lyon
Just a five-minute walk from Lyon Part Dieu, through a sparkling shopping centre, was our hotel for the weekend – Radisson Blu Hotel. Finding our accommodation, both on arrival and throughout our stay, was easy – just search the skyline for a pencil-shaped tower and there it is, right at the very top.
The hotel room has magnificent views over the orange-roofed city. From our windows we could see both rivers and, in the distance, the Old Town.
Where to eat
From small, independent wine shops to Michelin-star dinners and all the bouchons in between, here's my speedy food tour around the beautiful city
Day one
Lunch at Le Kitchen Café
We arrived in Lyon just in time to catch last lunch orders at Le Kitchen Café, a restaurant that's open daily but only serves lunch until 1:45pm. The menu has two choices for starter, main and dessert and is reasonably priced at €19 for two course or €23 for three.
The food is simple, made with local, fresh ingredients and cooked with a subtle modern approach. To start, black tomatoes are served with vibrant green beans, olives, garlic, dill and a fresh olive-oil based tomato sauce. Duck, served rare, comes with new potatoes, samphire and pickled onions for main course then, for dessert (the café is famous for their sweet dishes), a gorgeous strawberry concoction (pictured above) with tarragon sorbet and muscovado biscuit crumb.
My advice: finish your meal with a strong espresso and one of their freshly baked madeleines. You won't regret it.
Drinks on the river
After lunch we strolled along the river, past the open air lido (which looked so inviting in the 28ºC heat) to a row of permanently moored boats, that have been converted into bars, for a couple of beers.
Starferry sells beers from all over the world and has excellent views over the river – a perfect pitstop for refreshments while the sun is shining.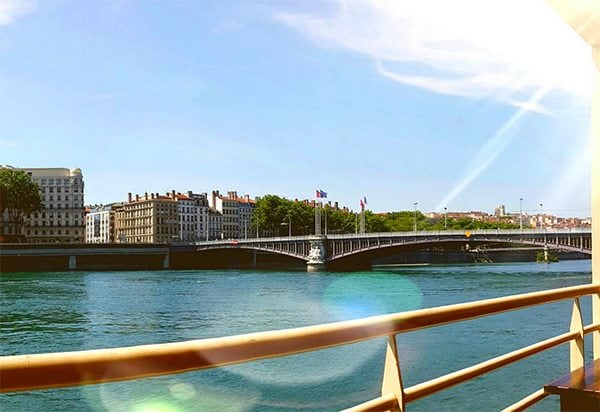 Wine at Le Vins des Vivants
Le Vins des Vivants is a great wine shop that sells a brilliant selection of natural wine from France and Italy indoors as well as serving glasses and carafes outside on the street. Wines are inexpensive and come by the glass or half bottle.
Alongside some great wine, we shared a big platter of excellent charcuterie with wonderful samples of French cheese, a colourful salad and houmous.
Dinner at Le Potager des Halles
Just round the corner from Le Vins des Vivants was our dinner destination, Le Potager des Halles. There are plenty of alfresco seats at the bistro and it was so wonderful to eat outside on a warm evening.
Côte de boeuf was the order of the day, alongside a splendid bottle of Gevrey Chambertin red burgundy. Other dishes worthy of a mention were a simple fennel salad, a vibrant tomato salad with local goat's cheese and purple basil, and pig's head nuggets with beetroot sauce.
Day two
Breakfast at Radisson Blu (see more info about our stay below)
I'm not usually one for breakfast at hotels, I'd much rather explore the local area and find something authentic but at Radisson Blu the breakfast is great for two reasons. The first, the magnificent view from the 32nd floor – it was great to watch the city waking up on a beautiful sunny day. The second reason, the breakfast was all typically French and it was a vast buffet of food – my favourite kind.
After a healthy fruit salad and yogurt breakfast 'starter' I continued the feast with a trio of beige goods – a buttery croissant (with strawberry jam) a pain aux raisin and a fresh bread roll with French butter.
Lunch in Vienne 
In Lyon, everyone sings the praises of the famed chef Paul Bocuse (and rightly so) but if you want to eat where the master learnt his trade, head to La Pyramide in Vienne, 32km south of Lyon. It's the restaurant where chef extraordinaire Fernand Point earned three Michelin stars back in 1933 (he was one of the first to do so) and retained the accolade for more than 50 years.
Fernand passed away in 1955 and, after the restaurant changed hands, it lost its stars. In 2011 Patrick Henrioux took over the restaurant and has since gained two Michelin stars. We went on a gorgeous sunny afternoon for lunch.
My favourite courses were a snail fricassée with freshly podded peas, a perfectly cooked lamb with beetroot 'spaghetti' (see image below) and a beautiful strawberry dessert.  The restaurant is definitely worth the trip.
Wine in the Old Town
Chateau Neuf de Peuple was a brilliant wine shop we stumbled upon in the Old Town. There's no wine list. Instead you decide whether you want red or white wine then you are given three or four to try. The guys in there will tell you about each wine, where it is from and some history behind it to help you decide. Then, once you choose your favourite, a full glass is poured for you. Every glass is €5 and a full bottle is reasonably priced to take away too.
Dinner at Daniel et Denise
There are three Daniel et Denise restaurants in Lyon; we went to the one in the Old Town. This is one for your must-visit list. They serve classic French food, typical of the region, such as the famous pâté en croûte and Bresse chicken.
All four of us ordered the Bresse chicken. A bit like Herdwick lamb or Wye Valley asparagus in the UK this chicken has AOC status (the French certification granted to certain French geographical indications for wines, cheeses, butters, and other agricultural products) and it is WONDERFUL.
The chicken tasted like no chicken I've eaten before with so much flavour and an excellent firm texture. At Daniel et Denise, it was served with a creamy morel sauce, crispy sliced potatoes, creamy macaroni cheese and garlicky green beans. C'est tres bon.
Day Three
Shopping at the markets
Lots of locals gather with friends and family and go to Les Halles de Lyon Paul Bocuse market on Sundays. You'll see groups sitting quaffing wine and eating oysters, chefs shopping for produce and residents picking up their weekly shop in the market which dates back to 1859. My top tip: take a cool bag and pick up some of the finest local produce, like Saint-Marcellin cheese, Bresse chicken and praline tarts to take home.
Although it was great to feel the buzz and conviviality of Les Halles, I preferred St Antoine Market– the outdoor farmers' market – on the Sôane river. One of the main outdoor markets, the vendors sell a beautiful assortment of produce including fresh fruit and vegetables, breads, cheese and rotisserie chicken. Great for an impormptu picnic on the river.
Lunch at Cour des Loges
Back to the Old Town for a Michelin-starred meal at Cour des Loges, located in a Florentine courtyard, with a magnificent glass ceiling overhead.
The menu is far from the traditional cuisine of Lyon. It's bold and creative but still uses the finest ingredients from the region. Highlights included a pretty as a picture salad starter (see below) and a pigeon main course – a blushing pink breast served with the pièce de résistance – a little bread 'pie' filled with the leg meat and cep mushrooms, roasted until the bread was crisp and golden.
The food was exceptional, as was the service, and the drama makes for an entertaining lunch. One of my favourite parts was when a waitress wheeled a trolley towards our table at the beginning of the meal. Everyone heard of a cheese trolley but at Cour des Loges there's a butter trolley – featuring a huge homemade pat of butter (flavoured with fennel and elderflower on our visit). The butter is carefully paired off and served with crispy toasts. My idea of heaven.
Subscribe to our magazine
Food lovers, treat yourself this Christmas... Enjoy 12 months of magazines for £29.99 – just £2.50 an issue.
Subscribe
Unleash your inner chef
Looking for inspiration? Receive the latest recipes with our newsletter