Can you turn fussy kids into healthy eaters?
How and what kids eat continues to be a political hot potato. And the teatime battleground can be as contentious between parent and child as it's been between Jamie and Downing Street.
I began writing about kids food (and indeed wrote my book) in response to my own story in getting my kids to eat their greens.
This is what I've learned, in 10 bite-sized tips.

1. Become a marketing guru
Kids eat with their ears, eyes and head. Making sandwiches? Never underestimate the power of a cookie cutter. Combining banana with avocado is a tried and tested idea.
2. Neither reward nor punish with food
Children aren't stupid. They'll enjoy something less if they feel it's a punishment, or equally, if they realise they'll be rewarded for eating it. You can try to refer to pudding as the 'next course' rather than a reward for eating the 'yucky stuff.' So, less of the 'if you eat this, then you can have that…'
3. Offer realistic portion sizes
Little tummies need smaller portions. Try not to overfeed or pile up food on their plates. I really like this nutritional guide from the British Nutritional Foundation.
4. Don't fall into the 'every last scrap' trap
By forcing kids to eat 'every last scrap' you're encouraging them to over-eat as well as ignore those vital 'I'm full' signals from their brain.
5. Invite foodie friends over
You might be amazed at what your child will eat when they see their best friend tucking into the same with gusto. Here's your strategy: identify a child who just LOVES their veg. Invite them over, and in doing so create positive reinforcement for your child.
6. Employ the distraction technique
Unorthodox, but I'm a great fan of offering (healthy) snacks in front of a kids' favourite TV show (it's the 'hand-to-mouth' action). Carrot sticks and houmous anyone..?
7. Don't let an inquisition take over their birthday party
Your kids don't need performance parenting on their 6th birthday party. They just want the swag. And once upon a time, you did too, remember? Embrace it.
8. Discover your child's personality
Some research suggests that kids who are sensitive to new surroundings, textures, or even loud noise can be particularly reticent to try new foods. Consider the role your child's personality has to play when it comes to eating.
9. Empower your kids
Try involving your child, so for example, "shall we have broccoli or carrots with our shepherds pie tonight?". They'll feel emotionally invested, and therefore more likely to eat.
10. Get them cooking
And of course this is an obvious one. Your kids are more likely to eat what they've had a hand in creating their food. Start with baking, then move them quickly onto the savoury stuff too.
Fiona is the author of '25 Foods Kids Hate and how to get them eating 24′ (New Holland).
Subscribe to our magazine
Subscribe to delicious. magazine for HALF PRICE
Subscribe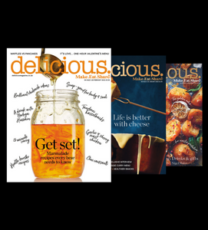 Join our newsletter
Packed with menu ideas, recipes, latest competitions and more...