Five minutes with Dean Parker
Founder and head chef of Glasgow's hottest Italian restaurant, Dean Parker is as passionate about creating memorable food as he is about sustainability in the industry, being adaptable and family life. We sat down with him to find out about his food loves, hates and everything in-between.
Dean and his wife Anna set up Celentano's in 2021, right after the pandemic. The restaurant instantly picked up a lot of local attention, scooping up a Michelin Bib Gourmand within the first six months of opening, and has shone a whole new light on the slightly overlooked East end of this charming city.
What's your very first memory of food?
My grandparents used to make these mega but super simple open toasties with just cheese and tomato. I used to add Bovril to it, which is really common in South Africa. We used to often eat it for breakfast on buttered toast. When I was at university, I used to make my friends similar loaded toasties with loads of different barbecued spices, caramelised onions, you name it. This is probably what kickstarted my love for cooking for others and really sparked an interest in becoming a chef.
What's the first recipe you properly learned to make?
Homemade bread.
What do you like to do to relax?
I love to go kite surfing in Troon – ideally at sunrise!
What's the one dish you can't live without?
Good bread and their accompaniments. Sourdough with a sour salty butter, slices of nduja and preserved veg – fermented fennel and salsa verde.
And what's your signature drink?
Definitely a negroni.
What is your favourite season of the year in produce terms?
Spring! All the herbs start to grow back. Wild garlic has been everywhere this year.
What ingredient would you take to a desert island with you?
I know this is random but growing up we used to eat these juicy mangos straight off the tree, there's no other food memory that brings this nostalgic feeling.
You can have a one-off dinner party on your island… who would you invite?
All my close friends and family. Most of my close friends are also chefs or work in the industry so it is very hard for us to all sit down for a drink or meal together!
Although I would also like a chat with Chef Rene Redzepi, and the founder of Patagonia Yvon Chouinard – I feel like I could learn a lot about sustainability and zero waste from them. 
It's late at night, you've just got home. What are you rustling up for dinner?
A rice cracker, with houmous, sauerkraut and siracha. It's my go-to. Sometimes a bit of Manchego too. Or Weetabix if I'm extra tired and need to get to bed ASAP.
Is there anything about the food industry that bugs you? We'd like to hear your thoughts…
The lack of support the government gives to small producers and farmers. If it was supported better, the prices would be more affordable for families. To do anything sustainably is always a larger setup cost but in the long run we will all benefit.
What is the best food experience you've had so far in the UK? Something that you think everyone should try before they die…
Breakfast at Coombeshead farm. It was about 4 years ago that Anna and I stayed there but I still think about how good that breakfast was. Everything was from their farm or made fresh in their kitchen from the eggs to the bacon, bread, juices, jams, pastries. It was amazing.
Inver in Scotland is also amazing though. The food is incredible, and the surroundings are so so peaceful.
What has been the most formative experience of your career?
In 2017, we had the Manor in London – a small plates seasonal restaurant. We had 3 years of a successful established restaurant but needed a change to survive. We decided to change the concept to Sorella, an Amalfi inspired menu with the same integrity in sourcing seasonally and sustainably. I did a research trip to Naples where I fell in love with Italian food, I worked in a family-run trattoria in Massa Lumbrente called "La Torre" – everything was local, a real farm-to-table experience. The real lesson learnt from the transition, was how much you can learn from taking a risk, if you put enough research and hard work into what you believe in.
Congratulations on the success of Celentano's! How has the experience been so far, and what challenges have you faced?  
It has been a bit of a whirlwind – a successful first few years with great reviews and being awarded a Michelin Bib Gourmand within 6 months. It's more than we expected! But at the same time, it has been super challenging as we opened just as we were coming out of the pandemic, and then heading into a cost-of-living crisis. We are constantly learning as we grow. I think you need to be super flexible and open to change if the change is right. Costs are the biggest challenge across the whole industry right now.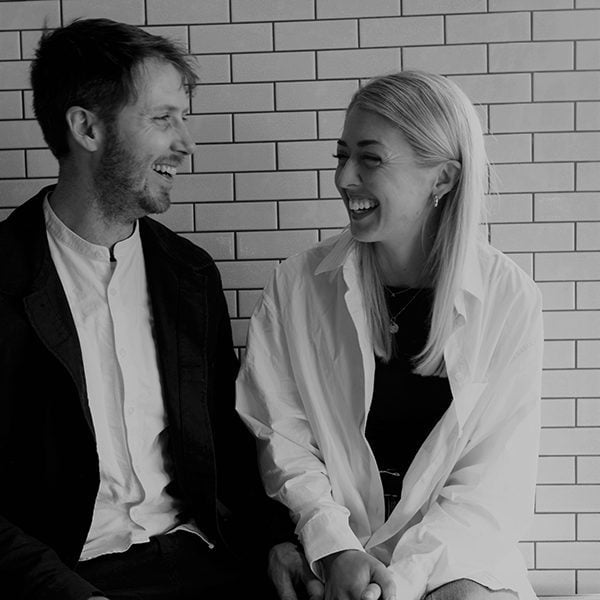 It is the first time Anna and I have worked together, and I feel proud of what we have achieved together so far. There is still a lot to do and learn, and I'm sure a lot more challenges to overcome but I'm looking forward to the next year.
Glasgow is such an underrated part of Scotland; we're so glad to see such great restaurants popping up in the city. What's your favourite thing about Glasgow?
How close you are to green spaces. I've never had so much abundance in a city of edible wild plants available (wild garlic, blackberries, elderflower, and cherry blossom).
How do you find suppliers for the amazing produce you use in the restaurant?
We're lucky to have an abundance of fantastic suppliers. We work with Free Company who supply us with vegetables, lamb, and pigs. It's a fully sustainable farm, what they grow will be on the menu for the week.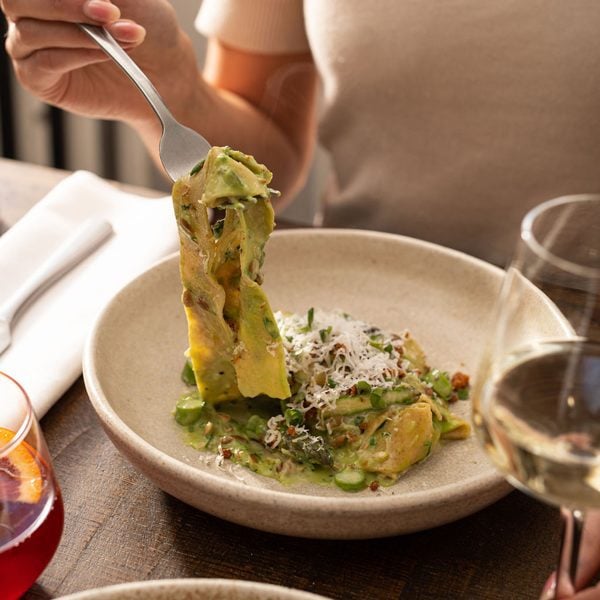 What dish currently on the menu at Celentano's are you most proud of?
Ricotta agnolotti currently with asparagus wild garlic with nocellara olives and sunflower seeds and this will change seasonally as the vegetables change. Everything is made in-house.
We make the ricotta in-house, the whey gets used for the sauce, our old bread gets used for crumb and the herbs for finishing are grown in our garden. The wild garlic I forage. All the trim from the pasta feeds our staff.
Do you have any aspirations and dreams you've yet to fulfil?
I would like to have more time with my family and be able to travel. I would also love to go to Japan and continue to explore Italy.
Planning a trip to Glasgow? Pay Dean and Anna a visit at Celentano's. Find out more here. 
Subscribe to our magazine
Food lovers, treat yourself this Christmas... Enjoy 12 months of magazines for £29.99 – just £2.50 an issue.
Subscribe
Unleash your inner chef
Looking for inspiration? Receive the latest recipes with our newsletter