Five minutes with Ed Gamble
One of food podcasting's biggest stars, Ed Gamble loves food and making people laugh – a man after our own hearts. The comedian is back on TV as a Great British Menu judge and, ahead of Red Nose Day (17 March), talks to Kerry Fowler about what Comic Relief means to him, not letting type 1 diabetes steal his food joy – and the cleansing power of hardcore punk.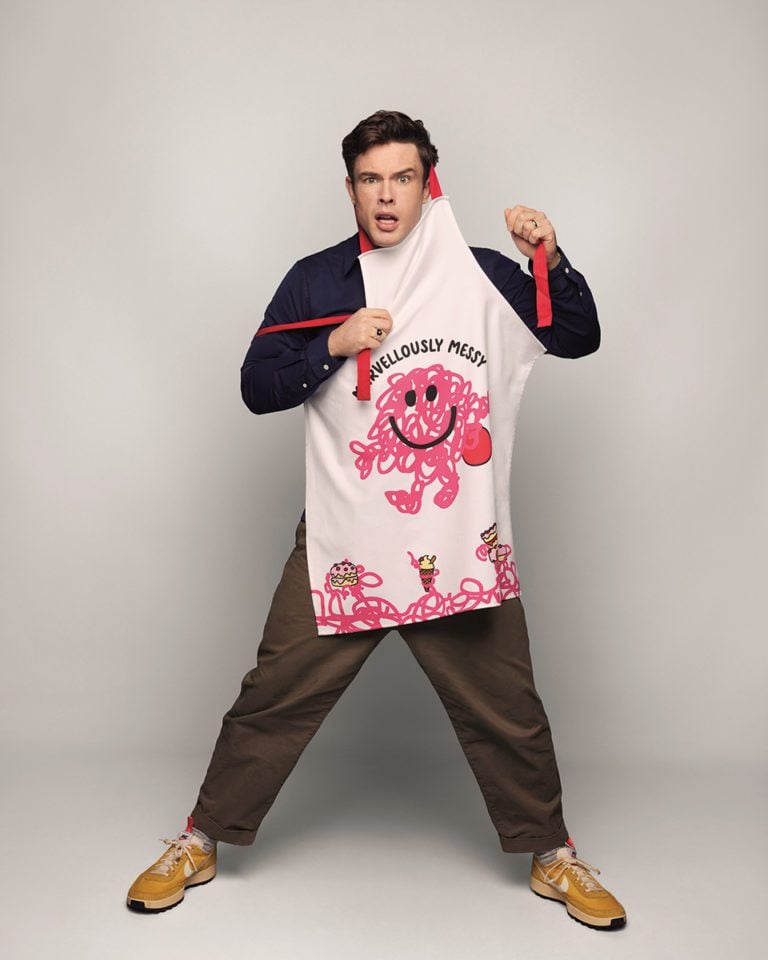 Portrait credit: Matt Holyoak
What are your earliest memories of food?
I was a weird child and wanted what the adults were having, not the kids' menu. There's a story about me at a wedding where all the other kids chose chicken nuggets, but I demanded the poached salmon. I was always a little gourmand. My mum is a brilliant cook and would make a meal each night from Delia Smith or Good Housekeeping when I was growing up. I was raised to understand the importance of being able to cook and the satisfaction of making a meal for yourself.
Your podcast Off Menu – where guests are invited into a 'magical restaurant' to talk about their ideal meal – is a hit. What's on your own menu?
Asking someone for their dream meal, like James Acaster and I do on Off Menu, is a beastly thing to do! That said, mine would be: steak tartare, then a large Turkish mixed grill – doner kebab, shish kebab and lamb ribs with bulgur wheat. Houmous, bread and halloumi on the side, and another side of the unbeatable confit potatoes from London's Quality Chop House. A burnt Basque cheesecake for pud. And a JJ Prüm riesling to go with it. Expensive – but it is my dream meal!
Why do you think the podcast has been so successful?
We started Off Menu for fun. Podcasts were really taking off in 2018 when we began and James and I were known for other things, so we had a few 'likes' already. Food is universal and we try to keep it that way. We aren't talking about Michelin-star tasting menus every week: our menus are about abundance, joy and liking all types of food.
You're also known for your appearances on TV game show Taskmaster…
My wife and I do have Taskmaster the boardgame at home… but it's nothing like the rush of doing the TV show. Having the opportunity to do the series and then another episode, Champion of Champions, is one of my greatest achievements. My crowning glory was turning host Alex Horne into a mermaid water feature, fixing funnels to his chest and getting a huge spray of water to come out of them. Creative and weirdly grubby.
Why did you want to get involved with Comic Relief?
Aside from all the great work it does, it's been a huge part of my life and my comedy. I used to have a double-sided cassette tape I'd make my mum put on in the car – I'd listen to French and Saunders, Lenny Henry, Ben Elton… It helped me fall in love with comedy and stand-up. It's amazing to be part of Red Nose Day this year.
I'm wearing the Mr Messy apron for the occasion, despite the fact – and I must stress this – that I am actually quite tidy. I'm not slapdash – I throw peel away as I'm cooking and wash up as I'm going along. Chopping an onion is where I'm happiest. You feel like you've nailed life when you're cooking.
What do you listen to when you're in the kitchen?
Atmospheric doom metal. Bands like Yob and Sleep, and hardcore punk. Shouty stuff. Really loud. Music with a dash of aggression in it, really. I find it quite cleansing.
You've talked about your experience with type 1 diabetes in your comedy routines and for awareness campaigns. As a food lover, how does it affect your life?
I work around it, rather than stopping myself eating something I like. I know when it's sensible to have something and when it's not. It's about getting good at managing my sugar levels and insulin. It's not an exact science. No matter how much work has gone into it and all the great new technology, you will get things wrong, probably on a daily basis. Realising it's not your fault and that you'll never achieve perfection is the way I deal with it. I don't let it stop me enjoying food, and all sorts of different foods, every day.
Finally, what's on the menu when you're performing?
I avoid eating a big meal before I go on stage, otherwise you could tell: I'd be moving around a lot less, I'd be more languid. Comedians are quite low maintenance, generally, so no riders for me. It's different in the music business. I've heard stories about bands turning up wanting loads of vodka in the dressing room. We just ask for water…
Ed is supporting Red Nose Day by wearing an apron from the homeware collection, with Mr Men & Little Misses designs, at Homesense, TK Maxx and tkmaxx.com. Sales raise money for Comic Relief, which supports projects helping people affected by poverty, domestic abuse, bereavement and more in the UK and abroad. Comic Relief is a registered charity in England & Wales (326568) & Scotland (SC039730).
Subscribe to our magazine
Food lovers, treat yourself this Christmas... Enjoy 12 months of magazines for £29.99 – just £2.50 an issue.
Subscribe
Unleash your inner chef
Looking for inspiration? Receive the latest recipes with our newsletter