Five minutes with Mark Jarvis
Chef Mark Jarvis opened 1771 last year, on Holbein Place in the heart of Chelsea. The restaurant brings together a managably-sized, creative tasting menu using carefully grown, locally sourced produce with a Japanese influence, such as Scottish kombu and Cornish crab.
The ingredients are given room to sing with refined yet unfussy plates: a ikejime seabass with miso beurre blanc or koji aged pigeon with pumpkin and pear. We spoke to Mark about his food influences and what he has planned for 2022…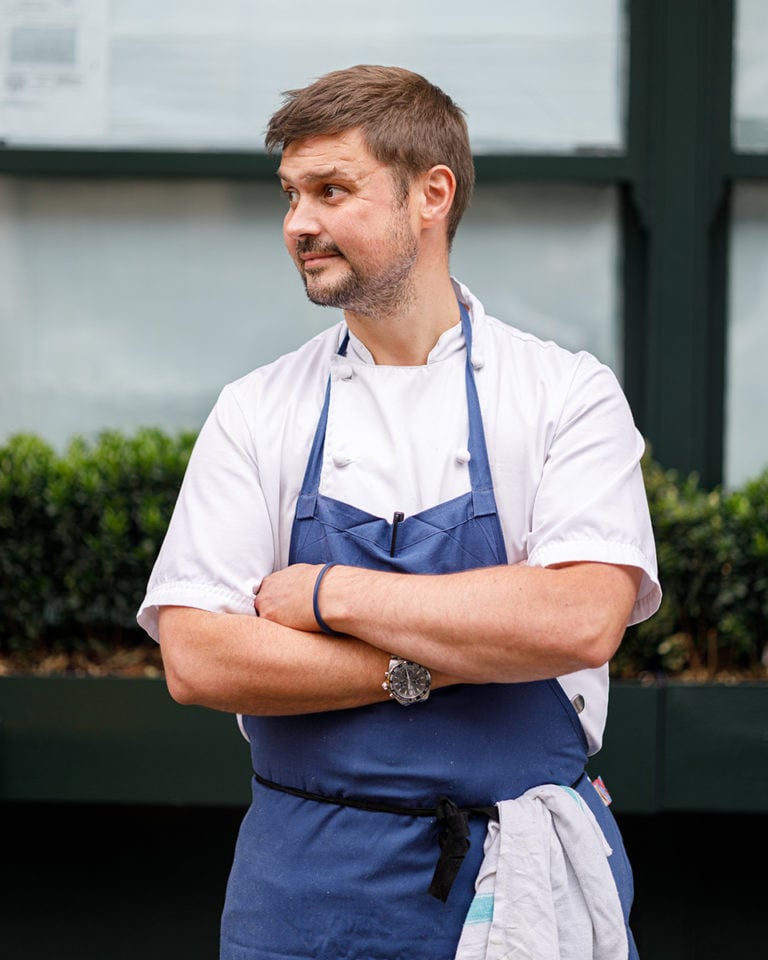 What's your very first memory of food?
Mashed potato with Grandma. She was a big inspiration for me growing up as she used to cook everything from scratch. I used to prep the vegetables as a young child and it's a really special memory for me as it has shaped who I am as a chef.
What's the first recipe you properly learned to cook and who taught it to you?
The first recipe was Grandma Ruby's Victoria sponge – though technically she never used a recipe. She always made everything by hand, never with a machine, and I remember her huge ceramic mixing bowl, the smell of the eggs. She lived on a piece of land that wasn't yet developed and she used to get ingredients locally; eggs from the farm and meat from the butchers. Nowadays supermarket eggs are the size of quails' eggs, and full of stabilisers. Everyone used to come round for a fresh slice of cake, and she always had something in the tin.
What's the one ingredient that you'd take to a desert island with you?
I would bring pepper as I would have salt already from the ocean! You can make anything taste nice with good seasoning.
What's the meal you'd miss the most whilst there?
Definitely a good Sunday roast – I miss this whenever I'm abroad for an extended period of time. It's one of the things my Grandma used to cook as a child, but it's also been passed on down the generations as I make it for my boys at the restaurant. It's something we often do as a family: everyone likes it and it removes that element of fuss. People often ask if I cook fine dining at home but really, I just want to eat something simple.
You can have a one-off dinner party on your island… who would you invite?
My sons. We don't all live together so it's nice when we can enjoy a meal together. They are both easy to please and it's great to have a laugh, have fun, balance spoons on our noses. It's a connection we all have as they both like their food. Having said that, it can be hard to get my younger son in the kitchen as he's too busy finding snails in the garden. He'll make me pizza, but the way he wants to make it, without tomatoes on it. He's clever!
What's the one condiment you couldn't live without?
Kewpie Mayonnaise. It's a type of Japanese mayo which was introduced to me by a Japanese chef years ago when I was training. This is good gear. It goes with everything, and it's now available in supermarkets, so I recommend buying one for your table.
Which cookbook would you take with you to the island?
Modernist Cuisine: The Art and Science of Cooking by Nathan Myrhvold. It has everything that you need to know about the science behind cooking. I follow the people who wrote the book and I had to get it the minute it came out. It really goes into modernist techniques, but on top of the recipes it also gives you a foundation on which to build and develop your recipes – you can apply the tips to your own work. I'm also a fan of Bread, which is a book my parents bought me about the basics of baking.
What's the restaurant (anywhere in the world) you are most looking forward to eating at, now that travelling more widely is possible again?
Asador Etxebarri in the Basque Country, Spain, because of their style of cooking and the way they treat the produce. They have an open fire and it's everything I love about cooking. I know friends who have been there, and I was going to go before the lockdown but everything was delayed, which makes me even more eager to visit.
Tell us more about your newest restaurant, 1771? What inspires the menu?
With Liv, we looked at the market and decided we wanted to do something more themed on Anglo. We realised that we needed a good tasting menu and à la carte menu, which is what we focused on at 1771. I think tasting menus are a good way to showcase your style – you don't need a big portion but it enables you to show as much as you can in one menu, offering lots of variety.
Our aim is to work with the seasons and source the best produce. If this means using one meat for both starter and main, we will. It's about focussing on the bigger picture sustainability-wise – though of course, flavour comes first. We've got a special wooden grill to cook really naturally, and we practise both natural and modern techniques. We also have a list of unique wines, and we sit down and create wine pairings that put a spin on our menu. I like playing with Japanese fusion and I try to bring a Japanese influence together with my classic French training. In essence, the restaurant is 'modern British', but in reality this can also mean a mixture of Japanese, Spanish, French – we've got a nice umbrella to sit under.
The restaurant's décor manages to be at once as comfortable as your living room, whilst at the same time offering world-class art to enjoy while eating. Can you tell us more about the art and design decisions?
My business partner is an avid art collector and using 20th century work means that the art appeals to a wide range of people. We have a really good relationship – he eats out all the time so he understands that the room needs to match and reflect the food. The two go hand in hand.
It's all the real deal – even the cushions change colour in the summer and he works with local designers to furnish the space. Even when hanging the art, it's not just chucked on a wall, it's about balance. At certain tables you can just about get a view of every piece of art in the restaurant.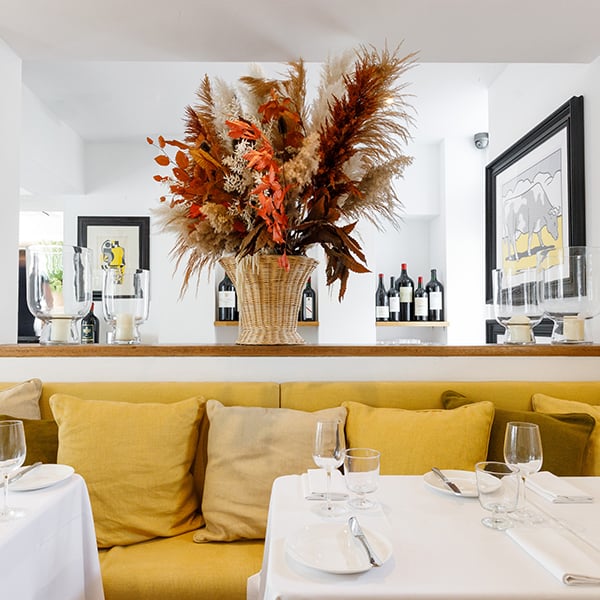 What's your favourite dish on the menu at the moment?
Our venison dish – we're getting the most delicious meat from our supplier West Country Premium Venison, it goes amazingly with the seasonal vegetables that we're using at the moment, like pumpkin. It's a great example of how our small team comes together.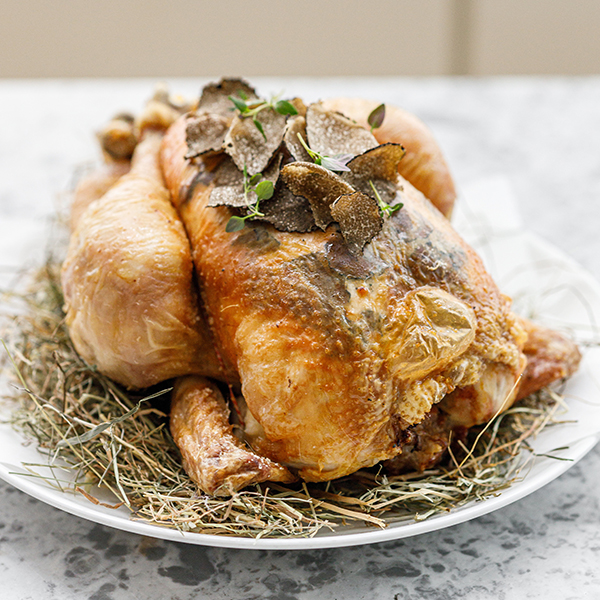 What does 2022 hold for you and your restaurants?
No one can be certain, but we're looking to focus on sustainability and getting our own farm in Lincolnshire to supply both 1771 and Anglo with seasonal produce, as well as pairing with local businesses.
When you have children you want them to have the same future you have been blessed with. When I was young it was a treat to have a good joint of meat – now you can get whatever you want, but a lot of it is mass produced rubbish. It's important that we take time to respect the ingredient and reflect on what we are doing.
With this in mind, we have plans to launch a vegetarian lunch menu this January, where the meat will be a supplement. We can put our energy into cooking the vegetables, trying out new equipment. They are some of the most healthy and versatile ingredients, so it will be a real game-changer.
To book a table at 1771, click here.
Subscribe to our magazine
Subscribe to delicious. magazine for HALF PRICE
Subscribe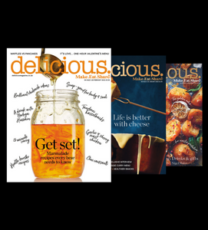 Join our newsletter
Packed with menu ideas, recipes, latest competitions and more...