Five minutes with Robin Gill
Robin Gill, chef patron of The Bermondsey Larder in London's Bermonds Locke hotel is creating some of the most produce-led seasonal menus in South London. Having made the move from The Dairy Clapham to Bermondsey this year, Robin and his team continue to work with a close network of suppliers.
The restaurant has a strong community feel and with its creative, ingredient-led menus, the Bermondsey Larder has all the hallmarks of a destination restaurant, for visitors to the capital and locals alike.
We caught up with Robin to find out about his food loves and hates as well as where he'd take his next foodie holiday…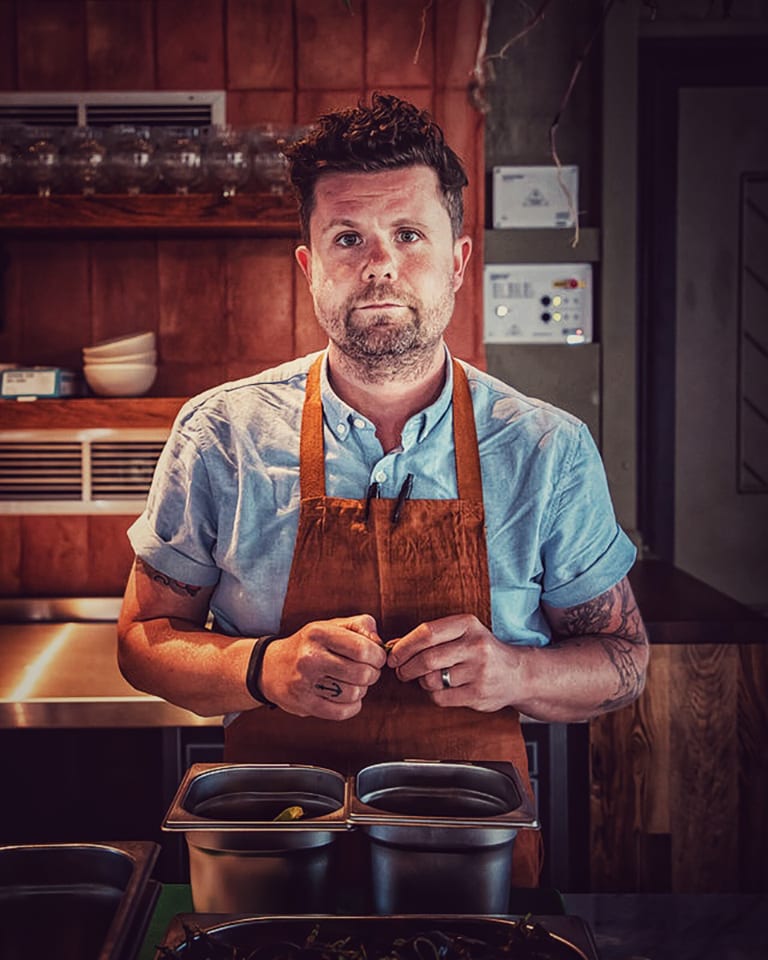 What's your very first memory of food?
Trying to reheat tinned minestrone soup in a kettle when I was 7, it didn't end well.
What's the first recipe you properly learned to cook?
My mum's spaghetti bolognese.
Which food do you absolutely hate?
I don't really like overly sweet dishes at all, I used to hate sticky toffee pudding but I have had a few fabulous ones in recent times that swayed me somewhat.
I don't get pomegranate.
What's the one ingredient that you'd take to a desert island with you?
24-year aged Parmesan, I love to use it to season things.
What's the meal you'd miss the most whilst there?
Dumplings from Dumpling Legends in Chinatown.
What's the one condiment you couldn't live without?
Ooh there are a few: capers, Dijon mustard and Tabasco.
You can have a one-off dinner party on your desert island… who would you invite and why?
Jack Nicholson, Ernest Hemingway, Grace Jones, my wife Sarah, and all the characters from Monty Python. There'd be a mix of comedy, history and music well into the early hours.
Which cookbook would you take with you to the island?
Probably something on foraging so I could stay alive.
Which meal did you cook the most at home throughout lockdown?
A vegetable laksa and loads of things on the BBQ.
And… what did you binge-watch on TV?
Lots of true life docs on Netflix, all types.
Where's the first place you ate once restaurants re-opened?
The French House which is in Soho.
And what's the restaurant (anywhere in the world) you are most looking forward to eating at, when travelling more widely is an option again?
I can't wait to go back to Italy to near the Amalfi Coast, and head to Mimis, a simple seafood restaurant. They've been cooking amazing food since 1901. I'd drink lots of local wine with peaches.
Tell us some more about the Bermondsey Larder.
It's a stunning space just off Bermondsey high street, with a big focus on natural wine and clever vegetable-focused dishes with a back to basics approach.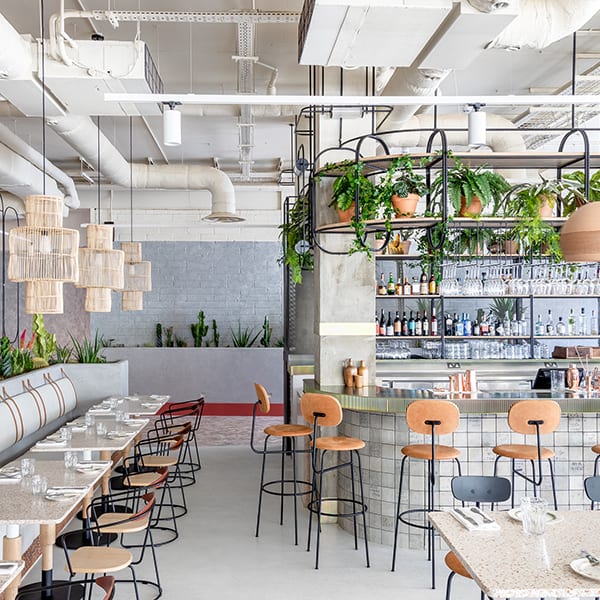 You and many of your Clapham-based team have recently moved to Bermondsey. What's the move been like and how has opening post-lockdown been?
It's been amazing for the team to find a home in a new kitchen and bar, but also to move to a new neighbourhood I have always loved. Bermondsey is such a foodie part of London surrounded by amazing breweries and purveyors of all kinds.
What's the first menu you prepared in the new site?
Lamb croquette, pea & lovage, with Dorstone ash, followed by butterflied Willie's mackerel, sea salad, pickled mussels and the Julie Girl monkfish, pine nut sauce, fennel kimchi, sea vegetables for main.
Bermondsey Larder is known for its use of seasonal British ingredients. What's your favourite time of year to cook and what ingredients are your go-tos?
Spring and autumn are my favourite times of year as I love all the wild mushrooms and varieties of pumpkins and walnuts and cheeses that are around at that time.
Discover more about Bermondsey Larder and how you can make a reservation here.
Subscribe to our magazine
Subscribe to delicious. magazine for HALF PRICE
Subscribe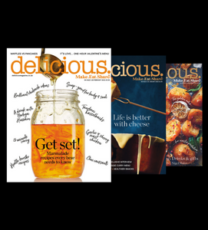 Join our newsletter
Packed with menu ideas, recipes, latest competitions and more...