Five minutes with Romy Gill
Cookbook author and former restauranteur Romy Gill has, through determination and in her words, "1% luck", struck a path for herself which has seen her awarded an MBE for charity work, and make it on to the Today Show in America.
Romy's latest book, On The The Himalayan Trail: Recipes and Stories from Kashmir to Ladakh (Hardie Grant) came out earlier in 2022. We caught up with Romy at Rock Oyster Festival near Padstow, to talk inspirations, bugbears and more.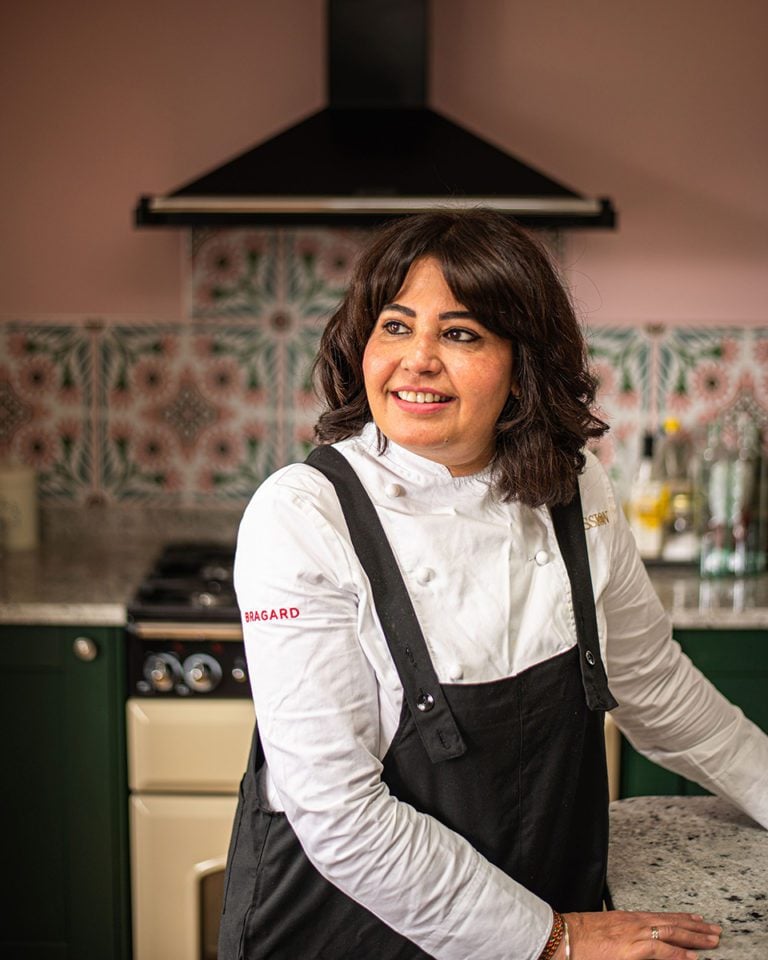 What's your very first memory of food?
I think it has to be the rice pudding that my Mum made. When you wean children in India, they always give you something very sweet, so it's not rice pudding the way British people make it. It's slow cooked with basmati rice or there's another rice called gobind bhog – where they crush the rice a little bit and it's creamier. It's cooked on a low-heat for 3 or 4 hours and becomes like a porridge. There is green crushed cardamom in there, and sometimes my Mum would put pistachios or cashew nuts on top. It's so delicious.
What's the first recipe you properly learned to make?
I think it has to be making dough properly. Indian flatbreads. If you cannot work with dough properly, then it's really hard for you to work with any pastry. Knowing how to work with flour is so important. I started with roti and then paratha. Atta flour, or a mix of wholemeal flour and plain flour, were what we would use. You can buy it in Indian shops – and you can get multigrain atta flours, I use a lot of bajra and rajgira – ancient grains, and millet flour. You have to learn with your hands, it cannot be made with a machine. You need to know the feeling of it by kneading the dough.
What do you like to do to relax?
I run quite a lot. Sometimes when I'm exhausted I watch rubbish TV, flicking channels. I'm a regular on Packed Lunch which I love very much, but I hate watching myself on TV.
What's the one dish you can't live without?
I think it's lentils. With lentils, you get not only dhal, you can also soak them and make pancakes, roti and paratha. You can also make salads. And pakoras. Lentils are so versatile, people don't understand that there's more than can be achieved than just dhal.
What ingredient would you take to a desert island with you?
It would be panch phoran: a five spice mix. Indian whole spices: it has fenugreek seeds, fennel seeds, mustard seeds, nigella seeds and cumin seeds. Because I'd have the time, sitting on the island, on my own, I could separate all the spices so I wouldn't get bored. Fennel seed would have to be my favourite, if I had to choose.
You can have a one-off dinner party on your island… who would you invite?
I would have Anthony Bourdain. He was so tall, and I would love him to pluck all the mangoes from the trees. I'd love to learn more about his travels and why he did that. Of course he had bad qualities, everybody has that, but I think he opened doors for many writers and TV personalities. He knew India so much better than any other TV chef. No other chef did it like him: he became the people he was visiting. He would sit down with them and they would eat.
I'd also have Kapil Dev; he's an old cricketer that I used to love. And Salman Khan who's a Bollywood actor that I grew up watching. And last but not least, I'd have poet and writer Amrita Pritam.
What has been the most formative experience of your career?
I think opening my restaurant against all odds. Sticking to my guns and opening where it was in Thornbury, Gloucestershire. When I opened it, I was kind of in the limelight, but also you pave a path for other women to follow. So many women of Indian origin have opened restaurants in London. People said I was crazy to open outside of London. At the time, people didn't know any female Indian chefs except Madhur Jaffrey, who had a TV career but she didn't have a restaurant. Somebody gave me the opportunity to open my restaurant and I will never forget that.
It's 8pm, you've just got home. What are you rustling up for tea?
Cheese on toast. With a cup of chai and a sprinkle of chilli flakes on top. Sometimes I like some rose harissa spread on there too.
Is there anything about the food industry that bugs you? We'd like to hear your thoughts…
I think sometimes I dislike that it is all about London. Many authors and chefs have a column in more than one magazine, but I was never allowed to do that. I did TV, I have books, I had restaurants, but I still don't have a column. If you see the columns in all the broadsheets, all the chefs are London-based and I think there's a cliquiness, and that bugs me. But at the same time, I don't let it get to me. For me, what has worked has been being positive and knowing that slow and steady wins the race. If someone comes to me and gives me an opportunity, I take it. I believe in karma: what goes around comes around. Sometimes you feel like you're banging your head in this industry when you're not in London. I try to keep my head down and work hard and things come.
Can you tell us a bit more about your cookbooks. What is the process of working on them like?
Because my first book did well, I was able to do another. I knew what I wanted. I call myself a travel and food writer because I go to my country, eat the food, meet the people and write about it. I always wanted to go to Kashmir and write about it. I wrote the proposal and the publisher loved it. It's not a quick process, it takes a long time. I'm not popping out a new book every few months or every year.
What was it like receiving your MBE?
It was a shock for me. When I got the letter, my daughter opened it and she was screaming. She explained to me what an MBE was. I didn't know anything about it. Especially coming from a small town in India, coming here, getting noticed, when the hospitality industry is not even noticing you. To be noticed by the Queen for the work I've been doing says a lot. I rang the cabinet office three times to say: "Are you sure it's for me?" They used to laugh.
What's your favourite thing about the Indian dining scene in the UK?
In the UK, we are so multicultural, the Indian food scene is so great now. We have regional Indian food. People are understanding regional Indian food. My favourite has to be Pahli Hill. I love Hoppers, the Sri Lankan restaurant. I love Jikoni, Ravinder Bhogal's restaurant. And also Dishoom, they are brilliant people and they're doing a great thing, the food is affordable.
What advice would you give a young person trying to start out a career in food?
Find a mentor. It's very easy for me to say that, but I didn't have one and I wish I did. I later on had a mentor Chef Gill in India, Allan Jenkins, Mina Holland, Debora Robertson, Fiona Beckett, Lisa Markwell. They helped me in my career, I will never forget them. AND you have to work hard, you have to have patience. The food industry is hard work, you need to know it's going to take time. For me, it's 99% hard work, 1% luck. There is an element of right-place, right-time.
What's your stance on social media?
Well, Instagram has forced me to create videos! I learnt from my niece how to do the voiceover, I thought that would be a good thing to do with my cooking videos. And someone messaged me that it was calming to listen to, so that's good.
Romy Gill is a regular on Ready Steady Cook, Channel 4's Packed Lunch and on the BBC Food Programme. Follow Romy on Instagram.
Subscribe to our magazine
Food lovers, treat yourself this Christmas... Enjoy 12 months of magazines for £29.99 – just £2.50 an issue.
Subscribe
Unleash your inner chef
Looking for inspiration? Receive the latest recipes with our newsletter