Food for thought: Gino Soldan, ice cream maker
Gino from Morelli's talks Italian – flavours, that is – and how the gelato emporium grew from a bicycle to a Harrods' parlour.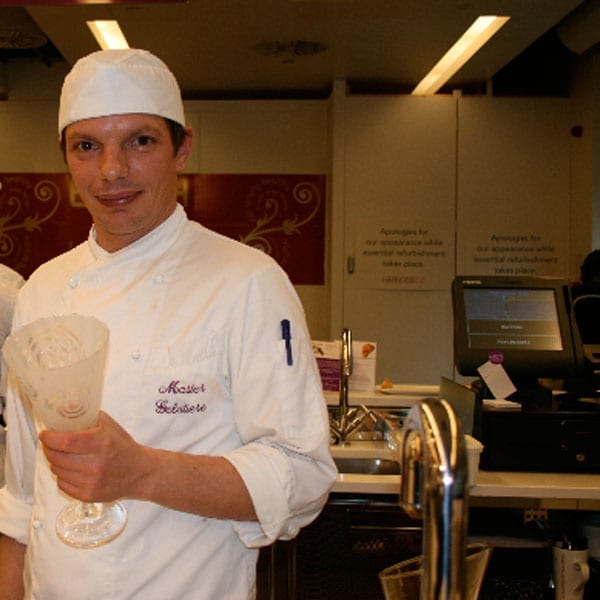 Do you remember the childhood song that went something like: 'I scream, you scream, we all scream for ice cream!' Well, we still scream for ice cream at delicious. Or, to be more precise, gelato, the lighter, Italian version.
So, delicious. magazine collaborated with Morelli's (see it in the June 2008 issue of the magazine) and created a cinnamon fruit-loaf ice cream with blueberry compote, for the Morelli stores. You can learn how to make it ice cream here
The Morelli family have come a long way since Giuseppe Morelli, an Italian emigrant, set up business in 1907. The family has been making ice cream for five generations to a trademark recipe. In 1932, the first gelato parlour opened in Broadstairs, Kent. It's a testament to the quality of the product that it's still open today and retains many of its original fixtures and fittings.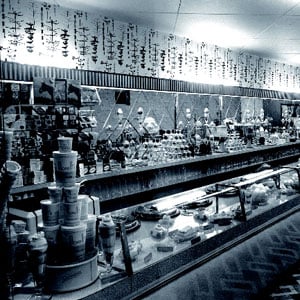 Giuseppe's great grandson Marino Morelli upped the ante by incorporating coffee and snacks to the roster; now Morelli's have parlours in Harrods and Selfridges, Birmingham, and the Middle East.
Here, Gino Soldan, Head of Product & Marketing, talks Italian – flavours, that is – and how Morelli's emporium grew from the back of a bicycle to a parlour in Harrods.
What do you think it is about ice cream that appeals to so many, Gino?
Ice cream is for everybody; that's the most important thing. It's for all ages. It's a unique taste that everyone loves. But remember, everyone calls it ice cream but Morelli's sell gelato.
Can you explain the difference between ice cream and gelato?
The main different is that it's made with milk not cream, so it's softer and lighter; less fatty.

So it's better for the girls?
Good for the girls and the boys!
Why Harrods, Gino?
It was the dream of Marino Morelli to open a shop in Harrods. They had a meeting, made a proposal and finally Harrods say yes.
And what's your role?
I follow all the new openings; I train the staff. Production manager is my main job but I also invent and develop recipes.
Do the flavours differ depending on where the shops are located?
The recipes are all the same in all the shops. In the Middle East we use the same equipment and get the same ingredients from Italy.
What sort of ingredients do you use?
Authentic Italian ingredients… Tarocco oranges… Sorrento lemons… Sicilian pistachios… Piedmont hazelnuts…
Is there a universally favourite flavour?
The most popular flavour is chocolate – everywhere in the world.
Do people's tastes differ depending on which country they're from?
We're in a place here at Harrods where we have customers of every nationality in the world, and there is a difference. The Canadian people, they like maple syrup, the British – rose. Rose is a very English flavour; not everyone likes it but the English love it, especially women.
Americans like peanut butter, and cookies and cream. A very popular flavour with American people is key lime pie and also blueberry cheesecake.
Where do you find your inspiration?
Everything can be an inspiration, I just to walk into a supermarket; I walk down the street and look around…
You live in Brixton, which has a large Afro-Caribbean community. Has your environment inspired any flavours?
Living in Brixton inspired the Guanabana flavour (also known as a custard apple); it's a typical Caribbean fruit. I did a Havana cola as well.
You do alcoholic gelato?
Alcoholic ice creams can be quite tricky to make (alcohol is difficult to freeze), but they're very nice. In summer, Pimms & lemonade is popular, mango Mohito, vodka lemon, apple and Calvados, or for something Italian – hazelnut and Amaretto.
Sounds divine! And you also make bespoke ice cream flavours?
Yes, we ask for 24 hours, though it depends on our shop; in Harrods we can find everything, all the ingredients we need. In Birmingham, we need maybe 48 hours.
Do people ever ask for savoury flavours?
Yes, gelato doesn't only need to be a dessert, it's also palate cleanser and we make sorbet too.
You mentioned Gazpacho flavour and the delicious team tried basil and lime, which was a real winner at the
office…
What was very very popular was Parmesan and pear, and Gorgonzola and honey. Cheese is easy to work with when making gelato.
Keep going…
I've created Marmite gelato, salmon and crème fraiche, baked beans on toast with real baked beans and pieces of chargrilled toast – that  was interesting …
So you use real ingredients?
I use the real ingredient, like with the cinnamon fruit-loaf (created by delicious for Morelli's); I used real bread, toasted, spread with cinnamon.
What do you think of the flavours delicious. magazine created?
The cinnamon fruit-loaf with berry compote is a very British flavour, but I also really like the apricot, it's light and summery.
Do people eat less of it in winter?
Not at Harrods, because we are in a special place and we're busy every day.
Do people's tastes change with the seasons?
We get a lot of regular customers and tourists give us feedback. You get to know what people will like – whether they're American, Middle Eastern, and what will sell because different nations come to us in different seasons.  
Do women and men choose different flavours?
Females try to go for light, low fat yogurt or a sorbet but then they'll have a scoop of chocolate and enjoy it, or steal their boyfriend's!
What ingredients go into gelato?
The ingredients are absolutely natural – it's milk, sugar, eggs, and the fruit in fruity flavours is 90% fruit puree.  
How many flavours do you currently have and what's the most unusual?
We have over 200 flavours. One of the most unusual ice creams we've done is the delicious. The cinnamon fruit-loaf with blueberry compote is a great combination of flavours – a creamy custard base with the spice of cinnamon and then the fruit!
Ah, you would say that! Do you enjoy your job?
People need to work but it's completely different to work and enjoy it. I enjoy my job but when I stop enjoying it it's time to change.
Is that an Italian work ethic?
No, it's my ethic!
Lastly, what's your favourite flavour?
Bibi (Marino's daughter, pictured below, who currently runs the business) is coconut. Mine is hazelnut, always I like hazelnut. 
Subscribe to our magazine
Subscribe to delicious. magazine for HALF PRICE
Subscribe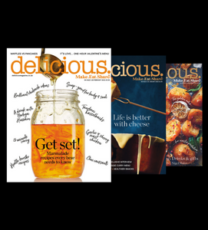 Join our newsletter
Packed with menu ideas, recipes, latest competitions and more...