How to make ice cream
Nothing says summer more than melting scoops of ice cream, so learn to make a batch of classic vanilla, and once you've got the knack, adapt the recipe by swirling in luxurious flavourings.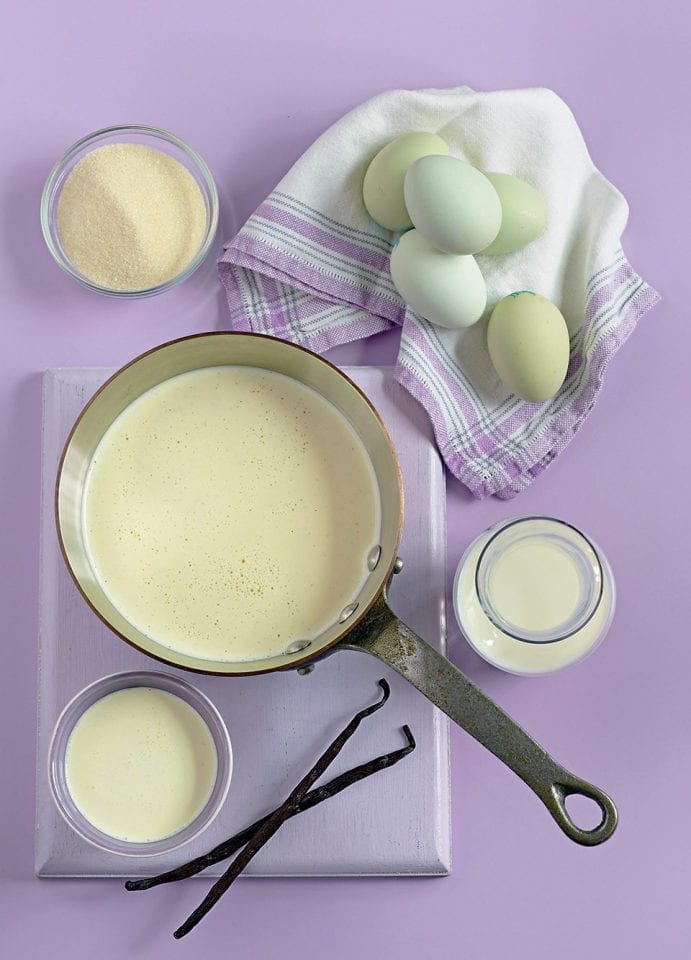 Tips:
Jazz up the basic recipe: After the churning stage, try adding fruit coulis, crumbled biscuits, fudgey sauces, chopped chocolate, crumbled meringues, dried fruits, lemon curd or toasted nuts to your creamy custard base. The list of flavour combinations is endless.
For a silky-smooth result: The constant churning of the paddle in an ice-cream maker breaks down the ice crystals that form as the ice cream freezes, making it smoother. It also incorporates air to lighten the texture. If making ice cream by hand, whisk it well at regular intervals.
For a cheat's ice cream: Making your own custard base for the ice cream is very satisfying and the end result is really spectacular. However, if you want a quick ice cream that's ready in no time, then use 2 x 500g cartons of ready-made fresh vanilla custard.
Reusing vanilla pods
Rinse used vanilla pods and dry in a very low oven or in the airing cupboard. Add to jars of sugar to infuse into the sugar, or impart a stronger flavour by blitzing the pods and sugar (about 1 pod to every kilogram) in a food processor until finely chopped. Use instead of plain sugar in baking where you want to add a note of vanilla, but sieve out any large pieces of vanilla pod first.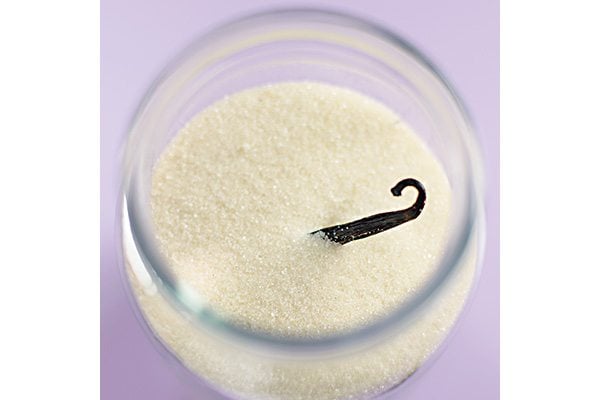 Making ice cream by hand
If you don't have an ice cream maker, then you can still make great ice cream by hand. Pour the cooled custard mixture into a large freezerproof container (this will give a greater surface area and help the mixture to freeze faster), cover tightly with cling film, then freeze for 1½-2 hours until frozen at the edges.
Remove the ice cream from the freezer, transfer to a bowl if necessary, then beat using hand-held electric beaters until smooth. Return to the freezer, then repeat this step 2 or 3 more times. This beating process will prevent ice crystals forming and ensure you end up with a smooth, rich ice cream.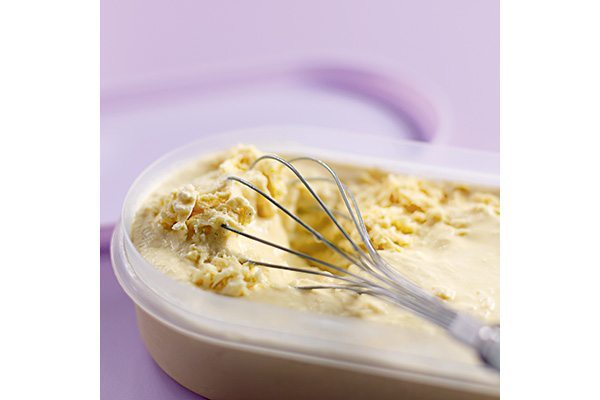 Easy blueberry compote
If you add whole fresh fruit pieces to ice cream they freeze solid whereas cooked fruit stays softer. A good tip is to add a fruit coulis, compote or purée to your ice cream base to give a spectacular rippled effect. Simply place 450g blueberries, or any seasonal berry, in a small pan with 40g caster sugar and the juice of ½ lemon. Heat gently, stirring from time to time, for about 8 minutes, until the fruit begins to burst. Cool completely then ripple into the churned ice cream. This is equally delicious served warm or cold spooned over the finished ice cream.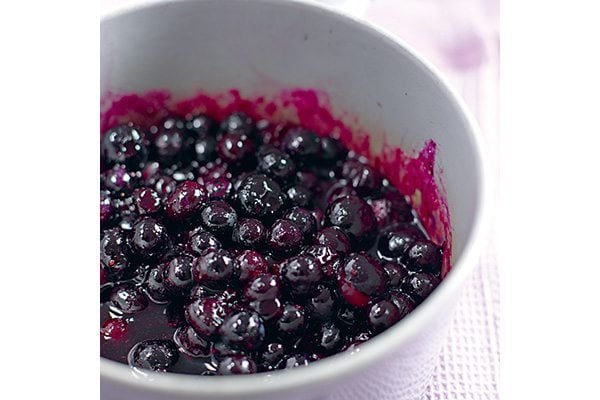 Fruit crisps
Use these to decorate any flavour of ice cream. Preheat the oven to 120°C/fan100°C/gas ½. Using a very sharp knife, cut pears, apples or a pineapple into very thin slices, about 2mm thick, from stalk to base (or across the width for a pineapple). You can also use a mandolin for this.
Lay on a baking sheet lined with non-stick baking paper, spaced well apart, and sprinkle each slice with ¼ tsp caster sugar. Bake for about 2 hours, turning halfway, until crisp and golden. Allow to cool and crisp up on wire racks, then store in an airtight container for up to 2 days.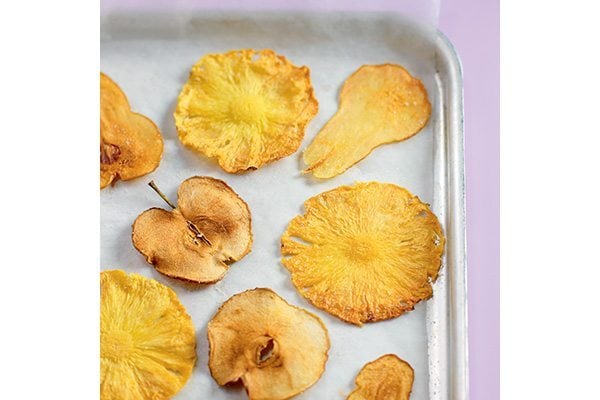 Master recipe
Vanilla ice cream
In keeping with tradition, this beautiful ice cream uses a pure and smooth vanilla custard as its base.
Serves 8-10 (makes about 2 litres)
Takes about 1 hour to make, plus 1 hour's cooling, 2 hours' chilling and 3 hours' freezing
568ml carton double cream
568ml carton full-fat milk
2 vanilla pods, split lengthways
5 large free-range egg yolks
225g golden caster sugar
Put the cream and milk in a large, heavy-based saucepan. Add the vanilla pods and heat gently until almost boiling, then remove from the heat and leave to infuse for 20 minutes. Remove the vanilla pods, scrape out the seeds and mix into the cream. (Reserve the vanilla pods so you can re-use them, see above.)
Put the yolks, sugar and a pinch of salt in a bowl and beat for 3 minutes, using an electric hand whisk, until thick and pale – the beaters should leave a ribbon trail in the mixture. Gradually beat in the cream mix, then pour into a clean pan.
Cook over a very low heat, stirring constantly with a wooden spoon, for about 10 minutes, until thickened. The custard should coat the back of the spoon and reach 75°C on a thermometer. Pour into a bowl and cover the surface with cling film to prevent a skin forming. Cool for 1 hour, then chill for at least 2 hours.
Churn the custard in an ice-cream maker, according to the manufacturer's instructions, until thick but still soft enough to be spoonable. If you don't have an ice-cream maker, you can make the ice cream by hand (see opposite).
Transfer to a plastic, lidded, 2-litre container and put in the freezer for at least 3 hours or until firm enough to scoop.
Per serving (based on 10): 438kcals, 35.5g fat (21.2g saturated), 4.2g protein, 27.1g carbs, 25.9g sugar, 0.2g salt.
Cinnamon fruit-loaf ice cream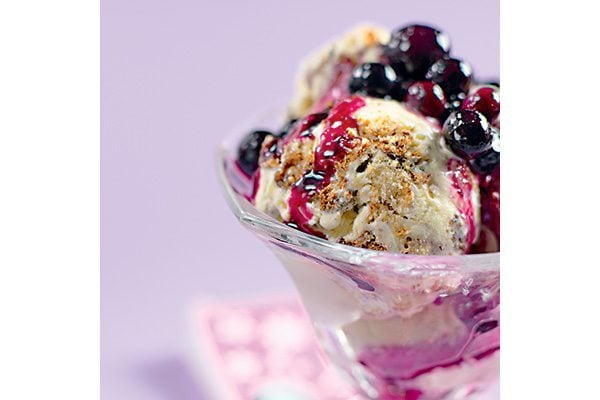 The spiced fruit breadcrumbs give this ice cream a beautiful sticky toffee-like texture with a hint of spice, and it complements the blueberry compote perfectly. The trick is to get the breadcrumbs really crunchy and caramelised so they don't go soft when folded into the ice cream.
Serves 8-10 (makes about 2 litres)
Takes about 1 hour to make, plus 2 hours' cooling, 2 hours' chilling and 3 hours' freezing
1 quantity vanilla ice cream base (see above)
Blueberry compote (see above), to serve
For the fruit crumbs
250g (about 10 slices) fruit-loaf or fruit
tea cakes
1½ tsp ground cinnamon
100g demerara sugar
Prepare the vanilla ice cream master recipe to the end of step 4.
Make the fruit crumbs. Preheat the grill to medium. Briefly blitz the fruit-loaf in a food processor to give large crumbs. Spread out on a baking tray lined with baking paper and sprinkle with the cinnamon and demerara sugar. Grill for 6-8 minutes, turning frequently, until golden, crunchy and caramelised. Set aside to cool for at least 1 hour.
Transfer the vanilla ice cream base to a plastic, lidded container (about 2 litres) and stir in the caramelised crumbs.
Put in the freezer for at least 3 hours, until firm enough to scoop. Serve 2-3 scoops of ice cream per person, topped with a generous spoonful of blueberry compote.
Per serving (based on 10): 590kcals, 36.7g fat (21.7g saturated), 6.7g protein, 54.6g carbs, 47.3g sugar, 0.4g salt
Or try these great ideas
To make a classic brown bread ice cream, replace the fruit loaf with brown or wholemeal breadcrumbs and use soft light brown sugar in place of demerara (omit the cinnamon). Grill the breadcrumbs as described above and fold the cooled, caramelised crumbs into the vanilla ice cream base.
You can take this idea further: leftover Christmas cake also caramelises very well to make a festive ice cream; or try it with gingerbread – fold the grilled crumbs into the ice cream base with chopped stem ginger, drained of its ginger syrup.
Old-fashioned apricot swirl ice cream with nutty filo tuiles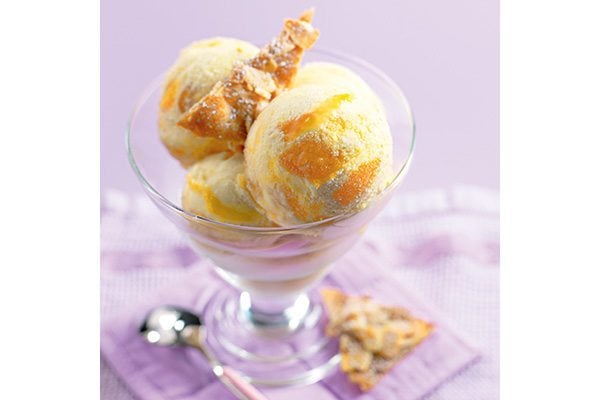 Serves 8-10 (makes about 2 litres)
Takes 1 hour to make, plus 1 hour's cooling, 2 hours' chilling and 3 hours' freezing
1 quantity vanilla ice cream (see above)
6 tbsp good-quality apricot jam
600g apricot compote (we used Bonne Maman)
2 tbsp amaretto liqueur
3 large (about 30cm x 18cm) filo pastry sheets
50g unsalted butter, melted
80g flaked almonds, roughly chopped
50g soft light brown sugar
Icing sugar, for decorating
Prepare the vanilla ice cream master recipe to the end of step 4.
Meanwhile, beat the jam with a fork in a bowl. Stir in the compote and amaretto until well combined.
Transfer the churned ice cream to a plastic, lidded container (about 2 litres) and swirl in the apricot mixture. Be careful not to over-mix – you want thick ribbons and pockets of compote to be clearly visible. Freeze for at least 3 hours.
Meanwhile, preheat the oven to 180°C/fan160°C/gas 4. Lay a filo pastry sheet out on a work surface and brush generously with melted butter. Sprinkle with a third of the almonds and a third of the sugar, then top with a second sheet of filo. Repeat the process so that you have 3 layers of pastry, finishing with a layer of butter, nuts and sugar. Using a sharp knife, cut the layered pastry into random rectangles, squares and triangles.
Lay the shapes out on a large lined baking sheet and bake for 10-12 minutes, until golden. Cool on a wire rack, then store in an airtight container for up to 4 days. Dust with icing sugar and serve 1-2 filo tuiles with 2-3 scoops of the ice cream.
Per serving (based on 10): 634kcals, 44.2g fat (24.2g saturated), 6.7g protein, 54.1g carbs, 49.6g sugar, 0.2g salt
Subscribe to our magazine
Subscribe to delicious. magazine this month for a half price subscription
Subscribe