John Whaite's GBBO recap: the semi-finals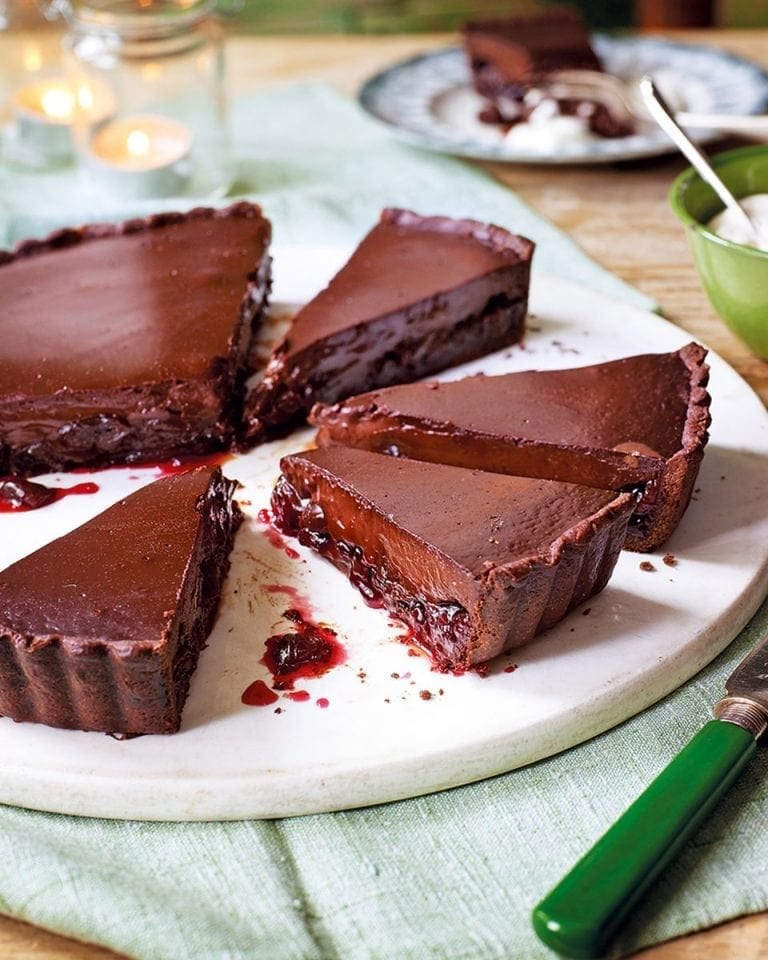 By John Whaite
There was a palpable tension in the tent last night, and not just in Paul's well-lacquered fringe. In spite of Nadiya's mumbled stoicism – 'it's just another day, it's just another chocolate tart' – we at home could feel the bakers' terror at the double whammy: the semi final and chocolate week. The pressure of the semi final speaks for itself, but chocolate, perhaps, is a slightly less obvious cause for concern. With chocolate, though, one must tread carefully. It's such an easy ingredient to get wrong: it can be too rich, too dark, too sweet, or too bitter. And that's just the flavour; tempering chocolate isn't an everyday feat. It requires precision and a steady worktop – and speaking from experience, those MDF benches, popped up on that tent floor, aren't anywhere near level!
It was during the signature challenge that I wanted to lob my glass of wine at the telly and scratch my eyes out. I just couldn't believe how much Flora had, yet again, given herself to do. The bakers had been asked for a chocolate tart, nothing more. But Flora planned macarons, tempered chocolate whirligigs, as well as a baked passionfruit layer. Technically she's usually brilliant, and she has such style in her execution, but that's not what the signature challenge is about. All the judges want to see is a bake prepared with rustic sentiment and technical prowess, and with enough flavour to tranquilise Hollywood.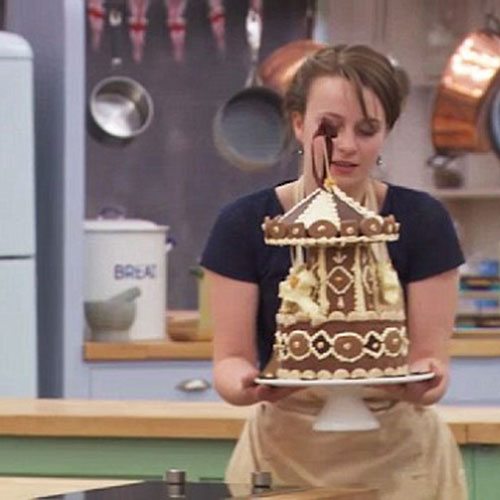 While her tart looked impeccable, its scrambled interior left the judges disappointed, despite the lovely flavour. I just want to jump into the tent and give her a shake. She could have won this thing, but her own brilliance became her demise. Granted, she did very well in the technical round, but that was sandwiched between an eggy mess and crumbling carousel – I'm sure I heard the neighbour's kids screaming in horror at the dilapidated merry-go-round. And don't get me started on those horses; they were frightening enough to send Satan packing!
Tamal achieved precisely what the judges look for in round one: simplicity. He delivered something basic but beautiful, and Mary and Paul appreciated that. He isn't quite as technically skilled as Flora, but he knows how to approach each challenge, and he seems to be a fast learner. He came second in the technical, too.
In the final challenge though, Tamal's chocolate bell tower lacked finesse. It was burned and fairly scraggy. Though may I remind the judges that James Morton practically threw together his 'gingerbread structure' in series three? He fobbed it off as an 'old barn' and ended up smelling of roses. Perhaps Tamal just isn't as fraudulent, but it could have been worth a try? A burned down bell tower, anyone?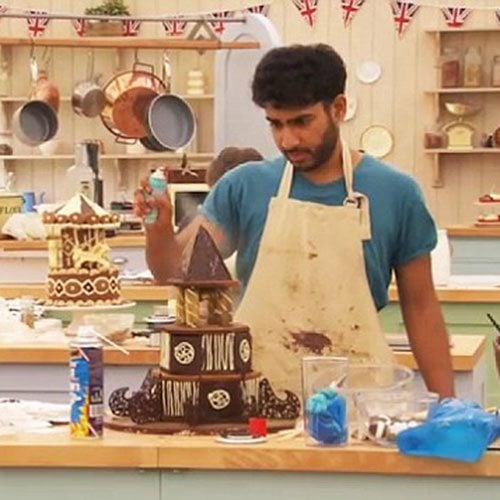 Ian didn't quite get anything right, bless him. His usual folksy nonchalance was replaced with a wide-eyed, subtle mania. You could almost hear the cogs cranking and creaking in his head – or was that just his chocolate well mechanism? I wanted to cuddle him and whisper the recipe into his ear when he completely blanked during the technical. He forgot how to make a crème pâtissière, and had a mini nervous breakdown. Valiantly though, he continued regardless, whisking egg whites with his bold, but gentlemanly, ambition.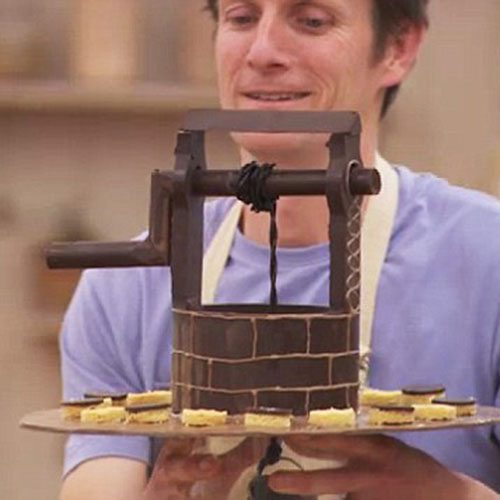 Surprisingly, Ian didn't do that well with his well – it was a little plain, said Mary, and his soufflé mixture was too slack. But that's what happens when you fold using a freestanding mixer – Delia Smith would have kicked off royally, had she been there.
Star baker Nadiya managed to convert Mary to peanuts at the same time as achieving a 'lingering' handshake from the male judge. She's extremely good at the signature rounds.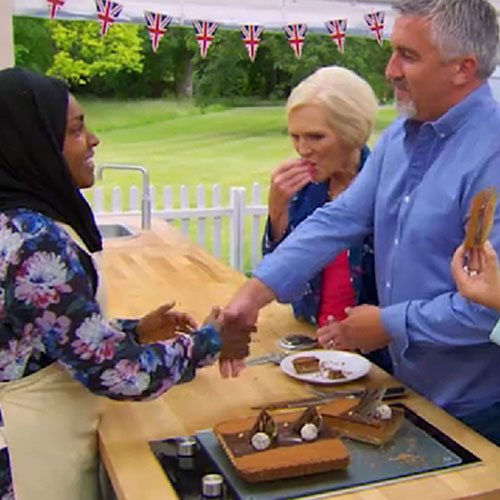 She was last in the middle challenge, which resulted in tears. But she rose from the flames with her peacock – a phoenix with an identity crisis – and secured a place in next week's final.
I'm not going to comment on which baker I want to win. I think Nadiya, Tamal and Ian are all worthy of a place in the final, and I wish them all the very best of luck.
[All photos from BBC]
Subscribe to our magazine
Subscribe to delicious. magazine for HALF PRICE
Subscribe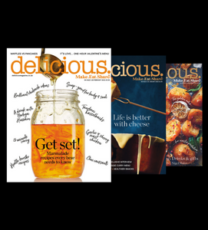 Join our newsletter
Packed with menu ideas, recipes, latest competitions and more...