Maunika Gowardhan's Diwali menu
If you're getting together with friends or family to celebrate Diwali, chef and food writer Maunika Gowardhan has some fabulous suggestions for your Diwali feast, including a fragrant Sindhi fish pulao and Navratan korma, a rich vegetarian curry. Make them all, or pick and choose as you like.
One of the biggest annual festivals in India, Diwali is also known as the 'festival of lights' and is celebrated by Hindu, Jain and Sikh communities around the world. Symbolising the triumph of good over evil and light over darkness, it's observed differently depending on region and religion, but common traditions include lighting lanterns, fireworks displays, giving gifts, sharing sweets (mithai) and preparing a celebratory meal.
Keep scrolling to discover Maunika's suggestions on what to cook for this special occasion, and where each of these sumptuous dishes comes from…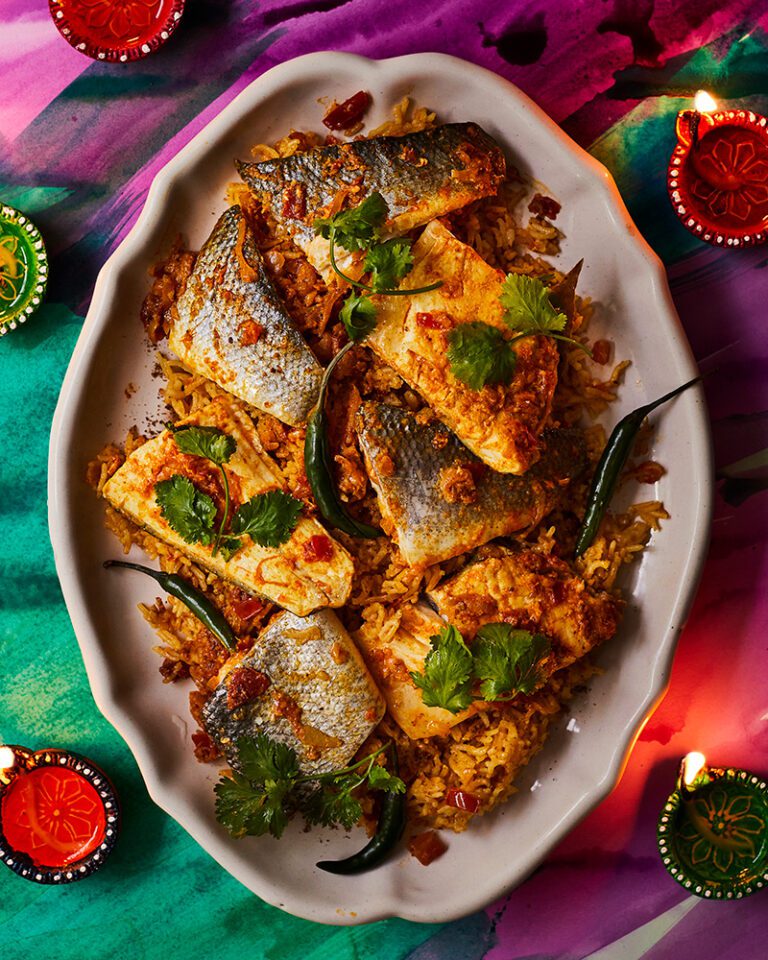 The popular Hindu festival of lights, Diwali, is celebrated by Indians across the world each year between October and November, and in 2023 it's in November, beginning on the 12th. The five-day celebrations begin with Hindu rituals, fireworks amid the festivities and, of course, wonderful food shared with family and friends. It's an occasion to celebrate positivity, happiness and good fortune as part of your life among the Hindu, Sikh and Jain communities.
My fondest memories are of celebrating this time of the year with my family in Mumbai. Diwali also marks Hindu New Year and my home is filled with lanterns, or diyas, to mark the occasion. In the lead up to Diwali there are always loads of relatives and friends visiting with Indian sweets and gifts, and sharing some wonderful food my mother has cooked. On the day of Diwali she will always cook an absolute feast, and an invitation to our place is a must. The front of our home is lit up with diyas and rangoli (an Indian coloured pattern), which is a way to welcome light and positivity into your home.
Within our community in Maharashtra (home to the city of Mumbai), serving faraal, huge tins of savoury and sweet snacks, is traditional – and the tins and jars are stocked up for when we have guests coming over.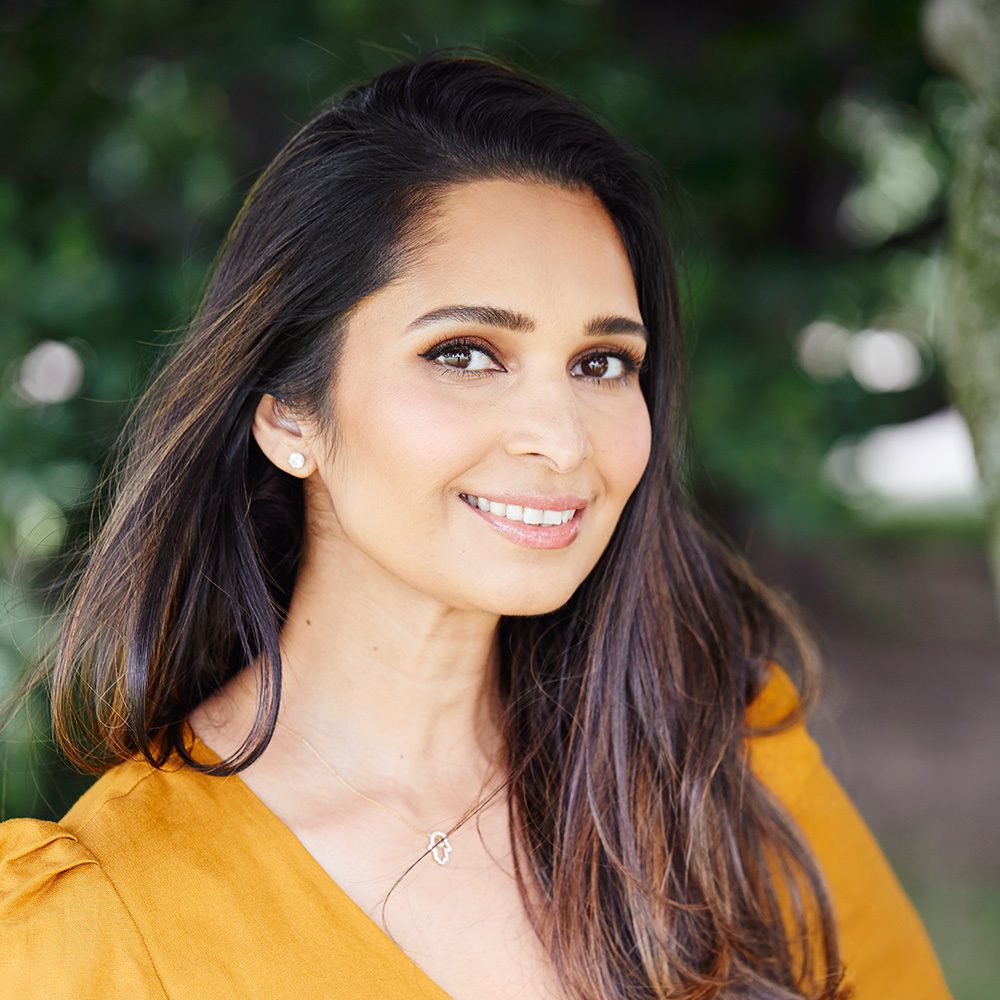 Maunika's Diwali dishes to share…
Kolhapur, in west India, was once an important centre of the Maratha empire. Because of this, its cuisine developed a royal lineage, with vibrant spices, rich dishes and unapologetic flavours.
In this classic Kolhapuri recipe, the colour and smoky flavour comes from the charred onions and chillies. There's also the crucial inclusion of a kaala masala (the black spice blend), with all its fiery warmth. Meat on the bone lends so much more to the dish but you can make this with boneless lamb. If you like, ask your butcher for bone marrow to add while it cooks.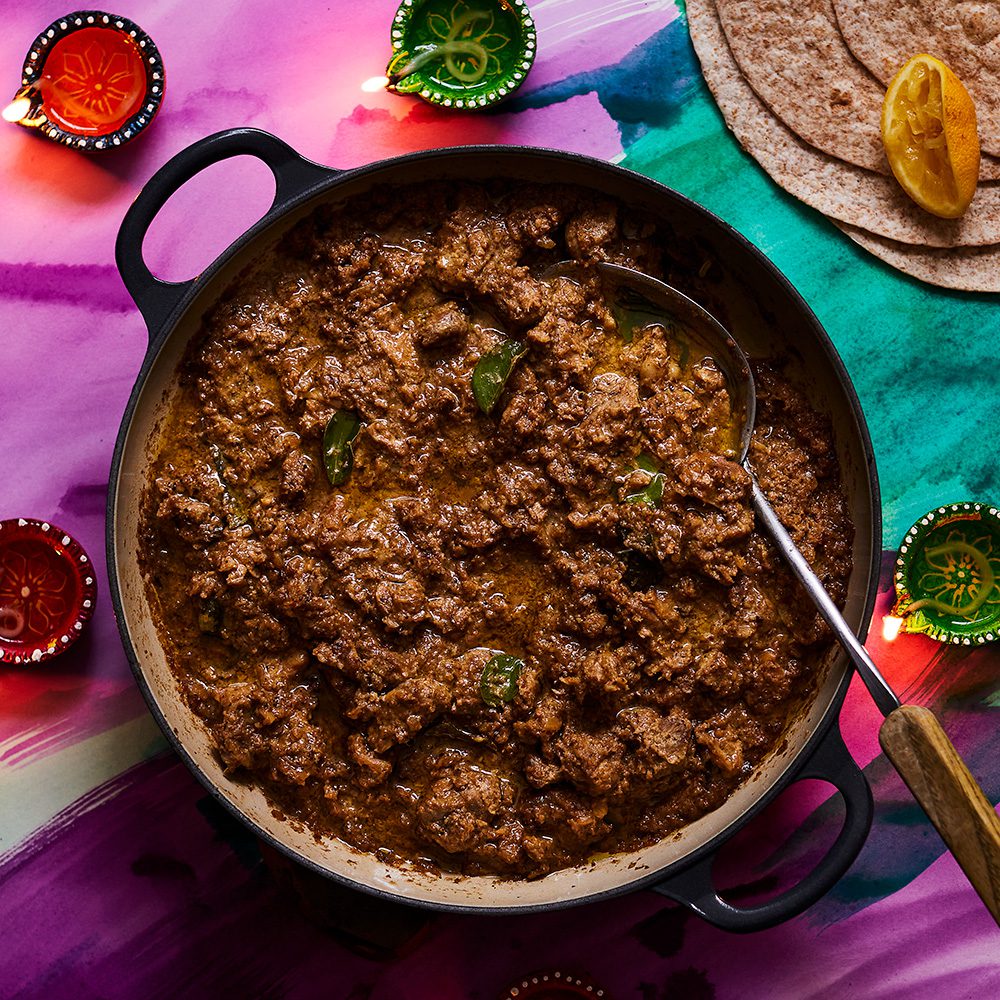 Sindhi machhi jo pulao (Sindhi fish pulao)
The Sindhi community come from Sindh (now in Pakistan), and they've made their mark across the west of India. With influences from the Muslim and Iranian communities, the food from Sindhi homes is brimming with some of the finest biryanis, kebabs, pulaos and hearty breakfast dishes.
The region's climate and landscape, as well as the areas these communities travelled to, have influenced the crops grown and the food cooked. Seafood is synonymous with Sindhi cooking, savoured in many recipes. My neighbour Lavina's mother always cooked the best sai bhaji (spinach curry) but on special occasions this pulao was always on the dinner table – and the whole family loved it.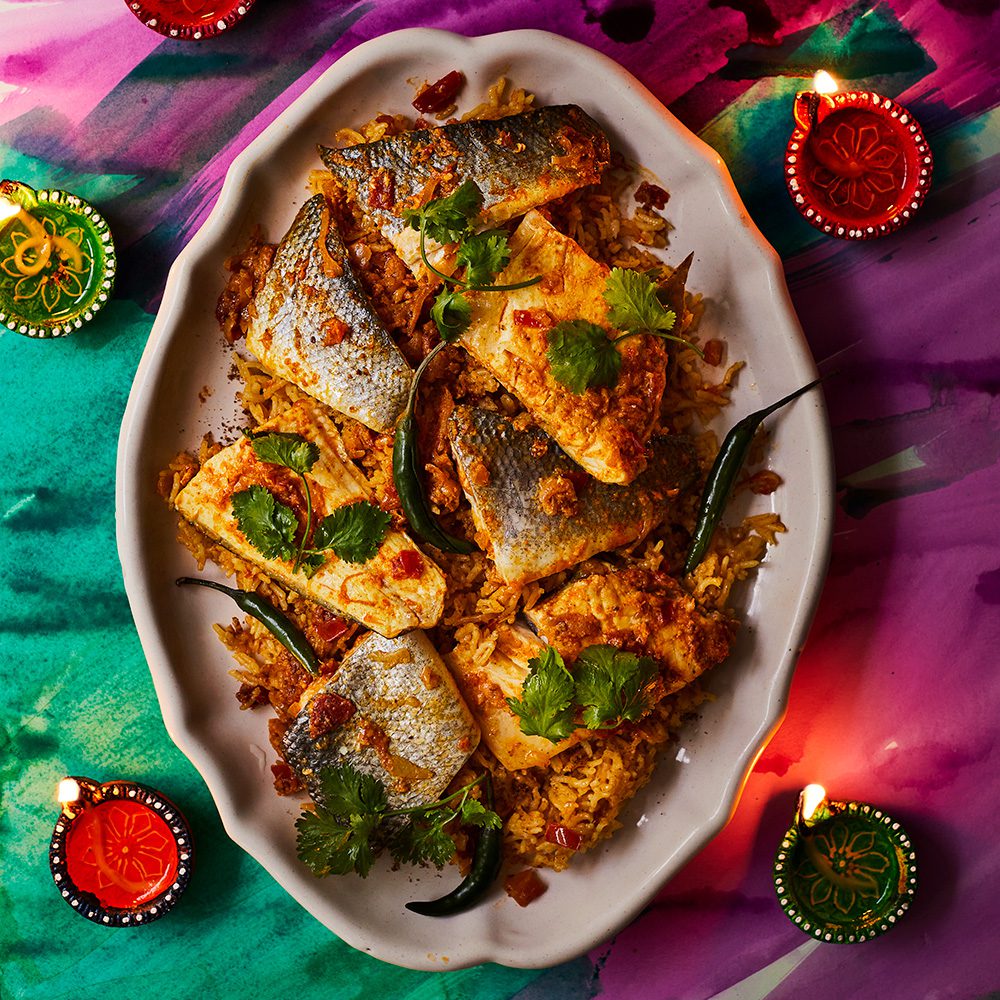 Chettinad urulai (spicy potato fry)
The region of Tamil Nadu in the south of India has an eye-opening variety of spices, cookery techniques, homemade breads and curries. From the different groups such as Mudliars, Chettiars, Tamil Muslims and Naidus, the food influences are vast. Many of the ingredients are also used close to my home state in the west of India, and this sense of familiarity has made cooking, exploring and eating curries from that southern region a joy for me.
Chettinad cooking is synonymous with herbs and spices such as fennel, red chillies and peppercorns. Peppercorns are not only native to the region but they were also the preferred spice to lend warmth and heat when chillies were yet to be discovered, in the pre-Portuguese era across India.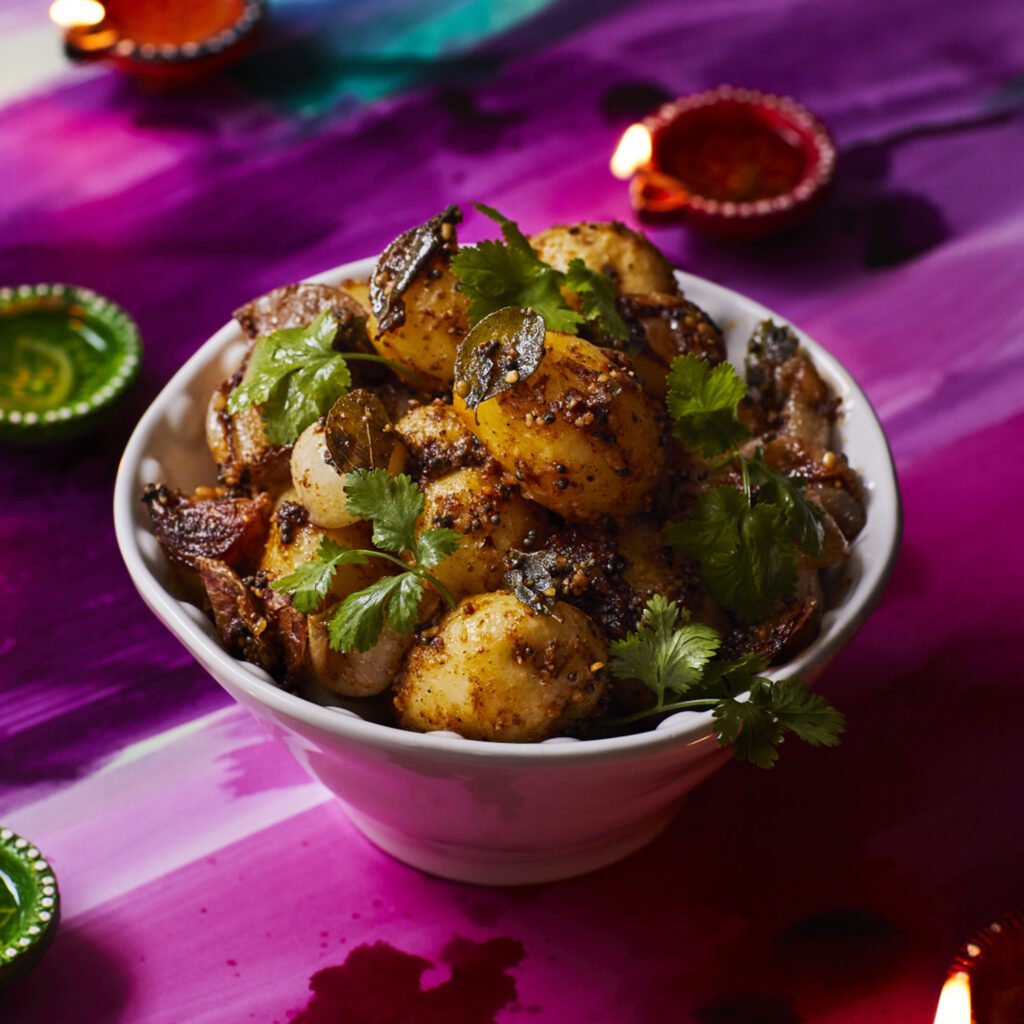 Navratan korma (nine jewels korma)
The literal translation of this recipe is nav, which means nine, and ratan, which means jewels, and this rich vegetarian curry is surely fit for royalty. It gets its name from the nine courtiers of King Akbar of the Mughal dynasty in the north of India, and one taste of this decadent dish will transport you to a different era.
The jewels in the korma are the vibrant vegetables, cashews and fruit. Ground cashew nut paste is a common addition to sauces in the northern region of India and the perfect way to thicken curries. The addition of pineapple lends a sweet, tangy flavour.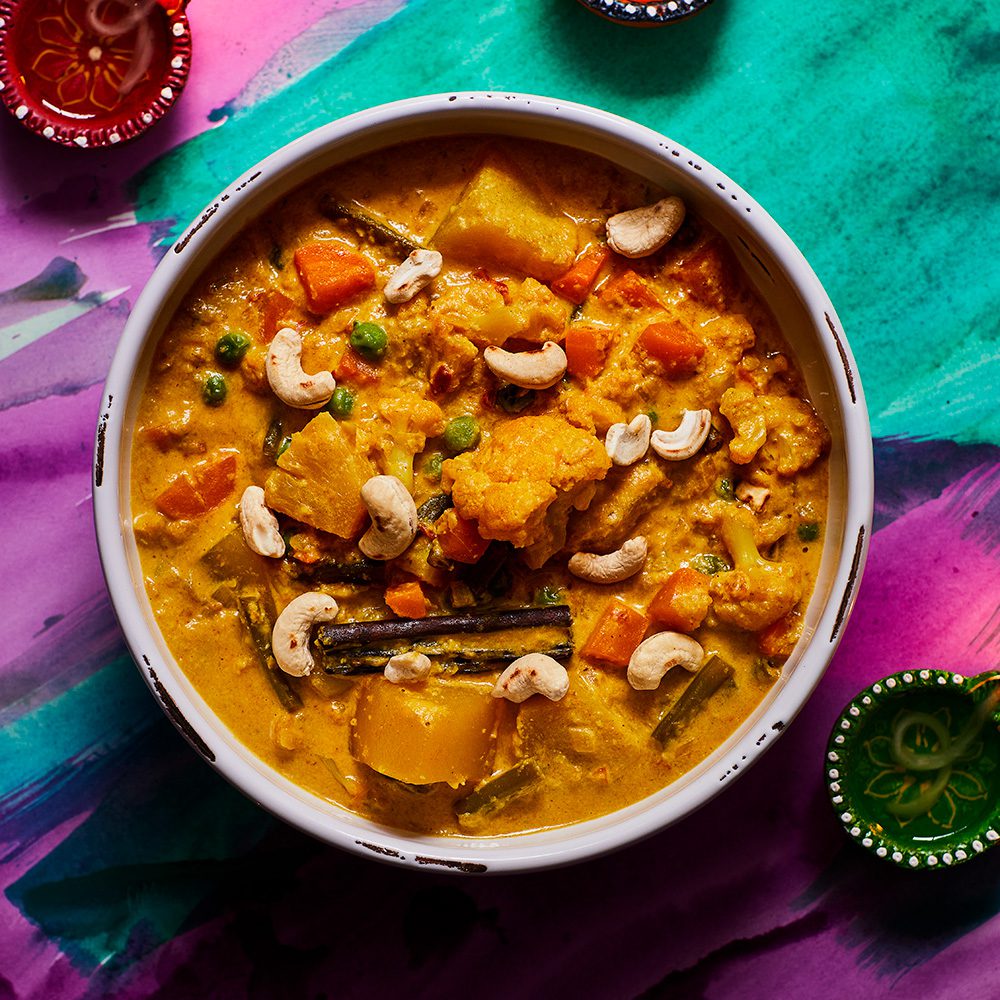 Looking for sweet ideas for Diwali? Try Maunika's easy coconut, saffron and pistachio barfi. 
Subscribe to our magazine
Food lovers, treat yourself this Christmas... Enjoy 12 months of magazines for £29.99 – just £2.50 an issue.
Subscribe
Unleash your inner chef
Looking for inspiration? Receive the latest recipes with our newsletter