The best places to eat in South East London
I've only lived in South East London for 18 months but I'd say I'm already a die-hard resident. From beautiful green spaces, wonderful views of the city and a community spirit that I don't think you can find anywhere in the Big Smoke (and I've lived in every corner of it).
But what really makes me want to blow the SE London trumpet is the amazing amount of great places you can eat at.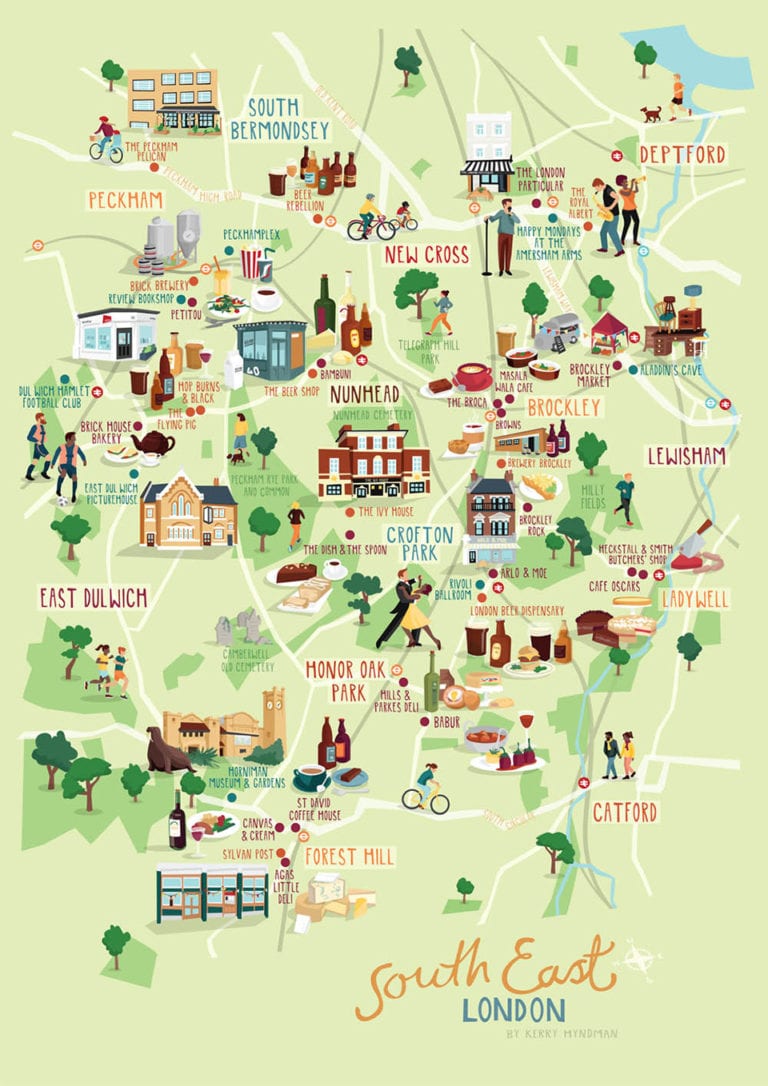 Here you can discover my favourite restaurants, cafes and markets in South East London that are well worth a visit. From fish and chips to fancy restaurants, you'll find a huge list here and I've included a handy map so you'll know where each place is located.
Also, while I was researching for this article I came across the brilliant illustrator Kerry Hyndman, she created the main image (above) which features some of the places I mention. You can buy the print on her shop here.
Jump to specific area:
Deptford
Lewisham
Honor Oak
Brockley
Peckham
Ladywell
New Cross
Marcella
For a wonderful Italian feast – you'll want to eat the authentic way and have snacks, starters, a pasta course, a main AND a dessert – head to Marcella on the High Street. There's also a great wine list and, should you have to wait for a table, a cocktail bar downstairs to enjoy an Aperol spritz.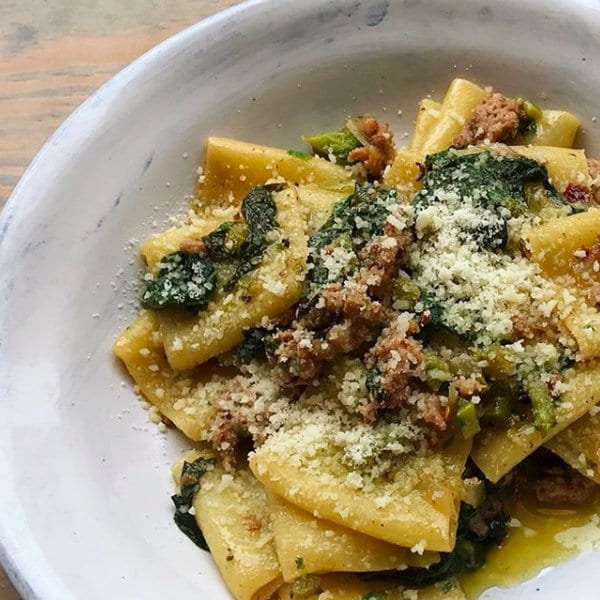 No 50 Friendly Street
For excellent coffee, using Ozone Coffee Roasters beans, as well as pastries, cakes and waffles, head to the little coffee shop tucked away between Lewisham Way and Deptford Broadway.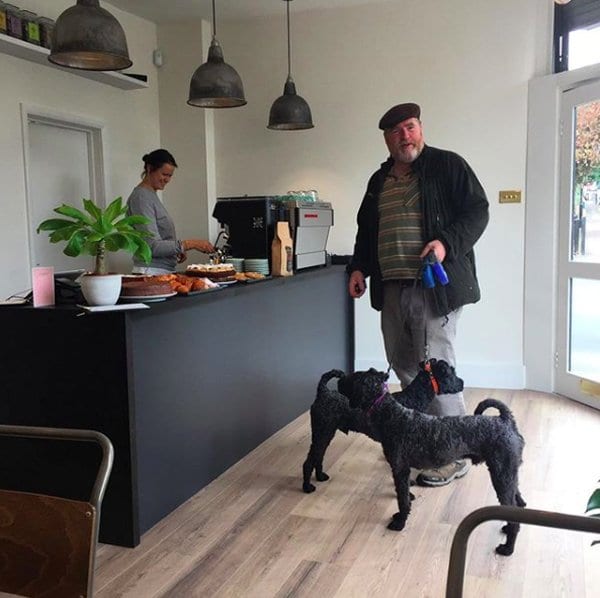 Sparrow
Ignore the fact that this little restaurant is on an ugly busy road because, once you're inside, all you'll be looking at is the food on your plate. I've been here so many times, I've lost track.
At the weekend, go for brunch and don't leave without trying the appam (a Sri Lankan crispy pancake) with chilli aubergine. For dinner, the massaman curry is a must and no meal is complete without the condensed milk affogato for dessert.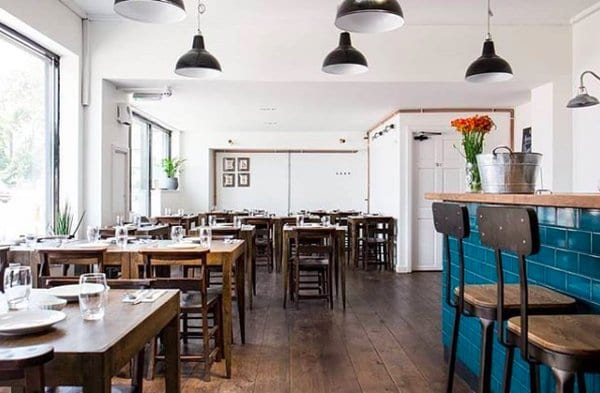 Grounds and Grapes
The clue is in the name for this one, a cafe serving coffee (grounds) by day and wine (grapes) by night. Brunch at the weekend is one of my favourite times to visit, with terrific Turkish eggs (pictured below) and smoked salmon on rye on the menu. In the evening, there is a limited food offering – think cheeseboards and olives – but a wide variety of wine.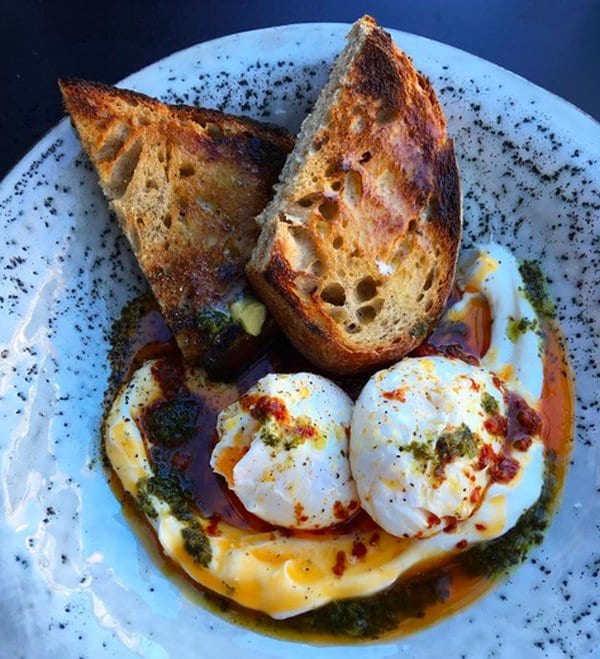 Browns of Brockley
Come out of Brockley train station and you'll find a snake of people queueing for the best coffee in the borough. Browns serves Square Mile coffee in a small, yet sleek, café that has huge windows overlooking the station (great for people-watching).
The toasted banana bread, slathered in salty butter, is well worth ordering… even if you're not hungry.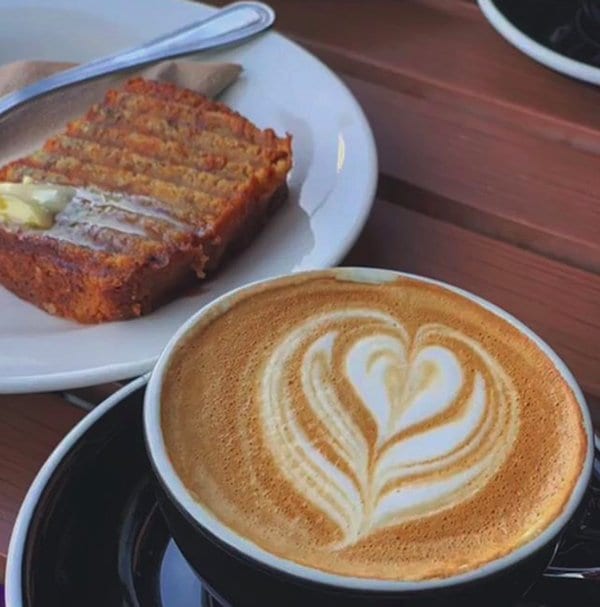 Arlo and Moe
Not a week goes by without me wanting/needing/craving/dreaming of Arlo and Moe's scrambled eggs on toast with chorizo. Sure, there are other things on the menu but all you really need to know about is a giant slice of really great sourdough with the butteriest scrambled eggs and huge, spicy nuggets of fried chorizo. Oh, it's so good.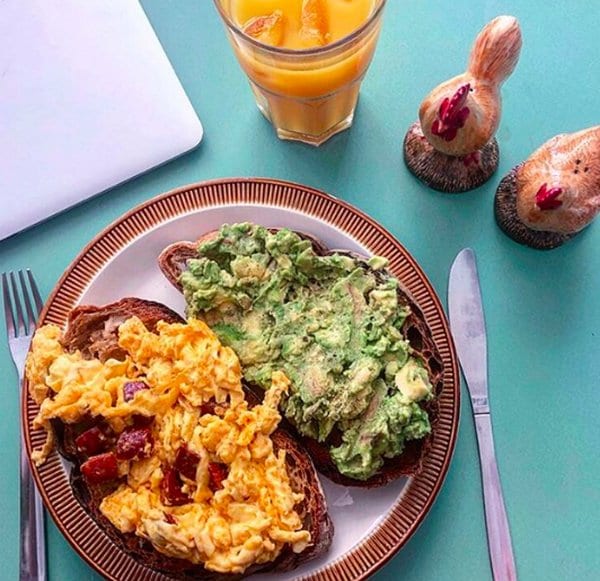 Brockley Market
Every Saturday, from 10-2, a car park on Lewisham Way (despite the name the market is actually closer to St John's train station) is filled with an excellent array of stalls selling fresh produce, flowers, plants and made-to-order feasts.
I'm a huge advocate of the Mother Flipper breakfast burgers (see below) but there's also Sub Cult sandwiches, Mike & Ollie flatbreads, Crosstown doughnuts, Browns of Brockley coffee (see above) and Good and Proper Tea.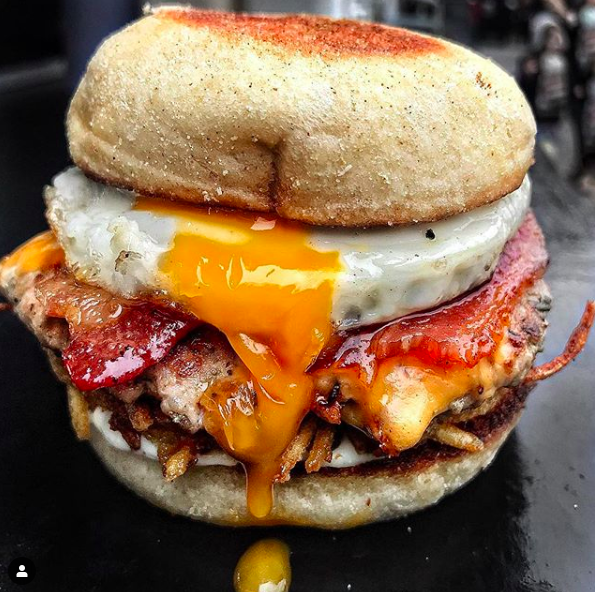 Babur
I must confess, I haven't actually eaten in the restaurant but I have had many a takeaway from there. If the quality of food is anywhere near as good as the take away is – which you know it absolutely has to be – then I can promise you, you'll love it. The residents of South East London obviously do, it's been running since 1985.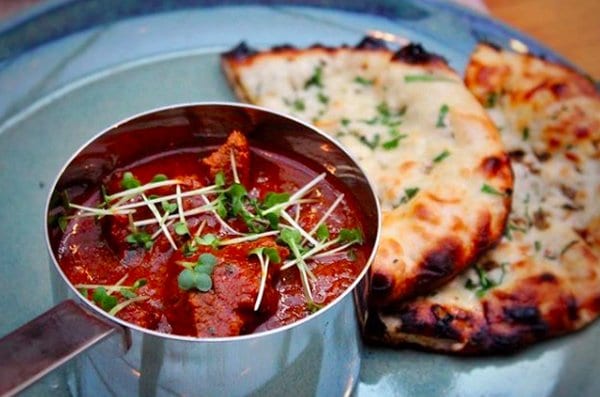 Brockley's Rock
It's no wonder there's always a mass of people waiting at this fish and chip shop, they have been voted as one of the best in the UK. They serve certified sustainable fish (listed on the Marine Stewardship Council's website) which is perfectly cooked, wonderfully battered and oh-so crisp. The homemade tartare sauce is a must, too.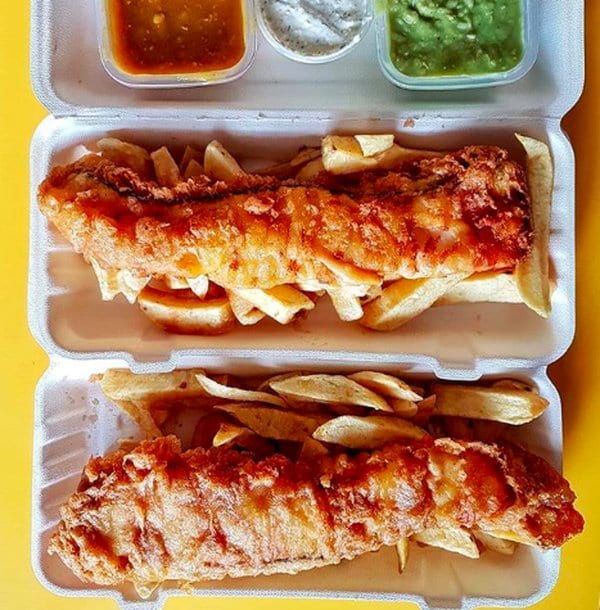 Coal Rooms
Housed in the former ticket office of Peckham Rye station, this relative newcomer to SE London is a great one. Stop in for a coffee before rushing for your train or take your time over a feast for dinner. No meal is complete without the Peckham Fatboy side order (pictured below) of potato, with oozing raclette cheese, beef fat mayo and topped with crispy onions. Swoon.
Oh and make sure you take time to visit the toilets (yes, really). The original station toilets were discovered when knocking through a wall and have since been lovingly restored to their former glory.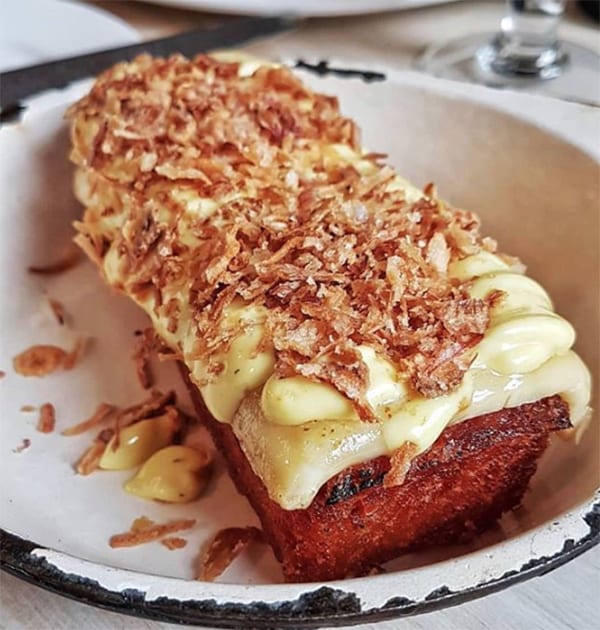 Levan
Another new kid on the block, Levan opened in autumn 2018. There's a bar on one side – with high stools, tables and window ledges to prop up on – and a cosier restaurant on the other.
The standout dishes on my visit were the celeriac ravioli with artichoke and cavolo nero and their now-famous comte fries. I hear breakfast and lunch is also a knock-out with local residents.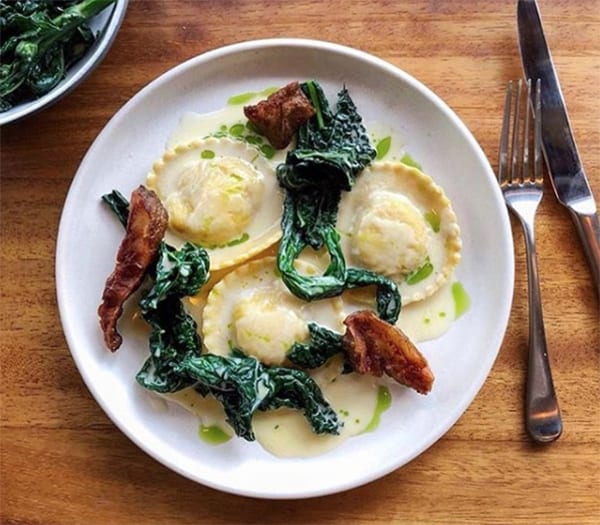 The Round
If you're in Peckham Rye Park, you can't miss this café; it's opposite the new massive kids' playground. In the summer, you'll find a hefty queue of kids after ice cream but on chillier days, it's their excellent coffee that's sought-after. Inside, they have a huge pizza oven churning out excellent pizzas all year round too.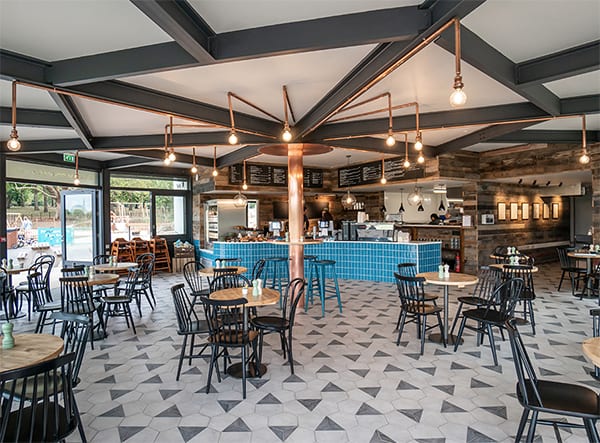 Begging Bowl
Before I lived in SE London, I used to travel across town to the Begging Bowl so I'm much happier to have it on my doorstep now. The Thai restaurant serves proper, authentic, yet imaginative, street food and, with a menu so great, I could list an endless number of dishes to try. If I had to choose just one, it would be the turmeric pig cheek curry… or any curry for that matter. Sorry, too hard to choose.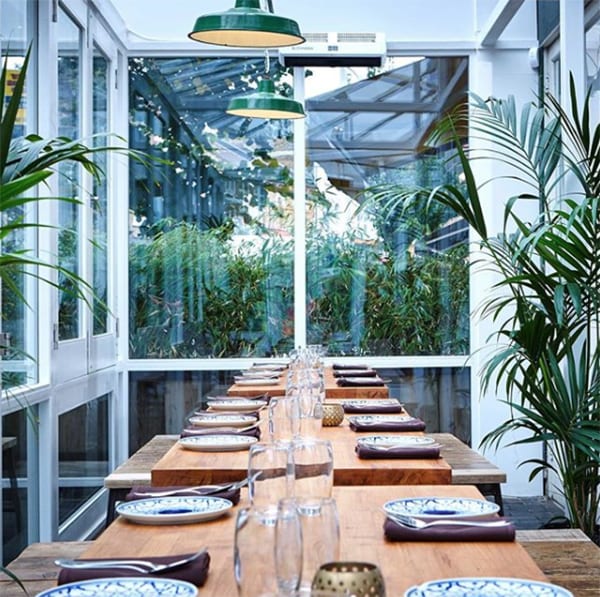 Artusi
The sister restaurant to Marcella in Deptford (above), Artusi is a small restaurant that you'll find it hard to get a table at unless you book ahead. The small, rustic Italian menu changes frequently so keep an eye on their Instagram for the latest additions.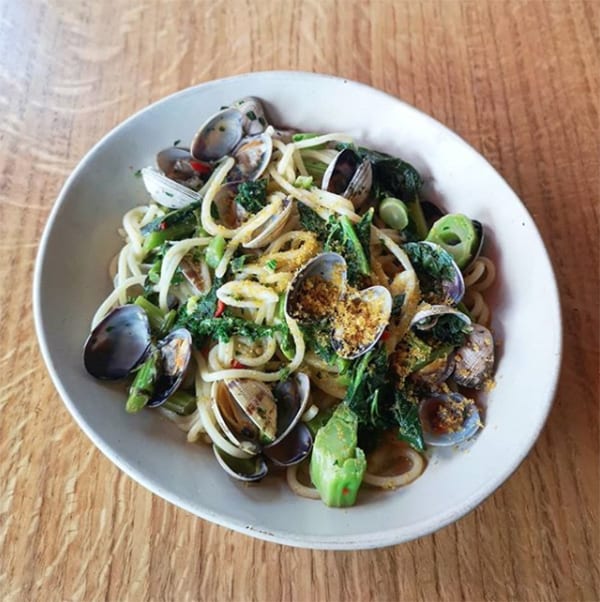 Mamma Dough
There are four of these pizza restaurants in South East London but Ladywell is my closest, so it's the one I've been to the most. They serve cracking pizza, with daily specials, but it's 'the devil' with n'duja that I go back for time and time again.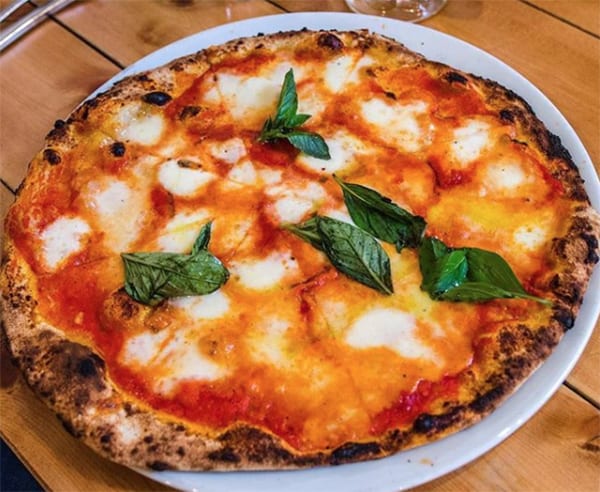 Heckstall & Smith
Ok, so you can't really eat here but I can't mention great food in the area without talking about the wonderful butcher in Ladywell. They are "London's first Rare Breed Survival Trust-licensed butchery focused on dry-aged native-breed meat from extensively farmed animals." That's what they say. I say they sell such delicious meat with proper flavour. Once you've eaten meat from there, it's hard to buy from anywhere else.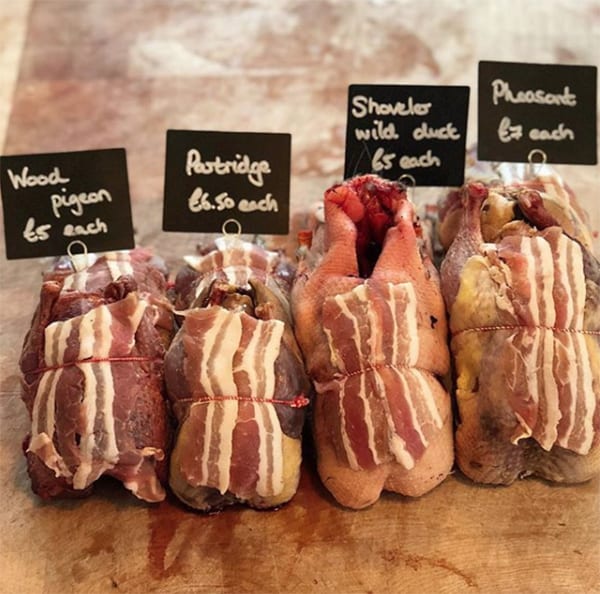 Red Lion Coffee Company
You'd be forgiven for missing this place, tucked away down a side street off New Cross Road, but seek it out. It's a gem of a place. With excellent sandwiches and a huge display of cakes, it's the perfect lazy lunch spot with friends.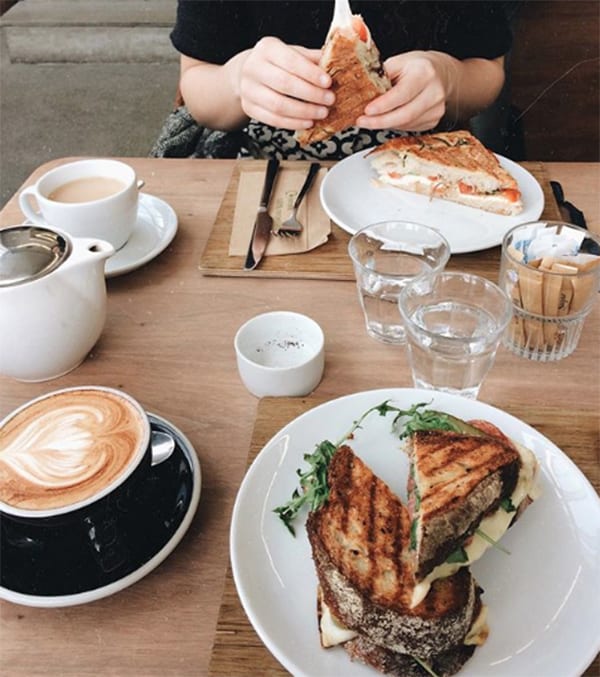 Mughead
There is one really good reason to visit Mughead, on New Cross Road, and that is their insane cinnamon rolls. Just look at them, what's not to love? Get yourself a strong coffee to go along side one and be happy for the rest of the day.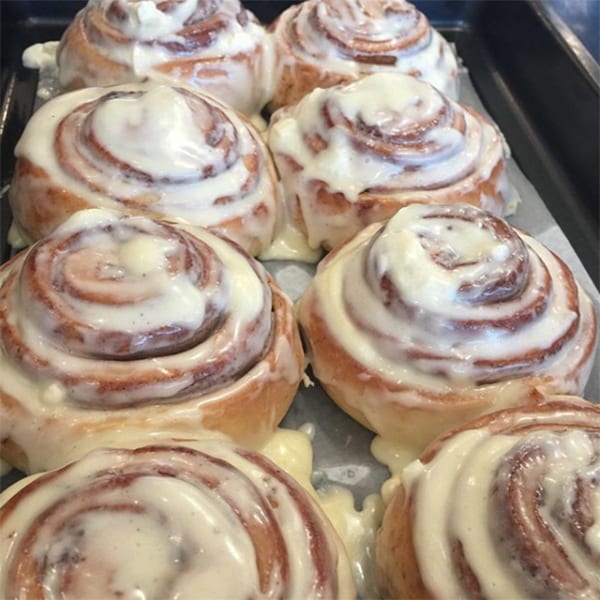 Beirut Canteen
Another one I actually haven't been to BUT I have lost count of how many times I've ordered a takeaway from them on Deliveroo. Here's the classic order: chicken shawarma wrap, batata harra (spicy potatoes) and baba ghanosh. Proper, flavoursome Lebanese food that's so much better than a soggy takeaway pizza.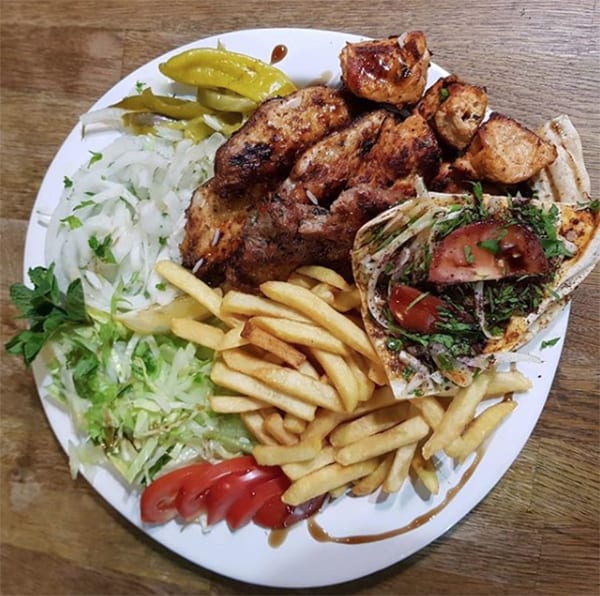 Subscribe to our magazine
Subscribe to delicious. magazine for HALF PRICE
Subscribe
Join our newsletter
Packed with menu ideas, recipes, latest competitions and more...