The food lover's guide to happiness
Happiness is a mysterious thing. We spend our lives trying to find it, yet rarely do we agree on where and how.
Follow Susan Low's fail-safe steps up the culinary stairway to contentment.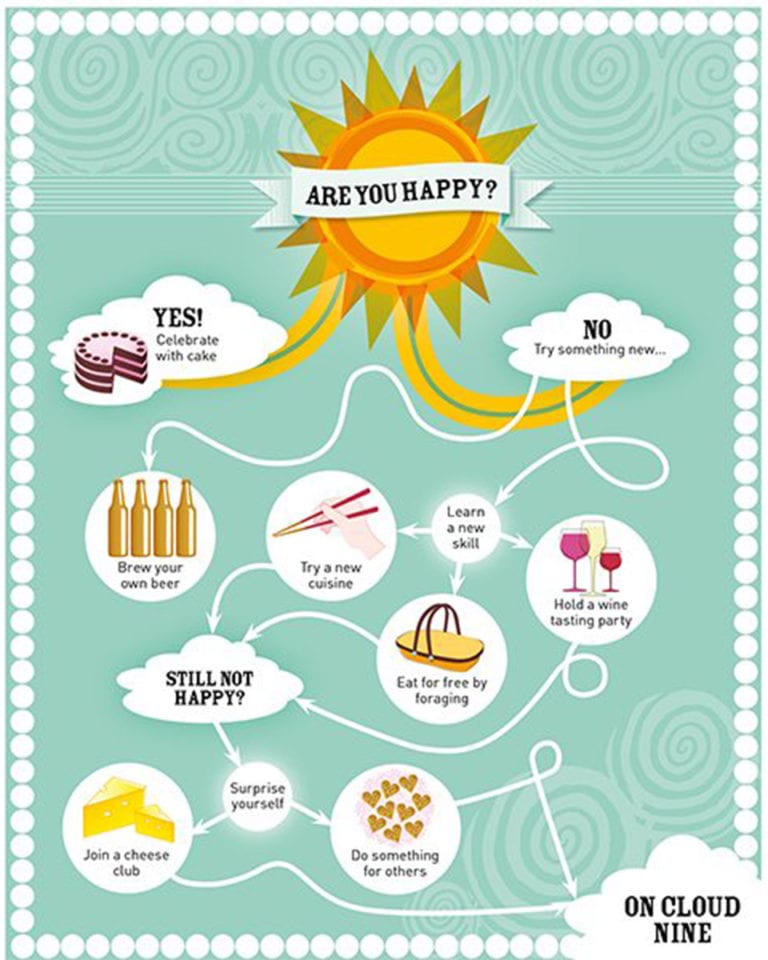 Is money of any relevance?
Oliver James, psychologist and author of Affluenza, argues that our money-fuelled obsession with keeping-up-with-the-Joneses puts us on a misery treadmill, not a trajectory to joy. Psychologist Michael Hagerty, who's spent decades researching contentment in societies around the world, has concluded: "Money buys happiness, but it buys less than people think." Factors such as close ties to friends and family rate higher than having lots of money. In the winter of austerity-driven Britain, those words should prove cheering: a lack of spare cash needn't equate to misery, despite what the headlines say.
The fact that money doesn't buy happiness isn't news, of course. In ancient Greece, the Epicureans believed the key to contentment was through the enjoyment of simple pleasures, such as good food and good company. We think they may have been on to something.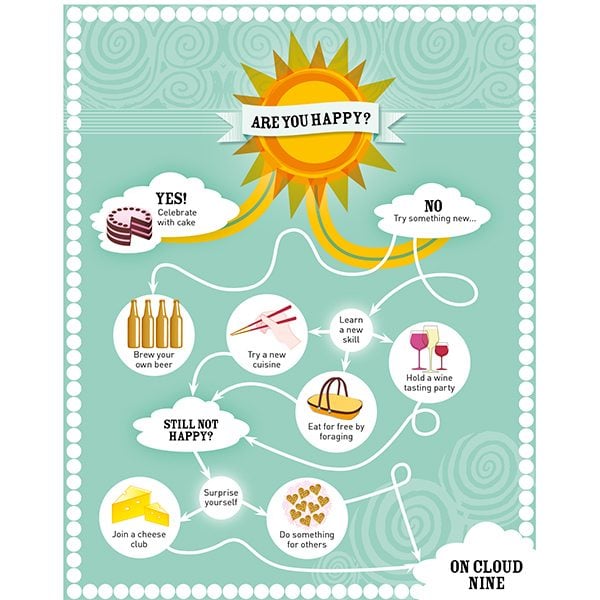 Get cooking the books
They're beautiful to look at and provide hours of armchair inspiration, but cookery books are made to be cooked from, not to adorn bookshelves. If your private collection is under-utilised, you're not alone. Fiona Smith, former head of publicity for publisher Conran Octopus, estimates people cook, on average, three to five recipes from a cookery book – even though most contain more than 100.
But there's an easy way to boost the use of these recipes that involves seeing friends, talking about books you love and enjoying a great dinner as part of the deal: start a cookbook club. To begin, one member borrows a coveted cookbook from another member's library and hosts a dinner, cooking recipes from the book for the other members. For the next meet-and-eat session, someone else does the hosting and someone else's library is raided. And so the club goes on, in deliciously win-win style. Just add good wine and the happiness part will follow automatically…
Challenge your taste buds
Stepping out of your comfort zone or changing your routine is a great way to fight boredom. Dr Johnson wrote, "Prudence keeps life safe, but does not often make it happy."
We're not expecting you to try a Bushtucker Challenge (although you could organise your own tamed-down version). But how about going, with a few friends, to a supper club featuring a cuisine you've never tried? If you can't decide which one, follow in the footsteps of one of our readers: spin the globe, close your eyes and stop it with your finger – you have to try the cuisine of the country it points to. Russian, Ghanaian, Mauritian, Portuguese and Jamaican are just some of the cuisines served up by supper clubs listed on Edible Experiences, mostly in and around London. For a range of clubs outside the capital, Find a Supper Club rounds up destinations in the UK.
Become a wino (not that kind)
Taking time to appreciate things properly, say the people at Action for Happiness (a 'movement for positive social change'), is one of the keys to contented living. There are lots of wine-appreciation courses out there, but too many miss the point that wine should be enjoyable, not an opportunity for cork dorks to show off their fact collection. Thankfully, Laura Ward and Kiki Evans, who run A Grape Night In, agree.
After working together in the wine team at Jamie Oliver's Fifteen restaurant, the two spotted a gap in the market for affordable – and – fun wine-tasting events. The pair will come to your place to give a group of friends a lesson in swirling, sniffing and sipping, while dispensing wisdom on grape varieties, flavours and food-and-wine pairings. These tutorials are not for budding wine snobs: "We relate wine to everyday events, rather than talking in wine-speak," says Kiki. Packages start at £30 per head and the girls tailor-make the evening to suit you.
In a similar vein (or should that be vine?), the experts at ThirtyFifty will transform your living room into a tasting room for a two-hour wine session, anywhere in the country (minimum of 10 guests).
Turn your home into a micro-brewery
In these straitened times, staying in is the new going out. Or is going out the new staying in? Blur the boundaries between home and pub by becoming your very own brewer. As craft breweries spring up across the UK, home-brewers, once considered hapless geeks with an unhealthy interest in hop varieties, are shedding geekdom for stardom.
While brewing kits may not turn your box room into the Guinness factory, investing the £30 or so in a kit is a good way to get to grips with the process and increase your appreciation of the hallowed liquid. For help every step of the way, buy a £15 annual membership of the Craft Brewing Association, which gives practical advice to budding home-brewers and access to a global information-sharing network. Pair a home-brewed pint with a perfect pie for home-pub heaven.
Go foraging
Apart from a few scratches and insect bites, foraging is pretty much the ideal happiness-booster: a walk in the woods (exercise and fresh air are known mood-lifters) topped off with free eats as a reward. Trend-setting chefs such as René Redzepi of Noma in Copenhagen and Andoní Luis Aduriz of Mugaritz near San Sebastián, whose menus list juniper twigs and fermented fern stalks, have raised foraging to an art form. But don't try to create two-Michelin-star tucker. The joy lies in feasting on nature's hand-picked bounty.
Learning to spot free eats, such as wild garlic, nettles, elderberries and elderflowers, sloes or wild horseradish is surprisingly easy with a good field guide. Highly recommended are four of the River Cottage Handbook Series: Hedgerow, Edible Seashore and Mushrooms (all by John Wright) and Herbs (by Nikki Duffy). If you're happy channelling Ray Mears, Miles Irving's The Forager Handbook and Richard Mabey's Food For Free offer further masterclasses in finding, eating and cooking, wild-style.
If you're not ready to trust your senses, the best way to find out about the incredible edibles near you is to go on a guided forage or a foraging course.
Surprise, surprise!
The unexpected can boost your mood – provided the surprise is good, that is. Such was the conclusion of psychologist Norbert Schwarz of the University of Michigan, who asked his subjects to photocopy, then complete a questionnaire about how satisfied they were with their lives. Half the subjects 'found' a dime (about 7p) cunningly left on the copier by the psychologist; the other half didn't. Those who received the unexpected windfall reported higher levels of satisfaction than those that didn't. Is that all it takes?
Lighten your mood by 'surprising' yourself with a regular gift. You can find subscription services for wine, chocolate, cakes and more. If cheese is your thing, subscribe to a cheese club, such as Pong, which will keep you in cheese for the year, with a monthly delivery of the stuff.
Become a do-gooder
Countless studies have suggested doing things for others makes you happier – but do we really need scientists to tell us that? Baking a treat for yourself is great, but baking for others magnifies the joy.
And there are plenty more opportunities to put a love of food to good work. Organisations such as Foodcycle, who make use of surplus food and free kitchen space to create nutritious meals for people affected by food poverty in the UK, are always looking for volunteers. As is The Trussell Trust, which runs food banks for people in the UK living below the poverty line.
Now it's down to you… 
Simply put, all you need to do is enjoy foodie fun with your family and friends. Or help others and help yourself in the process. As the Dalai Lama says, "Happiness is not something ready made. It comes from your own actions." So, what are you waiting for…?
Subscribe to our magazine
Food lovers, treat yourself this Christmas... Enjoy 12 months of magazines for £29.99 – just £2.50 an issue.
Subscribe
Unleash your inner chef
Looking for inspiration? Receive the latest recipes with our newsletter