What's lagom and can I eat it?
Working in the media, and specifically food, it's easy to feel over-saturated with good things. Even if your reality isn't Easter eggs and artisan gins stacked eight-a-piece next to your desk, overindulging or (worse) taking a plentiful state of affairs for granted is commonplace for many of us.
Modern society relies on consumption and frequently trends towards excess – see Netflix binges and bottomless brunches for details.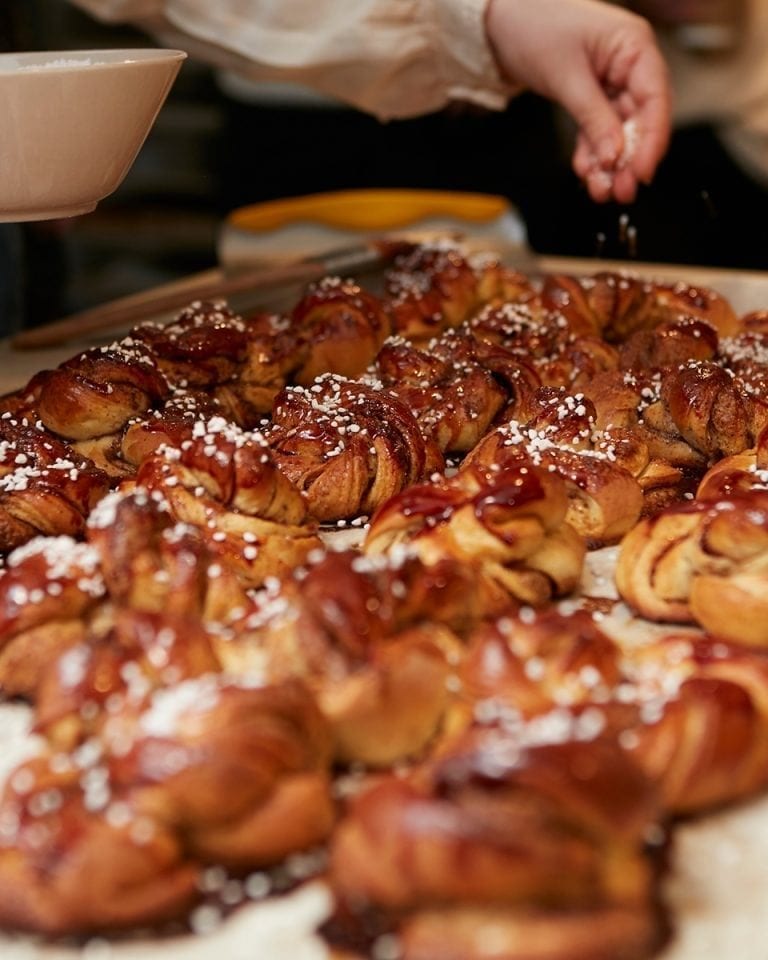 A sustainable swing the other way, in favour of moderation, is never going to achieve the same kind of exposure: it's not exciting, sexy or glamorous (plus it doesn't serve capitalism, but let's leave that there). However, this is where our Scandi brothers and sisters seem to have it sorted with the concept of lagom. It's a term rich with cultural history, that's roughly interpreted as "just the right amount."
Unlike hygge, the untranslatable sense of warmth and satisfaction that took the world by storm and was quickly commodified into woollen socks and chunky mugs, lagom promises to transcend trends and be actively anathematic to fast-fashion consumer culture. I spent the day with writer, entrepreneur and expert on all things Scandinavian Brontë Aurell to find out what this buzzword means for the way we eat – and if it (doesn't) live up to the hype.
Cinnamon bun society
How to succinctly explain lagom? "It's not having two cinnamon buns – just the one," begins Brontë. "But you can have another one tomorrow! Swedes eat 316 buns a year on average – that's nearly one each day." Baking a batch together seems like a good place to start, then, using a popular recipe from her café, ScandiKitchen.
St Albans' bakery Baked Nation kindly gave over their kitchen to us for the morning, and with an enormous bowl of pillowy dough pre-prepared by Brontë, we got stuck in spreading swathes of it with spiced butter. For the best flavour, Brontë recommends grinding the cardamom yourself, and using the best quality cinnamon you can afford – be wary of varieties that use cheaper, but less aromatic, cassia bark to bulk it out. The characteristic swirls of cinnamon are achieved by folding the dough into thirds before gently rolling out a little more, slicing into strips and twisting into knots. Before long, Baked Nation's sizeable oven trays were overrun with stripy buns.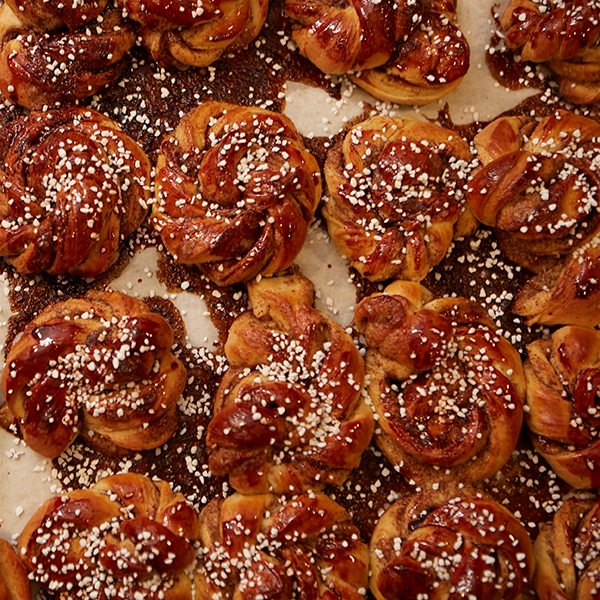 The word lagom comes from the phrase "laget om", which means around the team. According to Brontë, an urban myth attributes this behaviour to the Vikings, who would share their resources evenly, each taking just enough as they passed their mead around the circle. This altruistic principle underpins lagom, and beyond penetrating much of Scandi culture, can be seen to actually affect policy: Denmark, Sweden and Norway have some of the highest income tax rates in the world, which has created a largely middle class society in which few have more than others or have to go without.
Cinnamon buns become an apt example. "Someone complained that this recipe, which appears in one of my cookbooks, made far too many buns," says Brontë. "But that's the point – there's enough for all your friends, enough for some for the freezer." The lagom mentality isn't about the individual, but the group; you don't have just one bun because you're on a diet – you do it to leave enough for someone else, or for another, hungrier time. This attitude is pertinent at a time when UK homes throw away 7 million tonnes of food a year.
There's something understated about a batch of buns too, far removed from the sugary style-over-substance of a clutch of cupcakes. Cinnamon buns don't show off, and they satisfy you too – that's very lagom.
Embrace the outdoors
Next up it was time to embrace the great outdoors with a (rather chilly) jaunt around Buckinghamshire's College Lake, a nature reserve. According to Brontë, spending substantial periods of time outside is second nature in Scandi culture, and goes far beyond the odd long walk at a weekend. It starts in childhood, and earlier than you'd expect: Bronte recalls visiting a children's nursery back home where rows of babies slept snug in their prams – outside in the playground, in sub-zero temperatures.
Inclement weather aside, its clear that the majority of us in our technology-saturated society don't have this balance quite right, and one wonders what the implications of this disconnect with nature are.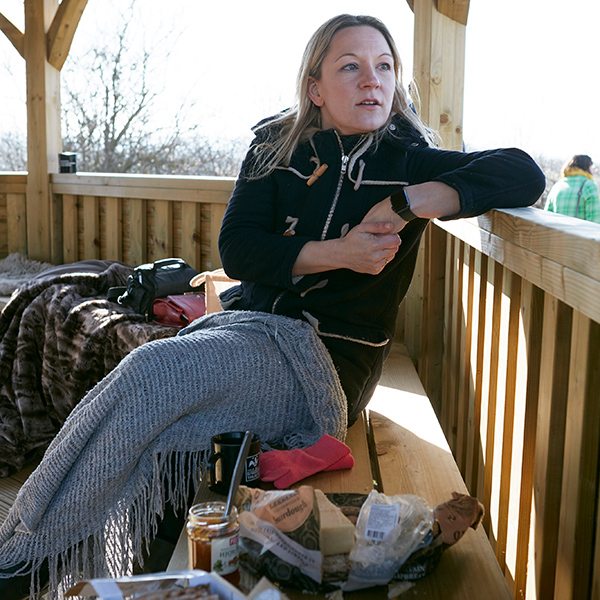 Daydreams of alfresco dining are often embellished with Mediterranean climes, while the UK lays claim to the picnic as a cornerstone of British summer nostalgia. But eating outdoors is an all-weather, all-people event in Nordic countries. On family skiing trips, Brontë and friends will set up a big fire outdoors and barbecue. "The kids will be saying, "I'm freezing"" she grins, "and I'll reply "get over here and eat this sausage, then!""
A minor organisational mishap left some of our party without lunch, but naturally Brontë was prepared, whipping a package of Leksands sourdough crispbreads, some cheese and smoked salmon from a Mary Poppins bag. It was a genuine, spontaneous moment where a common lagom expression, "enough is as good as a feast", literally rang true. The group gathered round, each taking a little food, practicing how to horizontally shave off slices of cheese with the knife (it's virtually criminal to slice the nose off a wedge in Norway, I learnt), tasting and talking. It seemed we were learning from those Vikings, and the cold winds soon didn't seem so biting.
Mixing it up
Our last stop of the day promised to be a little more luxe – mixing cocktails at five-star hotel The Grove alongside Jon Anders, expert in Scandinavian spirit aquavit.
"It's weird because that's the way we never had it," explained Jon. "You usually drink it straight and wonder why you wake up feeling like you've been hit by a bus." Learning about the history of aquavit, cocktails suddenly seemed the balanced, lagom option. Made of grain spirit and produced since the 15th century, aquavit's key botanicals are dill and caraway, and it clocks in at around 40% ABV, making it an acquired taste. We tried several varieties, including Linie Aquavit, which is matured at sea in casks and travels across the equator twice before making it to your glass, giving it a deeper, oaky flavour that stands up to the savoury spices.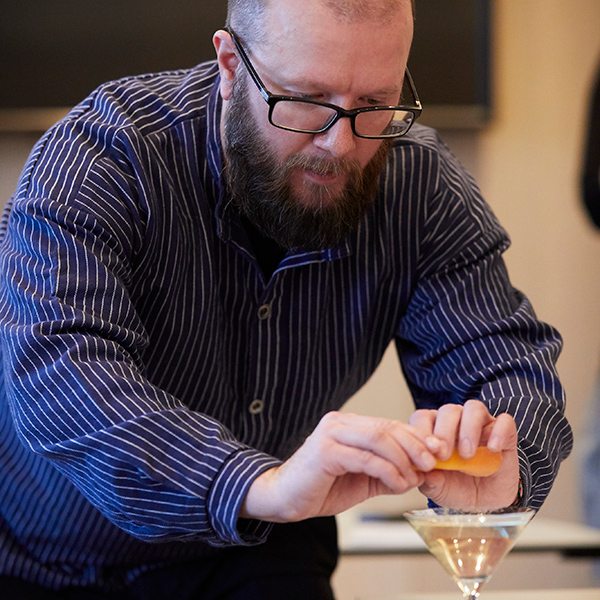 Jon explained how creating consistently good cocktails is a case of learning some recipe maths – they should include alcohol, a sweet element and a sour element. By that dint, with either a sweet or sour alcohol in the mix you could make a decent cocktail with just two ingredients. "If you know that, you can make anything delicious – even a piña colada!" laughed Jon. "And if you make it with aquavit instead of rum, it makes it drinkable!"
With piña coladas as a punch line, it comes as no surprise that Scandi-style cocktails are not ostentatious, and this is telling. Being individualism and attention-grabbing averse is known as the Law of Jante in Nordic countries, a concept made famous by Dano-Norwegian author Aksel Sandemose in his early 20th-century novel A Fugitive Crosses His Tracks, but recognised long before that.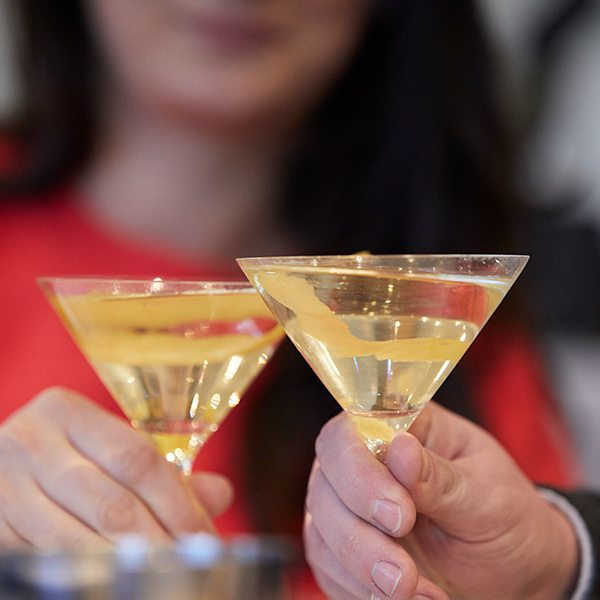 The selection of short cocktails we prepared were classic in nature, making use of vermouth and bitters, and relying on fresh orange and grapefruit to add dimension, all of which let the aquavit do the talking – no cocktail umbrellas here. It was a fitting end to a day exploring the Scandi lifestyle – not one of deprivation, but of simple pleasures and appreciating what you have. Moderation might be the key word, but I think lagom is something we could all probably do with a little more of.
This experience was facilitated by Volvo, whose new XC40 SUV aims to embody the spirit of lagom. See more at volvocars.com
Sources: The Guardian, Food Standards Agency
Subscribe to our magazine
Subscribe to delicious. magazine for HALF PRICE
Subscribe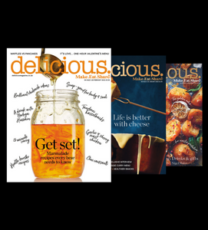 Join our newsletter
Packed with menu ideas, recipes, latest competitions and more...