What is hygge and can I eat it?
Once the summer ends, we're fully within our rights to triple our tea and coffee consumption, light an extravagant number of candles and refuse to wear anything that hasn't been knitted.
And that's okay, because it's hygge…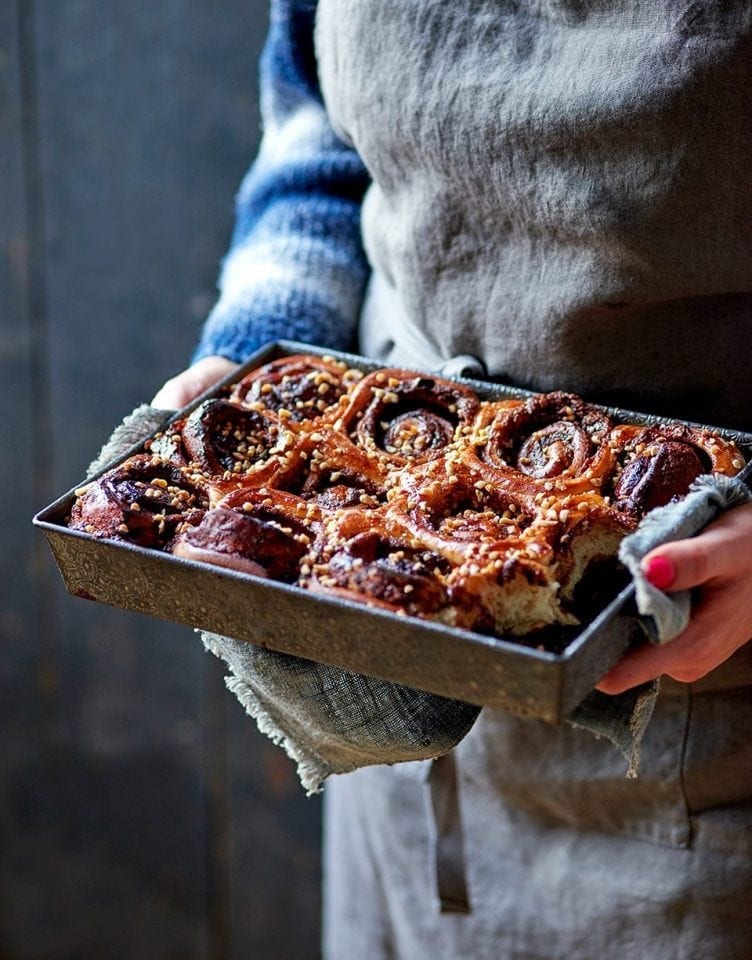 What is hygge?
What springs to mind when you think of winter? Is it log fires, steaming drinks, purring cats and warming bowls of delicious dinners? All of those things are hygge.
Hygge (pronunced 'hooga') is a Danish word and way of life, which has no literal translation into English. That said, we do have many words that equate hygge: cosiness, kinship, comfort, reassurance.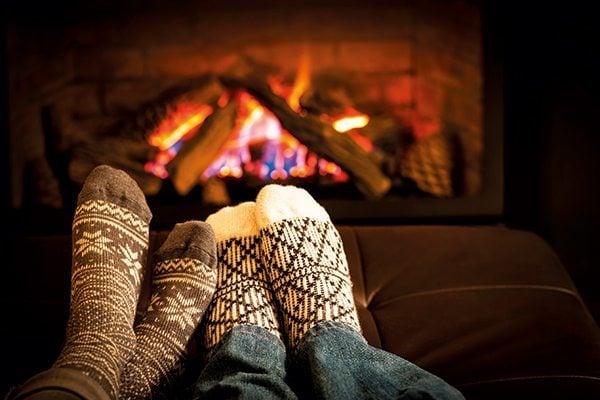 Simply, the art of hygge is in creating intimacy. Hygge is enjoying everyday moments and savouring the simple things in life; nurturing the soul and being kind to oneself. But this doesn't mean splashing out on expensive things or going on an extreme health kick. Hygge is simply finding beauty in moments we might otherwise overlook.
With busy lifestyles it's easy to shun certain tasks as mundane or time-consuming but by making such moments hygge, we add a sense of reality, honesty and pleasure to those things.
How can I hyyge?
There are endless possibilities for channelling hygge, and it's not about buying cashmere socks, lovely as they are. Hygge can be as simple as lighting candles at dinner, even if it's a mid-week omelette.
Hygge is brewing a cup of coffee and enjoying the warmth of the cup in your hands. Hygge is also a social outlook and can flow into wrapping up and enjoying a walk in the park with friends.
There are a multitude of books on hygge living; there's How to Hygge by Signe Johansen as well as Bronte Aurell's new book Scandi Kitchen: Fika & Hygge – you can find an excerpt from it (and recipes including the gorgeous chocolate buns in the top image) in the December issue of delicious. out on 1 December.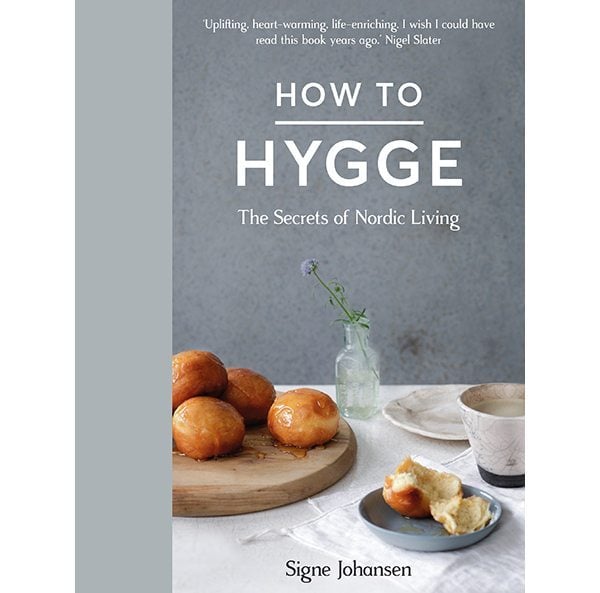 Can I eat hygge?
What is the best thing about hygge? In my opinion, it's that it celebrates our love of eating! Any dish can be hygge, if it's special to you, but I think the true meaning of hygge lies in comfort food.
The delicious. recipe archive contains so many comforting, warming recipes to browse. Simply head to the one pot or the pie collections for recipes that will have you scribbling a shopping list in no time.
To get hygge into your kitchen, try one of these recipes:
Rioja-braised oxtail
This cheap cut affords bags of flavour and melt-in-the-mouth texture when you cook it slow and low. Start this recipe on a Sunday afternoon and you'll be in full comfort mode come dinnertime – served with creamy mash and the remaining Rioja.
Butterbean and vegetable stew
Taking just 30 minutes to prepare and cook, this stew promises to be a mid-week delight. Served with crusty bread and fresh parsley and basil, this dinner will wash away any mid-week stress. Guaranteed.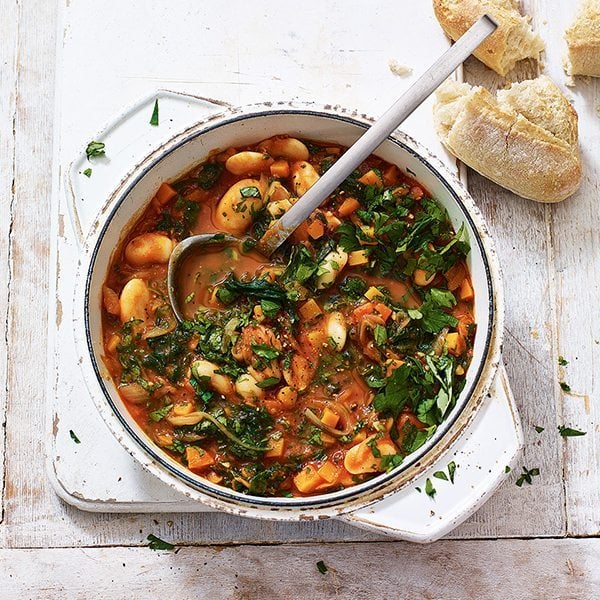 Mini fish pies
Hearty, homely fish pies served in mini ceramic dishes (the perfect excuse to treat your home to some hygge-inducing cookware) are ideal for a rustic dinner by the fire. The recipe calls for salmon, smoked haddock and prawns, but it's really very versatile.
Chicken, mushroom and riesling cobbler
Creamy, rich flavours come together as an absolute crowd-pleaser in this recipe. Perfect for dinner with friends, just wait until you see those content faces as you serve cobblers around the table. Heaven.
The best chocolate fondants
I had to include a chocolate fondant recipe, didn't I? This recipe will take away the uncertainty chocolate fondants can be infamous for. Oozing good quality chocolate and perhaps a scoop of ice cream, these will have your guests as hygge as can be.
Sticky ginger, date and walnut puddings
Serve these individual puddings with a maple butterscotch sauce for sweet heaven in a tiny pan. One spoonful is sure to put a smile on your face, let alone with a drizzle of double cream.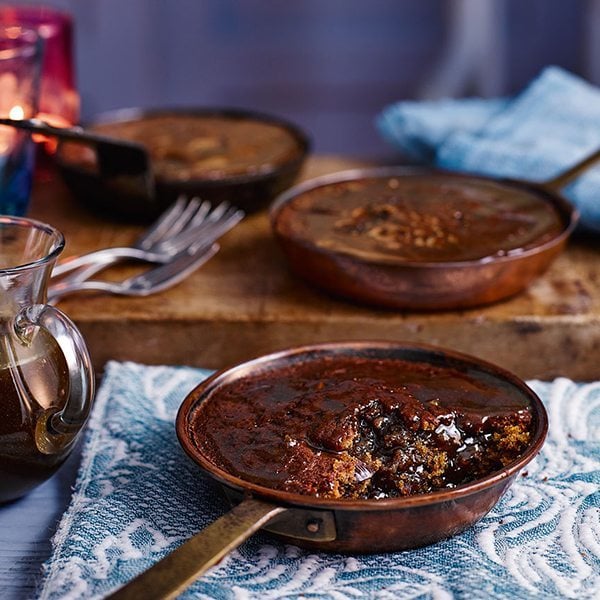 Happy, simple, kind. Three things we could all do with more of in our lives. The Danes are oft-cited as the happiest nation, and if part of that happiness is as simple as enjoying a bowl of rich ragu and pasta, or the weight of a purring cat in your lap, I think there's room for a little hygge in England.
Meanwhile, I'm off to the pub, and I sure hope there's a roaring fire and a game pie on the menu, so I can hygge away the afternoon.
How do you feel about hygge? Are you wrapped in knitwear as we speak or do you think it's just another fad? Let us know in the comments below.
Subscribe to our magazine
Food lovers, treat yourself this Christmas... Enjoy 12 months of magazines for £29.99 – just £2.50 an issue.
Subscribe
Unleash your inner chef
Looking for inspiration? Receive the latest recipes with our newsletter