Best of the best: how to make the ultimate chilli con carne
Our best of the best series takes the view that if something's worth doing, it's worth doing right. Each month we take a deep-dive into a classic dish, delving into the processes and analysing why it tastes so good. This month: Tom Shingler tackles that fiery favourite, chill con carne…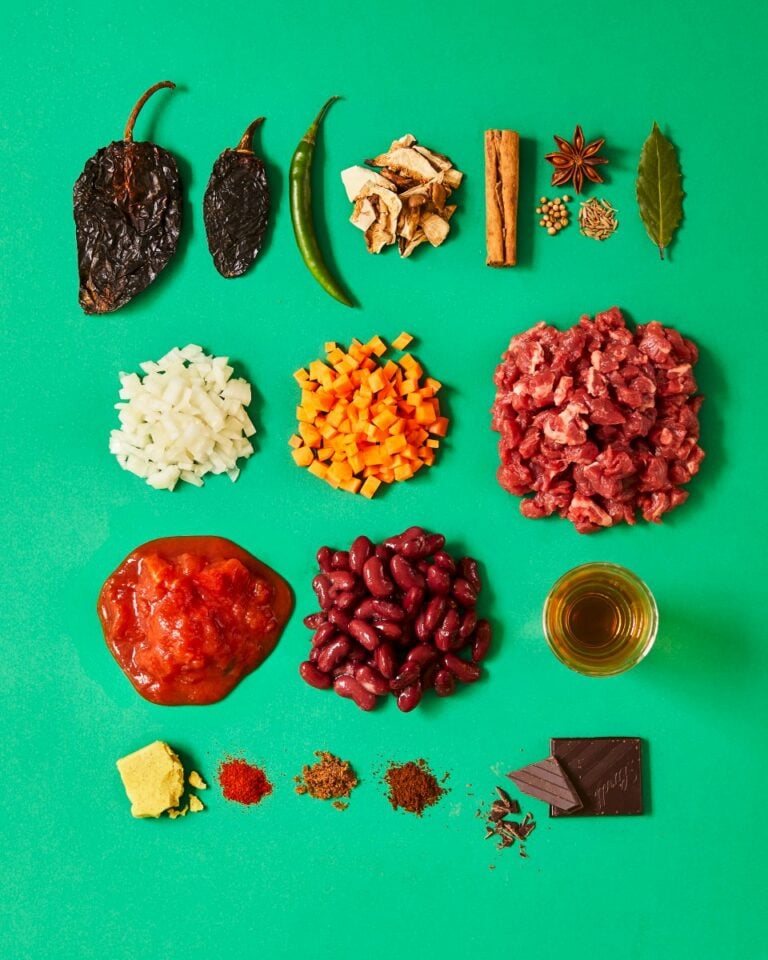 I've had a troubled relationship with chilli con carne in the past. It's something nearly everyone cooks at home – with varying degrees of success.
It all came to a head for me when visiting my sister-in-law in Birmingham. It was the beginning of summer and I couldn't wait to be taken to one of the city's incredible Indian restaurants for dinner. Sadly, when we entered her flat, we were hit with the aggressive aroma of a five-bean chilli, glumly puttering away in the slow-cooker, the smell of stale ground cumin assaulting my disappointed senses. I may not have been the most gracious house guest that evening.
After that fateful Brummie night, me and chilli con carne kept our distance for a while. But when the weather cooled and stew season started once more, we reconciled. It can be a beautiful thing; a dish that's stew-like but not stew, warming and fragrant, balanced with a heat that gradually builds throughout the meal.
I've made a fair few batches of chilli in my lifetime, and I bet you have too. It's only when I started making a note of exactly what I was throwing into the pot and keeping track of what worked and what didn't that my ultimate recipe began to formulate. Chilli is great because you can add all sorts of things that need using up – a jarred red pepper here, a limp celery stick there, a splash of soy sauce as an experiment – but after multiple batches and a good dose of research, I'm now happy with my chilli and no longer feel the need to tweak and tinker (which is a rarity). So here it is!
The chillies
Chillies – if you're a bit of a bore like me – are a fascinating ingredient. Different peppers can offer up smoky, fruity, nutty, sweet and vegetal flavours alongside their signature heat, especially when dried. Bad chilli con carnes go for pure heat – generic red chilli powder or flakes, perhaps a few dashes of Tabasco – but good chilli con carnes make use of multiple pepper varieties to build layers of complex flavour.
There's no need to go crazy here, ordering 'specialist' chillies online (I've done this, it's not worth it). Supermarkets now stock dried chipotle chillies (smoke-dried jalapeños)  and the lesser-known ancho chillies (dried poblano chilles), which are incredibly popular in Mexico. They're mild in heat but big in earthy fruitiness. Combined, these two chillies (once toasted and whizzed up with chicken stock) create a powerfully flavoured base which won't blow your head off. I also like to add in a fresh green chilli for a more vegetal heat and just a little smoked paprika to bolster the sweet, smoky flavour. This amount of chilli gives your carne enough heat to live up to its name but keeps things relatively crowd-friendly. Put a bottle of your favourite hot sauce and a bowl of soured cream on the table when serving so people can amp up or quench the heat as they wish.
The beans
If you live in Texas and you put beans in your chilli, you're in trouble (same for tomatoes). Thankfully, I live in Bedfordshire, not the Lone Star State! And I like to put beans (and tomatoes) in my chilli. Perhaps it's nostalgia but a bean-free chilli just doesn't taste right – it's little more than a fiery meat stew. While it may fly in the face of Tex-Mex 'authenticity', the creamy texture provides welcome contrast to the richer meat, providing ballast within the sauce (and it stretches the meat further – good for the wallet and the planet). There's no need for fancy-pants beans or a five-bean medley (shudder); kidney beans do the job perfectly. You can soak and simmer dried ones if you like, but I find there's no noticeable difference from using tinned ones when it comes to chilli.
The beef
Beef mince is the go-to meaty medium for a chilli, but I can't help but feel like I'm eating a big bowl of spiced beany bolognese when it's all that's there. It also reminds me a little too much of the bad chilli con carnes in my life – grey mince, watery tomato sauce and that unpleasant smell of untoasted ground cumin. Instead, I like to get a pack of that generic 'diced beef' from the supermarket and chop it into even smaller pieces. Yes, it requires a longer cook, but you need a long cook anyway to properly reduce the sauce and cook out the tomatoes. The resulting texture is firmer and meatier than a ragù but softer and silkier than a beef stew – the best of both worlds.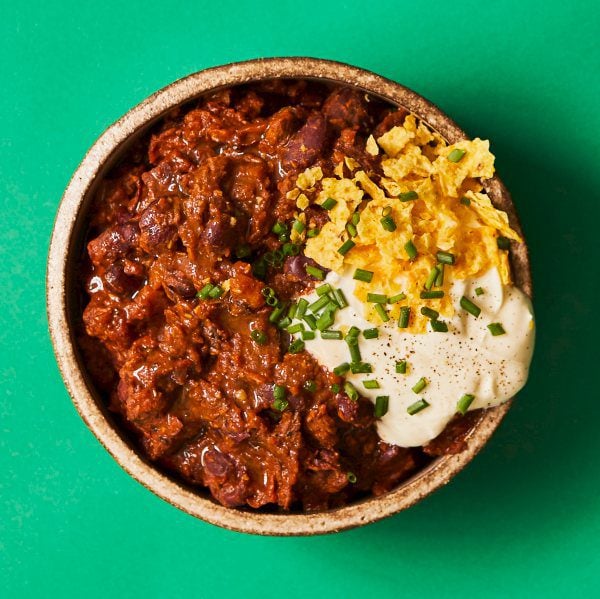 You could go all-out and slow-cook beef short ribs in the sauce, then shred the meat and remove the bones, but I feel this turns chilli con carne – a dish we tend to think of as something relatively weeknight-friendly – into something much more involved (as you need to cook the ribs for at least 6 hours). It is delicious, but I think short ribs are best saved for other dishes and occasions. I like the meaty chew diced beef gives to the dish and it elevates it enough from the more common mince.
The secret ingredients
The reason I really got into making chilli was because there's no real 'correct' way to make it – it's why chilli cook-offs are so big in America, as everyone has their own recipe for it. That makes it ripe for experimentation. I've put all kinds of things in chilli over the years, but the following adjuncts are my favourites:
Dried mixed mushrooms add buckets of umami in the background to your base – if you ask me, they're the ultimate secret weapon in savoury cooking as a whole.
Dark chocolate is a popular addition, for good reason – it adds sweetness, earthiness and a subtle smokiness to the sauce. It won't make your chilli taste of chocolate (unless you really overdo it).
Coffee is a throwback to cowboy campfire chilli, but again it adds an earthy, roasted flavour to the sauce. If you've got an espresso machine throw in a shot, but a spoonful of ground coffee is perfectly up to the task.
Bourbon (or whisky, depending on what I have in the cabinet) adds complex sweetness and acidity.
Star anise is a tip from Heston Blumenthal which works wonders in any beef dish with a sauce – the science of it goes above my head, but it essentially draws out the umami of the onions and meat without imparting a noticeable aniseed flavour (try it in your bolognese, honestly!).
Crushed tortilla chips sprinkled over the dish add salty crunch – a little like Italian pangrattato (fried breadcrumbs) on pasta.
Ready to make some chilli? Find Tom's best of the best chilli con carne recipe here.
Subscribe to our magazine
Food lovers, treat yourself this Christmas... Enjoy 12 months of magazines for £29.99 – just £2.50 an issue.
Subscribe
Unleash your inner chef
Looking for inspiration? Receive the latest recipes with our newsletter