Cookbook road test: Cracked: Creative and Easy Ways to Cook Eggs
Author Lindy Tubby started her career as a fashion designer before turning her creative instincts to cooking and writing about food.
Timing-wise, her latest book is bang on trend, as cooks change gears for lighter, springier cooking and get cracking with that edible symbol of Easter, the egg.
This is (obviously) not the first cookbook dedicated to eggs. Advice about cooking eggs always reminds me of Delia Smith in 'back to basics' mode with her 1998 How to Cook: Book One, its cover graced with a bowl of eggs. Tubby, however, has done her research and acknowledges the great French chef and restaurateur Marcel Boulestin, who wrote Eggs: One Hundred & Twenty Ways of Cooking back in 1932, as the inspiration for this book.
Still, as the special magazine free with this issue proves, there's plenty to say about these versatile, protein-rich packages of goodness, and Tubby dispenses sound wisdom and tips freely. The introduction also covers all those must-know things about eggs: how to soft/hard-boil, poach and scramble to perfection and how to make the ideal omelette. She explains the science behind meringues and settles the debate on whether eggs should be stored in or out of the fridge (out).
The book is divided into chapters for breakfast and snacks, brunches and lunches, omelettes, suppers and sweet things. There are the expected comfort-food classics such as eggs benedict, soufflés and devilled eggs, but Tubby scours the globe and dishes up far-flung recipes such as Thai-style prawn and chilli omelette with nam jim dressing and Tamil egg hoppers with a spicy kachumber relish.
Quality of the recipes:
Linda Tubby is highly regarded in the food world for her thoroughness and clearly written recipes, and the ones in this book certainly inspire confidence. Deciding on just two wasn't easy but I settled on one British dish and one Greek. Marmalade pavlova roulade, which promised to be light and not too sweet, is just the sort of pudding I love.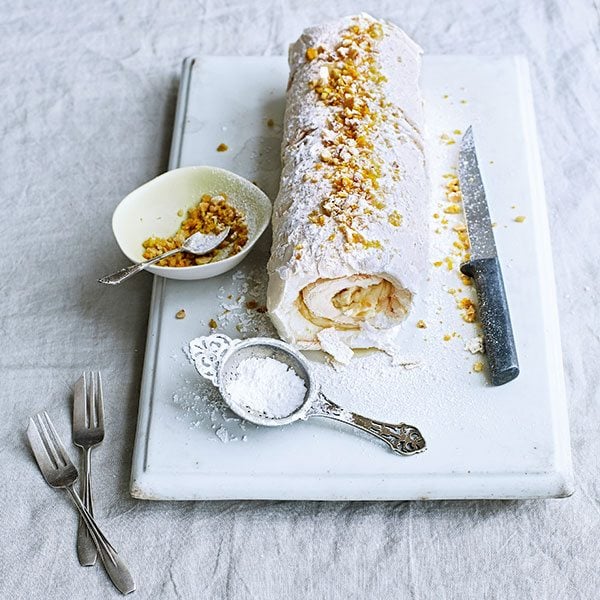 The recipe was easy enough to follow, although my meringue roulade began to turn golden before the called-for 20 minutes were up. If I'm being picky, I would have liked to know why the meringue recipe called for both vinegar and cream of tartar; the book's intro explains that cream of tartar helps stabilise the proteins in the egg whites, but there's no mention of why a teaspoon of vinegar is added just before the meringue is spooned into the prepared tin (To make it soft and mallowy? To prevent rubberiness?). It's the sort of thing curious cooks like to know. Regardless, the completed roulade was airy-light with a melt-in-the-mouth texture – and the marmalade gave it a grown-up flavour.
Next up was a recipe called 'a bowl of chicken & egg comfort' – basically Greek avgolemono soup with chicken, orzo pasta and a poached egg, enlivened with parsley. The finished dish was lemony-fresh, comforting and invigorating, like springtime in a bowl.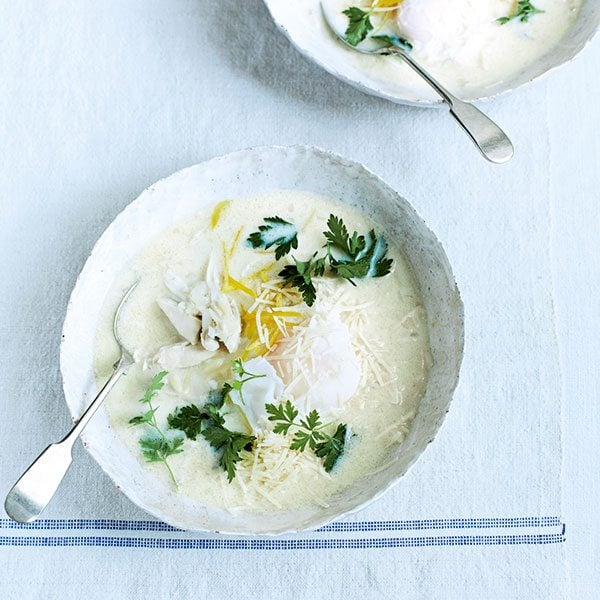 Photography:
Linda Tubby did the styling as well as the recipes, and the eggshell colour palette of white and shades of blue is clean and sophisticated, underscored by enticing, cleanly shot photographs by Ali Allen.
Who's the book suitable for?
Novice cooks will find the book approachable, but the broad-ranging choice and creative flavour combinations make it a good book for adventurous cooks too.
Cracked: Creative and Easy Ways to Cook Eggs (£16.99; Kyle Books)
Subscribe to our magazine
Subscribe to delicious. magazine for HALF PRICE
Subscribe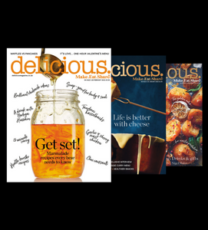 Join our newsletter
Packed with menu ideas, recipes, latest competitions and more...