Five minutes with Shuko Oda
Japanese restaurant Koya opened in Soho in 2010, and since then, the team behind the restaurant have opened 2 more outposts, one called Koya Ko in Hackney, and a City restaurant in the Bloomberg Arcade. Since Koya's launch, the restaurant has been pivotal in broadening perceptions of Japanese cuisine in London.
Specialising in udon noodles and dashi broth, and sourcing produce predominantly from UK suppliers, the Koya restaurants have helped bring lesser-known Japanese dishes to Londoners, thanks to the expertise and knowledge of chef owner Shuko Oda. We caught up with Shuko to find out how the restaurant is coping with the cost of living crisis and what menu dishes she is most excited about.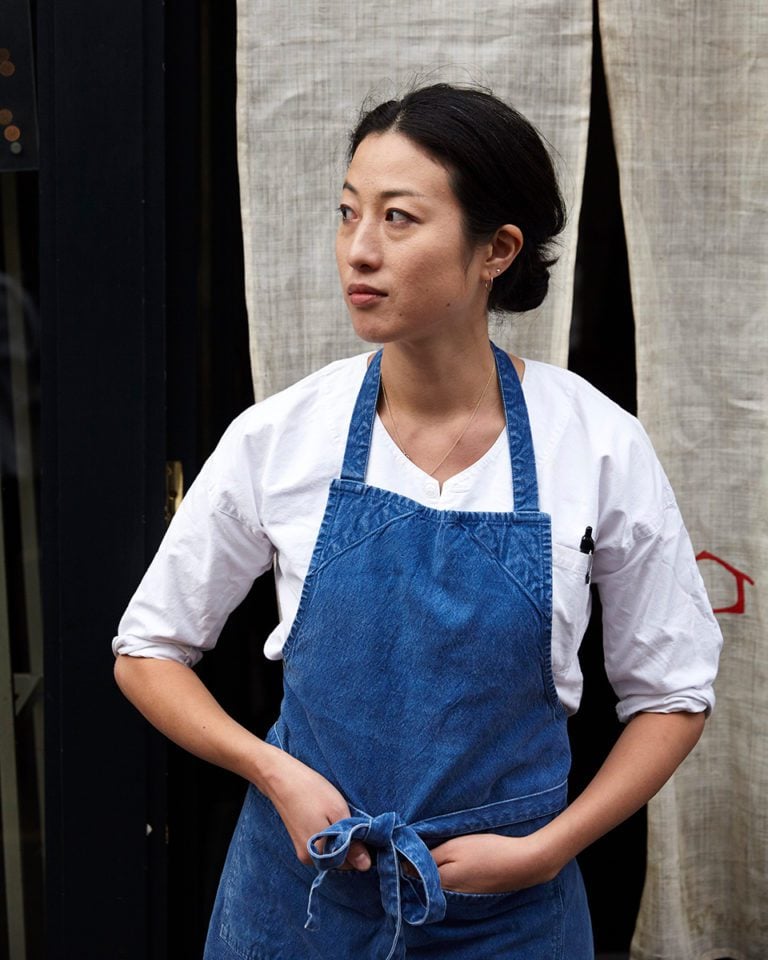 What's your very first memory of food?
Recovering from a flu when I was about 6, not being able to keep anything down for a few days. I was feeling pretty empty and exhausted, but was starting to get my appetite back. My mother made me plain onirigi rice balls with freshly cooked rice and every bite filled me back with warmth, energy and comfort.
What's the first recipe you properly learned to make?
Miso soup. But if we are talking about cooking from a recipe in a book, it was spare ribs marinated in umeboshi plums and soy based sauce.
What do you like to do to relax?
Jigsaw puzzles.
What's the one dish you can't live without?
Japanese breakfast with grilled horse mackerel, miso soup, rice, pickles and natto (fermented soya beans).
What ingredient would you take to a desert island with you?
Our Koya blend of soy sauce, we have them specially made in Japan and we call it the 'magic liquid'.
You can have a one-off dinner party on your island… who would you invite?
I'd love to cook dinner for my grandparents as I never had the chance to cook for them professionally before they passed away.
What has been the most formative experience of your career?
Opening our first restaurant, I literally learned everything through it all.
It's 8pm, you've just got home. What are you rustling up for dinner?
Bowl of noodles or rice with fried egg, pickles, herbs if any in fridge, and chilli oil.
How important is the produce from Ikuko at Namayasai Farm to the menu at Koya? It must be fantastic to be able to source vegetables you can't normally find in the UK…
Robin and Ikuko's vegetables and their weekly list is often how we build our specials boards. It reflects directly seasonality, locality, and mixed culture of Japan and UK. Their unshifting commitment to wild and organic farming means that we might get slugs in greens and deformed turnips in our deliveries, but also means that their produce is full of flavour and extremely nutritious.
Is there anything about the food industry that bugs you? We'd like to hear your thoughts…
Whilst I think there's been some re-evaluation of the importance of cooking (cheffing is increasingly viewed as a serious profession) the same can't be said for the front of house (FOH) teams. These roles aren't given the same sort of respect or have the same kudos attached to them yet FOH teams are every bit as vital to the success of a restaurant.
Koya has shown Londoners the magic of udon noodles and dashi. What are your favourite dishes on the menu at Koya at the moment?
We are putting together some 'no waste' dishes in Koya Ko (our Hackney branch) which has been a very fun process, working out what our biggest waste is and how we could recycle and upcycle it! One of my favourite which will come on the menu toward the end of the year is Okayu rice porridge with pickles. It's made using chicken carcass for the stock, leftover rice and dried shiitake mushroom which give all its flavour and goodness to our dashi. We then recook them to become pickles.
The restaurant business is tough right now. How are your restaurants coping with the cost of living crisis? How is it affecting you and your customers?
We have had to put our prices up to continue working with small independent suppliers and keep paying our staff fair wages.
More than ever before, it feels like we are constantly being challenged and questioned whether we can adapt and be flexible without changing who we are. Sometimes we make mistakes, but we go back a step then, and hope to keep a positive dialogue with each other and with our customers to continue moving forward. Hopefully everyone will continue to dine out!
Do you have any aspirations and dreams you've yet to fulfill?
I would love a chance to work on creating healthy and delicious hospital/school meals.
Subscribe to our magazine
Food lovers, treat yourself this Christmas... Enjoy 12 months of magazines for £29.99 – just £2.50 an issue.
Subscribe
Unleash your inner chef
Looking for inspiration? Receive the latest recipes with our newsletter