14 foodie gifts for Valentine's Day 2020
Whether it's for your partner, best friend, first date or for those who don't choose labels, say it with food this year. Have a scroll through our top foodie gifts for Valentine's Day. (Or of course, just buy it for yourself, if you like it.)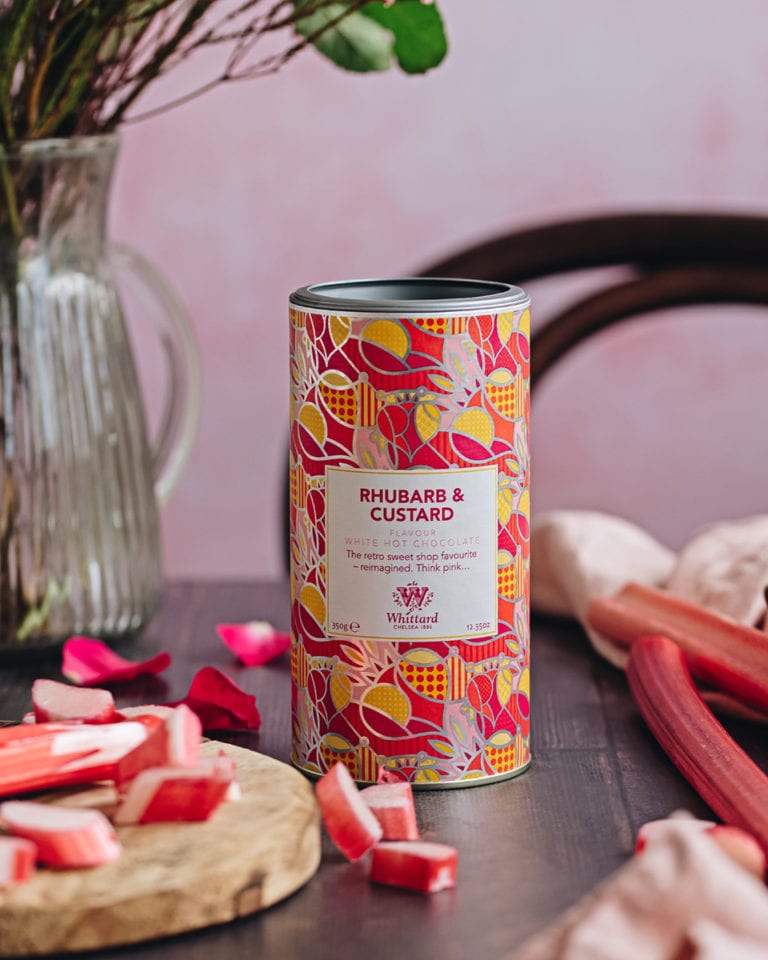 Fortnum & Mason's Dark Chocolate And Raspberry Fondue pot, £16.95/200g
This barely-cooked dessert with its oozy hot centre is enough to make anyone melt – a proper chocolate fondant has to be one of the most romantic desserts out there. And there's something even more heart-warming about the fact that Fortnum and Mason's dark chocolate and raspberry version comes in its very own ceramic pot, which holds its heat to keep your pudding warmer for longer. Serve with brioche, strawberries and biscuits for dipping in the liquid centre.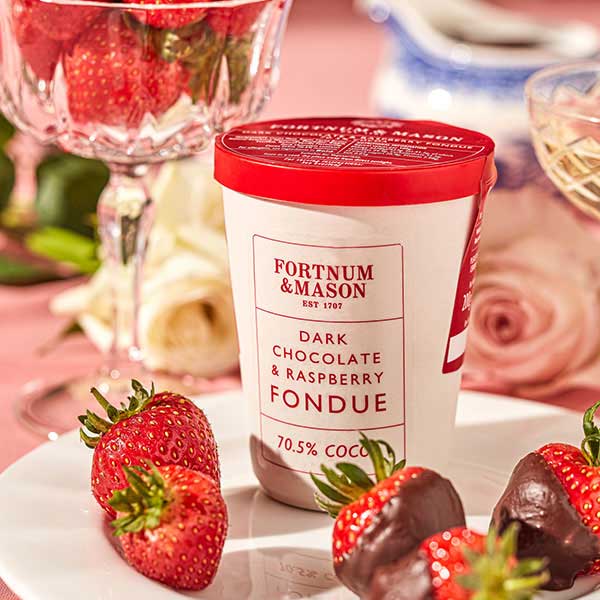 Whittard's Limited Edition Rhubarb and Custard White Hot Chocolate, £9/350g
Whittard know a thing or two about pretty packaging and this gorgeous tin is sure to put a smile on the face of any recipient. But that's not the best part…this limited-edition rhubarb and custard white hot chocolate turns pink when you add hot milk or water! With a sherberty sweet flavour reminiscent of the popular childhood confectionary, it's the perfect gift for those who are lovers of both sweets and chocolate.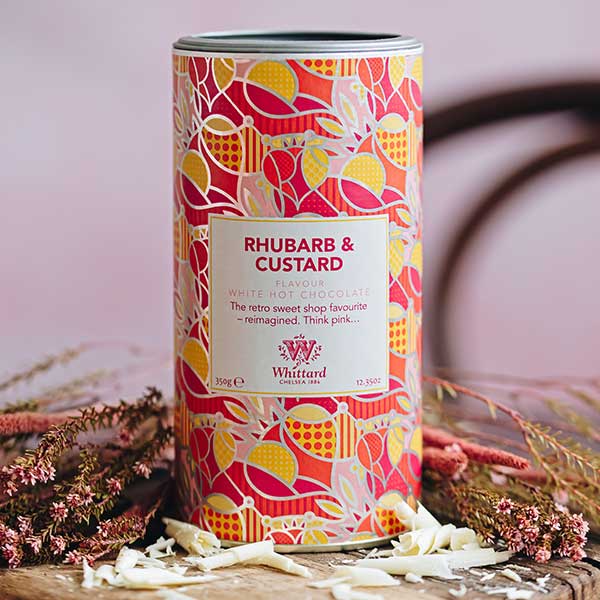 Personalised Marmite, £11.99/250g
It only makes sense that you gift the lover of Marmite in your life with this personalised Valentine's Day jar. Spread the love (and Marmite).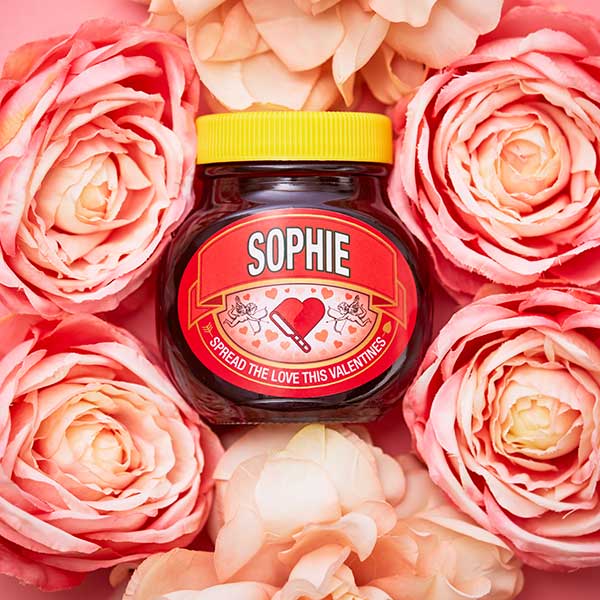 Offblak's Future Is Pink Earl Grey And Rose Tea, £4.99 for 12 teabags
Fledgling company Offblak are creating tea with a new generation in mind. Their trendy branding and 100% recyclable packaging is designed for the conscious consumer – those who want good-quality tea with all of the health benefits and, let's face it, want to look cool too. Treat your valentine to their 'fully charged' (high caffeine) earl grey and rose flavour, with hints of lemongrass, lemon peel and rose petals. It tells you how to brew your cuppa to perfection on the back, too (100°C for 3 minutes apparently).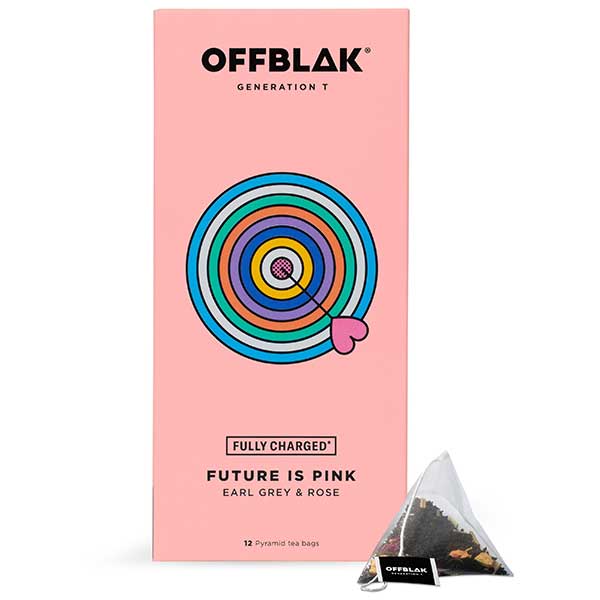 Marks and Spencer Percy Pig Sauce, £2/290g (available in store)
The perfect gift for anyone who's potty about Percy Pigs. Yes, M&S have released a limited-edition Percy Pig-flavoured sauce for all of you who are mad about the fruity sweets. Crazy or cringe? We'll leave you to be the judge.
The Whisky Exchange Personalised London Dry Gin Bottle, £44.95/70cl
Nothing says romance quite like a personalised bottle of gin and The Whisky Exchange's stunning offering has certainly pulled at our heart strings. Choose from six pretty patterns before adding your personal message and date, then send on its merry way to a very lucky someone.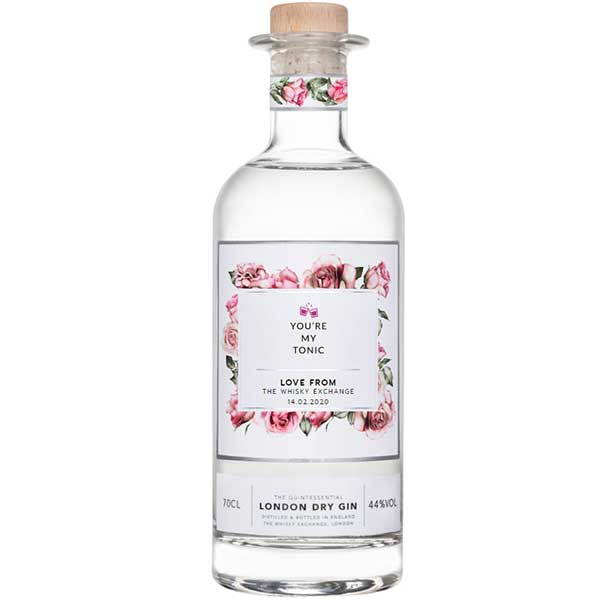 Gü Limited-Edition Salted Caramel Cheesecakes, £3.30 for two (available in major supermarkets)
 How many puns can you make with the word 'Gü'? Seven – at least – apparently. Gü have launched a 'love notes' range in time for Valentine's Day with different romantic messages on all of their indulgent puddings. Our favourite? The 'I'm in love with the shape of Gü' salted caramel cheesecakes – of course!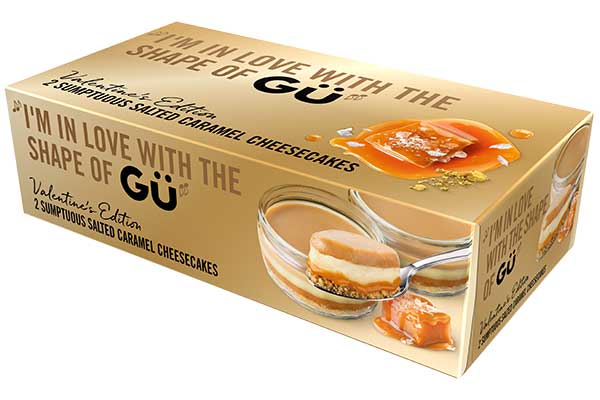 Hotel Chocolat's Cheesecake Box, £10
Cheesecake and chocolate combine in Hotel Chocolat's decadent offering. Choose from an assortment of flavours, including caramel, strawberry, lemon and orange cheesecake, for a delectable post-pudding treat.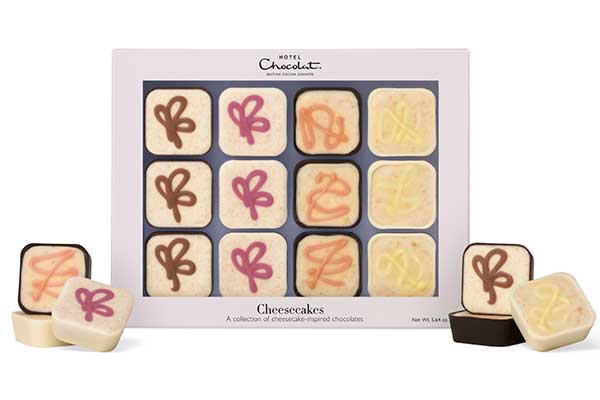 Forman and Field's Breakfast in Bed Hamper, £54.95
If showing someone you love them involves delivering breakfast in bed, take it up a notch this year with Forman and Field's extra special breakfast hamper. It's filled with smoked salmon, crispbreads, Brut Reserve Champagne, a pear and lemon conserve and ground coffee.  And the best bit? You can enjoy them all under the comfort of your own duvet.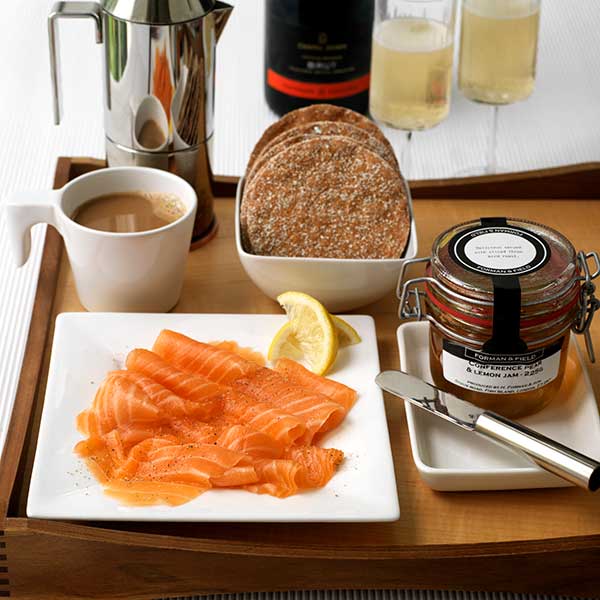 Love Cocoa's Salted Caramel 41% Milk Chocolate, £4/75g
Love Cocoa are spreading even more love this year with their limited-edition milk chocolate bar. For every bar sold, they promise to plant a tree in an effort to fight deforestation and global warming (their goal is to plant 500,000 trees in 2020). That's pretty great if you ask us. Their chocolate is also free from palm oil, single origin and comes wrapped up in 100% recyclable (and super stylish) packaging.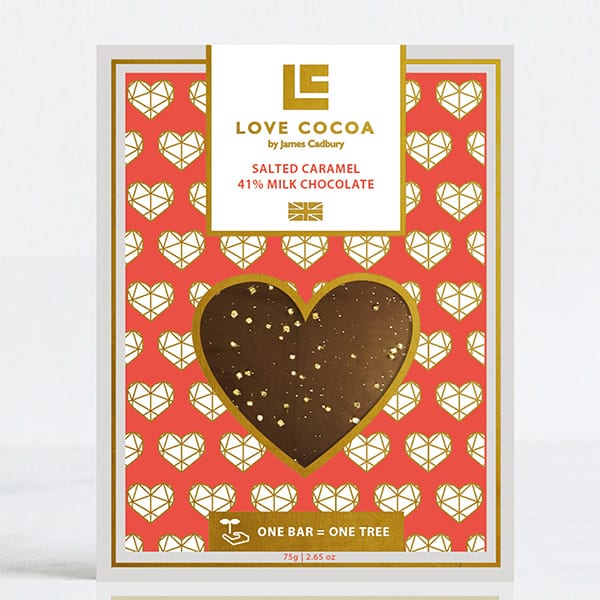 Apple, Rose and Pistachio Tarts, delicious. magazine
Show someone you care by taking the time to make these apple and pistachio rose-shaped tarts. They do take an extra degree of effort but the results are utterly worth it. Serve warm with clotted cream.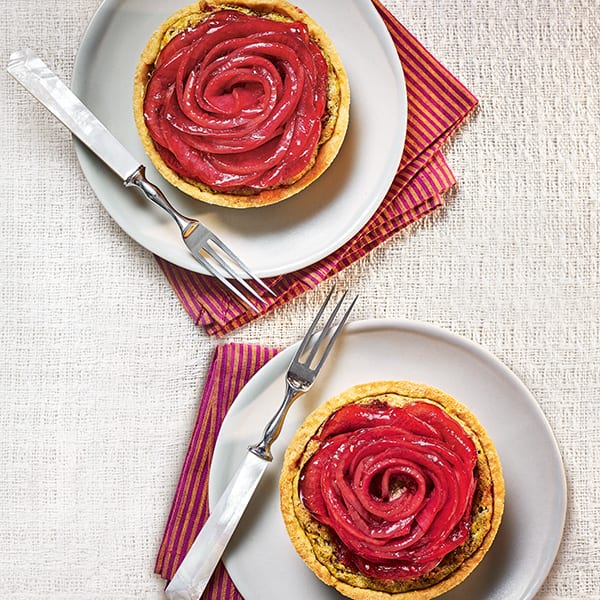 Isle of Harris Gin's Limited-Edition 'I Love Harris gin', £45/70cl
Be transported to the British seashores with this refreshing gin, which contains sugar kelp to impart a salty, sweet flavour. The crystal clear bottle is as inviting as the gin itself and this year you can buy one with a specially-designed label.
Make sure to check out our interview with one of their sugar kelp divers, too, to find out how this intriguing botanical is foraged.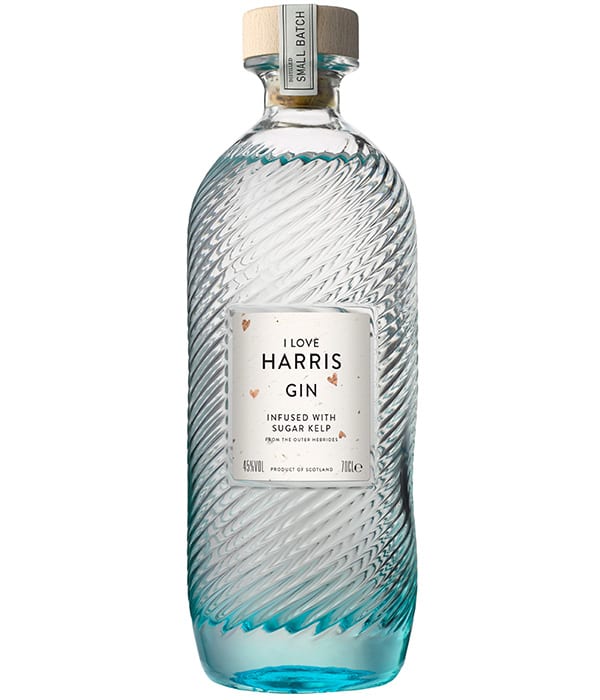 Maitre Choux 'I Love You' Eclairs, £5.20 each
These glitzy pastries aren't just made for the 'gram – although they'll certainly attract a few love-heart eyes. We've long been fans of Maitre Choux's dainty eclairs for both their outlandish flavours and decoration. This year, pick up one of their 'I Love You' editions – available in coffee, raspberry, pistachio, vanilla or chocolate – for an undeniably pricey but worth-every-bite treat.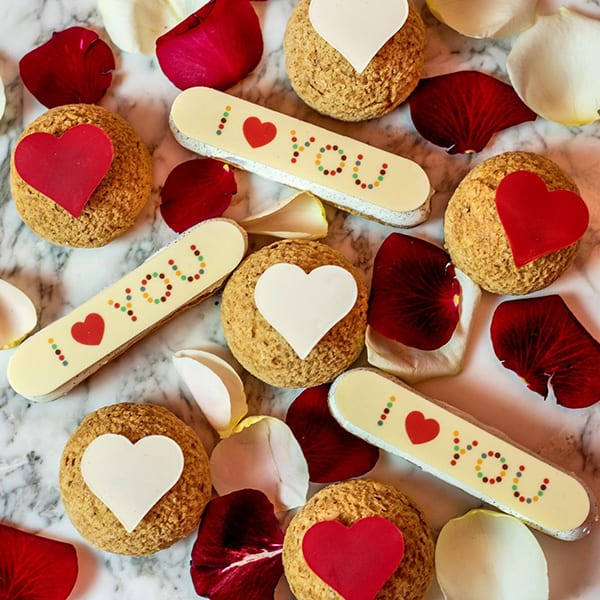 For the king or queen of organisation in your life, this pillarbox red enamel prep set includes mixing bowls in numerous sizes, along with a 24cm colander. From mixing up a cake to serving nibbles or storing fruit, complete your kitchen cupboard with a bowl to suit every culinary occasion.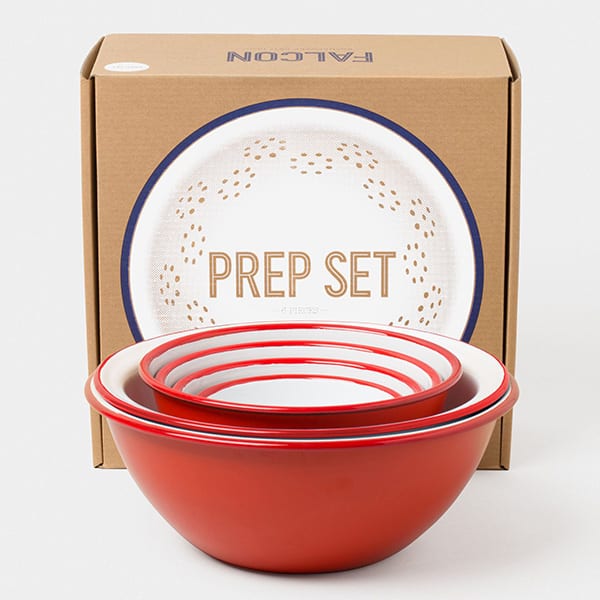 Is there someone you want to impress? Try your hand at one of these 14 desserts to make your valentine swoon.