16 foodie gifts for Valentine's Day 2021
We may be in lockdown, but that's no reason not to shower your loved one in affection this Valentine's Day. Whether you're scouting for the perfect gift for your partner, best friend, first date or for those who don't choose labels, say it with food and make it one to remember. Have a scroll through our top foodie gifts for Valentine's Day – or by all means, treat yourself.
Another option is to roll up your sleeves and deliver a homemade treat this Valentine's Day. Opt for a baked creation such as chocolate babka or discover 14 desserts guaranteed to make your Valentine swoon.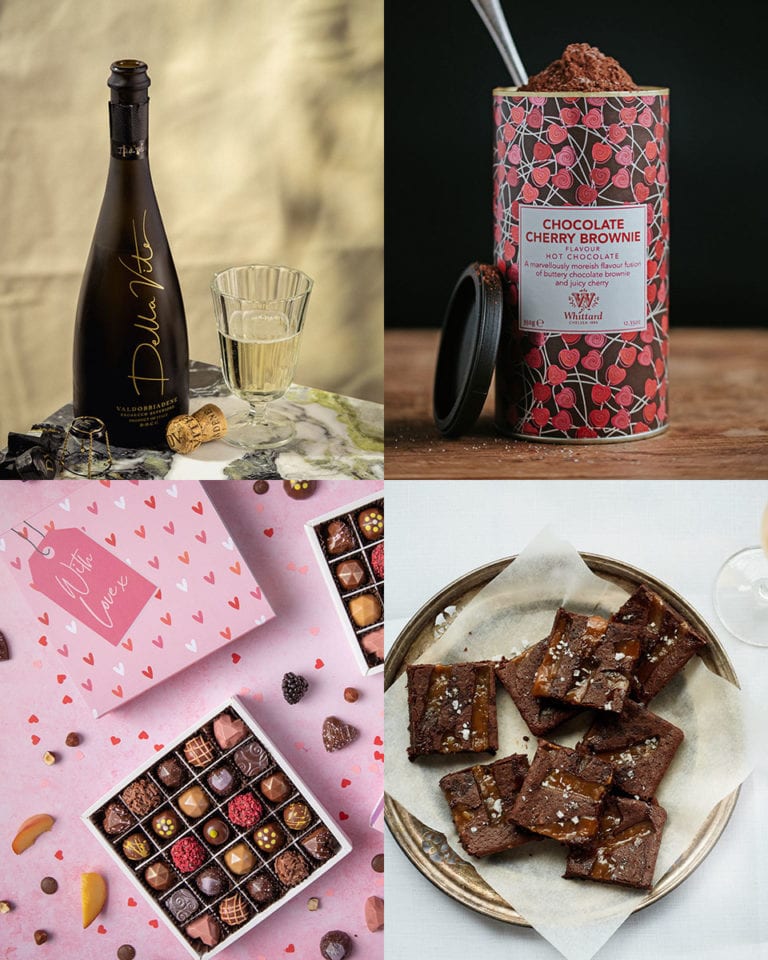 Oh the brownie points you'll SCORE when you deliver a bottle of the fanciest fizz this Valentine's Day. Della Vite (meaning 'of the vine' in Italian) is a new range of vegan and sustainably made prosecco, created by Chloe, Poppy and Cara Delevingne. What can you expect from this new-to-market fizz? Made in a winery in the heart of the Valdobbiadene valley in north-eastern Italy, their Treviso DOC is light, fruity and delicate. The gift wrapping is as gorgeous as you might expect too. Available from Della Vite (£19.95)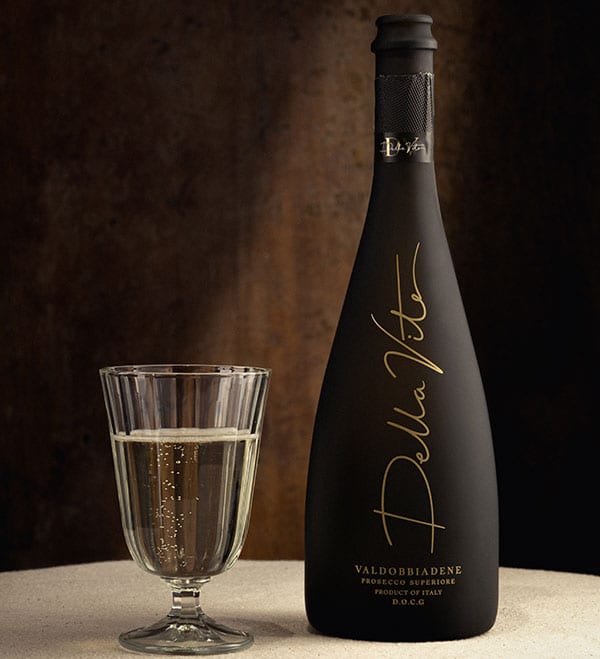 If your lover has a sweet tooth, this bitter hot chocolate sees the fusion of chocolate brownie and cherries for a sumptuously sweet treat. Life ain't so bad in lockdown when you and your beau are snuggled up on the sofa with a cup of piping hot cherry hot choc. Available from Whittard (£9).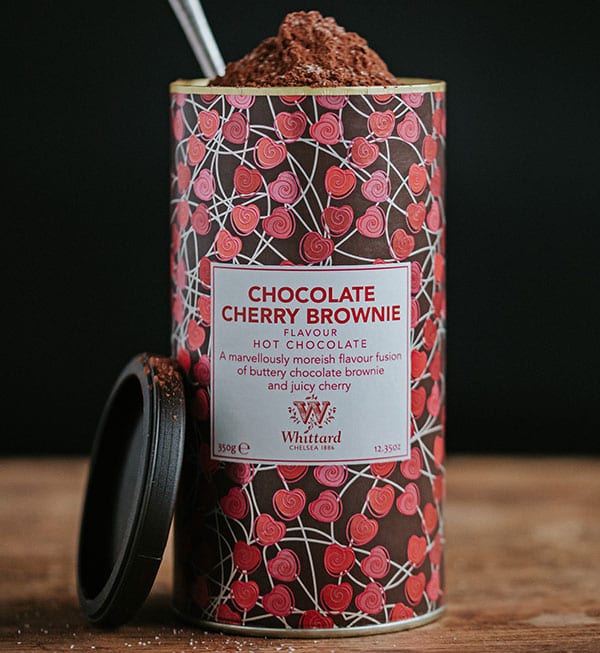 These are a batch of letterbox brownies that give an intense chocolate hit in every single bite. The Exploding Bakery offers variations beyond the classics, many of them gluten-free, and you'd be hard-pushed to tell the difference. Packaged to fit through a letterbox, they make a treat for anyone you can't get to see this Valentine's Day – and they also offer gift subscriptions. Available from The Exploding Bakery (Prices starting from £13.95 for a 420-460g box).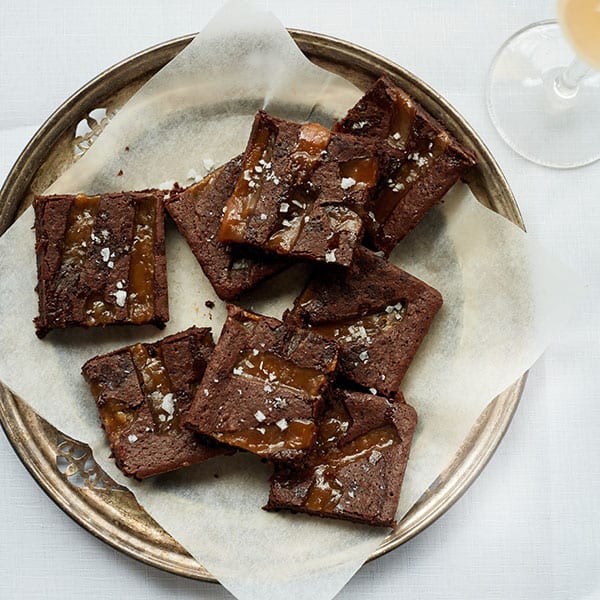 For a limited time only this Valentine's Day, play it COOL with an ice cream delivery for the one you love. Known for their award-winning flavours, British ice cream producers Jude's have launched ice cream delivery boxes and you can have a pick-n-mix variety of 6 tubs delivered to someone special. Last orders are 7th Feb if you'd like it to arrive in time for Valentine's Day. Available from Jude's (£45 for 6 tubs, a cookbook and a tote bag).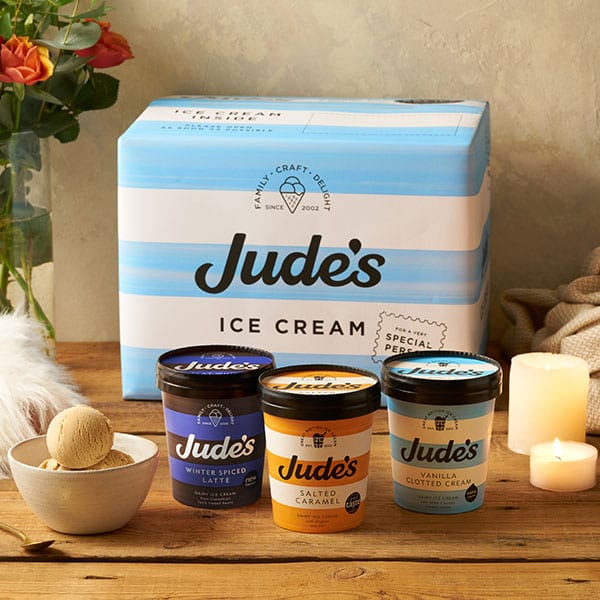 Okay, okay, we know that personalised gifts can sometimes fall into the cheesy category, but for someone who HEARTS a good old bar of Toblerone, this could be right up their street. Must order by Wednesday 10th February for delivery on  Saturday 13th. Available from Prezzy Box (£14.99).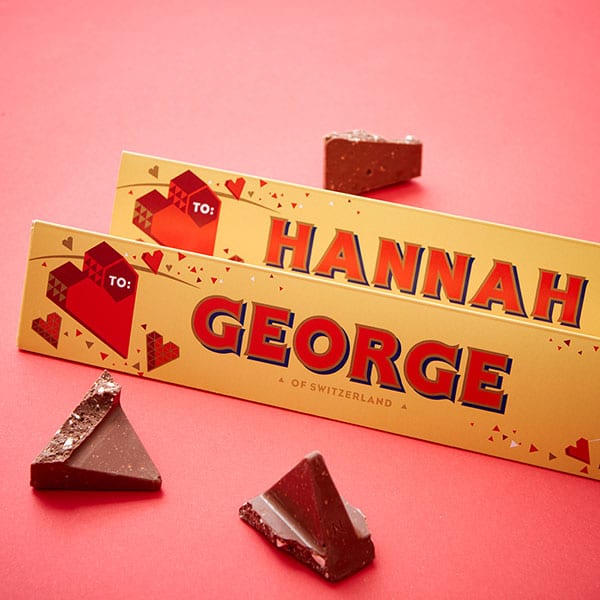 If you (and your loved one) worry about pods for coffee machines adding to the waste mountain every time you brew your morning cuppa, Grind is worth a look. Not only is the organic coffee excellent, the pods are compostable and come in a cute tin you can either refill or put to good use as a storage caddy. Available from Grind (prices start from £10).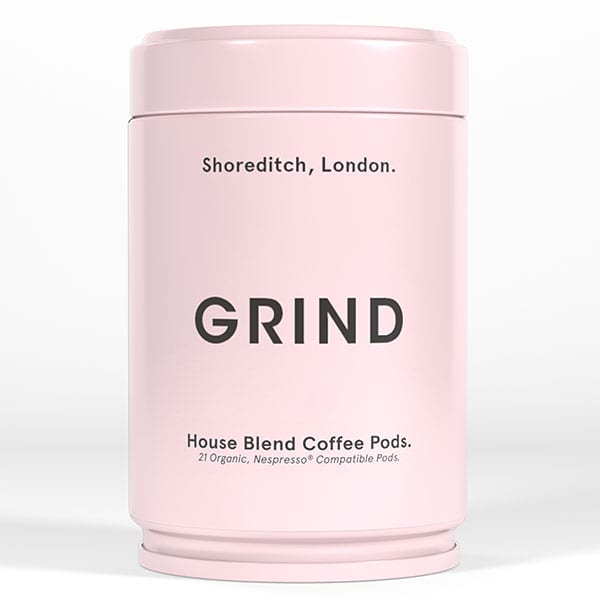 Colour Pop Enamel Roasting Dish
Perfect for the home cook who loves snapping those perfectly-plated food pics for Instagram – these glorious roasting dishes come in a range of fun pastel colours and will add a bright touch to dinnertime. The tins themselves come in two different sizes and are extremely versatile – they can go on the hob, in the oven and double up as a cooking and serving vessel. Available from Sous Chef (£24.99).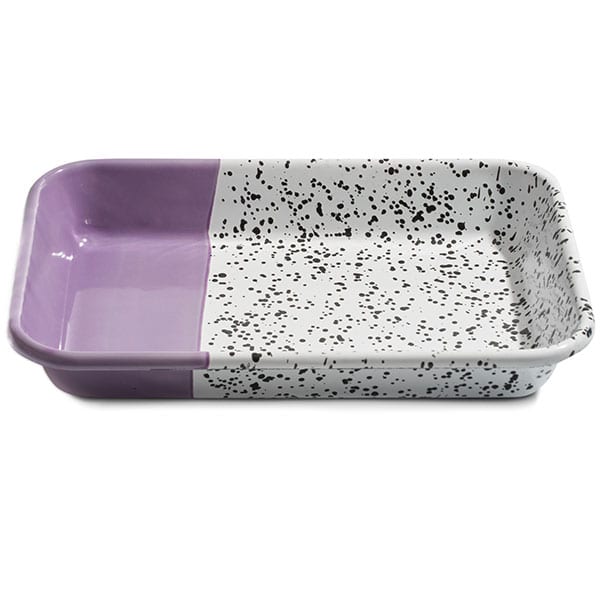 Whenever you're looking for a pressie that falls into the 'something different' category, turn your attention to Bookblock. They offer pre-selected curated gift boxes or a pick-your-own service – each box brimming with lovely, thoughtful trinkets. For Valentine's Day, their Oh So Chic gift box is just the ticket for some lockdown self-care. Inside, there's an abstract printed silk scarf, a silk eye mask, some Benamor's Rose Amélie shower cream, a miniature Forty Liquor's Grapefruit Negroni and a serving of moreish rocky road fudge. If some of those items don't take your fancy, opt to create your own box and fill it with chocolates, boozy bits and more. Available from Bookblock (£89.30 for the Oh So Chic box; or create your own – prices vary).
Selfridges White Chocolate Raspberries
Made by The Chocolate Society (based in Somerset) these creamy white chocolate bites are dusted in a fruity and zesty raspberry coating. With every bite, we like to imagine each one as a miniature Eton Mess. Perfect for someone special this Valentine's Day and a lovely pressie if you don't want to overspend. Available from Selfridges (£11.99).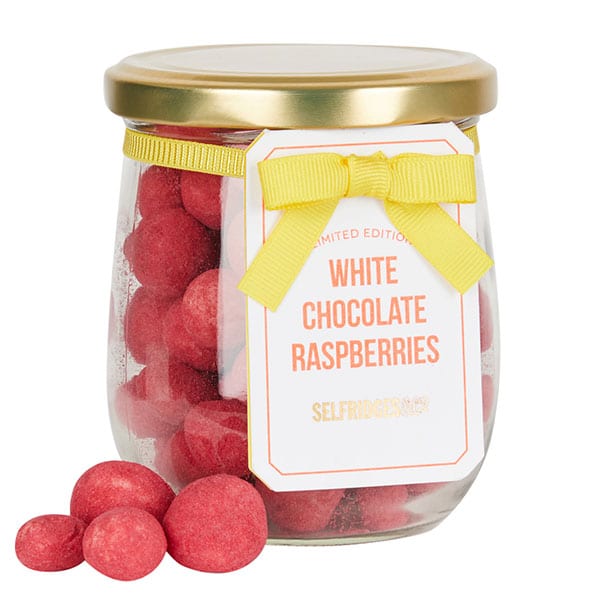 Jazz up someone's home office with a splash of greenery: a plant subscription is a lovely gift for anyone who's big into their plants. Choose from classic or pet-friendly subscriptions, with or without a ceramic pot. Available monthly, bi-monthly or quarterly. Available from Canopy Plants (subscriptions start from £15 per month).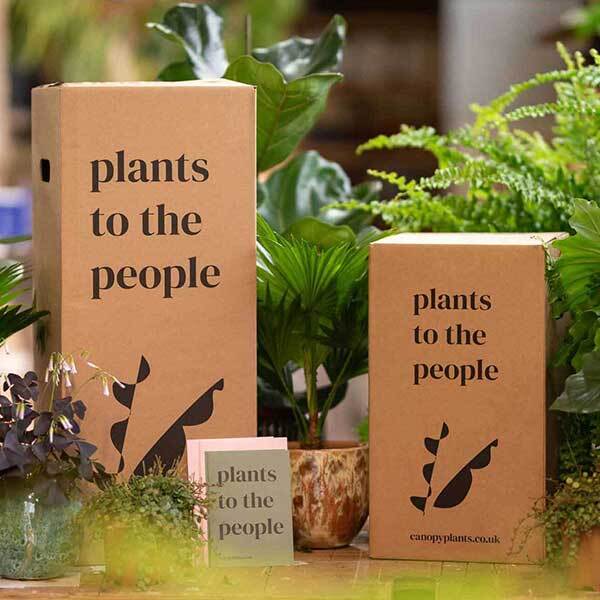 Courtyard Dairy's Valentine Cheese Selection
The Courtyard Dairy – based in Settle, North Yorkshire – is surely one of the country's finest cheese shops. It's certainly the remotest, sitting as it does, just off an A road between Keighly and Kendal. Their Valentine's cheese selection includes three wonderful British cheeses; a heart-shaped Baron Bigod – a brie-style cheese made in Bungay, Suffolk; an outstanding fresh goat's milk cheese called Amalthea Heart; and 250g of temptingly tangy vintage Sparkenhoe Red Leicester. Served with crisp, neutral Yorkshire water crackers, this is a Valentine's day treat that will please the heart and belly. Available from Courtyard Dairy (£29.50).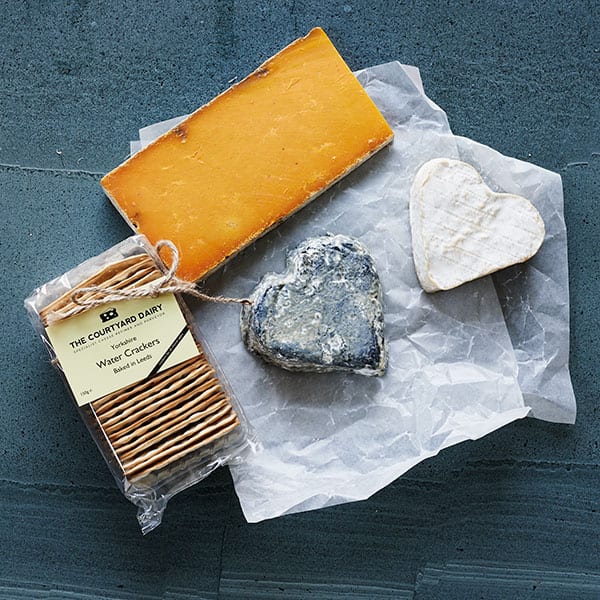 Personalised Edinburgh Valentine's Gin
Edinburgh Gin has launched a personalisation service on its Valentine's Gin – the limited edition tipple that's the perfect balance between floral and sweet flavours. Swap out the 'EG' letters on the Valentine's Gin label for the initials of a loved one, a long-distance friend or a Galentine. A lovely way to brighten someone's day in lockdown plus the bottle makes a snazzy keepsake. Last date for personalisation is 9th February. Available from Edinburgh Gin (£36).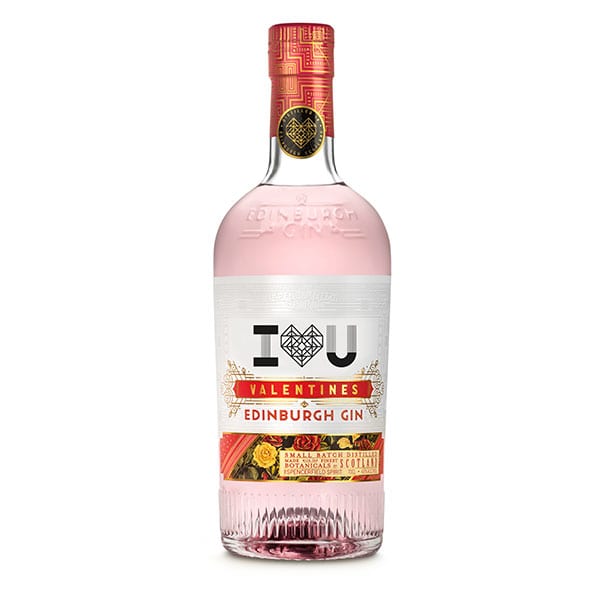 Cheers your lover with this brilliant new cocktail delivery service that fits through the letterbox! Launched only this month, STIR-UP offers single boxes as well as three and six month subscriptions. Inside each delivery you'll find individual ingredients to make four cocktails, with a cocktail menu ranging from a delicious mai-tai or picante, to a classic espresso martini or old fashioned (and more). As an aperitif to kick off your Valentine's meal, these cocktails are ideal: they're easy to put together, but make you feel oh-so sophisticated. Available from STIR-UP  (£34.95 for a single box, £32.95 per month for a three-month subscription and £29.95 a month for a six-month subscription).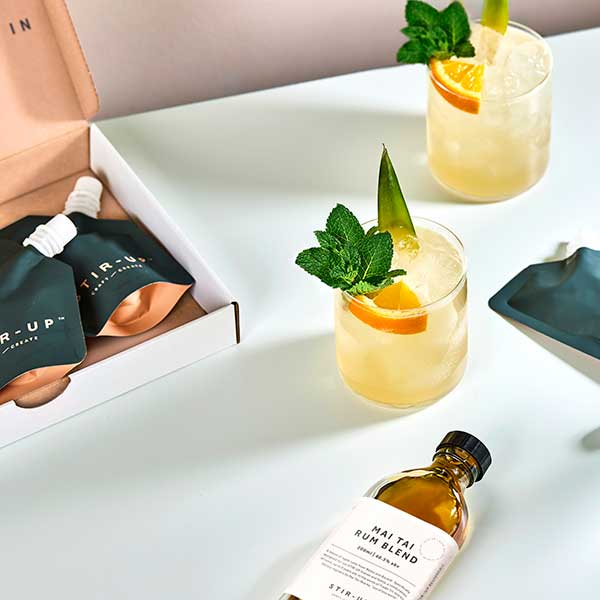 Chococo Valentine's Chocolate Selection
Call us old-fashioned, but there's nothing quite like a box of chocolates to profess your love to someone. Go high end – and high quality – with the Valentine's selection from Dorset-based chocolatier Chococo. Expect some classic milk and caramel-based chocolates in the mix, plus some exotic new flavours such as peach bellini and passionfruit caramel. GOOD NEWS: there's two of each flavour inside – so your loved one might be generous enough to share (no guarantees). Available from Chococo (medium box £18; large box £24).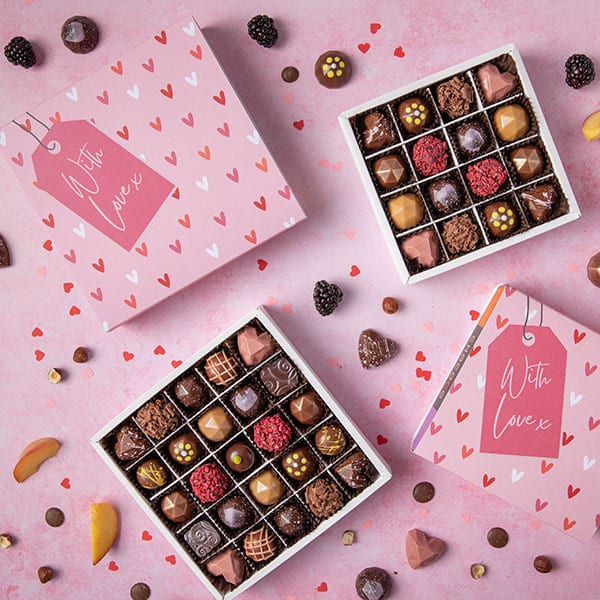 Bolney Estate Wine and Chocolates Gift Box

Choose your favourite style of wine from the Bolney Estate and add to their smart black gift box, that also includes a bottle of Bolney sparkling wine and Noble and Stace chocolate truffles. Their fabulously pink cuvée rosé, a sparkling wine made in the traditional method on the Bolney Estate in West Sussex, is our top choice this Valentine's Day – it has a moreish flavour (very drinkable), with lots of fine bubbles and a subtle fruity strawberry and raspberry flavours. It's wonderful as an aperitif or drink it with light starters or fish – or simply enjoy with Noble & Stace's super smooth truffles. Available from Bolney Estate (£42.99). Gift boxes typically received 1-3 days after ordering.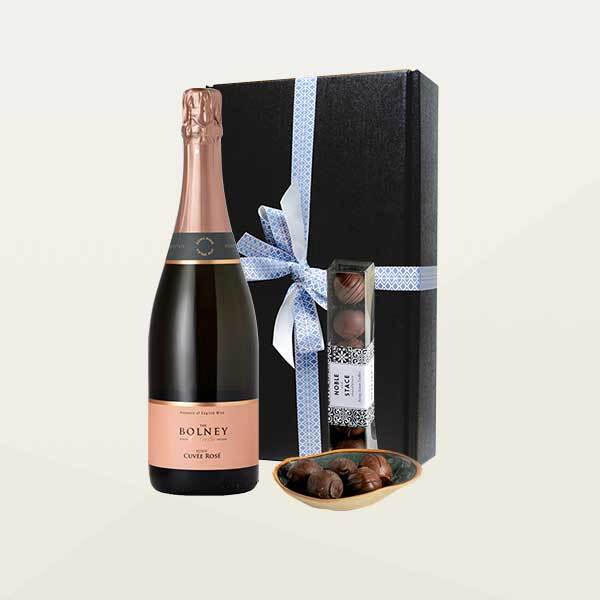 Homemade Apple, Rose and Pistachio Tarts
Show someone you care by taking the time to make these apple and pistachio rose-shaped tarts. They do take an extra degree of effort but the results are utterly worth it and there's nothing more romantic than something homemade. Serve warm with clotted cream. Click here for the recipe.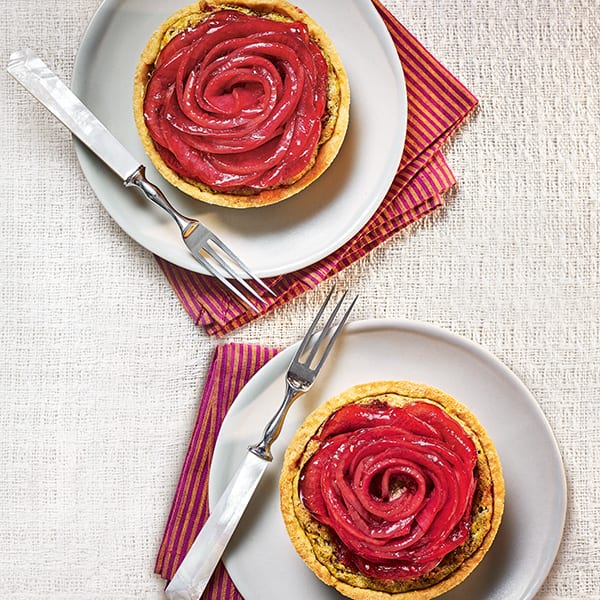 Is there someone you want to impress? Try your hand at one of these 14 desserts to make your valentine swoon.