How to decorate a Christmas cake
Once you've made your Christmas cake, it's time for the fun part – decorating! You don't need to be an icing expert but, with our tips and tricks, everyone will think you are.
A properly decorated Christmas cake is a thing of beauty. Many people think they don't like marzipan or icing, but the shop-bought stuff doesn't compare with the taste and texture of homemade. Give the DIY version a try. It's simple, delicious and the end result is stunning.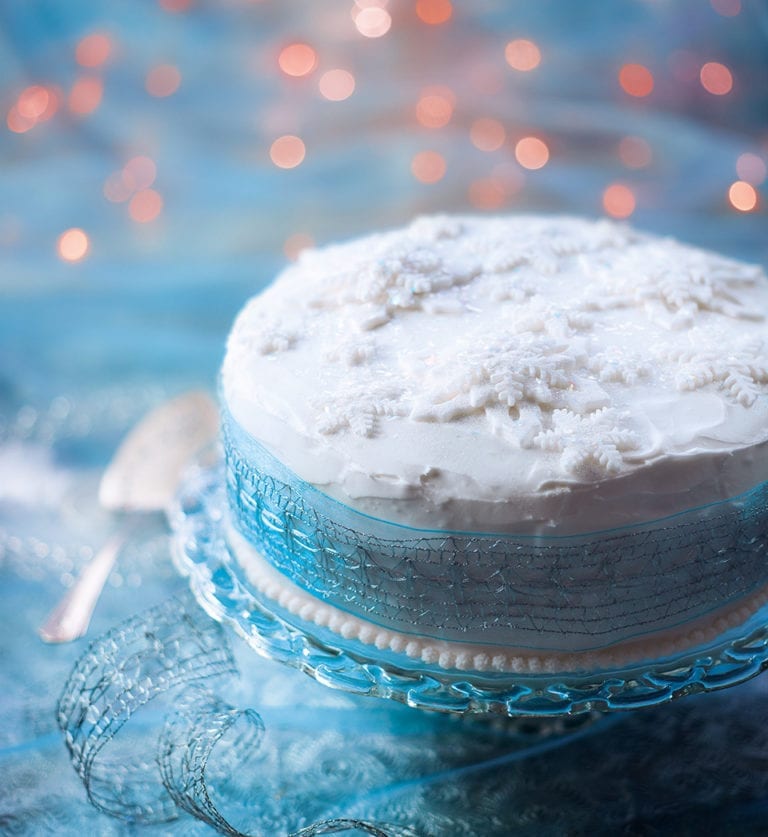 You will need:
For the marzipan
370g ground almonds
185g caster sugar
185g icing sugar, sifted, plus extra for dusting
1 large free-range egg, lightly beaten
1 tsp vanilla extract
A few drops of almond essence (optional)
2 tbsp of brandy
Juice of ½ small lemon
2 tbsp apricot jam
For the royal icing
4 large free-range egg whites
900g icing sugar, sifted
1½ tsp of glycerine
Tiny drop of food colouring (optional)
For decorating
Ready-made white fondant icing (from major supermarkets)
Icing sugar for dusting
Snowflake-shaped cutters
Edible lustre dust, glitter and snowballs
Makes enough for a 23cm round cake.Takes 2-3 hours to make, plus 3-4 days drying (see the inside track at the bottom)
Tip: Icing cutters, ribbon, edible snowballs, lustre dust and glitter are available from cake-decorating shops or online stores such as cakecraftshop.co.uk.
Please note: Contains raw egg
1. To make the marzipan, put the ground almonds in a bowl with the caster sugar and icing sugar.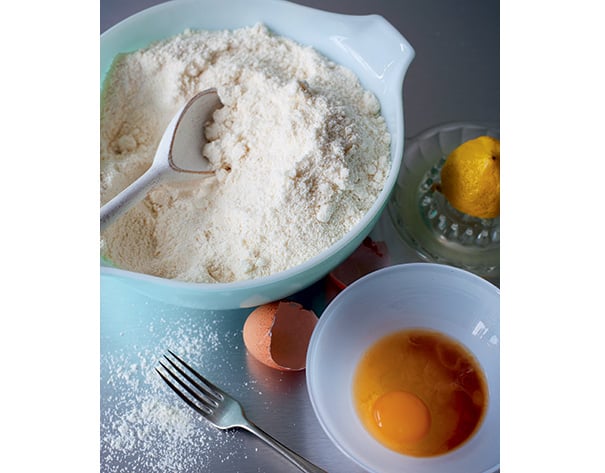 2. In a small bowl, whisk the egg, vanilla extract, almond essence (if using), brandy and lemon juice. Make a well in the centre of the sugary ground almonds and add the liquid, then mix with your hands to bring together into a paste. Knead for a few minutes until smooth, then wrap in cling film and chill for 20 minutes or until needed.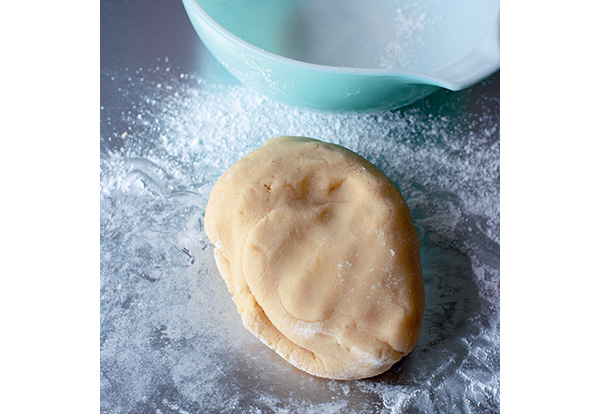 3. Mix the apricot jam with a little boiling water, then use a pastry brush to coat the whole of the cake with the jam. On a surface dusted with icing sugar, roll out the marzipan into a large circle (about 45cm in diameter). Use the rolling pin to help you lift the marzipan and carefully place it over the cake, making sure the centre of the marzipan circle is positioned on the centre of the Christmas cake.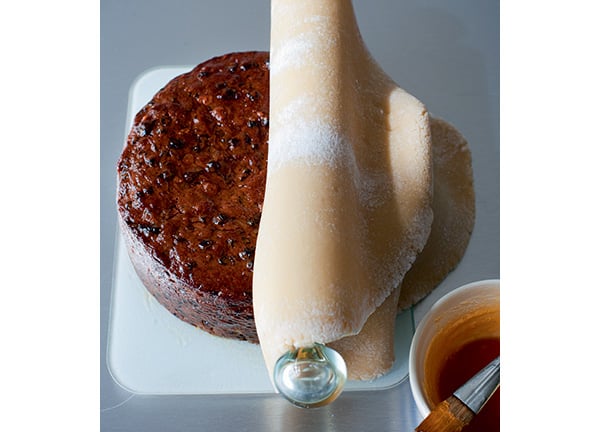 4. With your hands, carefully smooth the marzipan over the cake and trim any excess from around the base with a sharp knife. Leave the cake in a cool dry place for a day or two to dry out before icing.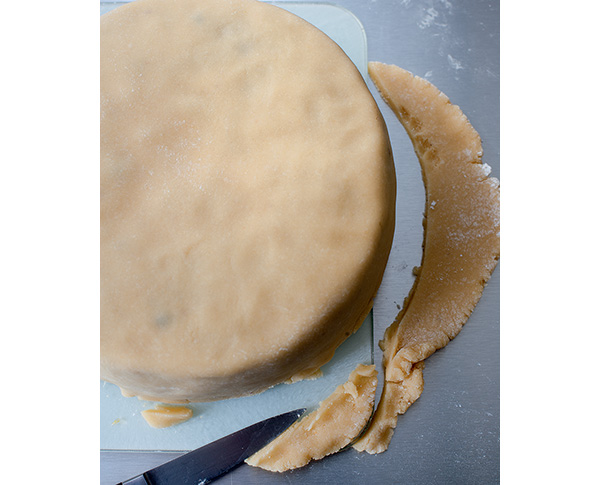 5. Make the royal icing. Put the egg whites in a bowl and add the icing sugar bit by bit, stirring until you get a thick dropping consistency. Use a whisk to beat the mixture until it starts to form peaks, then stir in the glycerine. If you like, stir in a tiny drop of blue food colouring (see The inside track, below).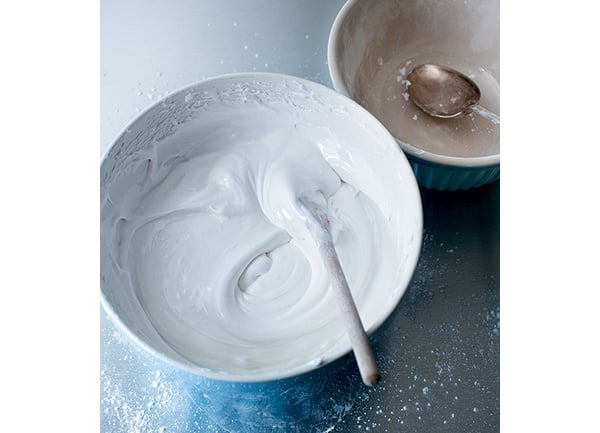 6. Smooth the icing all over the cake with a palette knife. Once it's covered, wet the cleaned knife in a jug of hot water and use it to give the icing a smooth surface. Stick edible snowball decorations around the base. Leave the icing to dry overnight before attempting to decorate it.
7. To decorate the iced cake, roll out fondant icing on an icing sugar-dusted surface and use snowflake cutters to cut different sizes and shapes of snowflakes (you can cut out or indent small snowflakes inside the larger ones, too). Moisten the back of each with water and gently stick to the cake. Dust the cake with edible lustre or glitter and finish with cake ribbon.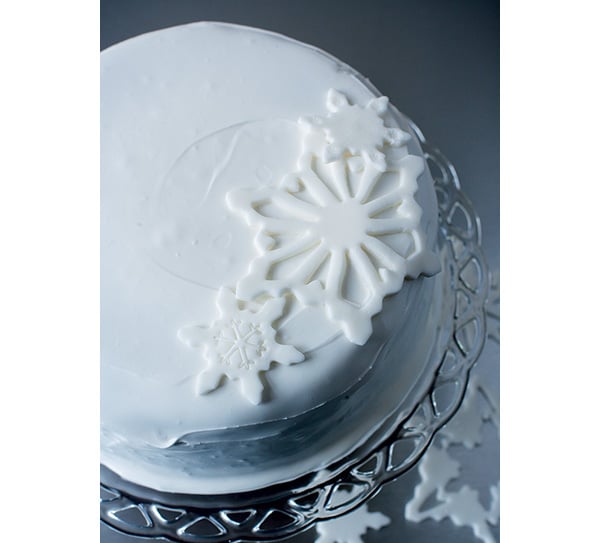 The inside track
Home-made marzipan has a nutty, grainy texture and isn't too sweet. Don't add the almond essence if you prefer a more subtle flavour to your marzipan.
After you've covered your cake with marzipan, you need to leave it to dry out, ideally for 2 days, before icing it. This prevents any bleed-through staining from the natural almond oils into the icing.
Royal icing is more traditional and we think it tastes better than fondant icing.Recipes often specify making more than one layer of royal icing, leaving each layer to dry before adding another. We've opted for a single thick layer of icing, so you'll need to leave it overnight before decorating to allow it to dry, otherwise you'll damage the surface when you add the glitz and glamour.
The icing needs to have the right consistency – not too thick but not so thin that it slides off the cake. Keep adding icing sugar, bit by bit, until you have reached the right consistency.
Adding glycerine to the icing stops it setting rock hard. The more glycerine you add, the softer the icing will be.
A minuscule drop of blue colouring added to the icing (see step 5) makes it look much whiter because it offsets the yellowish colour you get when you blend icing sugar and egg white.
Why not watch our video on how to fondant ice a cake too?
Subscribe to our magazine
Subscribe to delicious. magazine for HALF PRICE
Subscribe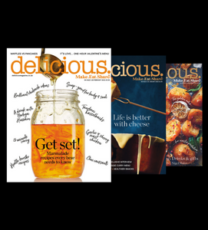 Join our newsletter
Packed with menu ideas, recipes, latest competitions and more...