How to make bread
Nothing beats homemade bread and it's a lot easier to make than you might think. Master the basic white loaf then easily transform the recipe with one of our easy-to-make flavoured breads.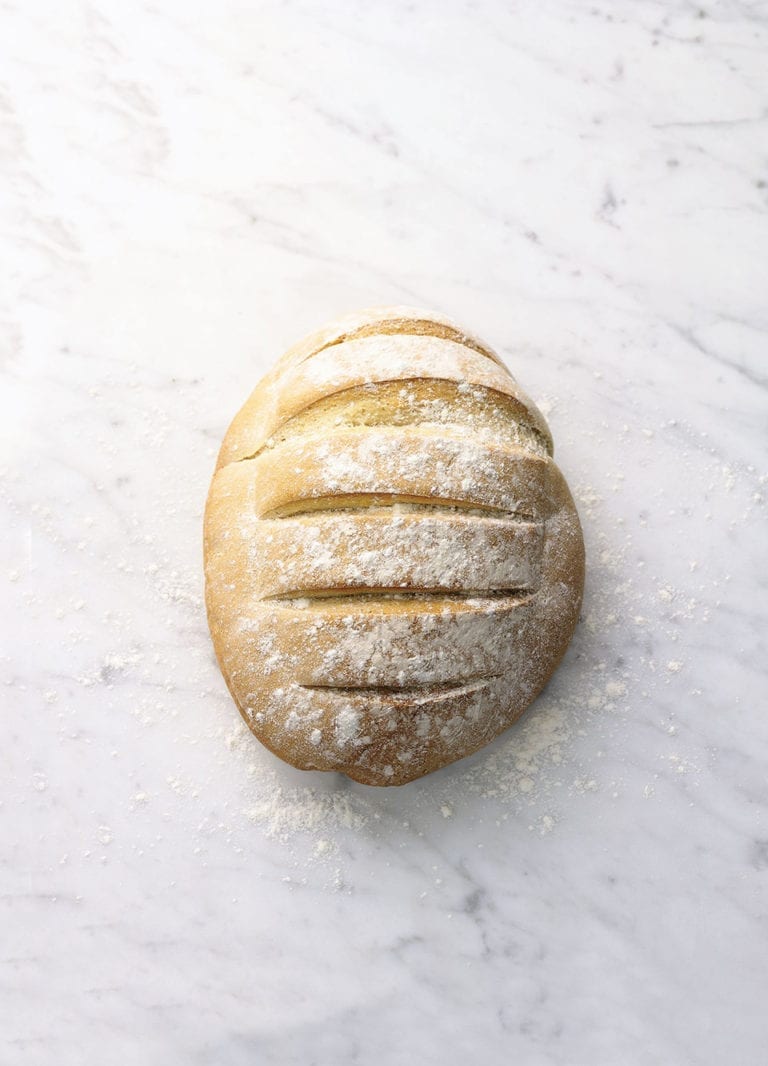 This basic loaf is a cinch to make. It's best eaten on the same day or used for toasting the following day.
Step 1: Choose fresh, dried or fast-action yeast.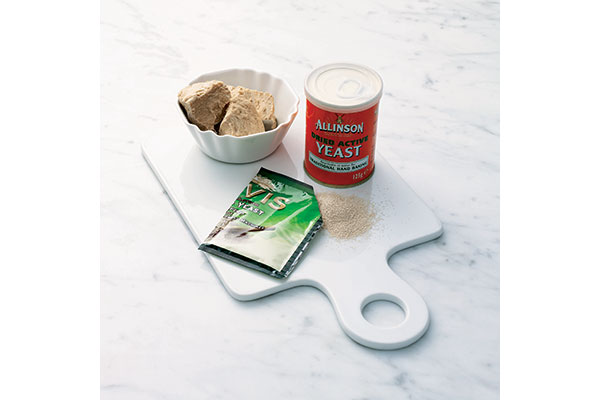 Types of yeast
There are three types of yeast: fresh, dried and fast-action (also called easy blend). Fresh and dried need activating before using – whisk with sugar and warm water, set aside in a warm place for 15 minutes until frothy, then use within 15 minutes. Fast-action yeast simply gets stirred into the flour.
 If a recipe uses fresh yeast and you can only find dried, use this as a guide for 500g flour: 15g fresh = 1 tablespoon dried = 7g fast-action.
 Fresh and dried yeast require the bread to prove twice, whereas fast-action generally can be shaped, left to prove once, then baked.
 However, for dough with heavy ingredients kneaded in, or bread that needs a lighter texture, such as focaccia, two rises are best.
Step 2: Gradually mix in the warm water.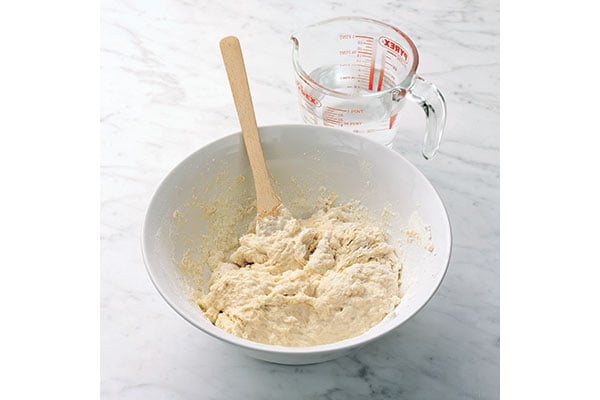 Step 3: Knead the dough for 5-10 minutes.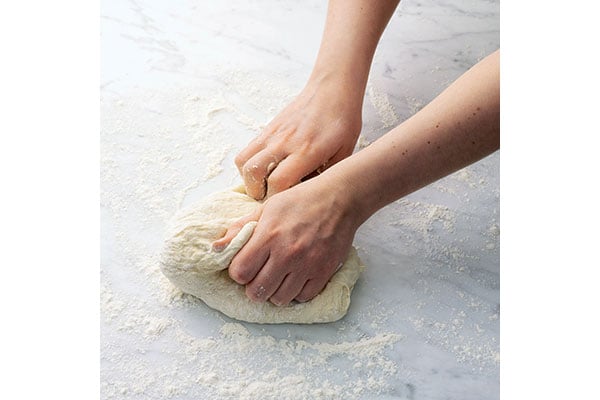 Step 4: If the dough needs 2 rises, put in an oiled bowl to prove.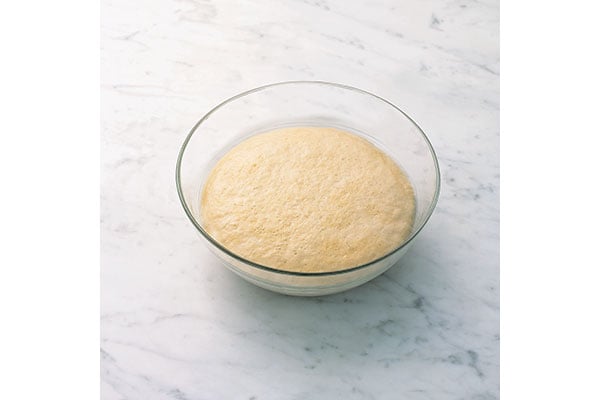 Kneading and proving tips
Knead the dough for at least 5 minutes, or up to 10 if you can! This will produce a lighter loaf.
If the dough needs two rises, put it into an oiled bowl, cover loosely with oiled cling film and leave in a warm place until doubled in size – this takes from 30 minutes to 2 hours, depending on temperature and amount of dough. An airing cupboard speeds this up.
Punch the risen dough to 'knock' out the air. Knead for a few minutes, adding any other ingredients at this stage. Shape and put onto an oiled baking sheet or in a loaf tin. Cover and leave to rise until doubled in size. Check after 30 minutes or so – over-proving may cause the bread to collapse in the oven.
Step 5: Punch out the air and knead a second time.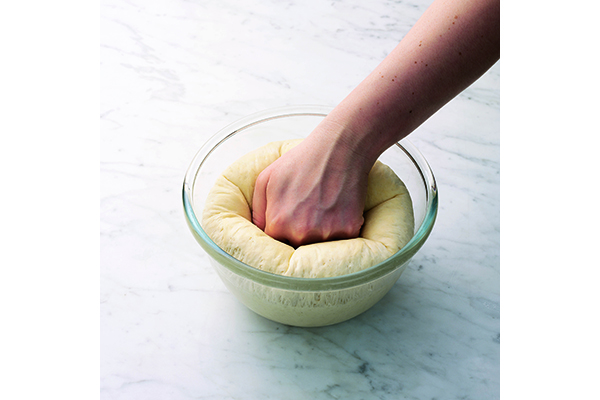 Step 6: Put the dough on an oiled baking sheet.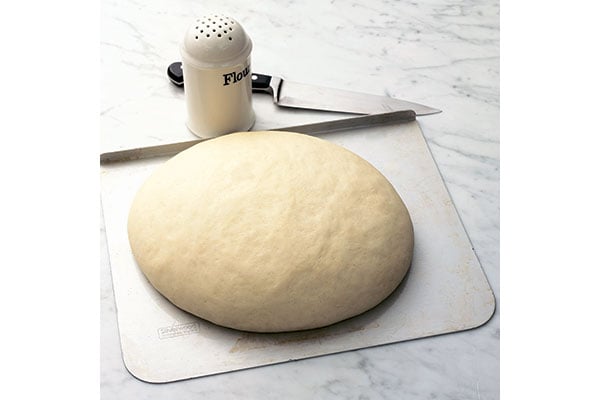 Baking know-how
Once ready to bake, you can make slashes in your loaf, or glaze the top with one of the following: milk for a soft crust, salty water for a crisp one, and honey or syrup for a sticky one – ideal for sweet doughs.
To test your loaf is cooked, turn it upside-down and tap the base – if it sounds hollow it's ready; if not, cook a little longer and try again. Remove bread from trays and tins while hot and transfer to a wire rack to cool.
 Fresh bread goes stale quickly as it doesn't contain any preservatives to keep it longer. Wrap and store in an airtight container in a cool place and eat within 1-2 days. Or, freeze for up to 1 month, thaw at room temperature and warm in a moderate oven before eating.
Basic white rustic loaf
Makes about a 750g loaf/12 slices
Takes 15 minutes to make, 20-25 minutes to bake, plus proving
You will need:
500g strong white bread flour, plus extra for dusting
1 tsp fine salt
7g sachet fast-action dried yeast
1 tbsp olive oil, plus extra for greasing
Method:
Sift the flour and salt into a large bowl. Stir in the yeast. Make a well in the centre and gradually mix in 300ml warm water and the oil until the dough comes together – add a dash more water if it seems dry.
Tip out onto a lightly floured surface and knead the dough for 5 minutes, until smooth. Shape like a rugby ball and put onto an oiled, large baking sheet. Set aside in a warm place for 40 minutes or until doubled in size. This is known as proving or rising.
Preheat oven to 220°C/fan200°C/gas 7. Make deep slashes with a sharp knife in the top of the dough and dust with flour. Bake for 20-25 minutes, until risen, golden and cooked. To test if it's ready, tap the base of the loaf – it should sound hollow. Cool on a wire rack and slice to serve.
Flavour and shape your bread
Once you've mastered the basic recipe, try flavouring and shaping the dough with these four easy sweet and savoury breads.
Cherry and pecan plait
Make the basic dough, but add 2 tsp ground cinnamon to the flour, replace the salt with sugar and oil with maple syrup.
Knead, put into an oiled bowl, cover and prove for 1 hour or until doubled in size.
Knock out the air, knead in 75g dried cherries and 100g chopped pecans.
Divide into 3, roll each into a long sausage, plait, then tuck the ends under. Put on an oiled baking sheet, cover and prove for 45 minutes. Brush with maple syrup and bake for 25 minutes.
Cool, drizzle with icing and serve.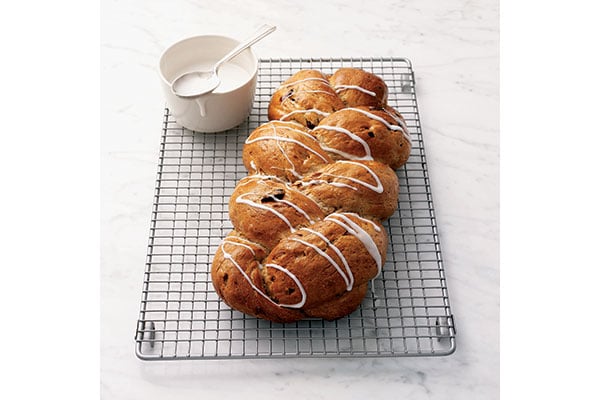 Feta, tomato and rosemary flowerpotbreads
Drain a 240g tub SunBlush tomatoes, reserving 1 tbsp oil and 8 tomatoes. Chop the rest.
Make the dough, but add 2 tbsp finely chopped fresh rosemary to the flour and mix in the reserved oil, chopped tomatoes and 250ml warm water.
Knead, then knead in 150g crumbled feta. Shape into 8 balls and put in 8 well-oiled and floured 7cm terracotta pots. Prove for 30 minutes.
Top with more feta and a reserved tomato, and push in a small, wet rosemary sprig. Bake for 25 minutes.
Olive and thyme focaccia
Make the dough, but stir 2 tbsp fresh thyme into the flour; add an extra 1 tbsp oil.
Knead, put into an oiled bowl, cover and prove for 11/2 hours.
Knock out the air, knead in 100g chopped pitted black olives, shape into a large circle and put on an oiled baking sheet. Prove for 45 minutes.
Press fingertips into the dough all over, drizzle with oil, scatter with sea salt and thyme, then bake for 25 minutes.
Drizzle with oil and serve warm.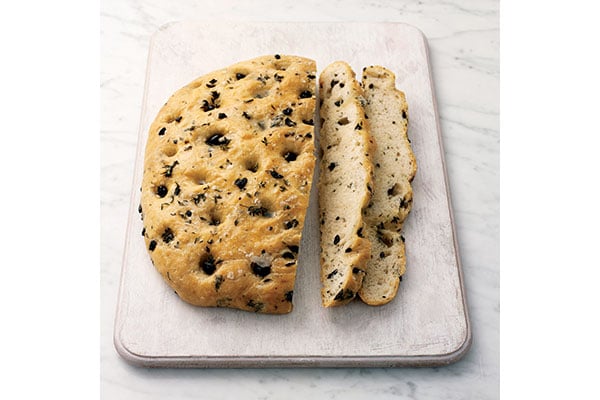 Brown knot rolls with pumpkin seeds
Follow the master recipe, but use brown or Granary flour.
Divide the kneaded dough into 8 equal pieces. Roll each piece into a long sausage shape, then tie it in a knot, tucking the ends in neatly underneath.
Place on a large, oiled baking sheet, spaced well apart. Prove for 30 minutes or until doubled in size.
Brush with milk, scatter with pumpkin seeds and bake for about 15 minutes.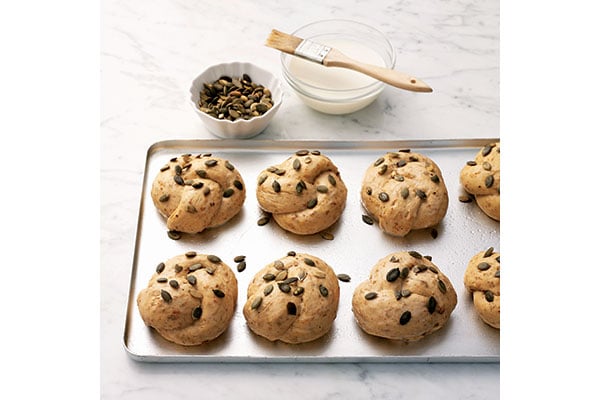 Find more of our bread recipes here.
Subscribe to our magazine
Food lovers, treat yourself this Christmas... Enjoy 12 months of magazines for £29.99 – just £2.50 an issue.
Subscribe
Unleash your inner chef
Looking for inspiration? Receive the latest recipes with our newsletter