How to make pretzels
Don't get yourself in a twist when it comes to making pretzels. Follow our step-by-step guide and learn how to make the perfect salted bread snack.
The key to a successful pretzel is getting that glossy shine, which can be achieved by soaking them in a water bath with bicarbonate of soda before baking.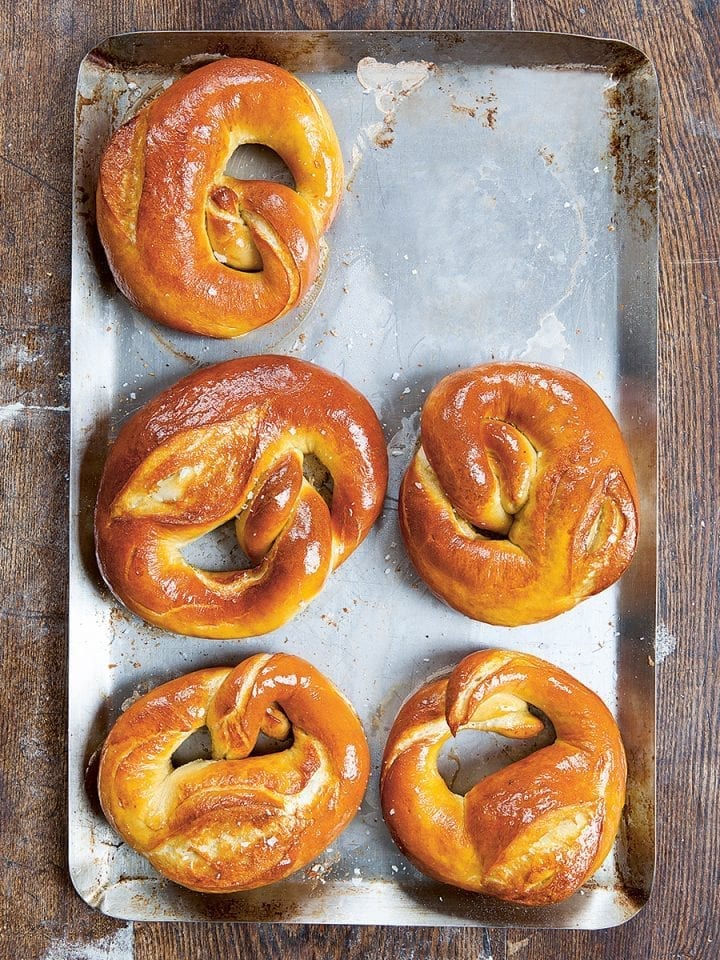 Pretzel tips before you get started
You'll need to make a sourdough starter to give your pretzels that distinctive flavour and texture.
Don't worry if you've never made one before as it's extremely simple to do – all you'll need is flour, water and a large sterilised jar, then the wild yeasts in the air do the rest. It does take around six days for the wet, bubbling, beery mass to develop, though, so you'll need to be patient.Click here for our guide to making a sourdough starter.
Once your starter is ready, you can keep it going for weeks, months or even years and use it in all manner of bread-making.
Warning: making sourdough can become an addiction!
Top tips for pretzel success
How to get your pretzels glossy
Coating the pretzels in an alkaline substance helps them brown in the oven and gives them their signature sheen – that's why you dunk them in the bicarbonate of soda and water bath before baking. Traditionally caustic soda (lye) is used in the water bath to create the shine. However, it's not easy to come buy these days – and if you accidentally drink it you can say goodbye to your oesophagus – so i recommend using lots of bicarbonate of soda instead. For extra shine, you can bake the pretzels at a high heat for a bit longer; they get shinier as they get darker. People often notice the bottoms of their pretzels are shiny and not the tops because of the heat from the hot baking trays/stones.
Give them some space
Remember that bread expands in the oven as it cooks, so give your pretzels plenty of room to grow when you arrange them on the hot baking trays/stones. If you don't have enough baking trays to bake the pretzels in one go, leave some in the freezer and cook them in batches.
Be sparing with the flour
While no bread dough quantities are exact and some doughs end up wetter than others, you don't want to be throwing flour around when you're making these pretzels. Too much flour on the work surface will absorb into the dough and make the finished pretzels heavy, so use as little as you can.
How to make pretzels
Ingredients:
For the dough 
450g strong white bread flour, plus extra for dusting
7g sachet fast-action yeast
10g salt
100g white sourdough starter (you'll need to make this in advance; see Before You Begin, below)
20g malt extract (for sweetness and flavour) or clear honey
230g tepid water
Vegetable oil for greasing
For the water bath 
1 litre freshly boiled water
50g bicarbonate of soda (see James's tips for success, below)
Good quality sea salt flakes for sprinkling
Key equipment 
Several baking trays, a couple of them lined with baking paper
Large pieces of cling film, lightly oiled
Baking stone (optional)
Large mixing bowl
Know-how
For a cheat's glaze, simply brush the frozen but unsoaked pretzels with beaten egg before baking.
Make ahead
Freeze the pretzels as in step 5. Once solid, transfer to freezer bags and freeze for up to 3 months. To cook the pretzels, continue the recipe from the start of step 6.
This recipe makes 12 large pretzels. Hands-on time 50 min, proving time 1½-12 hours, freezing time 1 hour, oven time 20 min.
Method
Put the strong white bread flour, fast-action yeast and salt in a mixing bowl, keeping the yeast and salt on opposite sides of the bowl. Add the sourdough starter, malt extract and tepid water, then mix together to form a dry dough. For extra flavour you could leave it to stand for 30 minutes.
Turn out the dough onto a work surface and knead well for 10-15 minutes until it's stretchy and no longer breaks apart when pulled. Shape the dough into a ball, trying not to add any flour (see Our Tips For Success), then return to the mixing bowl. If you can, rest the dough, covered, in the fridge for 8-12 hours overnight. If you need your pretzels the same day, you can reduce this to 1½ hours at room temperature or until doubled in size.
Once rested, turn out the dough onto a very lightly floured surface. Roll into a long sausage shape using floured hands, then divide it equally into 12 pieces – because beauty is part of what you want in a pretzel, it pays well to weigh the whole dough, then divide by 12 to make sure each piece is even.
Using as little flour as possible, form each piece of dough into a thin baguette shape nearly 60cm long, leaving a slight bulge in the middle.

Curve the two ends around to make a heart shape, then twist these two ends around each other and press very gently into the bulge.

If you don't get the hang of the whole twisting thing first time, don't worry. My tip is to roll the dough out nice and long.

Once the pretzels are shaped, put them on a baking tray lined with baking paper, drape over oiled cling film and transfer to the freezer for at least 1 hour (see Make Ahead).
About 40 minutes before you plan to bake the pretzels, heat the oven with a couple of baking sheets or baking stones inside to 180°C/fan160°C/gas 4. In a large bowl, combine the freshly boiled water with the bicarbonate of soda. Score the thick part of each pretzel with a sharp knife. Submerge each one in the water bath for at least 20 seconds.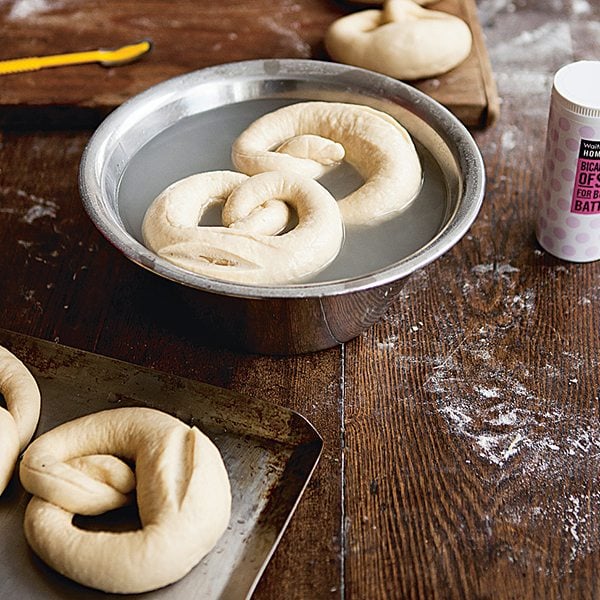 Transfer to the hot baking trays/stones (see our Tips For Success above).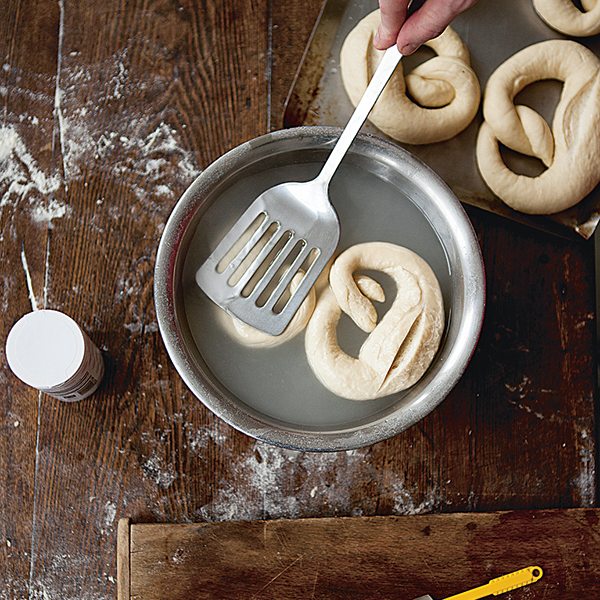 Once all the pretzels have been soaked, sprinkle with the sea salt flakes and transfer to the oven straightaway (see Know-how). Bake for 20 minutes or until dark brown and glossy all over.
Subscribe to our magazine
Subscribe to delicious. magazine for HALF PRICE
Subscribe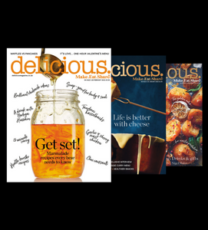 Join our newsletter
Packed with menu ideas, recipes, latest competitions and more...