How to make tomato chutney
Whether it's green or red, a good tomato chutney is magical with fresh bread and a hunk of cheese. This sweet-sour chutney allows you to enjoy the flavour of the British tomato right through winter.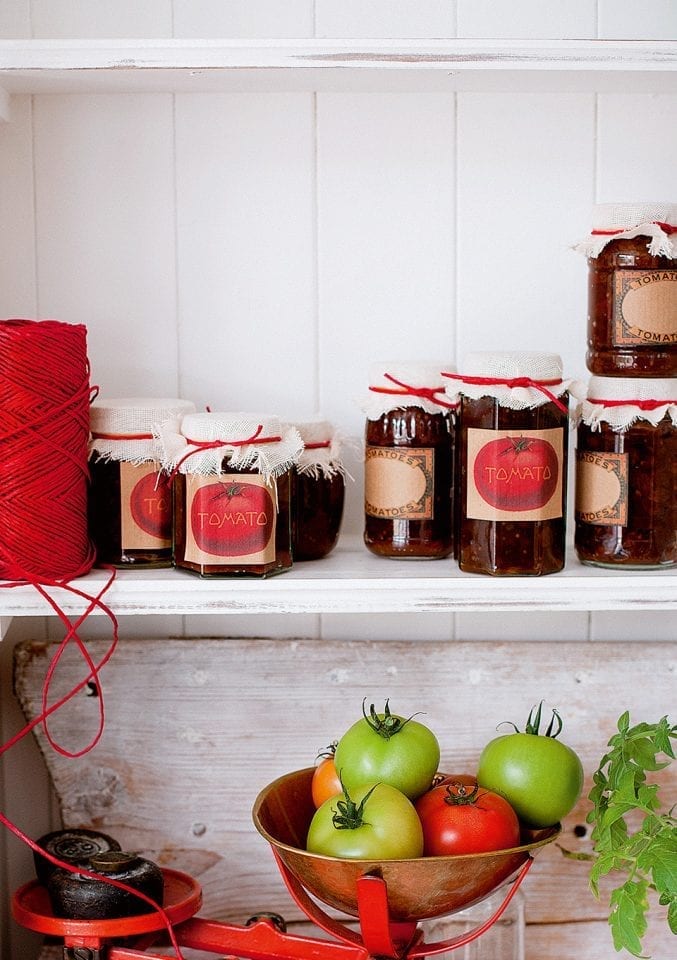 Where does chutney come from?
Often thought of as a thoroughly British treat, chutney is a good example of the Anglo-Indian fusion food that evolved in colonial India. The name derives from the Hindi chatni. Indian chutneys are usually served fresh to accompany a variety of dishes, but jam-loving colonial British cooks made them into more of a preserve, while retaining the all-important spices. The result is a sweet-sharp concoction that's delicious with cold meat and cheese.
Six steps to chutney perfection
Cut the vegetable ingredients into equally sized chunks to allow them to cook at the same rate.
Use only stainless-steel or enamel pans for making your chutney, as the vinegar reacts with other metals such as copper and aluminium.
Similarly, make sure the insides of your jar lids are plastic-coated. Bare metal might react with the vinegar and spoil the chutney.
Sterilising the jars is a vital part of making chutney – all your hard work will be wasted if the chutney is exposed to contaminants. Wash jars and lids in hot soapy water, rinse well, then place upside down in the oven at 110°C/fan90°C/gas ¼ until dry. (Alternatively, put them through a hot cycle in the dishwasher.) Use straightaway.
Fill the still-warm jars up to the neck with warm chutney, cover immediately with a waxed disc (waxy side down) and cover with a lid or a cellophane disc with an elastic band.
Keep the chutney for a couple of months before using, so the flavours have a chance to mingle and mellow
Tomato chutney
Makes 4-5 jars
Takes 20 minutes to make, 1 hour 15 minutes to cook
Ingredients:
1.5kg red, green or semi-ripe tomatoes (or a mixture)
400g shallots
3 tart eating apples, such as granny smith
2 red chillies
3 garlic cloves
Large knob of fresh ginger
550ml cider vinegar
1tbsp white mustard seeds
400g sultanas
175g light muscovado sugar
60g black treacle
Nutritional: Per tbsp: 21kcals, 0.1g fat (trace saturated), 0.3g protein, 5g carbs, 4.6g sugar, trace salt
Method:
Roughly chop the tomatoes, then place them in a large preserving pan.

 Peel and chop the shallots, then peel, core and chop the apples. Add them to the pan with the tomatoes.

Deseed and finely dice the chillies, and finely chop the garlic. Grate the ginger and add to the pan with the chillies and garlic. Pour over three-quarters of the vinegar.

Stir in the white mustard seeds, sultanas, sugar and treacle.

Cook over a medium heat for 5-10 minutes, stirring, until the sugar has dissolved. Season, then simmer for 1 hour until very thick. Add the remaining vinegar, then remove from the heat. Spoon into sterilised jars (see tips, right) and seal. Once cooled, the chutney will keep in a dark, cool place for up to a year.

Serve with crusty bread and cheese or cold meat for a perfect lunch, accompanied by a glass of chilled cider.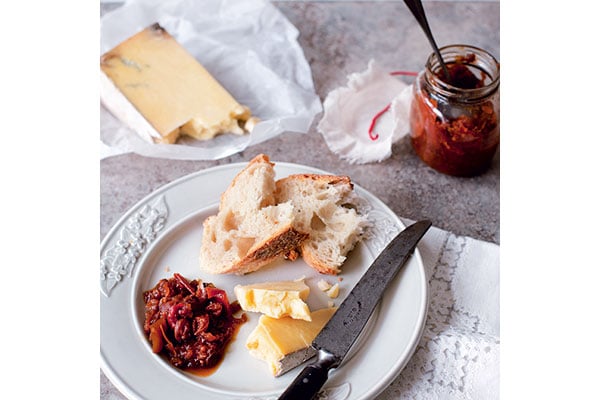 Subscribe to our magazine
Food lovers, treat yourself this Christmas... Enjoy 12 months of magazines for £29.99 – just £2.50 an issue.
Subscribe
Unleash your inner chef
Looking for inspiration? Receive the latest recipes with our newsletter