7 places to order smoked salmon online
Smoked salmon is a Christmas staple – whether it's in starters, canapés or breakfasts – we love the stuff. But salmon also has one of the most complicated ecological stories – with farmed fish posing real dangers to wild fish communities.
When buying smoked salmon, it is important to look out for either wild salmon (which can be hard to find because the farmed salmon has become so ubiquitous), or high welfare farmed salmon from RSPCA assured producers.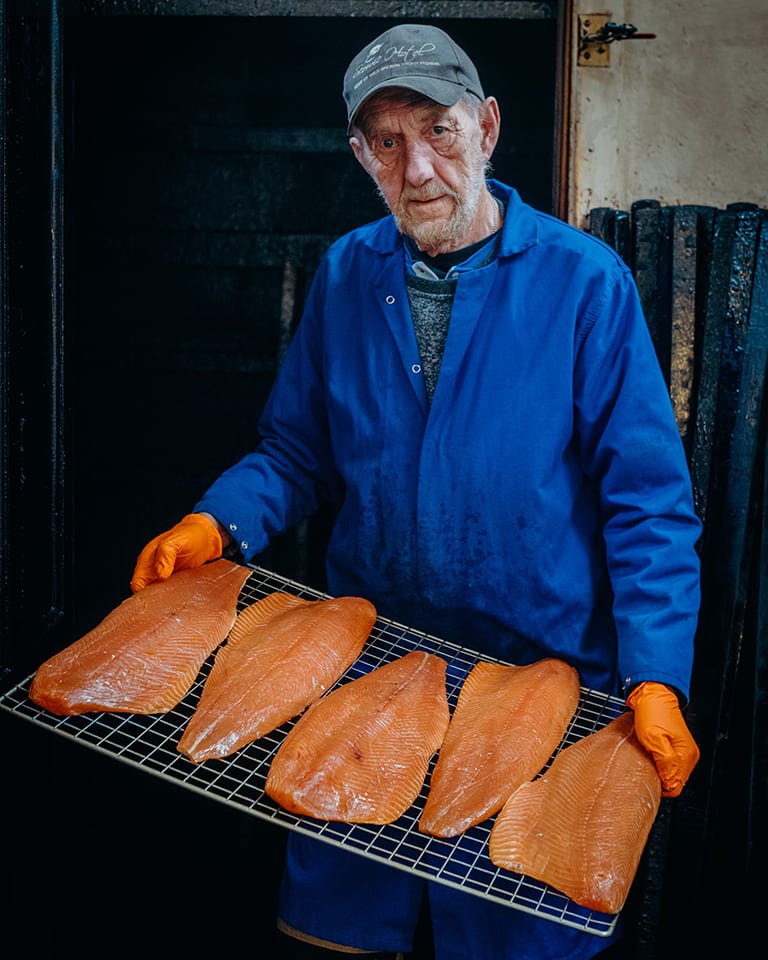 Pesky's Ullapool smoked salmon

Pesky source their smoked salmon from a small independent smokehouse in Ullapool, Scotland run by Iain Boyd. Having travelled across Scotland over 2 weeks, Pesky found nothing compared to how Iain smokes his fish. Ullapool Smokehouse use Wester Ross salmon which is the oldest and the only independent salmon farm in the UK. Wester Ross have a 40 year history hand-rearing Scottish salmon, and all of their salmon are certified RSPCA freedom foods standard. The team are on the water every day to feed and observe the fish paying meticulous attention to animal welfare. This results in lean, healthy fish. Ullapool Smokehouse's curing process is a simple method of salting and cold or hot smoking. The fish tastes fresh and sweet, without an overwhelming smokiness. There is a subtle hint of the whisky barrels that Iain uses to fire his kiln bring a beautiful sweetness to the flavour. The fish has a firm texture, and you can pre-order it sliced or as a whole side (ready to slice yourself).
Available from Pesky, from £45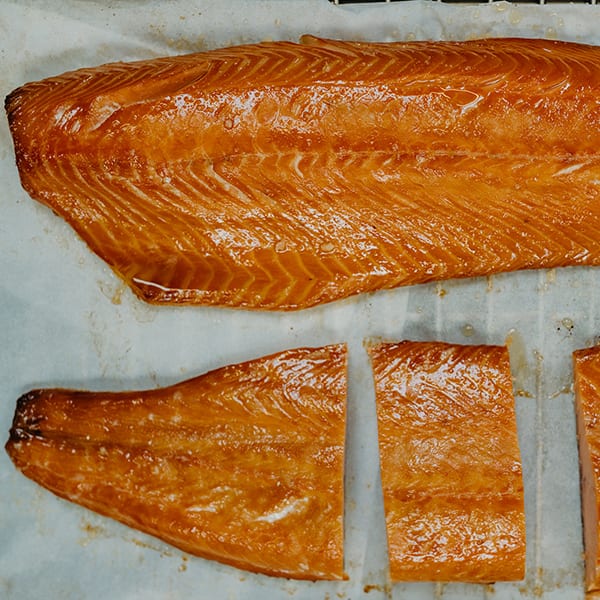 Woodcock Smokery wild smoked salmon
The queen of smoked salmon, Sally Ferns-Barnes smoked her first fish in 1979, originally as a means to preserve the large quantity of fish that she and her husband were catching from the Atlantic waters of West Cork at the time. Sally has worked preserving fish using only salt and hardwood smoke ever since. Woodcock Smokery always and exclusively use wild salmon, sourced in Ireland from legal commercial fishermen who must vie with anglers (who get more than 80% of the fish) to have any quota at all. As a result, Sally's salmon are rare. Unlike industrially-farmed salmon, the texture of these fish is firm, buttery, and less oily. The flavour is exquisite, with no fishy taste.
Available from Woodcock Smokery from £40.67.
Smokin' Brothers smoked salmon
The salmon smoked by Cotswold's based outfit Smokin' Brothers is sourced from the last family-owned salmon farm in Scotland, which has strict standards, and is an organic certified farm. The fish is filleted, cured for a minimum of 10 hours, and then smoked. The Gloucestershire smokehouse makes use of a ventilation system which imitates Nordic winds, with a flow of fresh smoke travelling around each side of salmon to impart flavour on every piece. The sides of salmon are then sliced using a sashimi slice, and prepared as belly or tail cuts. The salmon is sliced thicker than your usual cut, which offers the chance to make the most of the extremely supple and buttery texture of the fish. The flavour is clean, not overly fishy and rich.
Available from Smokin' Brothers from £29.80
Secret Smokehouse are based in East London and use sustainably-sourced, high welfare RSPCA Scottish salmon from producers who have been awarded PGI status. They never use frozen salmon, colouring agents, nitrates or any form of artificial preservatives, and the fish are not fed GM food. The skill of salmon smoking and slicing has a long history in the East End, and Secret Smokehouse split and fillet their salmon by hand. Once split, the fillets must be inspected and then cured – it's important that just the right amount of salt is added to each fish, and that the length of time for which the salmon is cured is adjusted relative to the size of each fillet. Secret Smokehouse salmon has a smooth texture and a natural flavour with a slightly smoky aftertaste.
Available from Secret Smokehouse from £13.70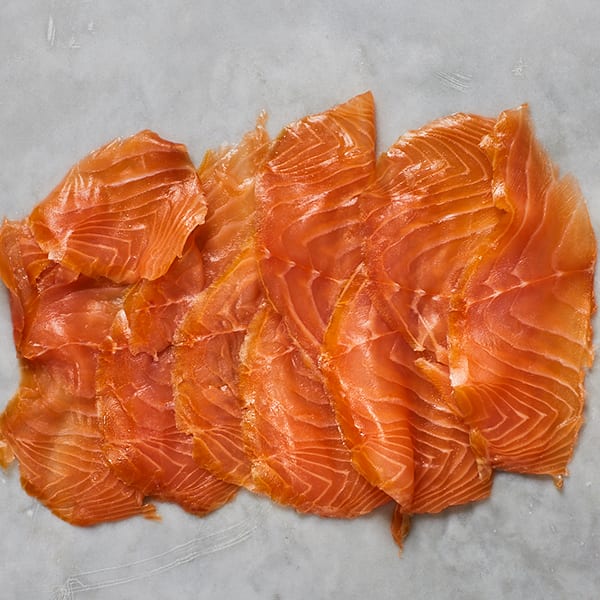 Henderson to Home + Jacksons Smokers
Henderson to Home have teamed up with Jackson Smokers in Devon, who have almost 100 years of experience in the art of hot and cold smoke. Still working at the same premises they started out in in 1922, Jackson Smokers dry cure the fish adding pure salt to the salmon fillets as opposed to using brine-injected smokers. This technique draws the water out of the salmon thus creating a much drier slice of smoked salmon (say goodbye to slime). Hendersons are offering whole sides of cold (£45) and hot (£40) smoked salmon on their own, as well as a Christmas box (£95) which includes a whole side of cold smoked salmon, mackerel or salmon pate from Jacksons Smokers, hand picked white crab meat, hand picked brown crab meat, scallops, and acorn-fed 100% iberico chorizo from Navalpedroche.
Available from Henderson to Home from £10.
Leap wild smoked sockeye salmon
Leap pride themselves on responsible fishing. All their wild salmon comes from Alaska, where sustainable fishing is written into the state's constitution. The fisheries in Alaska are tasked with working together to ensure there will always be an abundance of wild salmon in the area. The fisheries Leap source from have been independently certified to the Marine Stewardship Council's standards, meaning Leap can trace their fish directly back to its source. Their wild smoked sockeye salmon has a stunning (natural) colour, uniquely rich flavour and is neither slimy nor dry to the touch. The slices are thick which give a succulent texture.
Available from Ocado, Tesco, Planet Organic, Wholefoods, Waitrose and Co-op, from £7.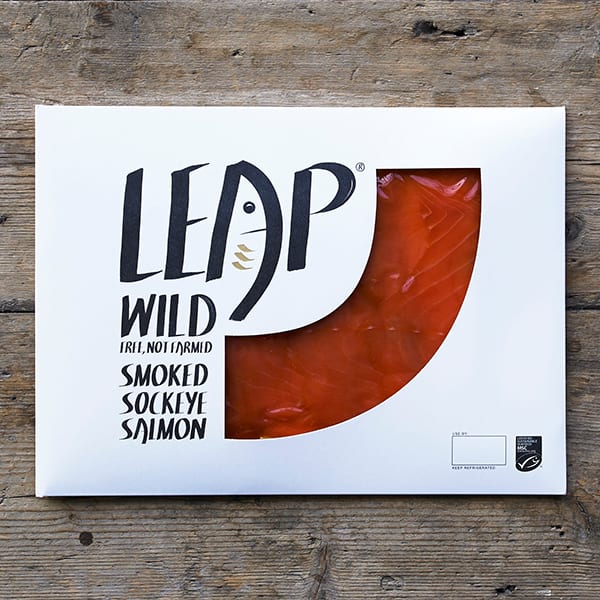 Forman and Field have been curing and smoking salmon the same way since 1905. Their fish arrives with them 6 days a week and they cure and smoke it within 2 days of it coming out of the water, meaning their salmon's flavour is sweet, natural and as fresh as can be. Forman and Field salmon has none of the sliminess of many mass market smoked salmons, because they cure their Scottish salmon with salt, air dry it, and then seal with a little oak smoke.
Forman and Field offer both wild and farmed salmons all available from Forman and Field from £13.95.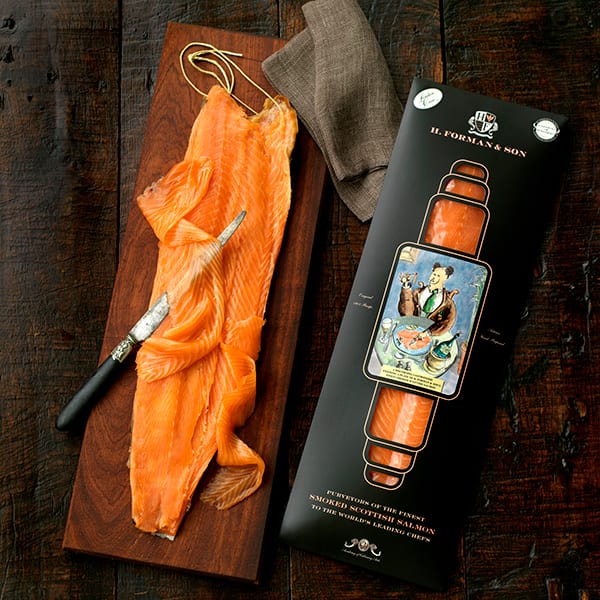 Dip into all of our smoked salmon recipes here for inspiration.
Subscribe to our magazine
Subscribe to delicious. magazine for HALF PRICE
Subscribe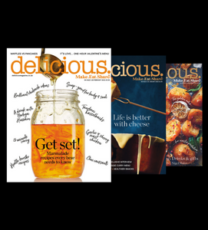 Join our newsletter
Packed with menu ideas, recipes, latest competitions and more...