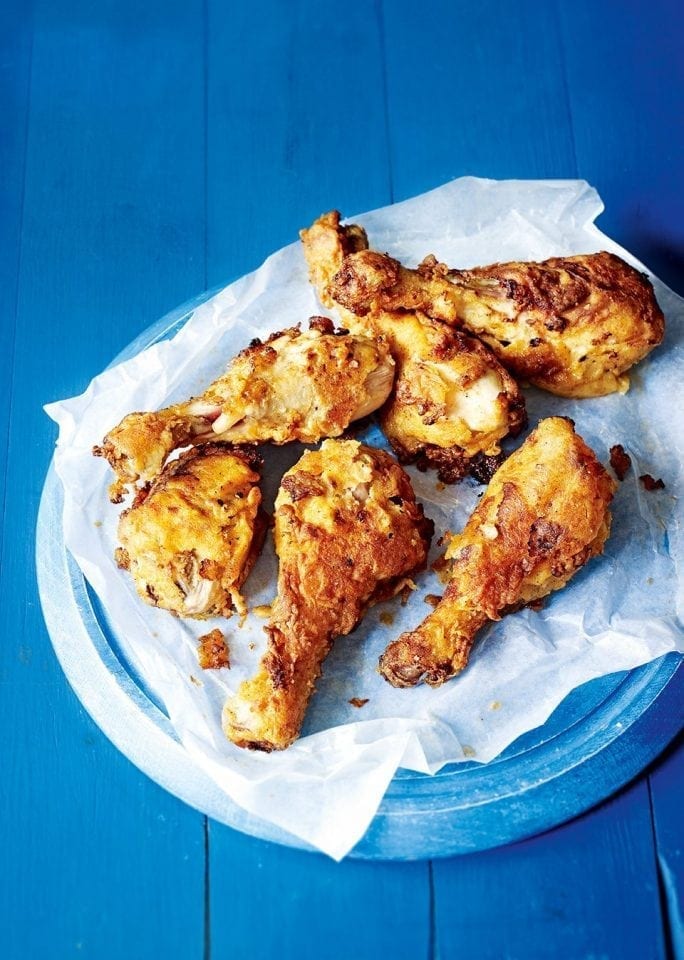 Serves 4

Hands-on time 20 min, oven time 20 min, plus marinating
Our healthy makeover recipe cuts over 100 calories without losing any of the flavour and crunch you'd expect from southern style fried chicken.
delicious. makeover (2 drumsticks)
398kcals, 16.8g fat (2.9g saturated), 42.3g protein, 19.7g carbs (1.3g sugars), 1.5g salt, 1g fibre
Traditional version (2 drumsticks)
535kcals, 24.6g fat (5.7g saturated), 48.8g protein, 30.3g carbs (2.7g sugars), 3.1g salt, 1.6g fibre
delicious. tips
Marinate the chicken up to 48 hours in advance. Keep covered in the fridge until ready to use.

Marinating the chicken in the salted, spicy buttermilk tenderises the meat and adds juiciness and flavour.

How we did it: Instead of double-dipping the chicken in egg and flour, we took the skin off and went for a single dip in a lighter coating, which gives you the spicy crunch without all the extra calories. Ours is also easier as we've shallow fried the chicken (rather than deep-frying it), then finished it off in the oven.