Six-hour pork belly video recipe
It's impossible to resist the crunchy-salty crackling and tender meat of slow-cooked pork belly.
Cooked for six hours and served with zingy mint relish, this will be a hit for Sunday lunch and dinner parties alike. 
Watch the video then have a go at it yourself with the full recipe down below.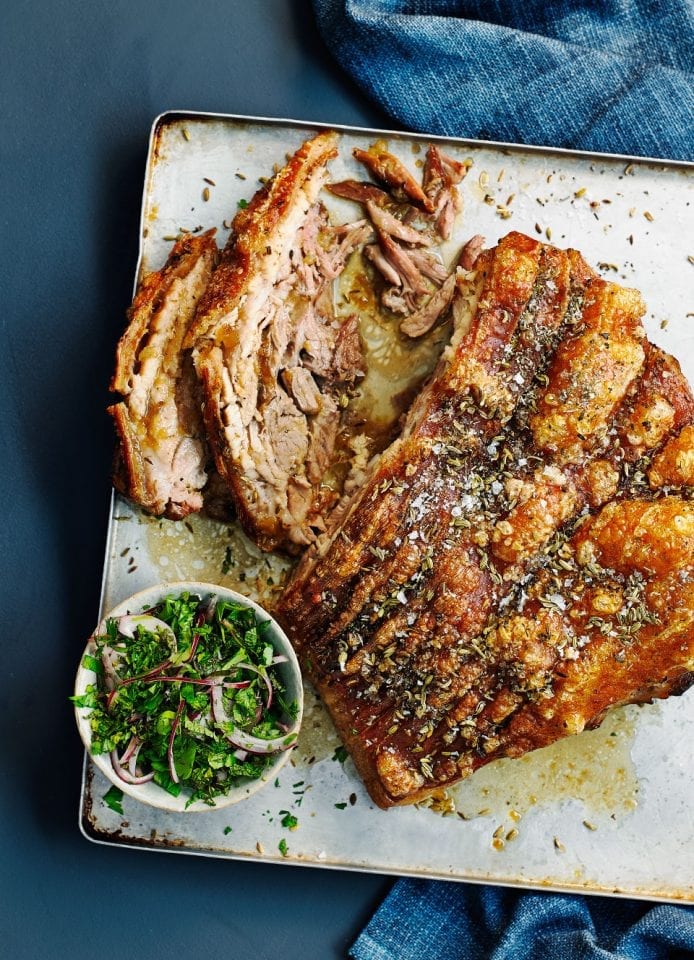 3 onions, sliced
3 garlic cloves, crushed
500ml dry sherry (such as fino), plus an extra glug for the gravy
750ml chicken stock
2kg British free-range pork belly, with bones, skin deeply scored (ask your butcher to do this for you)
2 tbsp fennel seeds
1½ tbsp sea salt
For the relish
½ red onion, thinly sliced
3 tbsp sherry vinegar
1 tbsp caster sugar
20g bunch fresh mint, leaves picked and finely chopped
20g bunch fresh coriander, leaves picked and finely chopped
To serve
Method
Heat the oven to 240°C/220°C fan/gas 9. Put the onions in a large, deep roasting tin with the garlic, sherry and stock. Put the pork on top,skin-side up, and pat the skin dry with kitchen towel, then rub the fennel seeds and sea salt well intothe grooves of the scored skin.
Roast the pork for 15-20 minutes until the skin starts to puff up and looks like it's about to crackle. Turn the oven down to 140°C/120°C fan/gas 1. Cook the pork, uncovered, for 5 hours until the meat is tender and falling apart.Take it out of the oven, drain the stock/juices from the tin into a saucepan, along with the onions, then set the stock mixture aside.
Turn the oven back up to 240°C/220°C fan/gas 9, put the pork back in and cook for a further 30-35 minutes. Check the crackling after 20 minutes. The fennel seeds may start to brown a little; if so, brush off the excess and continue to roast until the skin has crackled properly.
Meanwhile make the relish. Put the red onion into a small bowl with the vinegar and sugar. Set aside until you're ready to serve the pork.
When the pork belly skin has finished crackling, remove the roasting tin from the oven, put the meat on a lipped plate and leave to rest for 20 minutes. For the gravy, bring the reserved stock mixture to
the boil, then reduce the heat and simmer for 20-25 minutes until it coats the back of a spoon. Add a glug of sherry to give acidity, then taste and adjust the seasoning. Just before serving, stir the chopped fresh herbs into the relish. Add any of the resting pork juices to the onion gravy, then carve the pork belly into chunky slices. Serve with the relish, sherry gravy and your favourite potatoes and greens.