The best pork cuts for pan frying, grilling and griddling
If you follow our guide here, to choose the right cuts of meat, pork is fabulous fast food, suited to quick cooking.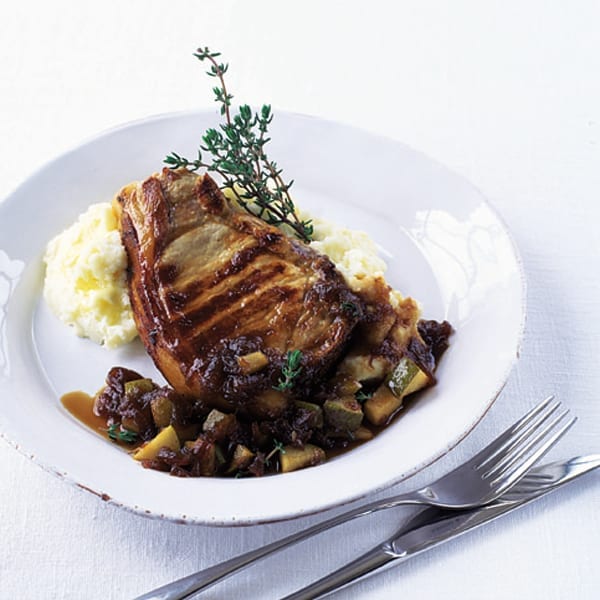 SPARE RIB CHOPS
The best chops for flavour and tenderness. The meat from this part of the pig is made up of lots of little, softer muscles, interspersed with very thin layers of succulent fat and connective tissue, which in effect makes them self-basting. They will stay moist and tender instead of drying out.
LOIN CHOPS
Classically shaped pork chops that can be a little dry if over-cooked. They are available both with and without the bone, but those with the bone tend to stay moist during cooking. The eye of the loin can also be sliced across into medallions.
CHUMP END STEAKS
This small cut is tender, has lots of flavour and doesn't need much cooking. Ask your butcher to leave a little layer of fat around the 'eye' of the meat to help keep it moist during cooking.
See our slow-roasted pork recipe if you'd like to try chump end.
BELLY SLICES/RASHERS
These come with or without the skin. Excellent roasted, grilled or barbecued because the extra fat keeps the meat moist and drips away during cooking, leaving sweet, succulent meat.
TENDERLOIN (FILLET)
This is a very lean cut of pork which can either be sliced across into small, chunky slices called noisettes, or cut across into short pieces, which are then 'butterflied' (slit open lengthways) and bashed out into thin escalopes. Medallions are simply noisettes that have been very slightly flattened into slightly larger rounds. Tenderloin is also great cut into strips for a stir fry.
Try our easy pork tenderloin with roasted feta.
LEG
A butcher can cut a leg steak from any part of the leg, but more usually from the fillet. They are extremely lean and require careful cooking to prevent them drying out.
TIPS FOR PAN FRYING, GRILLING AND GRIDDLING PORK
Remove the skin (but leave the fat) before cooking, because it never really goes crisp enough in the brief time it takes to cook the meat.
Snip into the fatty layer, not quite down to the meat, because the fat shrinks during cooking and will otherwise cause the chops to twist and buckle.
Season the meat on both sides just before cooking. If you do this too far in advance the salt will start to draw out all those precious juices.
If grilling, preheat your grill to high and grill on a rack so excess fat drips away.
If pan frying, don't overcrowd the pan – the meat's temperature will drop rapidly and it will end up stewing in its own juices.
Heat a large, heavy-based frying pan over a high heat, lower the heat to medium and add a very thin layer of oil (sunflower or olive oil) and the seasoned meat. When cooked through, lift each one up in turn with tongs and crisp up the fatty edge.
A cast-iron griddle pan is perfect for cooking smaller cuts of pork because the excess fat will run away through all the little grooves. Brush the meat with a little oil first.
COOKING TIMES FOR SMALLER CUTS OF PORK
175-200g spare rib chops, loin chops and chump end steaks, cut 2-3cm thick – 5-51⁄2 minutes each side.
175-200g leg steaks, cut 1.5cm thick – 4 minutes each side.
175g belly rashers, cut 11⁄2-2cm thick –  4-5 minutes each side.
175-200g pork escalopes – 11⁄2 minutes each side.
50g noisettes (medallions) of pork tenderloin, cut 2cm thick – 3-4 minutes each side.
Pork kebabs made with 4cm pieces of cubed pork – barbecue for 10-12 minutes over a medium heat, turning now and then.
HOW TO
Subscribe to our magazine
Subscribe to delicious. magazine for HALF PRICE
Subscribe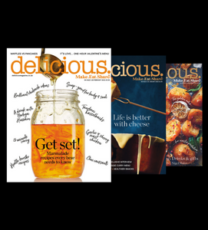 Join our newsletter
Packed with menu ideas, recipes, latest competitions and more...