How to make fresh pasta
Whether you just fancy having a go, or if you've run out of shop-bought pasta (or the shop has run out of pasta…), once you've mastered the art of making fresh pasta with our step-by-step guide to making tortellini – you won't turn back. All you need is four ingredients with our method.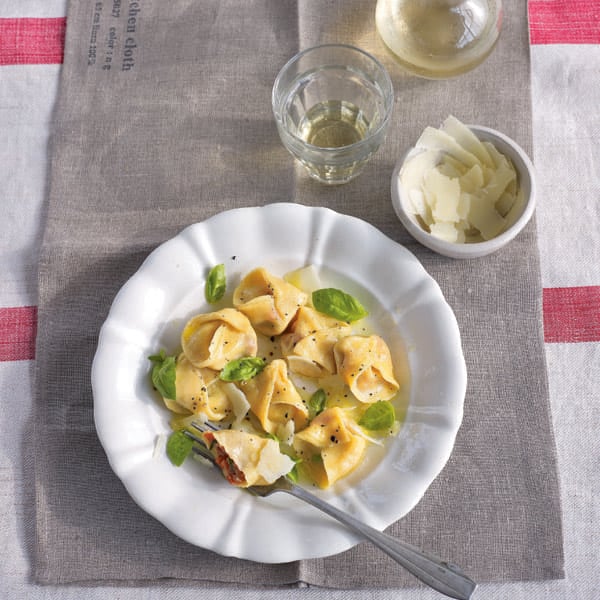 So many people are afraid of making their own pasta. Ready-made is cheap to buy and, yes, the homemade version does take a little bit of time to make and craft, but the taste and texture are so much better than anything you can buy in the shops. There's no need to make fancy shapes. Simple tortellini, stuffed with fresh ingredients, is pretty much as good as it gets.
Did you know?
lItalian '00' or doppio zero flour has been milled to a super-fine, talcum powder-soft consistency, much finer than other plain flours. The extra-fine texture results in the softest, smoothest pasta. Italian '00' flour is also great for baking and breadmaking, giving a really light-textured crumb.
You will need
300g Italian '00' flour, plus extra to dust
3 medium free-range eggs
2 tbsp olive oil
Semolina flour for dusting (optional)
Master recipe [v]
Serves 4, makes about 500g, takes 1 hour to make, plus resting
1. Sift the flour with a good pinch of fine salt onto a clean work surface to form a mound. Make a large well in the centre of the mound using the base of the sieve. Crack the eggs into a jug with the olive oil, whisk to combine, then pour the mixture into the well.
2. With your fingers, gradually incorporate the flour into the beaten eggs. Make circular stirring motions and bring increasing amounts of flour into the centre of the mound. When the dough has come together and has a good texture it's ready, so you may not need all of the flour.
3. Once the flour has been incorporated, knead the dough as if making bread – it needs to be smooth and silky, and spring back to the touch. If the dough is too dry and cracks start to appear in it, add 1-2 tbsp water and knead for a bit longer. If the dough is too wet and sticky, add ?a little flour. Wrap well in cling film, then chill for 30 minutes.
4. Once the dough has rested it can be rolled out, either with a pasta machine or by hand on a lightly floured surface using a thin rolling pin. Doing it by hand does involve a lot of patience and muscle power – it takes a long time to get the pasta thin enough. Using a machine pretty much guarantees your pasta will be thin and smooth – and it's a lot easier and faster
5. When using a pasta machine, it's easier to cut the dough into quarters and run them through the machine piece by piece. Just wrap the dough you're not rolling tightly in cling film to keep it moist.
6. Set the pasta machine to its widest setting, then flatten and shape the dough into a rectangle (making sure it will fit widthways through the rollers). If the dough seems a little wet, flour it lightly. Carefully pass the dough through the rollers, then fold in half, end to end. Repeat two or three times, folding and passing the dough through the rollers each time. If the dough is sticking, sprinkle the machine and work surface with a little semolina flour.
7. Once the dough has gone through the widest setting two or three times, narrow the setting by a notch, then continue to wind the pasta through, without folding the dough in half. The dough will get longer and thinner. Carry on rolling the dough through, narrowing the rollers by a notch each time until the pasta is translucent and very long.
8. For the tortellini roll the dough out to the machine's second-thinnest setting. You're now ready to cut out the shapes. Keep the pasta moist and workable by covering with a clean, damp tea towel.
PER SERVING 388kcals, 11.5g fat (2.3g saturated), 13.2g protein, 57.8g carbs (1.1g sugar), 0.2g salt, 3.3g fibre
Subscribe to our magazine
Subscribe to delicious. magazine for HALF PRICE
Subscribe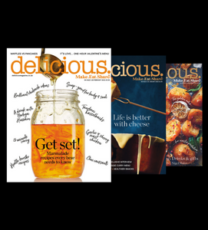 Join our newsletter
Packed with menu ideas, recipes, latest competitions and more...