The best burger restaurants in the UK (and their meal kits)
With so many new burger restaurants popping up around the country over the last few years, we thought it only right we pay our respects to the best of the bunch here. From new kids on the block to long-time favourites, these are restaurants we can always rely on for a good burger!
All of these restaurants are offering either click & collect, takeaway via Deliveroo or Uber Eats, or their own restaurant kits for nationwide delivery.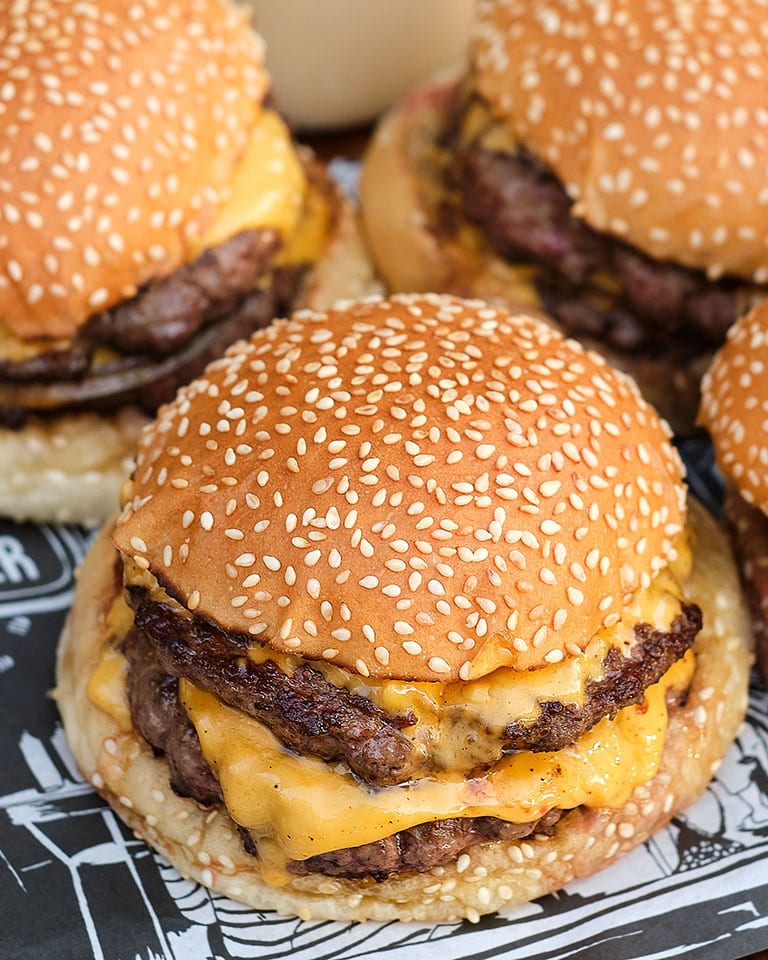 Locations in Leeds, Brighton, Clapham Old Town, Bloomsbury, East Dulwich, Covent Garden, Hoxton, Northcote Road, Croydon, and Queensway.
A regular on the London scene for 10 years now, MEATliquor's fast food game is resolutely on. The burgers are what they are famous for, and most of their outlets are offering takeaway via click & collect and UberEats. From vegan tempeh burgers (below), to beef chilli hot dogs, vegan mushroom dogs, and buffalo wings and cocktails – this is FEEL GOOD food. All available at their outlets or via UberEats.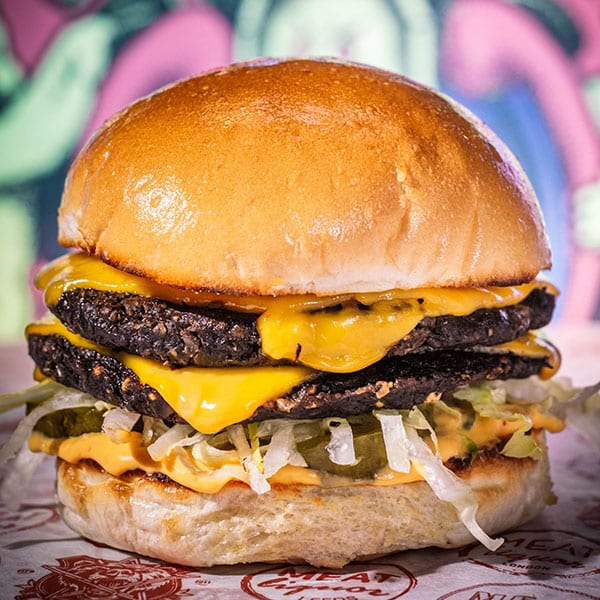 Locations in London, Brighton, Bristol, Cambridge, Cardiff, Liverpool, Manchester and Reading.
A favourite in the capital for over a decade, Honest Burgers can now be found across the UK, and there's one reason why they've expanded so quickly: they make a phenomenal burger. From their classic 'Honest' burger with bacon, cheese, lettuce and pickles through to a monthly rotation of specials, Honest use only British meat. You can order via Deliveroo or nab yourself an Honest at Home kit, available from Honest Burgers (£16 plus £6 delivery for two).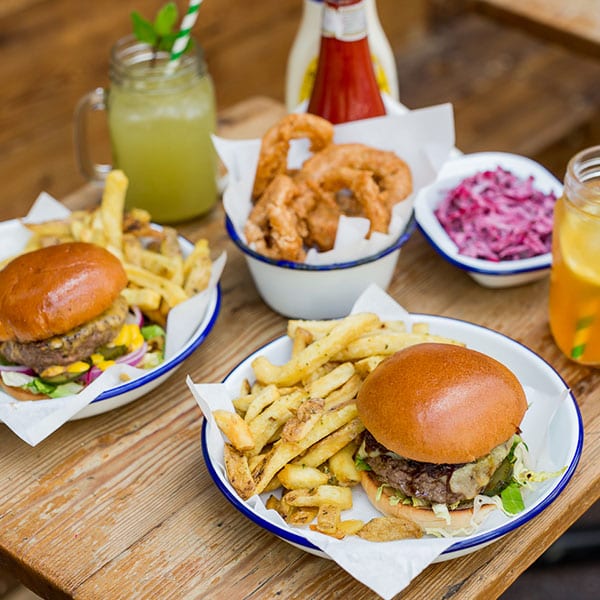 Bleecker Burger

Locations in Victoria, Bloomberg Arcade, and Southbank.
Bleecker make burgers that are all about the beef: rare-breed, and pasture-fed quality. They are offering nationwide meal kits via Great Food 2 U. Simple but effective, their cheeseburgers, or vegetarian patties come alongside classic burger buns, 8oz of their special sauce, seasoning (this is where the magic is) and American cheese. These are award winning and it shows. Available from Great Food 2 U (£21 for 2).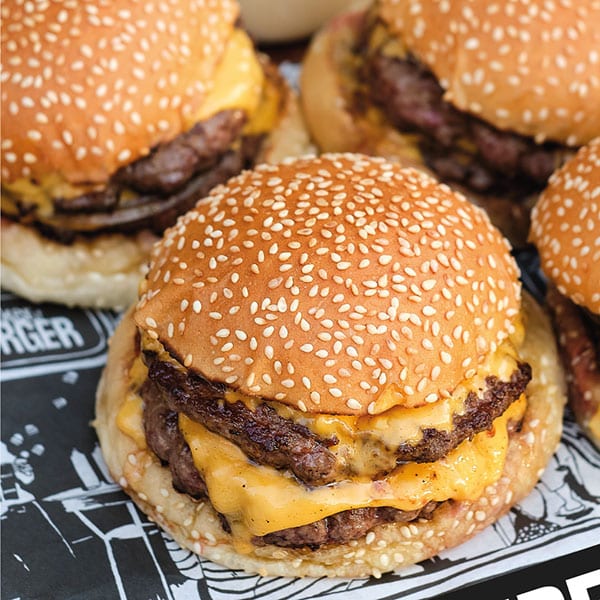 Locations in Leamington Spa and Rugby.
Born in 2016 as a burger truck based in the Midlands, Libertine burger's signature patty is their own blend of flank, chuck, and brisket of grass-fed, 28-day dry aged, organic Aberdeenshire beef. And what a blend it is! The quality of the beef really shines through here. Libertine are offering click and collect at their two outlets, as well as nationwide kits that are extremely simple and satisfying, including a Superbowl special. Please note fries and lettuce are not included! However tater tots and the toppings for their epic chilli cheese fries are on the menu… Available from Libertine Burger (£25 for 4).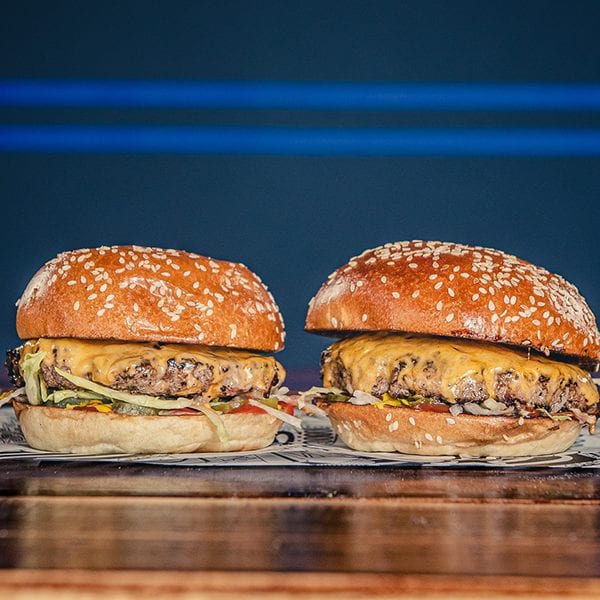 Locations in London and Oxford.
Dirty Bones was born in 2014, and now has locations across London and one in Oxford. Their meal kits also offer a much-needed burger break. VERY generous 6oz burgers are served layered between seeded brioche buns, with a spoon of mac n' cheese, pulled beef shortrib (marinated in espresso-spiked BBQ sauce) and American cheese slices on top. PLUS, Dirty Bones kits come with the option of a side of garlic salt skinny fries – OOF. Instructions are super-easy to follow, and you can be eating within about 20 minutes. There are a range of burger kits, from a classic or vegan option to the Mac Daddy Burger kit, which we tried. All available from Dirty Bones (from £25 for 4, delivery included).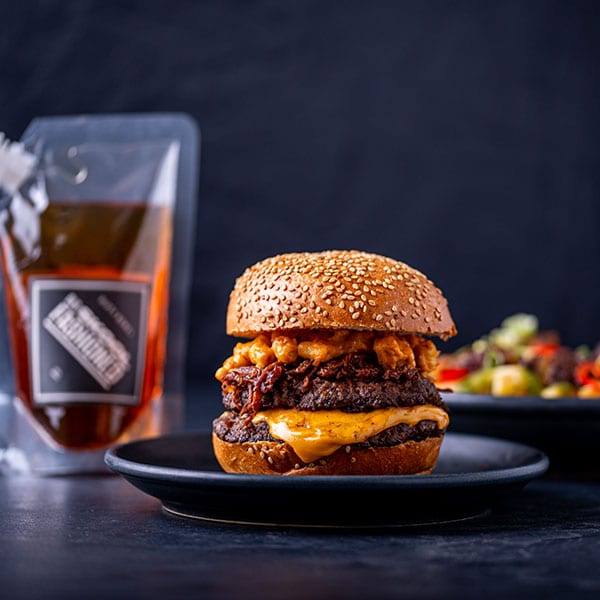 Mayfair, central London.

The patties from sustainable fine dining restaurant Fallow are made from ex-dairy cow beef, making them supremely rich with a mature, intense flavour. If you love an unabashedly full-bodied, cheesy burger but care about provenance too, this is a good pick. The restaurant's burger meal kit arrives with brioche buns, slabs of melt-friendly 'cheese slices' (made from English cheddar) and smoked streaky rare breed bacon, plus burger sauce, pickled shallots and a bottle of house hot sauce to add bite. Follow a QR code for a video of chefs Will Murray and Jack Croft making the burger from scratch and sharing details about the ingredients. Fancy more on the side? Opt to include fixings to prepare Fallow's quirky 'corn ribs' –­ slivers of corn cob, which are deep fried into toothsome golden curls. A bit of novelty that comes with umami kombu seaweed seasoning. Available from Restokit (£30 for 4 burgers, £40 for 2 burgers and corn ribs. Vegetarian burger boxes also available).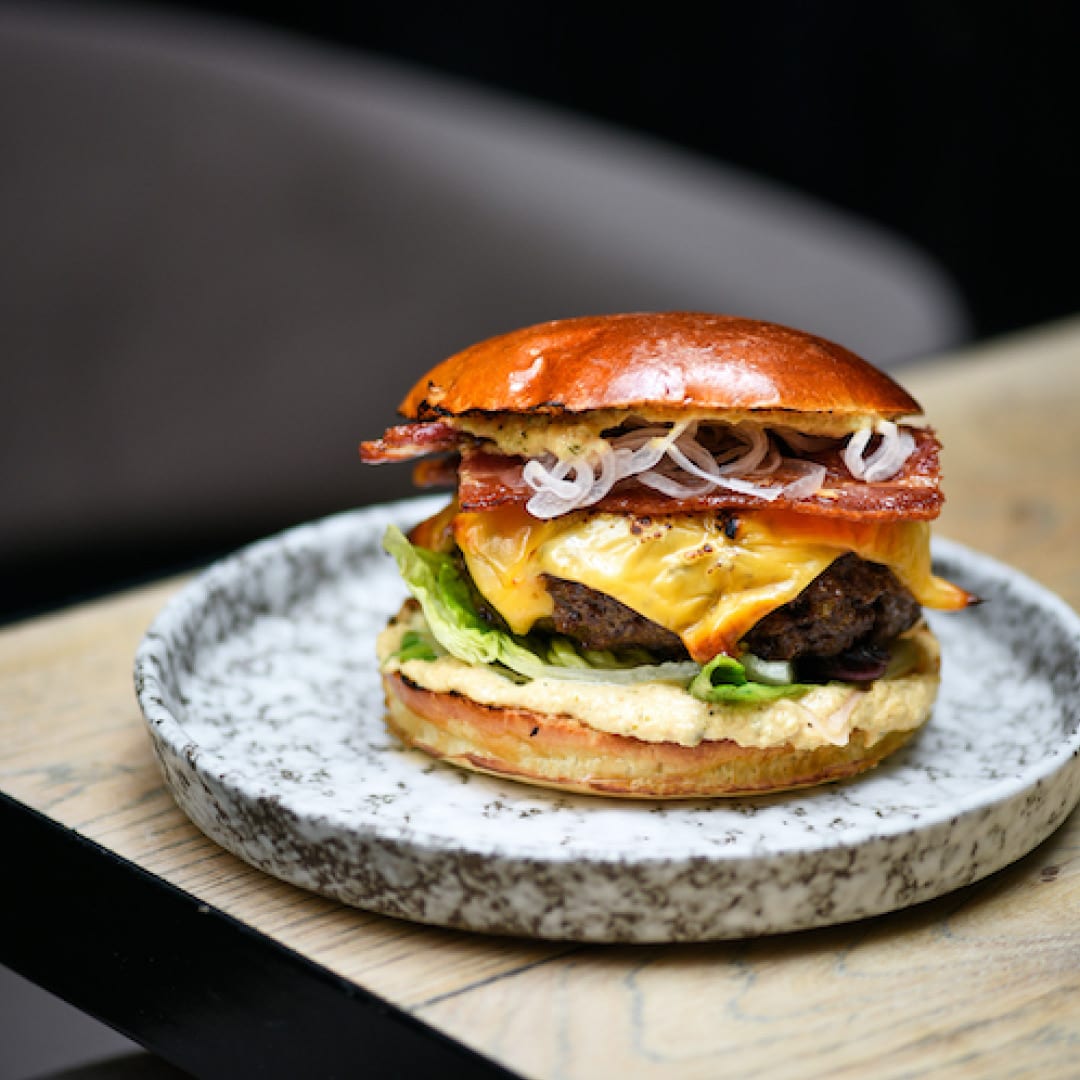 Locations in London, Manchester and Edinburgh.
The place to go for a steak in the UK, Hawksmoor's burgers are also made from the outstanding British beef we have come to associate with the restaurants, and as such they are guaranteed to be good! The triple-cooked chips are a must if you can squeeze them in. You can even get a taste of that top quality meat at your own convenience with their steak at home kits. Available from Hawksmoor (from £50 for 2).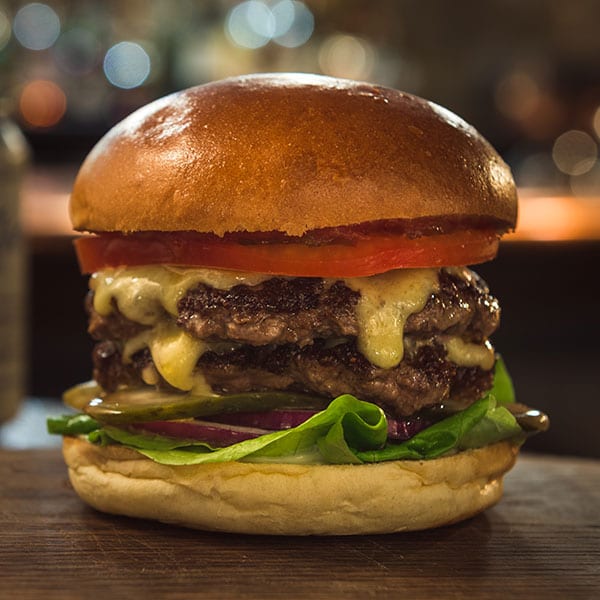 East London
Whilst not strictly burgers, the brisket buns from Smokestak are a must-try meat sandwich. They are offering nationwide home-delivery kits, available for delivery on Fridays, which require nothing more than this: heat, toast, slice, assemble, eat, sigh. The sticky slow-cooked brisket is fall-apart tender and comes with soft brioche buns, pickled chillies, a smoky-rich sauce – and a Spotify playlist to set the mood. It's one heck of a treat. Available from Smokestak Shop (from £30 for 4).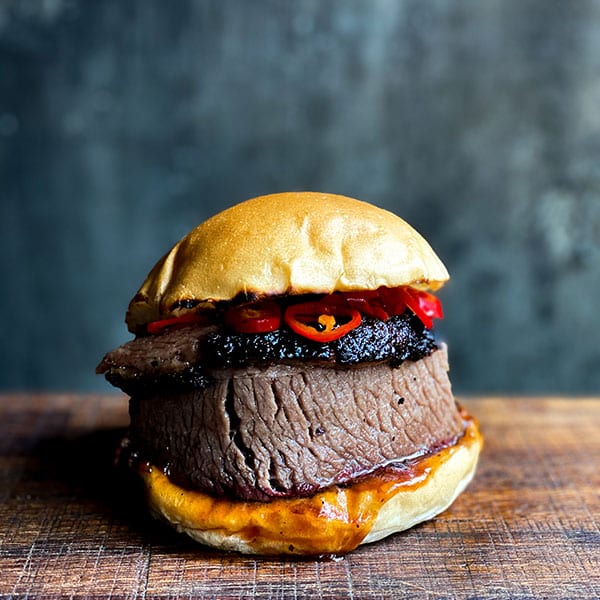 Brighton & London
Established in London's James Street in 2012, Patty & Bun's burgers are juicy and tender and are now available in their meal kits. Bacon is crispy and fatty (as it rightly should be in a burger), while Red Leicester cheese and added burger sauce create a winning combo. The portion sizes are huge and the meat is top quality. Available from Patty & Bun (£25 for two).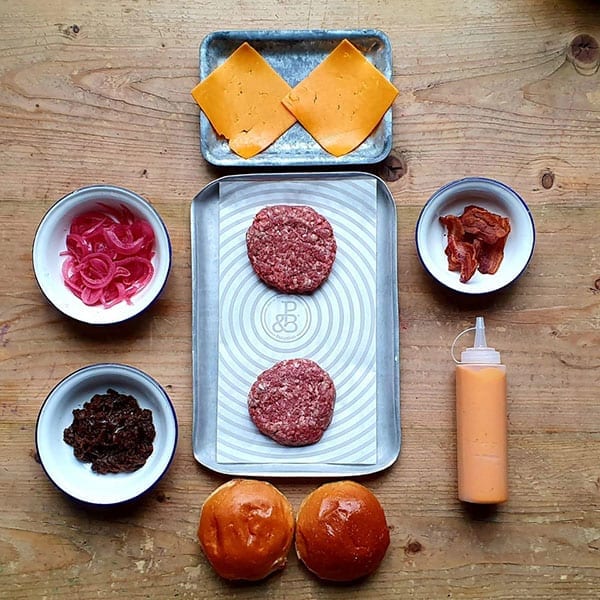 Fitzrovia, the City, Aldgate and the Scottish Highlands
Mac & Wild are famous for their venison patties which shot to fame as soon as this Scottish-themed restaurant first opened its doors. You can get your venison fix at home too, with their slick kit which comes with absolutely everything you need – from the patties, to the buns right down to the condiments. Available in kits for two or four people. Available from Restaurant Kits (£19.99 for two or £28 for four).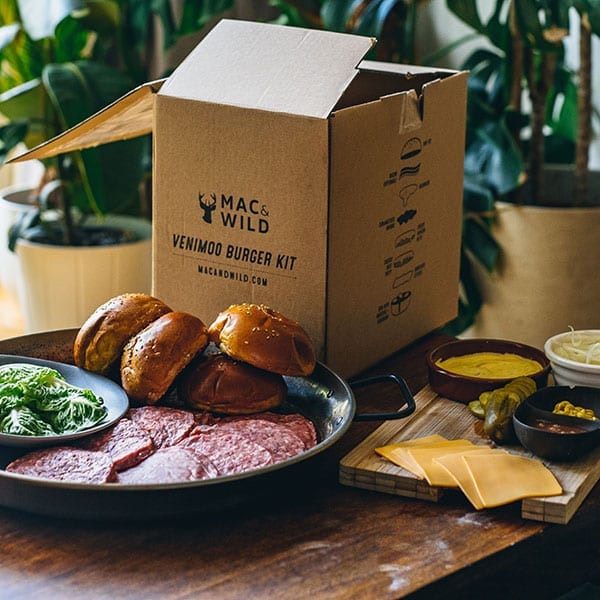 See more of our picks of the best restaurant kits for nationwide delivery in lockdown here.
Subscribe to our magazine
Subscribe to delicious. magazine for HALF PRICE
Subscribe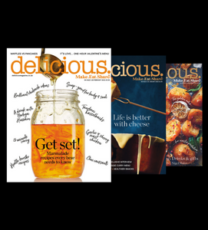 Join our newsletter
Packed with menu ideas, recipes, latest competitions and more...