The best restaurant delivery kits available nationwide right now
2020 has been an impossibly difficult year for thousands of Britain's restaurants. With mandatory closures, due to varying levels of lockdown restrictions, many restaurants have had to adapt – and quickly – to offer nationwide delivery.
The delicious. team went on a mission to discover the very best restaurant delivery kits. These kits allow you to cook some of their signature dishes at home – using supplied ingredients and clear instructions.
Restaurant-at-home kits are a great way to support your favourite restaurants and there's no denying how badly they need your help right now. Plus, they make an exciting change from the same-old same-old lockdown dinners. Now, who's hungry?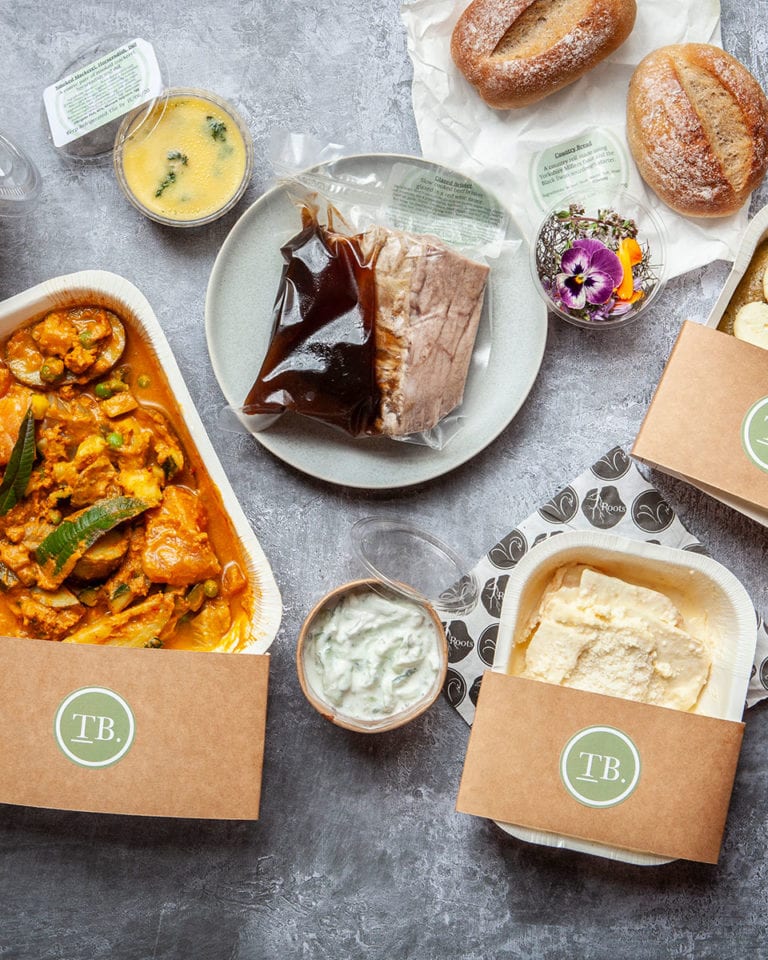 Mac & Wild Venimoo Burger Kit
delicious. rating: 9/10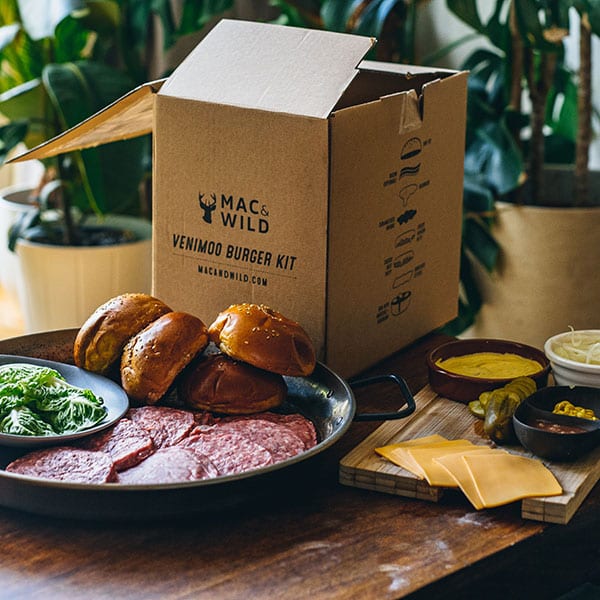 Their venison patties shot to fame as soon as this Scottish-themed restaurant first opened its doors, and now you can make them yourself at home in less than 15 minutes.
This slick kit, comes with absolutely everything you need – from the patties, to the buns right down to the condiments. Their instructions are intuitive, so even if you're not a regular cook, you'll find it easy enough to follow along. The results are seriously top-quality; one of the best burgers you'll try outside of a restaurant. Available in kits for two or four people, plus Christmas dinner kits are also now an option to order. Available from Restaurant Kits (£19.99 for two or £28 for four).
Hawskmoor at Home Steak Box
delicious. rating: 9/10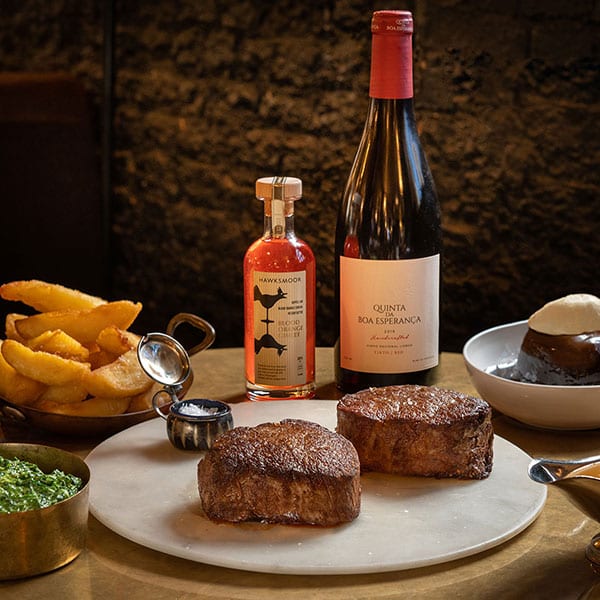 Even in lockdown, there are still moments certainly worth celebrating. Maybe you're celebrating a new job, someone's birthday or perhaps you're just cheering on the fact it's a Friday (TGIF). The Hawksmoor at Home boxes certainly call for a celebration. From their super sleek packaging, right down to the quirky instructions and bespoke playlists, this kit feels impressive as soon as it arrives and will give you a reason to hop out of your loungewear and into your glad rags for the weekend. We road-tested the fillet steak box, which begins with an ice-cold blood orange gimlet (the perfect drink to sip on whilst you prep everything). It'll come as no surprise here; the steaks really are incredible, and the kit's handy video instructions are a must, even if you do consider yourself a novice on the steak-front. Serve everything up alongside their creamed spinach mash and to-die-for beef dripping chips, which you'll struggle not to talk about for days after. Leave room for some sensational sticky toffee pudding, which rounds-off this celebratory meal on a delectably sweet note. Available from Hawksmoor at Home (boxes start from £75).
Chick 'n' Sours All In Kit
delicious. rating: 9/10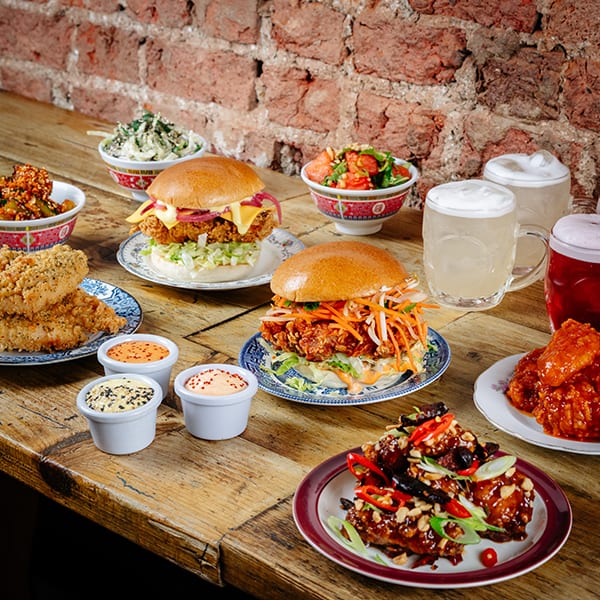 Chick'n' Sours offer so much more than simply fried chicken. In their super generous All In Kit, you'll receive (breathe) two fried chicken burgers (choose from the 'K pop' and 'the General'), hot wings, kung pao wings, chicken tenders with seaweed 'crack', watermelon salad with coriander, mint and chilli, ginger and miso green 'slaw AND bang bang cucumbers. This is a feast that'll see you through more than one sitting – for two people, you'll easily get two meals. The flavours are incredible: the watermelon salad is fresh and zingy and the perfect compliment to the fried goodness that it accompanies. The smacked cucumbers are the simplest of preparations but come packed with a spicy salty nuttiness that is brought together by the hit of black vinegar. The chicken wings two-ways are easy to prepare, and all the right notes of sweet and salty. There is deep or shallow frying to be done here, so this is not a kit for novices, but if you know your way around a stove and you're a lover of fried chicken, gochujang and mayonnaise – do yourself a favour and try out this kit. Ingredients are very clearly labelled, instructions simple to follow, and the playlist is full of feel-good hits: you can't go wrong. Available from Chick 'n' Sours (from £50).
Santo Remedio "Remedy" Kits
delicious. rating: 8/10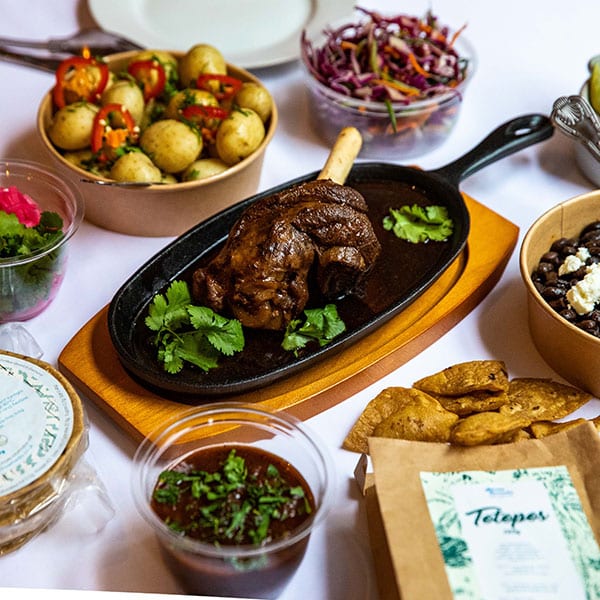 Mexican food isn't the easiest to tackle at home – often because you really do require key ingredients and spices to achieve perfect results. The "Remedy" kits from Santo Remedio do the hard prep for you, leaving you with only last minute assembly at home – with the use of handy instructions and a colour-coded key system. We tried their short-rib beef tacos – featuring fall-off-the-bone meat and a range of outstanding sides. A great kit to make a fun meal that's full of flair. Available from Santo Remedio (£45/50 for two)
Hoppers Cash & Kari
delicious. rating: 9/10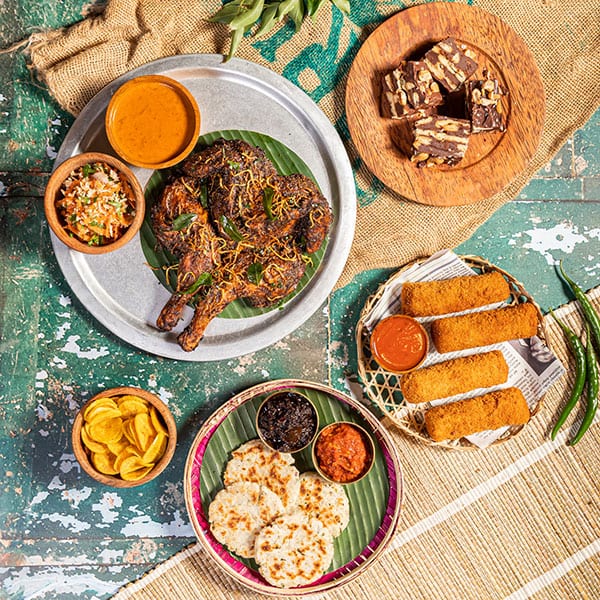 Featuring ready-to-cook dishes, cocktails and Hoppers' own brewed beers, this kit brings the whole dining-out experience to your home.
We tried the lamb kothu roti, kalupol chicken, pol roti, mutton rolls and carrot salad. All of this took only 45 minutes hands-on time to prepare, and came with easy-to-follow (and beautifully designed) instructions. The flavours are fantastic. Mutton rolls are crisp and perfectly seasoned, the kalupol chicken is amazingly tender and subtly spiced, the kothu roti (a combination of lamb kari, chopped roti, vegetables and onions) is the ultimate stir-fry. There's even dessert included too (choco-coco biscuit pudding, we salute you).
For complete novices, the kit might prove a challenge, because there is a chicken to roast and deep or shallow frying to be done. But, if you've got intermediate skills in the kitchen and are a lover of South Asian cuisine, this is a must-try kit.
Available from Hoppers Cash & Kari (£30 for 2 or £40 including beers). Vegan and veggie kits also available. 
Berenjak ghormeh sabzi kit
delicious. rating: 8/10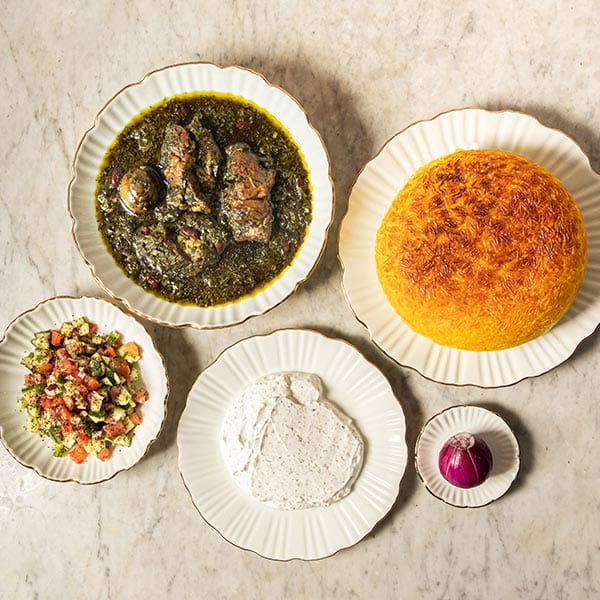 Berenjak is based in in Soho, and now some of their menu is available nationwide so you can enjoy a taste of home-cooked Persian food wherever you are in the UK. They are delivering kabab kits, and now their ghormeh sabzi boxes, directly to you. If you've never experienced the joy of a tahdig or the zingy, bright flavours of a ghormeh sabzi, read on.
The cooking here isn't for the faint-hearted, as the stew itself requires a good 4 hours in the oven (start EARLY), and the rice is a labour of love (you need to wash and rewash it and par cook it, but it's all in the name of the best rice dish you've ever prepared at home). When the stew is in its final hour, the rice goes into its pot for the final cooking stage, and when you flip out your tahdig to reveal its golden crust, the sense of pride is electric. The shirazi salad and mast o sabzi (yoghurt with herbs) are lovely accompaniments. Plus included in the delivery is a beautiful dizi pot that you get to keep. This kit claims to feed 2, but there is enough rice for 6 here – make note for leftovers. If you have intermediate skills in the kitchen and are hungry for a taste of Persia – this kit is for you. Available from Berenjak (from £45 for two, plus leftovers).
Padella Pasta Kits
delicious. rating: 8/10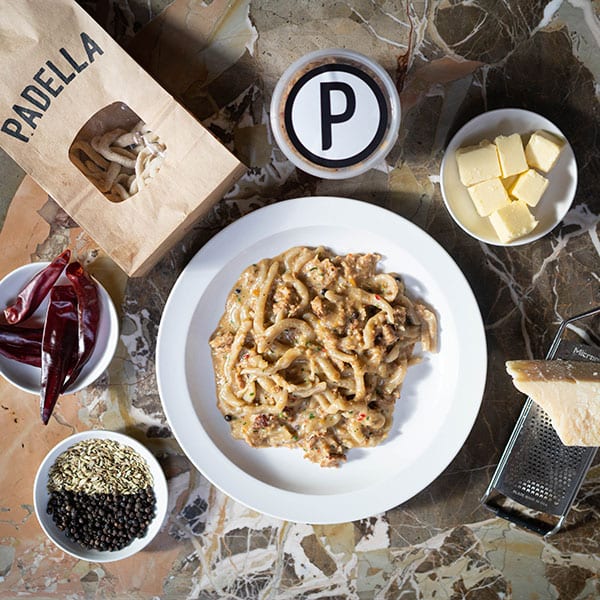 London's most iconic pasta outfit is now offering pasta-at-home kits and for £15 for two people, you really can't go wrong.  We tried the pici with sausage, fennel, chilli and peppercorn ragù – it was rich, velvety and so tasty and really felt like the same standard as we've come to know and love in the restaurant.
We also tried the tagliarini with slow-cooked Sardinian tomato sauce. This was rich and flavoursome from the intense slow cooking, very simple but seriously good. You could even add any extra flavours you want to this if you fancied giving it your own twist next time. Available from Padella (£14/15 for two)
Decatur shrimp boil
delicious. rating: 9/10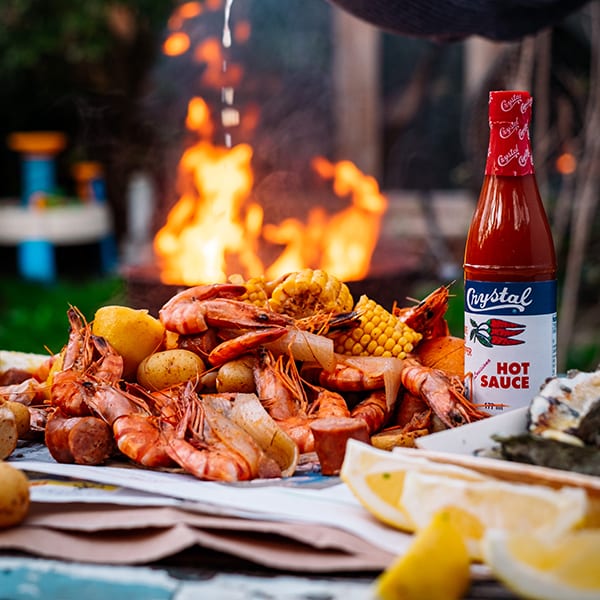 Decatur was founded in 2014, and their menu offering is about as close as you can get to Southern soul food in the UK. Luckily for us, they are delivering their shrimp boil kits, seasoned with a secret blend of boiling spices, directly to you during lockdown. If you've never experienced the joy of Louisiana inspired seafood before (let alone delivered to your door), we urge you to give this kit a go.
This is one of the most user-friendly kits going, and can be ready at the table within 35 minutes. All that you'll need is a boiling pan of water to add your spices into, followed by your potatoes, corn, smoked sausage (if using) and shrimp. Then douse it all in that most flavourful garlic butter, and extra spicy seasoning, and you'll feel as if you're down by the bayou toute-suite. Please note the kits sell out VERY fast, and go on sale on Sundays for the following Friday. But trust us, when you bag one, you'll have the Friday night dinner of your dreams to look forward to. Available from Decatur (from £37.50 for two).
Pizza Pilgrims Pizza In The Post
delicious. rating: 9/10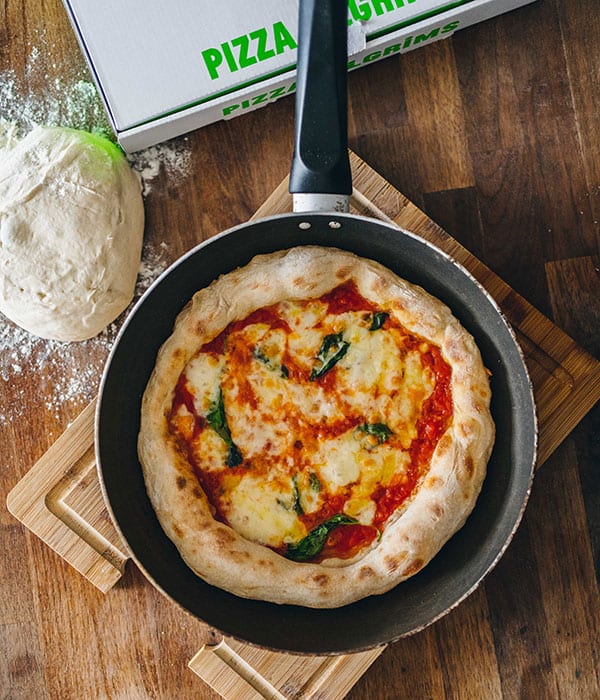 Pizza made in a frying pan? Yes,  we were sceptical too – but this frying pan pizza kit seriously delivered. Choose from a variety of flavours (including dairy free and gluten free options) and your kit will include all the ingredients used in the Pizza Pilgrims pizzerias. We tried out the double pepperoni and spicy honey kit and the flavour combination of salty chorizo with sweet, fiery honey was to die for. The kit makes two generously-sized pizzas and the instructions inside couldn't be easier to follow, with your pizzas taking about 15 minutes from start to finish. If you don't have two large frying pans, there's no need to panic, you can simply cook one pizza at a time, and even keep one warm on the bottom shelf of your oven, whilst you prepare the second. Or you know, eat as you go… Available from Pizza Pilgrims (starting from £14.50 for two pizzas, plus delivery).
Rosa's Thai Pad Thai Kit
delicious. rating: 8/10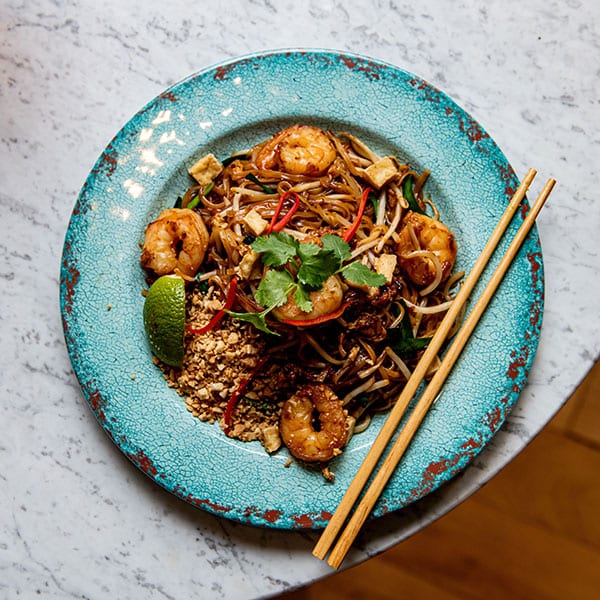 The Rosa's Thai offering makes classic Thai dishes achievable at home. It's a particularly good option if there isn't a Thai restaurant near where you live and your cravings are strong.
We tried the prawn pad Thai – which feeds four people. The pad Thai sauce is full of flavour and all that needs doing is soaking the noodles in hot water for 15 minutes and chopping the spring onions. It's then a case of heating everything through in a wok or frying pan.
For those that are a little nervous cooking, each meal kit contains a QR link with a step-by-step cooking video shot by Rosa's founder Saiphin. The resulting dish is so much better than take-out versions: it's hotter, fresher and comes with the self-satisfaction that you brought it all together. Delivery is on Fridays nationwide. Available at Great Food 2 U (£40 for four).
Homeslice "Take & Bake" Meal Kits
delicious. rating: 7.5/10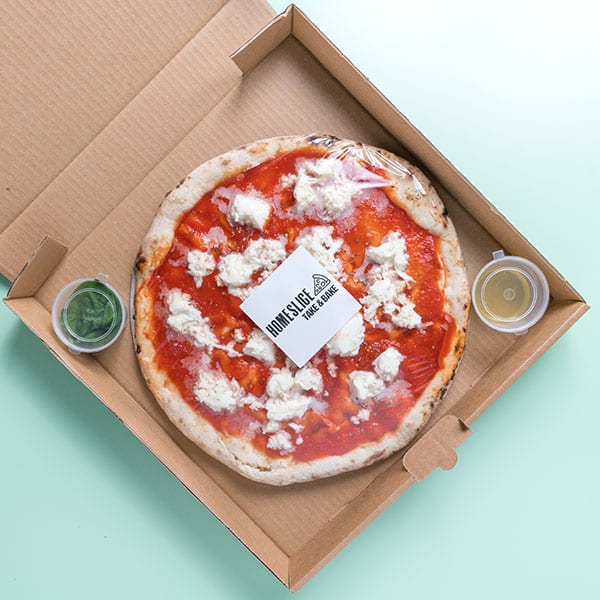 If you've been seriously pining for pizza in lockdown, get Homeslice's signature pillowy dough and toppings delivered for your own bake-at-home experience. And the best part is, two of their pizzas plus toppings come to less than twenty quid – what a steal!
We tried out two of their fresh pizzas – vegan mushroom and n'duja with broccoli. Each had its own topping to add after cooking – soy truffle plus pumpkin seeds for the mushroom, and chilli oil for the n'duja. The pizzas were super-crisp on cooking, much better than a cooked home-delivery option, with really fresh tasting ingredients. Available from Plateaway (£17.50-19 for two pizzas, depending on toppings).
Made In Oldstead Food Box by Tommy Banks
delicious. rating: 8/10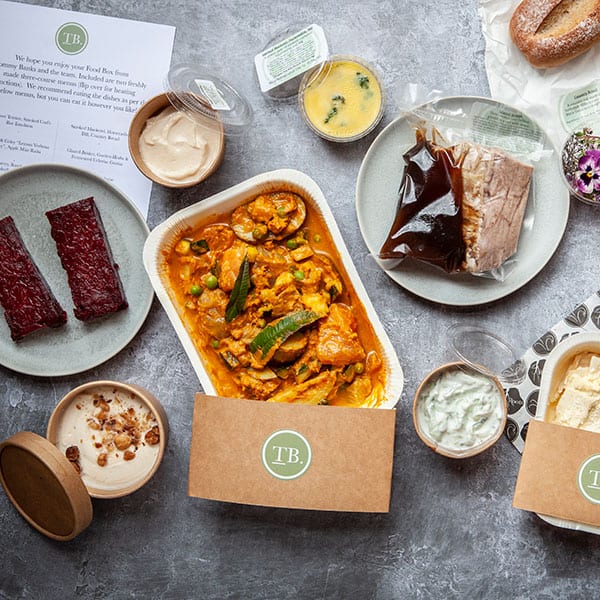 Don't fancy cooking? Have Michelin-starred chef Tommy Banks make your dinner for you instead! The kit includes an abundance of produce grown both on and around the family farm in Oldstead, Yorkshire, with info on its source.
Choose from his three different menus (including a veggie option) and you'll receive an incredible three-course menu for two delivered to your home. The packaging and food presentation are both beautiful for a start. Servings are on the generous side and your entire meal comes with very clear instructions.
Deliveries are available on Fridays. We recommend that you order in advance to avoid disappointment. Available from Tommy Banks' website (prices starting from £21 per head).
Carluccio's Dine at Home
delicious. rating: 9/10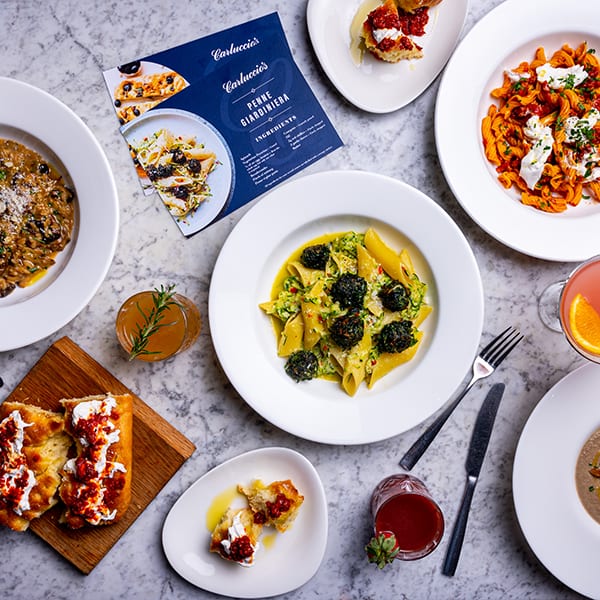 If you love Carluccio's, you'll love this generous dine-in box for two. It's an opportunity to try making your own olive-studded focaccia (so easy and satisfying to make). The ingredients are of excellent quality, with creamy burrata taking some heat from the spicy Italian sausage sauce on the fresh caserecce. Instructions are easy to follow, and the packaging is particularly pretty, with the kit arriving in a ribboned box. You can add bottle of reasonably priced wine, and a little pack of Gianduja pralines were a welcome surprise extra. All you need to do is provide a pud.
Available from Plate Away (prices starting from £21 per head). £30 for two, without wine – great value, considering the leftovers.
Patty & Bun Burger Kits
delicious. rating: 8/10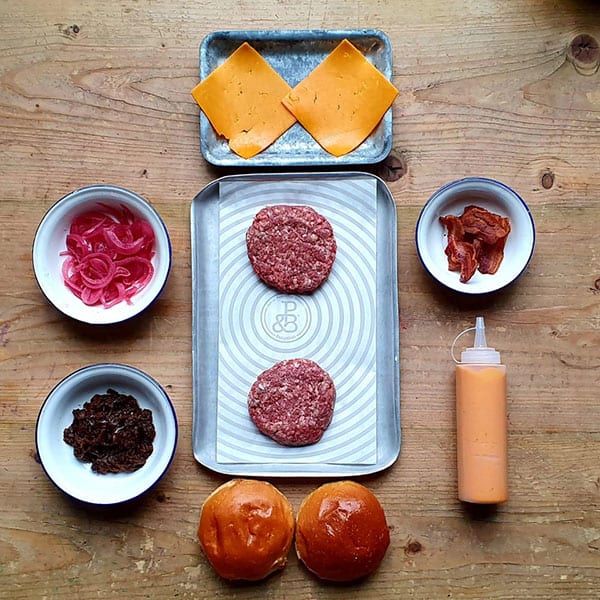 A maximum of 15 sweet minutes are all that's required to create the Patty & Bun burger at home. Inside these DIY Kits, you'll find an instruction leaflet that's a breeze to follow, and the results are sensational. Patties are juicy and tender; bacon is crispy and fatty (as it rightly should be in a burger), while Red Leicester cheese and added burger sauce create a winning combo.
The portion sizes are huge and the meat is top quality – just remember, you'll need to add your own chips. Available from Patty & Bun (£25 for two).
Steins at Home Recipe Boxes
delicious. rating: 10/10
Can you think of anyone you'd rather have prep dinner for you than Rick Stein
His 'Steins at Home' recipe boxes bring fresh Cornish seafood to your own kitchen. Inside each box, you'll find plenty of food – enough to serve two people – with a starter, main and dessert (and there'll likely be leftovers).
Choose from four boxes available on the website: The Hake Box, The Lobster Box, The Indonesian Curry Box and the Coq au Riesling Box. Dinner will take you about 20 minutes to cook and plate up, while well laid-out instructions will hold your hand throughout. We couldn't fault it in any way! Available from Rick Stein (£40-85 for two, depending on which menu you go for).  
Cinnamon Club Feast
delicious. rating: 8.5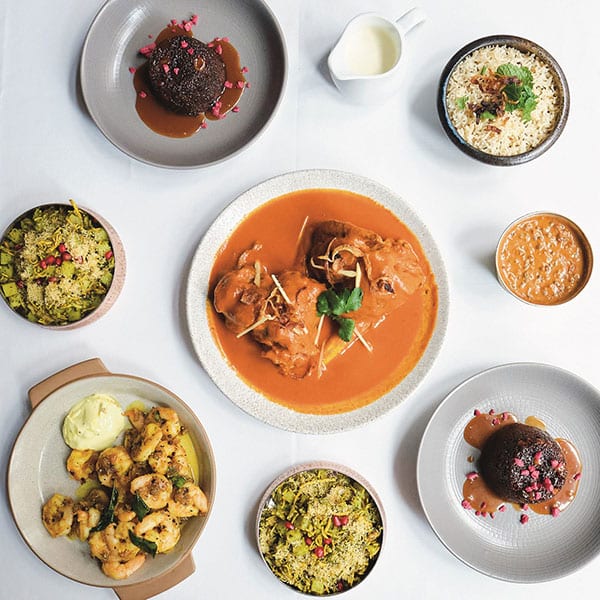 For a fine-dining experience in the comfort of your own home, check out Vivek Singh's Cinnamon Club Feast. This incredible four-course meal arrives in a number of sous-vide plastic bags and a few small containers/little bags of garnishes and sauces. In terms of instructions, each course comes colour-coded with a dot so that you can figure out what goes with what.
It'll take you about an hour (or slightly longer) to put together, which really isn't bad for such a high-quality at-home meal. One thing we loved about this kit was the thought about the amount of hob/oven space the average home kitchen would have, so preparing the meal was simple.
It was hard to pick a favourite course, but the slow-cooked black lentils might just have won top honours. The garam masala Christmas pudding a very lovely close second! Available from The Cinnamon Club (£50 per person).
Café Murano (via dishpatch.co.uk)
delicious. rating: 9/10
Café Murano now deliver restaurant-quality meals to your own home. And the assembly for their DIY kits couldn't be any easier: each parcel of food has a number that relates to a one-sentence instruction in the menu booklet. You can look forward to a scrumptious four course meal, with standout courses including pumpkin-stuffed large cannelloni and pannacotta pudding with poached plums. Available from Dispatch (£70 for two).
Norma Feasting Boxes
delicious. rating: 9/10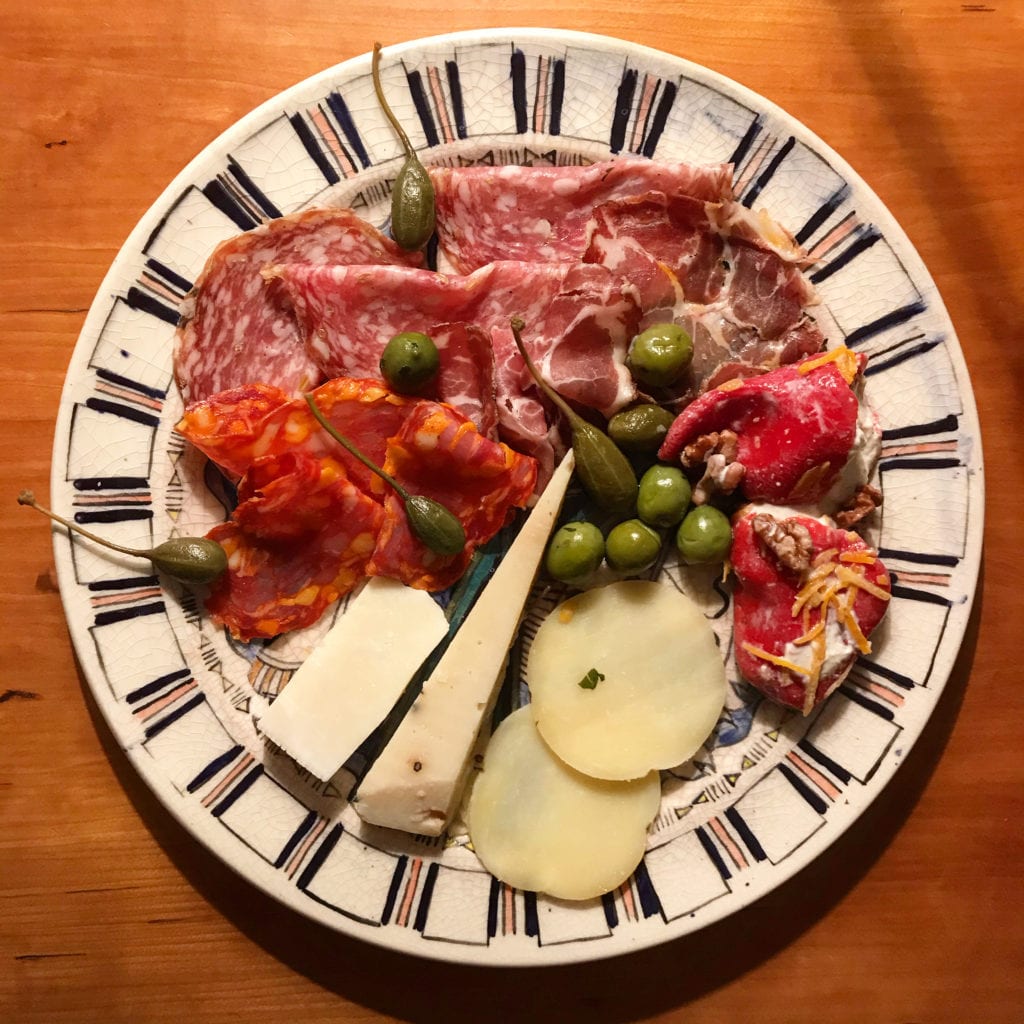 This is the kit to order when you're searching for a meal for a special occasion. It may seem pricey at first glance, but once you know your £100 includes not only four courses but also two cocktails, a bottle of red wine AND a signed copy of chef Ben Tish's latest cookbook, you realise this really is excellent value.
The charcuterie and cheese plate to start is so lavish in quantity that you feel immediately embraced in a spirit of generosity. For mains, you can expect a melt-in-the-mouth slow-cooked lamb which is complimented beautifully by the sweetness of roasted squash/pumpkin. Then there's pudding: a first-rate tiramisu laced with booze. Available from Norma (£100 for two).
Simon Rogan at Home Kit
delicious. rating: 8/10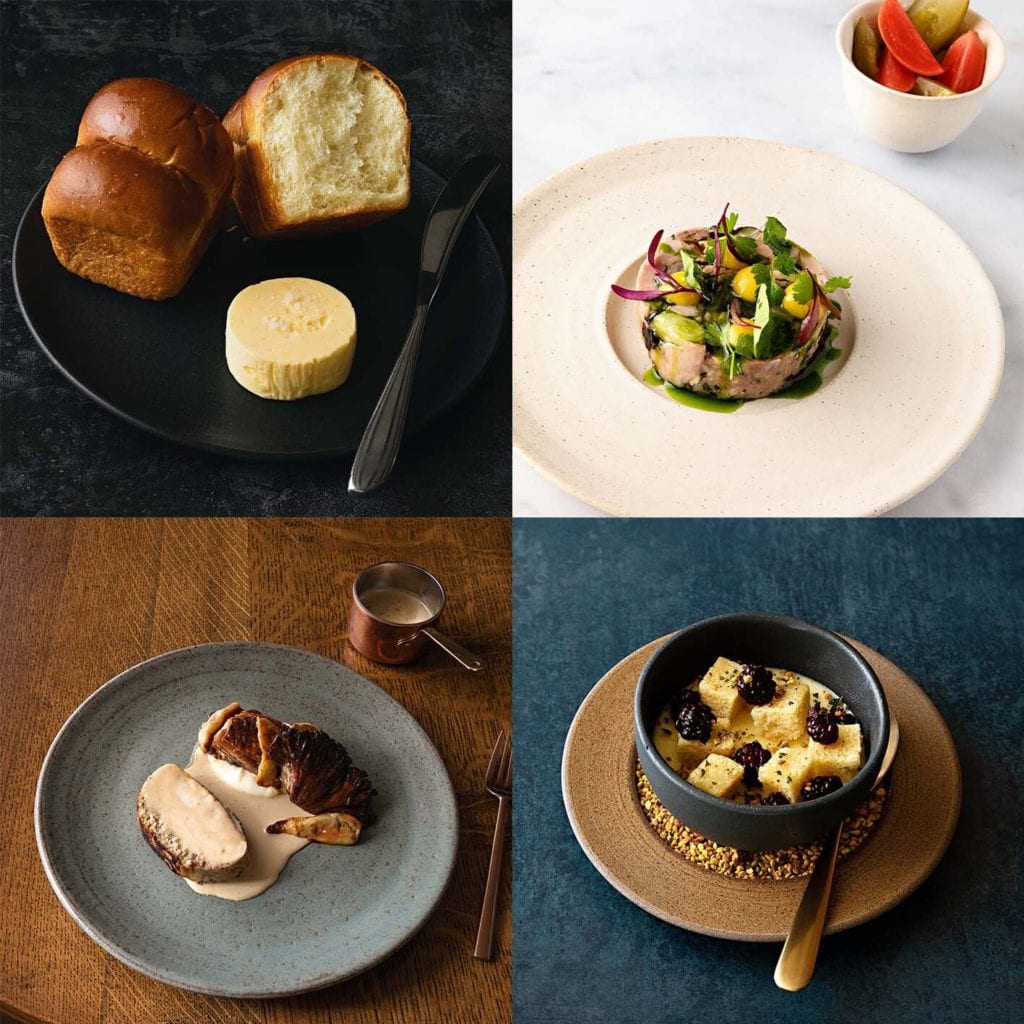 A trip to Simon Rogan's two Michelin-starred L'Enclume in the Lake District is something of a culinary pilgrimage – and now you can experience it at home. His menu changes weekly, but each begins with fresh bread and raw butter. The quality of the vegetables was abundantly evident in the dishes we tried, from a peppery kohlrabi velouté finished with stunning emerald wild garlic oil to some intensely flavoured beetroots and their puree. Custard to accompany a bread and butter pudding was infused with the herb woodruff to finish.
Hands-on time is minimal; it's best to prepare and devour each course before moving on to the next. Just make sure to read through the instructions in their entirety before beginning, in case anything needs to be removed from the fridge in advance. This kit isn't cheap, but the price reflects that of a set lunch menu at quality restaurant. Available from Simon Rogan at Home (£100 for two including delivery).
Paco Tapas at Home
delicious. rating: 9/10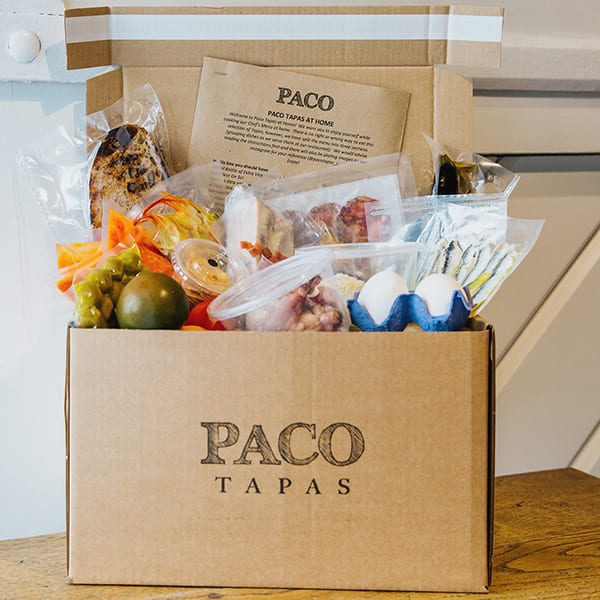 This Michelin-starred restaurant's at-home kit is particularly great for two people who are into their food. There are a lot of dishes – 13 to be exact – so, best to share out the prep between the two of you. Despite the extensive list of fabulous tapas plates, there's not TOO much timing and effort required. The box comes with mostly ready-prepped ingredients and a detailed leaflet which takes you through the cooking process from start to finish, sectioning off plates into groups of 3 or 4 to make the process easier. There will be a bit of getting up and down between 'courses', but it makes an evening out of it and, in typical Spanish style, will have you nonchalantly grazing over the dishes throughout the night. Flavour is not compromised where the dishes are packaged and shipped to your home and the instructions were clear enough to allow for the food to be cooked exactly as you'd expect in a restaurant. From delicate yet meaty Pulpo a la Gallega, to melt-in-your mouth Duroc ribs and a beautifully fresh Ensalada de Tomate, there's different textures and balance in every plate.
A little pricey – there's also a higher price option with pairing sherries – but, a really special treat that feels worlds apart from home-cooked food or takeaways. Available from Paco at Home (£100 for two including delivery).
Subscribe to our magazine
Subscribe to delicious. magazine for HALF PRICE
Subscribe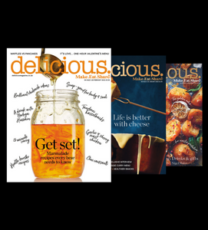 Join our newsletter
Packed with menu ideas, recipes, latest competitions and more...