The best restaurant delivery kits available nationwide right now
2020 has been an impossibly difficult year for thousands of Britain's restaurants. With mandatory closures, due to varying levels of lockdown restrictions, many restaurants have had to adapt – and quickly – to offer nationwide delivery.
The delicious. team went on a mission to discover the very best restaurant delivery kits. These kits allow you to cook some of their signature dishes at home – using supplied ingredients and clear instructions.
Restaurant-at-home kits are a great way to support your favourite restaurants and there's no denying how badly they need your help right now. Plus, they make an exciting change from the same-old same-old lockdown dinners. Now, who's hungry?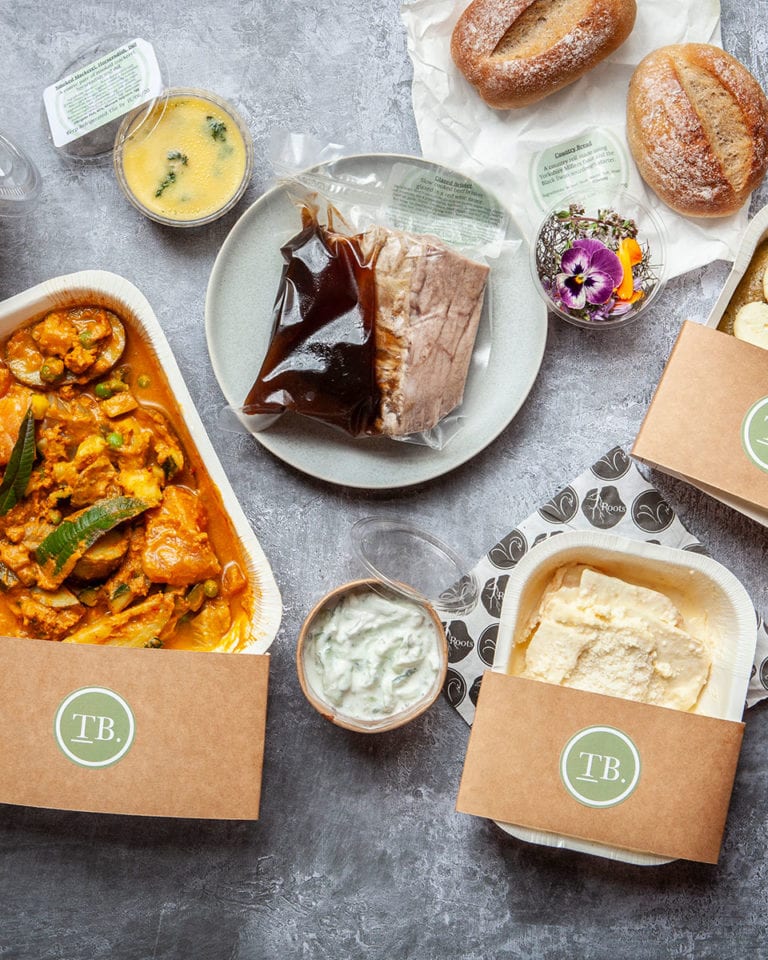 Mac & Wild Venimoo Burger Kit
delicious. rating: 9/10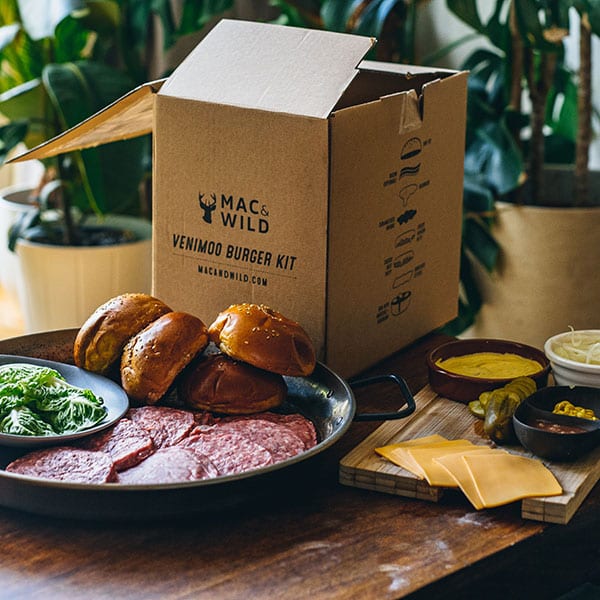 Their venison patties shot to fame as soon as this Scottish-themed restaurant first opened its doors, and now you can make them yourself at home in less than 15 minutes.
This slick kit, comes with absolutely everything you need – from the patties, to the buns right down to the condiments. Their instructions are intuitive, so even if you're not a regular cook, you'll find it easy enough to follow along. The results are seriously top-quality; one of the best burgers you'll try outside of a restaurant. Available in kits for two or four people, plus Christmas dinner kits are also now an option to order. Available from Restaurant Kits (£19.99 for two or £28 for four).
Santo Remedio "Remedy" Kits
delicious. rating: 8/10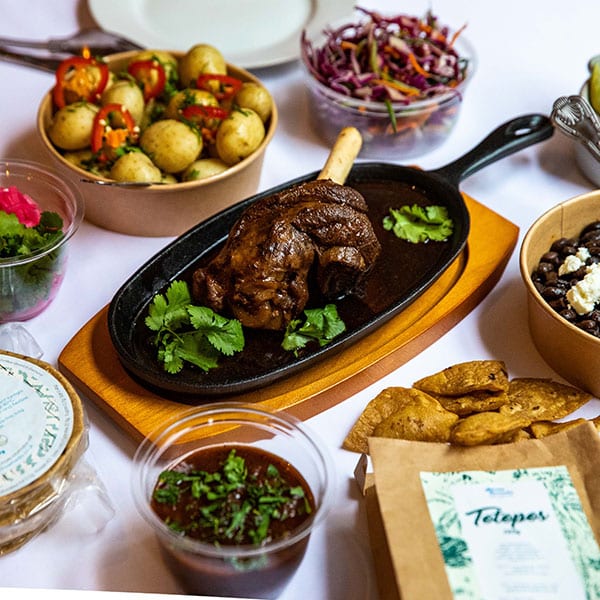 Mexican food isn't the easiest to tackle at home – often because you really do require key ingredients and spices to achieve perfect results. The "Remedy" kits from Santo Remedio do the hard prep for you, leaving you with only last minute assembly at home – with the use of handy instructions and a colour-coded key system. We tried their short-rib beef tacos – featuring fall-off-the-bone meat and a range of outstanding sides. A great kit to make a fun meal that's full of flair. Available from Santo Remedio (£45/50 for two)
Hoppers Cash & Kari
delicious. rating: 9/10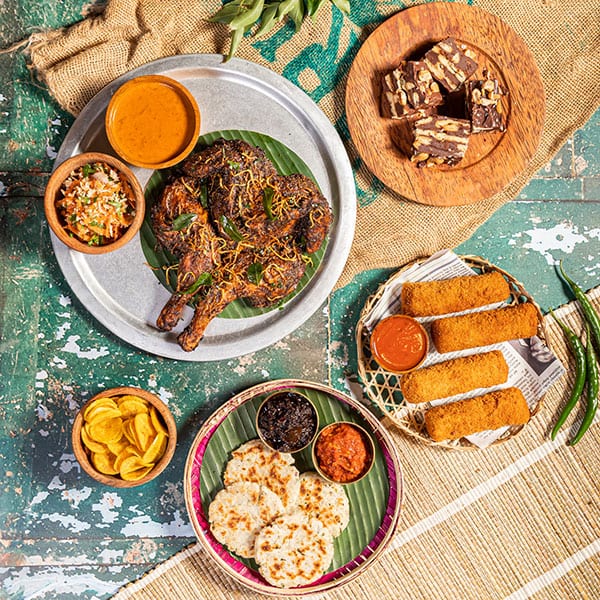 Featuring ready-to-cook dishes, cocktails and Hoppers' own brewed beers, this kit brings the whole dining-out experience to your home.
We tried the lamb kothu roti, kalupol chicken, pol roti, mutton rolls and carrot salad. All of this took only 45 minutes hands-on time to prepare, and came with easy-to-follow (and beautifully designed) instructions.
The flavours are fantastic. Mutton rolls are crisp and perfectly seasoned, the kalupol chicken is amazingly tender and subtly spiced, the kothu roti (a combination of lamb kari, chopped roti, vegetables and onions) is the ultimate stir-fry. There's even dessert included too (choco-coco biscuit pudding, we salute you).
For complete novices, the kit might prove a challenge, because there is a chicken to roast and deep or shallow frying to be done. But, if you've got intermediate skills in the kitchen and are a lover of South Asian cuisine, this is a must-try kit.
Available from Hoppers Cash & Kari (£30 for 2 or £40 including beers). Vegan and veggie kits also available. 
Padella Pasta Kits
delicious. rating: 8/10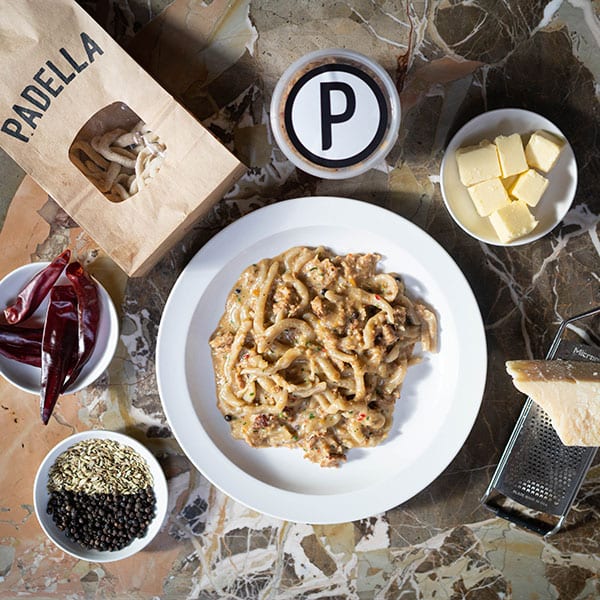 London's most iconic pasta outfit is now offering pasta-at-home kits and for £15 for two people, you really can't go wrong.  We tried the pici with sausage, fennel, chilli and peppercorn ragù – it was rich, velvety and so tasty and really felt like the same standard as we've come to know and love in the restaurant.
We also tried the tagliarini with slow-cooked Sardinian tomato sauce. This was rich and flavoursome from the intense slow cooking, very simple but seriously good. You could even add any extra flavours you want to this if you fancied giving it your own twist next time. Available from Padella (£14/15 for two)
Bar Douro's Foodkit Menu
delicious. rating: 9/10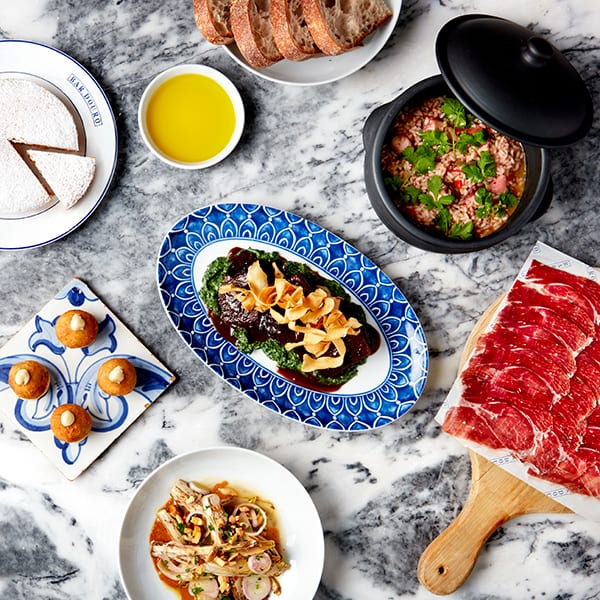 If you are a fan of Portuguese food, Bar Douro's Foodkit Menu will delight. The restaurant has created a four-course feast, and the delivery comes with a weighted booklet explaining every stage of the cooking. Entrées of charcuterie, bread and Bar Douro's own olive oil whet the appetite. The starter is smoked sausage croquettas, which need deep frying (oil is provided), and then dotting with a beautiful lemon mayonnaise. The main course needs to be heated up on the stove (with the braised beef cheek simply brought to the boil in its vacpac packaging).
A novice could manage it, and the pay-off is incredible. The beef cheeks are so meltingly tender, octopus rice so full of flavour, and the chicory salad is dressed in a sweet almond and orange sauce that will blow your socks off. The dessert, an almond cake with orange crème fraîche, just needs to be warmed through in an oven (and is very generous in size). Delivery is nationwide, and you can select a date at the checkout (delivery is usually on Fridays). Available at Restokit £60 for two.
Rosa's Thai Pad Thai Kit
delicious. rating: 8/10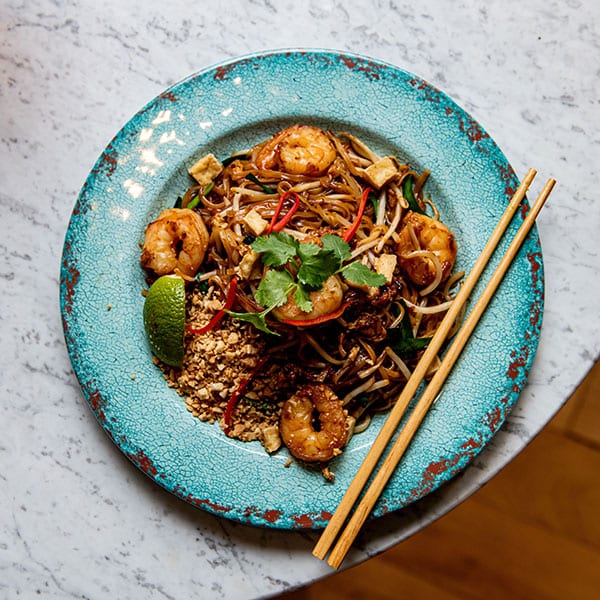 The Rosa's Thai offering makes classic Thai dishes achievable at home. It's a particularly good option if there isn't a Thai restaurant near where you live and your cravings are strong.
We tried the prawn pad Thai – which feeds four people. The pad Thai sauce is full of flavour and all that needs doing is soaking the noodles in hot water for 15 minutes and chopping the spring onions. It's then a case of heating everything through in a wok or frying pan.
For those that are a little nervous cooking, each meal kit contains a QR link with a step-by-step cooking video shot by Rosa's founder Saiphin. The resulting dish is so much better than take-out versions: it's hotter, fresher and comes with the self-satisfaction that you brought it all together. Delivery is on Fridays nationwide. Available at Great Food 2 U (£40 for four).
Homeslice "Take & Bake" Meal Kits
delicious. rating: 7.5/10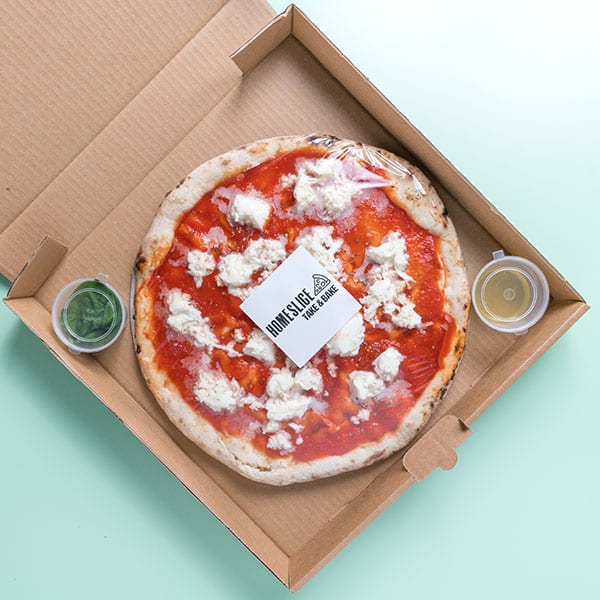 If you've been seriously pining for pizza in lockdown, get Homeslice's signature pillowy dough and toppings delivered for your own bake-at-home experience. And the best part is, two of their pizzas plus toppings come to less than twenty quid – what a steal!
We tried out two of their fresh pizzas – vegan mushroom and n'duja with broccoli. Each had its own topping to add after cooking – soy truffle plus pumpkin seeds for the mushroom, and chilli oil for the n'duja. The pizzas were super-crisp on cooking, much better than a cooked home-delivery option, with really fresh tasting ingredients. Available from Plateaway (£17.50-19 for two pizzas, depending on toppings).
Made In Oldstead Food Box by Tommy Banks
delicious. rating: 8/10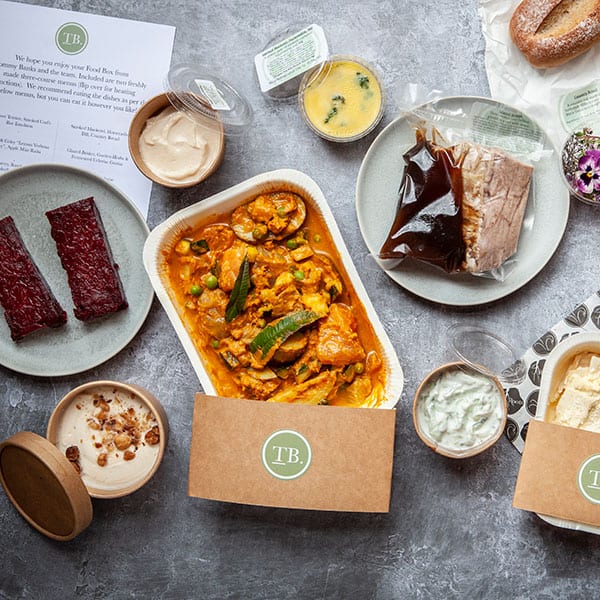 Don't fancy cooking? Have Michelin-starred chef Tommy Banks make your dinner for you instead! The kit includes an abundance of produce grown both on and around the family farm in Oldstead, Yorkshire, with info on its source.
Choose from his three different menus (including a veggie option) and you'll receive an incredible three-course menu for two delivered to your home. The packaging and food presentation are both beautiful for a start. Servings are on the generous side and your entire meal comes with very clear instructions.
Deliveries are available on Fridays. We recommend that you order in advance to avoid disappointment. Available from Tommy Banks' website (prices starting from £21 per head).
Patty & Bun Burger Kits
delicious. rating: 8/10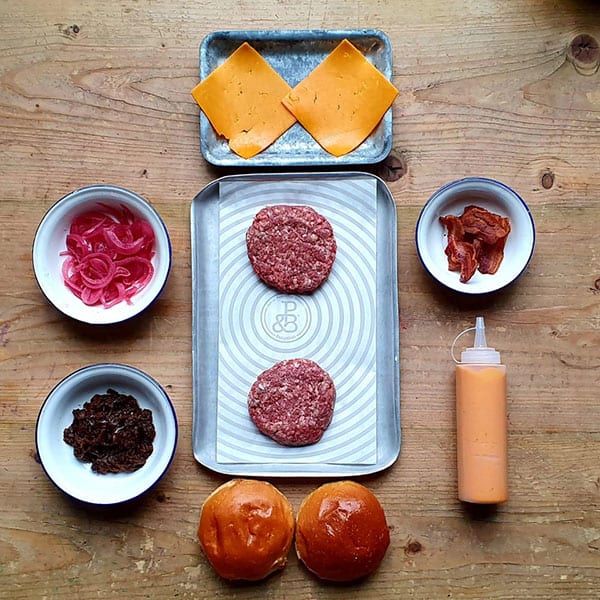 A maximum of 15 sweet minutes are all that's required to create the Patty & Bun burger at home. Inside these DIY Kits, you'll find an instruction leaflet that's a breeze to follow, and the results are sensational. Patties are juicy and tender; bacon is crispy and fatty (as it rightly should be in a burger), while Red Leicester cheese and added burger sauce create a winning combo.
The portion sizes are huge and the meat is top quality – just remember, you'll need to add your own chips. Available from Patty & Bun (£25 for two).
Steins at Home Recipe Boxes
delicious. rating: 10/10
Can you think of anyone you'd rather have prep dinner for you than Rick Stein
His 'Steins at Home' recipe boxes bring fresh Cornish seafood to your own kitchen. Inside each box, you'll find plenty of food – enough to serve two people – with a starter, main and dessert (and there'll likely be leftovers).
Choose from four boxes available on the website: The Hake Box, The Lobster Box, The Indonesian Curry Box and the Coq au Riesling Box. Dinner will take you about 20 minutes to cook and plate up, while well laid-out instructions will hold your hand throughout. We couldn't fault it in any way! Available from Rick Stein (£40-85 for two, depending on which menu you go for).  
Cinnamon Club Feast
delicious. rating: 8.5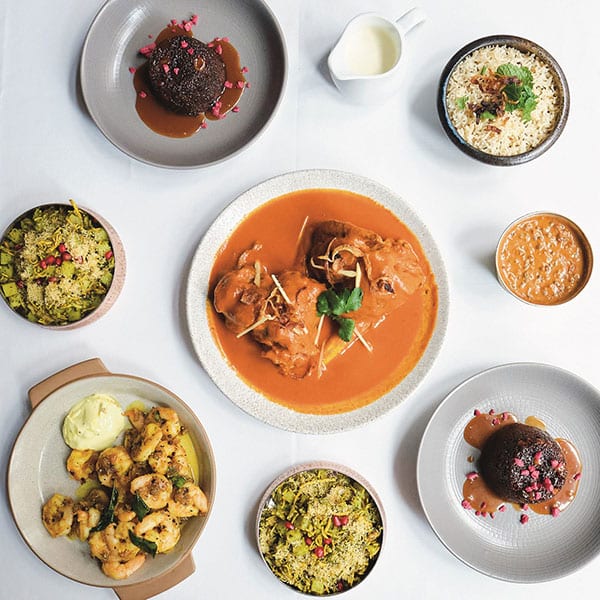 For a fine-dining experience in the comfort of your own home, check out Vivek Singh's Cinnamon Club Feast. This incredible four-course meal arrives in a number of sous-vide plastic bags and a few small containers/little bags of garnishes and sauces. In terms of instructions, each course comes colour-coded with a dot so that you can figure out what goes with what.
It'll take you about an hour (or slightly longer) to put together, which really isn't bad for such a high-quality at-home meal. One thing we loved about this kit was the thought about the amount of hob/oven space the average home kitchen would have, so preparing the meal was simple.
It was hard to pick a favourite course, but the slow-cooked black lentils might just have won top honours. The garam masala Christmas pudding a very lovely close second! Available from The Cinnamon Club (£50 per person).

Blacklock All In For Two Box
delicious. rating: 8/10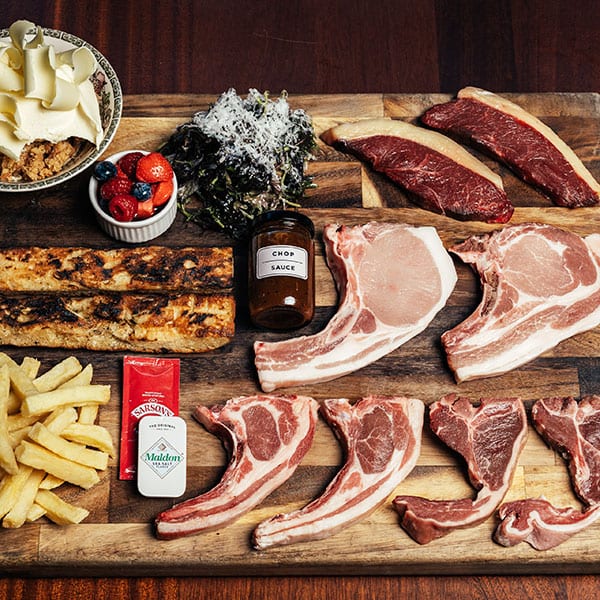 This sumptuous meat box includes an insane amount of meat: four lamb chops, two pork chops and two rump steaks. It's tremendous value for money – and you can look forward to several nights of Blacklock at home. The detailed notes that come with the box are a joy to read, and did a great job at setting the scene.
Look forward to their famous salt-and-vinegar dripping chips and their garlic-butter-soaked bread (serve the chops and gravy on top of this). Save room for Granny's Cheesecake with seasonal fruits: it's stick-to-your-ribs rich – but it tastes like a proper home-made pudding. Available from Blacklock (£45 for two people, but serves more).  
Café Murano (via dishpatch.co.uk)
delicious. rating: 9/10
Café Murano now deliver restaurant-quality meals to your own home. And the assembly for their DIY kits couldn't be any easier: each parcel of food has a number that relates to a one-sentence instruction in the menu booklet. You can look forward to a scrumptious four course meal, with standout courses including pumpkin-stuffed large cannelloni and pannacotta pudding with poached plums. Available from Dispatch (£70 for two).
Norma Feasting Boxes
delicious. rating: 9/10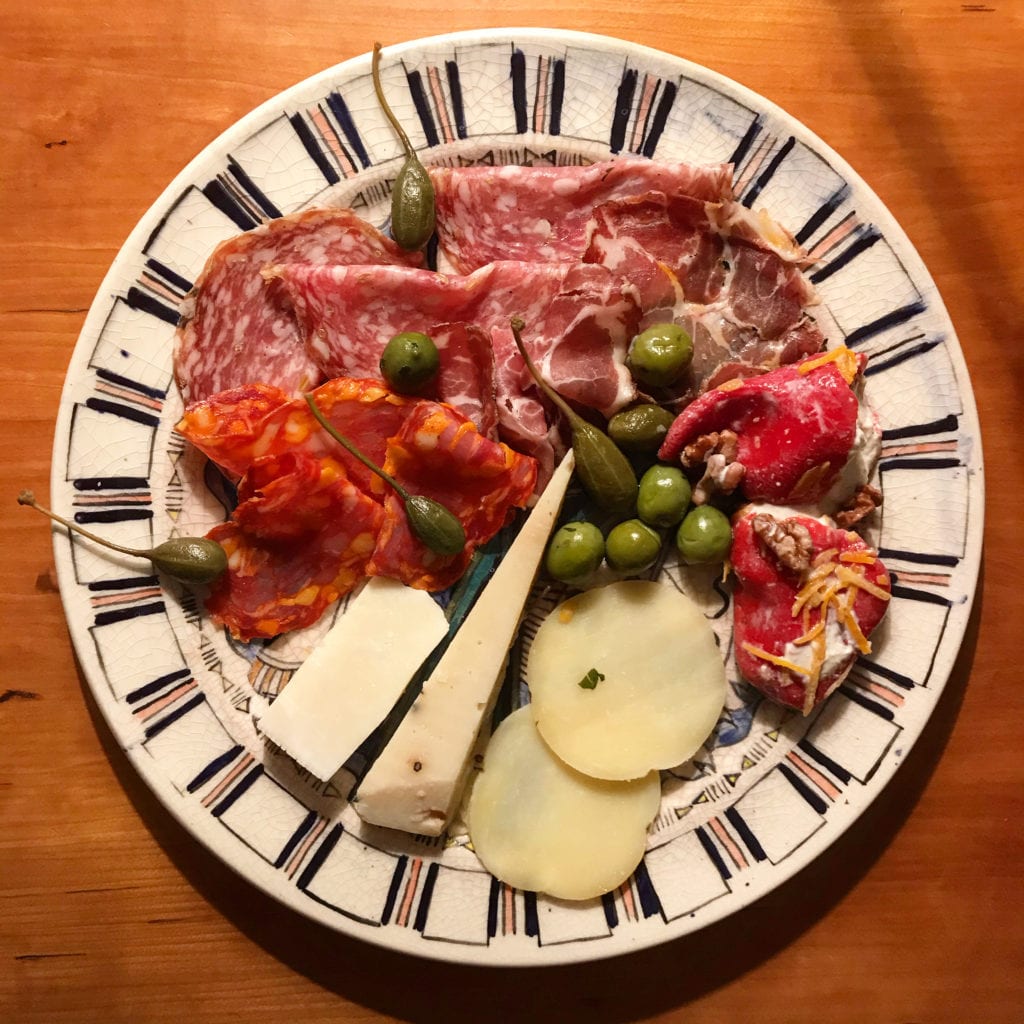 This is the kit to order when you're searching for a meal for a special occasion. It may seem pricey at first glance, but once you know your £100 includes not only four courses but also two cocktails, a bottle of red wine AND a signed copy of chef Ben Tish's latest cookbook, you realise this really is excellent value.
The charcuterie and cheese plate to start is so lavish in quantity that you feel immediately embraced in a spirit of generosity. For mains, you can expect a melt-in-the-mouth slow-cooked lamb which is complimented beautifully by the sweetness of roasted squash/pumpkin. Then there's pudding: a first-rate tiramisu laced with booze. Available from Norma (£100 for two).
Simon Rogan at Home Kit
delicious. rating: 8/10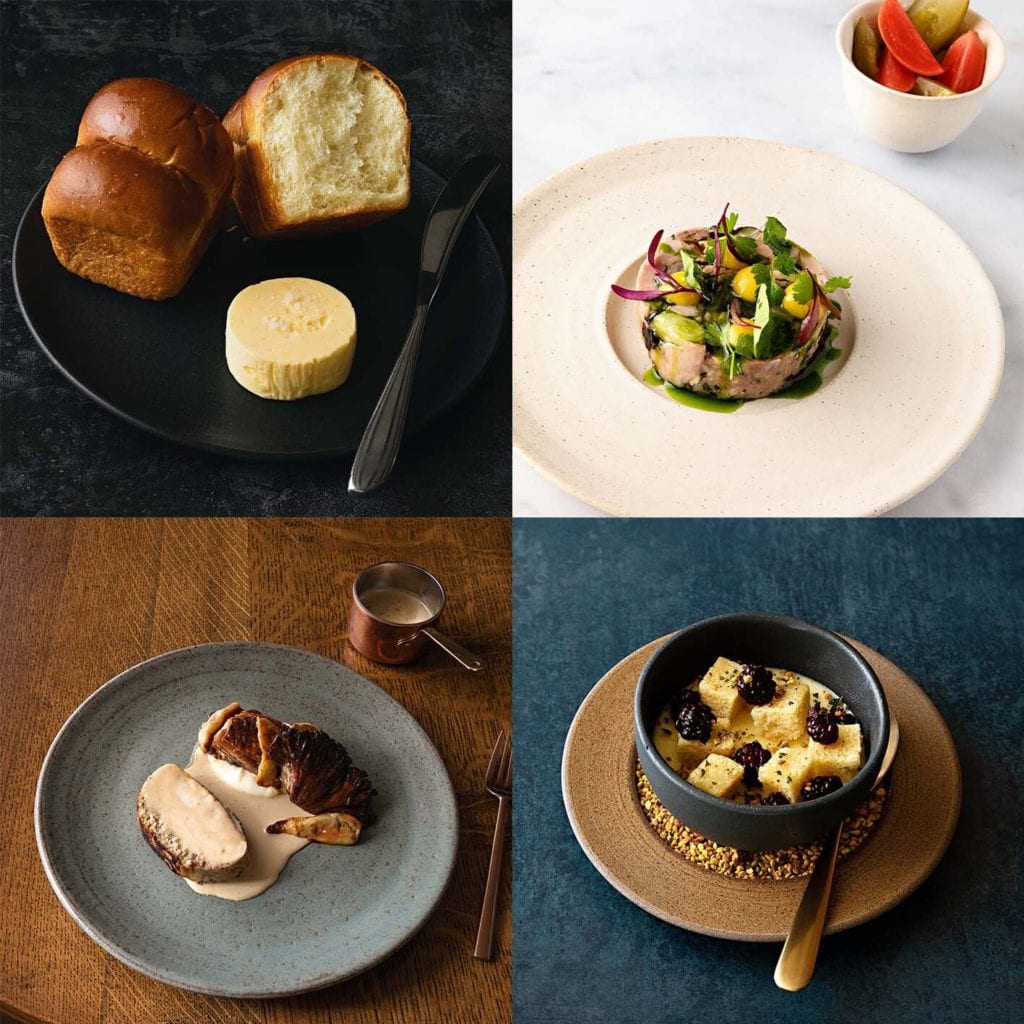 A trip to Simon Rogan's two Michelin-starred L'Enclume in the Lake District is something of a culinary pilgrimage – and now you can experience it at home. His menu changes weekly, but each begins with fresh bread and raw butter. The quality of the vegetables was abundantly evident in the dishes we tried, from a peppery kohlrabi velouté finished with stunning emerald wild garlic oil to some intensely flavoured beetroots and their puree. Custard to accompany a bread and butter pudding was infused with the herb woodruff to finish.
Hands-on time is minimal; it's best to prepare and devour each course before moving on to the next. Just make sure to read through the instructions in their entirety before beginning, in case anything needs to be removed from the fridge in advance. This kit isn't cheap, but the price reflects that of a set lunch menu at quality restaurant. Available from Simon Rogan at Home (£100 for two including delivery).