How to make the ultimate burger
Chef, butcher and food writer Richard Turner talks us through how to make the ultimate beef burger, step by step.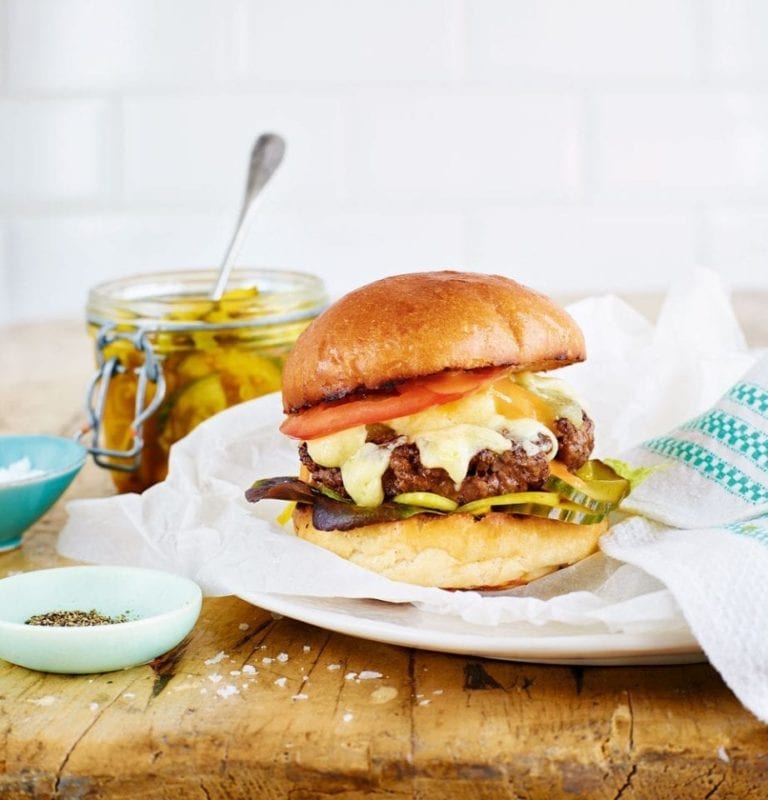 For the beef burgers, remove the bone marrow from the bone using a teaspoon, then finely dice it into 3mm cubes. Gently mix it through the mince, then roll into 2 equal-size balls and flatten. Chill in the fridge, covered (see Make Ahead).

For the burger sauce, put the egg yolk, mustard, lemon juice and vinegar in a bowl and whisk until combined. Slowly pour the oil into the egg mixture while whisking, so it thickens like a mayonnaise– doing this slowly prevents the sauce splitting (you could use a blender or food processor instead.) When the sauce has thickened, add the ketchup and season with salt and pepper to taste. Transfer to a sealed container and store in the fridge until ready to use.

Before cooking, bring the beef burgers up to room temperature (see Make Ahead). If not cooking on a barbecue, heat a large griddle pan over a high heat and brush with oil. Season the burgers generously with salt and pepper [F], then put them on the barbecue/griddle pan.

Cook for 5-10 minutes on each side until browned and cooked through [G].

Remove the burgers from the heat to rest for a few minutes while you prepare the remaining ingredients. Split the burger buns and toast the insides on the barbecue/griddle pan for 2 minutes or so until golden.
Layer the lettuce and pickles onto the buns [H], add the burger, cheese and burger sauce, then top with the tomato and the bun tops.
Richard's tips for success
Don't overwork the meat in the burger – gently mix in the diced bone marrow.
Season the outside of the burger, not the mixture, just before cooking. Salt starts curing it, as in sausage making.
Aim to undercook and over-rest the burger. I find that 10 minutes is the absolute minimum resting time.
This recipe is for a summer barbecue. In winter, lose the tomato and replace with onion marmalade: slice 2 onions and gently cook in a pan, stirring every now and then, until caramelised, sticky and brown. Think hot dog onions.
Click to see the full burger recipe and how to make your own burger pickles.
Subscribe to our magazine
Subscribe to delicious. magazine this month for a half price subscription
Subscribe