How to make the ultimate burger
From what makes the best burger bun to how to cook the patty, find out how to make the ultimate beef burgers with our step-by-step guide.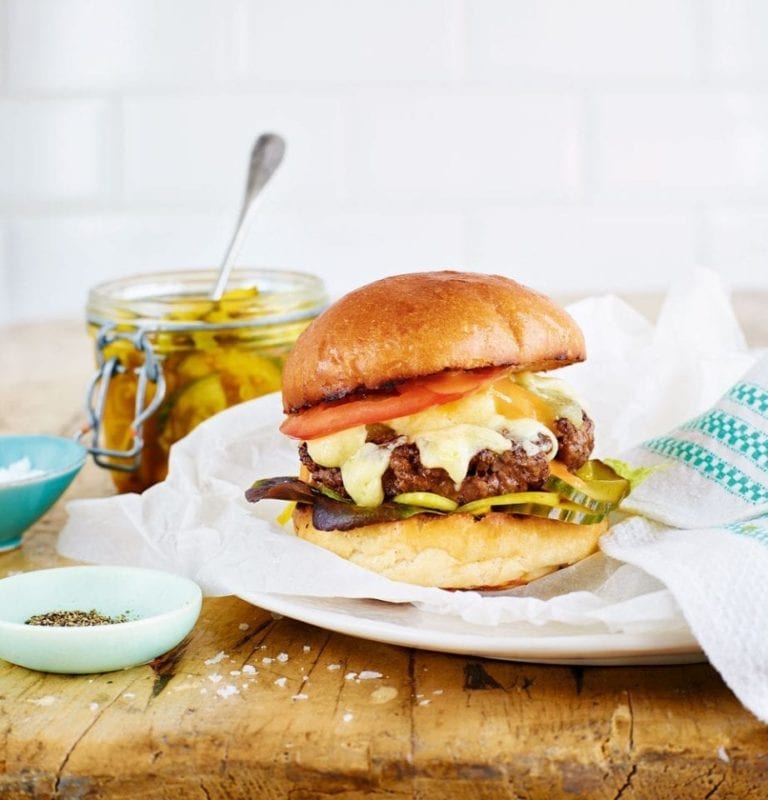 How to make fluffy burger buns
What makes the perfect burger bun is open to debate. Some prefer the slightly sweet, light-as-air properties of a brioche bun while others believe a classic, squashy, white bread bun is the only way to go. In our opinion, a burger bun should be light and fluffy, yet robust enough to withstand its hefty filling without falling apart.
There are lots of really good ready-made options on offer in supermarkets, but if you want to really pull the stops out then have a go at making your own with our fluffy burger bun recipe.
How to make the best beef burger patties
Don't overwork the meat in the burger or they will be dense and tough. We've used diced bone marrow in this recipe, too, for extra richness and a tender texture.
Season the outside of the burger, not the mixture, just before cooking. Salt starts curing (and cooking) it, as in sausage making.
Aim to undercook and over-rest the burger. You want it to rest for at least 10 minutes to allow the fat to drain off and the patties to reabsorb all their juices.
Alternative burger ideas…
Chicken: If you're after a classic burger patty that isn't made with red meat, then try swapping beef for chicken mince. However, well-seasoned, grilled chicken breasts work really well too such as in these marinated Mexican chicken burgers. For a crunchy twist, try coating chicken breasts in panko breadcrumbs and fry until golden.
Lamb: Lamb mince makes a delicious red meat alternative to beef and has a slightly sweeter flavour. Our favourite lamb burger recipe has got to be this harissa and feta version  – they're tangy, spicy and served with a punchy harissa mayo!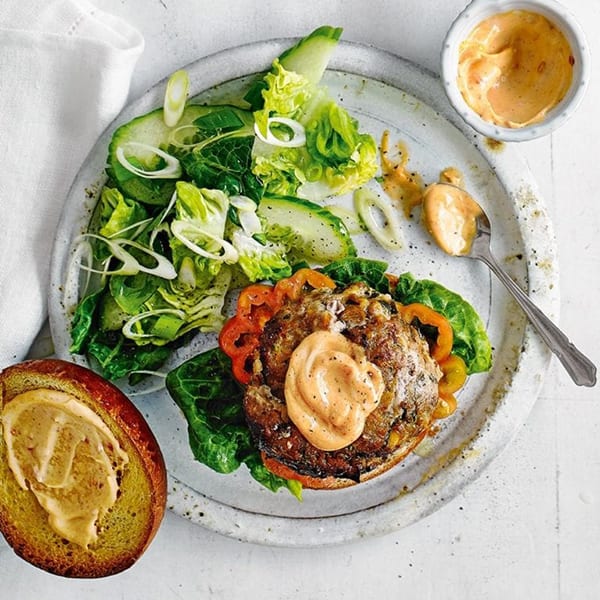 Turkey: Form patties out of turkey mince for a leaner option. Remember to season well and add other big flavours, such as chilli, garlic and onion, to amp up the flavour.
Vegetarian: Tinned beans and pulses make a popular base for veggie burgers due to their robust texture, hefty protein content and subtle flavour, which can be paired with a range of big flavours. We've got versions with black beans, lentils and chickpeas to get you started, plus a fantastic falafel burger (that happens to be vegan). Halloumi makes another popular vegetarian filling – just make sure to cut thick slices to ensure they don't fall apart – as do grilled portobello mushrooms for their 'meaty' texture.
Fillings and sauces
How you choose to customise your burger is completely up to you (that's part of the fun) but if you're in need of some inspiration, we've got some cracking combinations to get you started.
Salad: Tomato, lettuce and onions (cooked or raw) lay the foundations to any burger – you really do need them there!
Cheese: You can use any cheese you like really but in our opinion it's got to have the melt-factor. Cheddar works well here or try mozzarella or Monterey Jack if you prefer a milder flavour. For a punchier burger, stilton, goat's cheese, feta or brie are good options.
Sauces and condiments: Ketchup and mayo are the most popular of burger sauces and you certainly won't go wrong with these two. Other brilliant pairings include mustard, pesto, caramelised onion chutney, Sriracha and aioli.
How to make the ultimate beef burgers

You will need…
400g top quality British beef mince (10 per cent fat)
40g bone marrow (from a 15cm bone, halved lengthways; from butchers, Ocado and Waitrose)
2 burger buns
Your choice of fillings such as lettuce, cheddar cheese and tomatoes
For the beef burgers, remove the bone marrow from the bone using a teaspoon, then finely dice it into 3mm cubes. Gently mix it through the mince, then roll into 2 equal-size balls and flatten. Chill in the fridge, covered (see Make Ahead).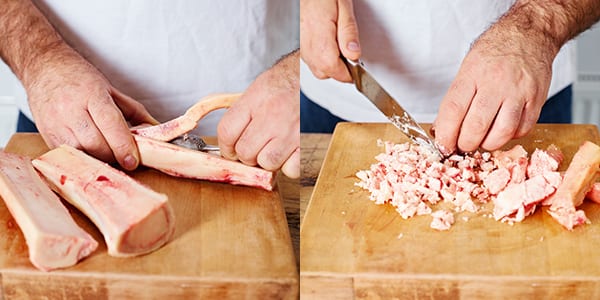 Before cooking, bring the beef burgers up to room temperature (see Make Ahead). If not cooking on a barbecue, heat a large griddle pan over a high heat and brush with oil. Season the burgers generously with salt and pepper, then put them on the barbecue/griddle pan.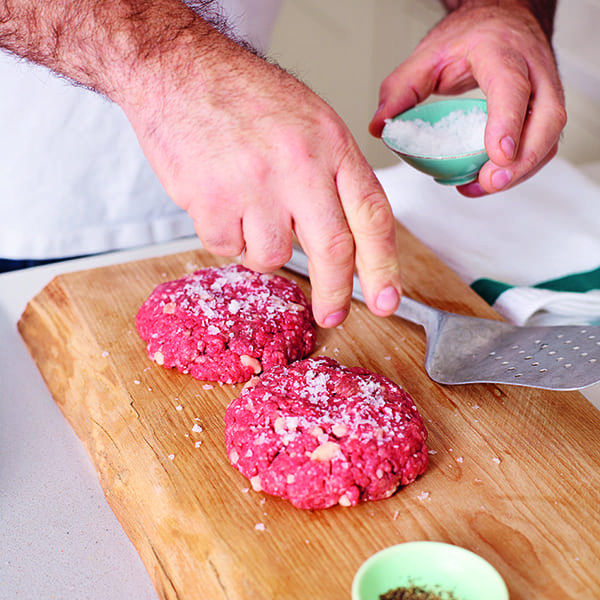 Cook for 5-10 minutes on each side until browned and cooked through.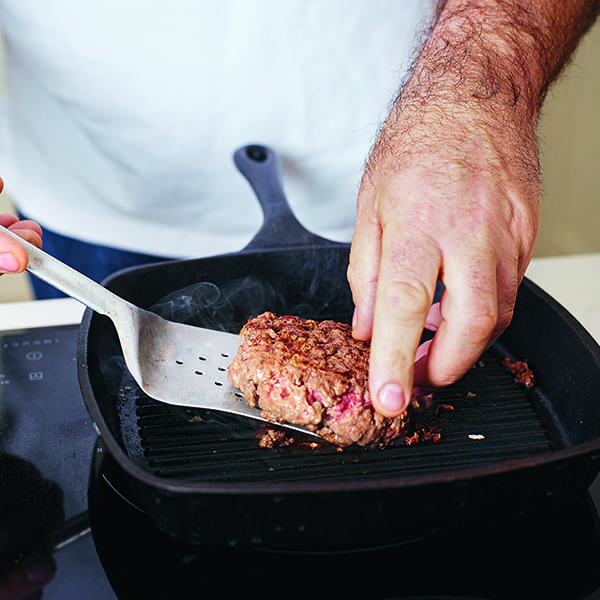 Remove the burgers from the heat to rest for a few minutes while you prepare the remaining ingredients.
Split the burger buns and toast the insides on the barbecue/griddle pan for 2 minutes or so until golden. Layer your choice of fillings onto the buns, top with the burger, cheese and sauce (if using), then lay the other bun half on top.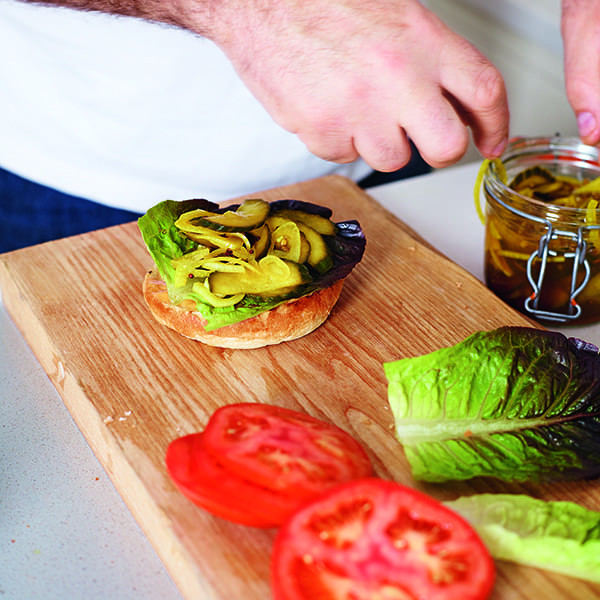 Subscribe to our magazine
Subscribe to delicious. magazine for HALF PRICE
Subscribe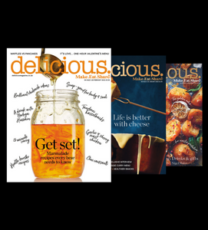 Join our newsletter
Packed with menu ideas, recipes, latest competitions and more...