10 reasons to eat wild mushrooms now
Thought wild mushrooms were purely an autumnal affair? Think again. Like a prelude to the blockbuster film, or a really good support act at a gig, spring mushrooms are popping up in the UK now – signalling a new season and many umami-packed dishes to come.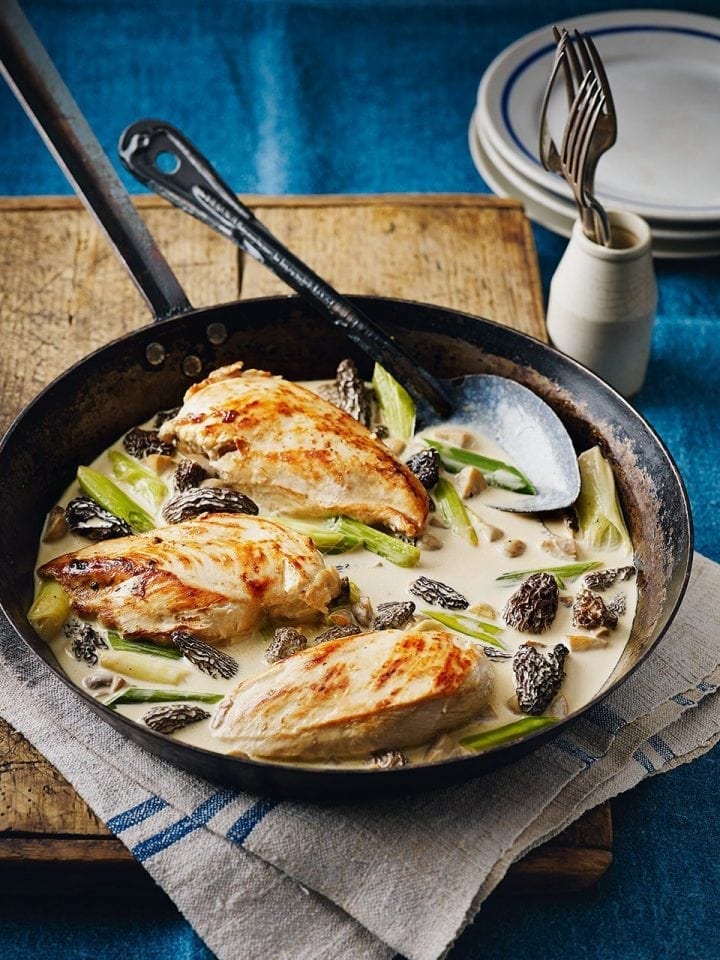 The main spring mushroom stars are morels (pictured here, bottom right) St George's (bottom left) and mousserons (at the top).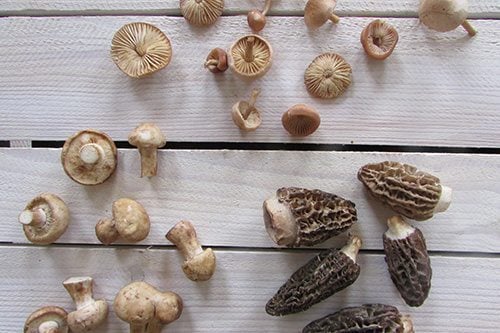 Here are 10 reason why you should be eating them and, of course, some recipes for you to try too.
A taste of spring
Appearing on the forest floors and grassy pathways sometimes as early as the beginning of March, spring wild mushrooms are ready with the first spears of asparagus or glossy leaves of wild garlic. Seasonal pairings are the best way to experience these mushrooms – with a dry honeycomb texture, meaty black morels are a fine match for asparagus in this recipe.


Good for the soul
Cleaning and chopping mushrooms can be satisfying and therapeutic. Spring mushrooms have some of the most interesting textures of the fungi collection making them great fun to prepare… as long as you're not catering for 40.
Mousserons, also known as fairy ring mushrooms, are tiny little things. They are around the size of your thumbnail and have very thin, short stems and caps with wide gills. Harbouring dirt easily – they need a good clean before being cooked – usually whole.This is simple enough: wash them gently in a warm water bath, dry with paper cloth, then, use a small, clean paintbrush, to sweep out any debris. You can repeat this process if they need it.
Morels are hollow, so also need a light water bath and some extra work with the paintbrush. St George's mushrooms, named because the official start to their season is St George's Day, are like tightly-formed and slightly elongated versions of the common button mushroom. They are great sliced and take no time at all to wipe clean with a damp cloth. Great with garlic and lemon, try them in this spaghetti recipe.



Hey, good looking
Time to be shallow – we eat with our eyes and spring mushrooms are very pretty. The caramel-brown mousseron are like little flowers on a plate, St George's are cute and pink-gilled, while strikingly intricate morels, see what we mean in Raymond Blanc's chicken and morel dish, all add up to a feast for the senses.


Nutrients galore
Forget chia and spirulina; mushrooms are the real powerhouses when it comes to nutrition. Morels contain both vitamins B and D, along with doses of potassium and niacin. Also containing vitamin D, St George's mushrooms are known to have anti-bacterial qualities, as do mousserons, which contain amino acids, iron, folic acid and protein. Definitely not just pretty faces.
So exclusive, darling
The wild mushroom club is exclusive and elusive – you've got to be in the know and be prepared to pay more than your everyday supermarket button mushrooms. Morels grow from March until early June, St George's mushrooms sometimes only grow for two weeks in the UK (with European St George's bringing it to about a month) and mousserons disappear at the end of spring – although they do return for a second season at the end of summer.
Unlike other mushrooms or fresh produce, these three wild mushrooms cannot be forced to grow on demand. The time is quite literally NOW. Go the whole hog and put all three of them in this spring mushroom risotto recipe.

Easy to cook
The best way to cook wild mushrooms is simply, so you can experience their individual tastes and textures. When you buy wild mushrooms for the first time, the best thing to do is clean, slice, drizzle with a light oil and salt and grill for 5 minutes, turning over once. You can then add black pepper, fresh herbs, and maybe some lemon juice and serve with bread or toast.
Wild, with benefits
There are teams of commercial foragers with stacks of experience making sure that the mushrooms you buy, whether it be Tesco's Finest Wild Selection, from a greengrocer such as Turnips at Borough Market or online at a website like Fine Food Specialist, are in fact the right mushrooms and safe to eat.
Environment pleasers
Most mushrooms are friends of the environment – in fact, if they didn't exist, we'd have problems the size of landfills instead of forests. St George's and morel mushrooms work along with tree and plant roots, sharing nutrients and carbohydrates under the soil. Compost-enabling mousserons are a different type of mushroom that decompose dead leaves and wood.
They can last
Morels are great dried and have a very intense flavour when rehydrated (just soak in boiling water for 10 minutes – the leftovers are an instant mushroom stock, great for a soup or sauce for steak). You can also pickle mushrooms or preserve them in oil.


It's only the beginning
Spring mushrooms are a sign that it's just the start of the proper wild mushroom season which goes into full swing towards the end of summer. A great starter, they remind us that there's a lot more where that came from to come.
Subscribe to our magazine
Food lovers, treat yourself this Christmas... Enjoy 12 months of magazines for £29.99 – just £2.50 an issue.
Subscribe
Unleash your inner chef
Looking for inspiration? Receive the latest recipes with our newsletter