Where to eat in Los Angeles, America
Wandering chef Rosie French jets to Los Angeles in search of sun, fun and fabulous food – food that doesn't require fabulous wealth to enjoy.
Follow in her footsteps, from Venice Beach to Sunset Boulevard, and find out the best places to eat in Los Angeles.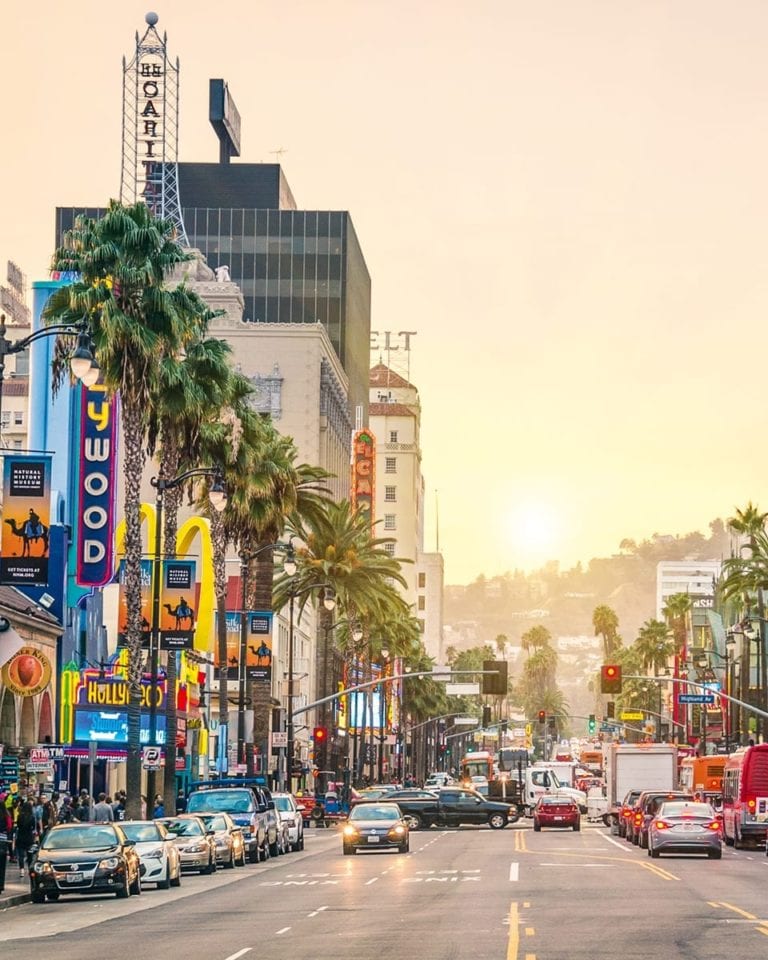 The home of Hollywood, the Oscars and some of the richest neighbourhoods in the world, Los Angeles probably isn't the first place you think of visiting on a budget. So when I found myself heading there to visit a friend I wasn't sure how I'd fill my time – or my stomach – without maxing out my credit card. But with tips from LA locals and fellow chefs I managed to see and eat the best of the city without a new overdraft.
I woke up on a friend's sofa in the funky beach neighbourhood of Venice. My post-flight head was fuzzy and I had a craving: it had to be bacon and eggs for breakfast – and fast. Luckily, there was a branch of the much-hyped Egg Slut nearby on Pacific Avenue. My British cynicism came to the fore when I saw the queue at the door. How good could an egg and bacon roll really be? Seriously?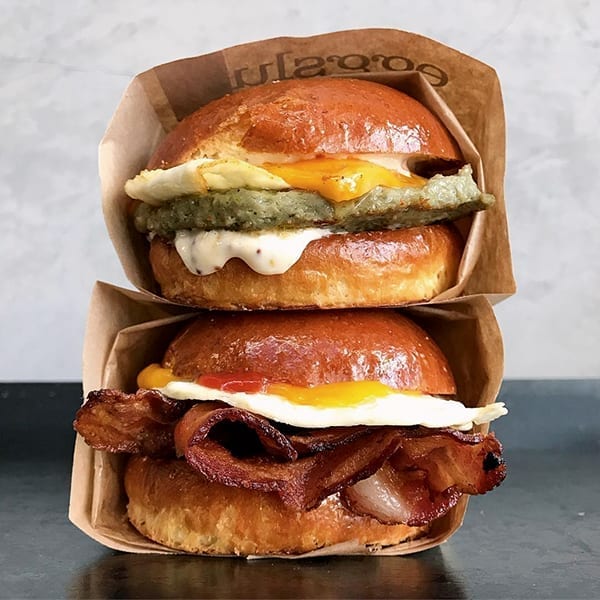 I was silenced as soon as I bit into what can only be described as a breakfast miracle. The caramelised bacon, oozing egg and soft, perfectly toasted brioche bun – everything tasted like the best possible version of itself, and all for only $6. I never thought Britain would be beaten at the egg and bacon butty but LA won this one.
Wandering around Venice it didn't take long to realise I wouldn't be able to afford to eat in at many places. I treated myself to a fantastic baklava croissant at Gjusta bakery on Sunset Avenue but beat a hasty retreat when I saw the price of the sandwiches ($16). In Venice, most restaurants are geared towards the tourists who pack the famous Boardwalk, or the wealthy millennials who think nothing of dropping $50 on brunch in the cafés on and around the affluent Abbott Kinney Boulevard – 'the coolest block in America' (GQ). But there are other ways to eat…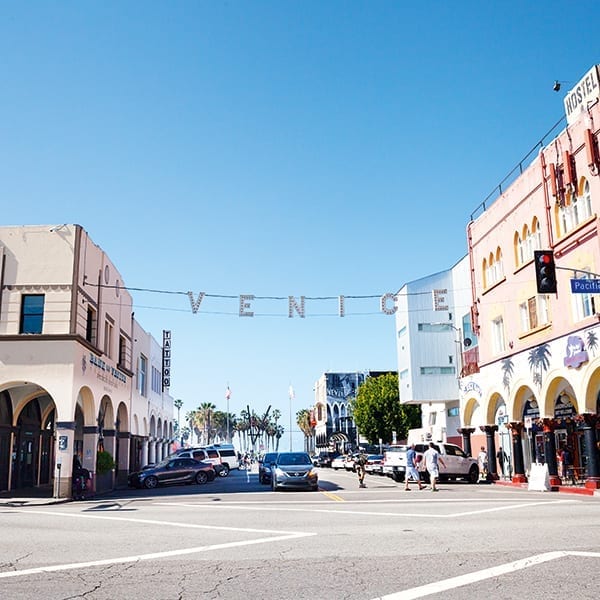 LA's food truck scene
While exploring the neighbourhood and staring longingly into windows at menus I couldn't afford, I found a taco truck called La Isla Bonita, parked up on the corner of 4th and Rose. I joined the queue of regulars reeling off orders they'd clearly made many times before.
But what should I get?
The guy in front of me asked for the ceviche tostada so I did the same – a lightly toasted soft corn taco with crab, chopped shrimp, octopus, avocado and lime. You're encouraged to tear off your own coriander and load up on various salsas… A refreshing, surprisingly filling three-mouthful snack – and, at only $1.25, you might be able to afford a second one.
Having run a street food business in the UK since 2009, I was excited to track down more of LA's celebrated food trucks. You need to keep an eye on their Twitter feeds and individual websites to find out where each truck is heading. Or, a good place to sample a few in one hit is Smorgasburg, held on Sundays (10am-4pm) at the Alameda Produce Market in downtown LA.
I was in street food heaven here and with just $25 I managed to fill up on fantastic pork and kimchi dumplings from Workaholic, Peruvian tacos from Little Llama, the best oyster I've ever downed from The Jolly Oyster and a killer cookie crumble Filipino brioche – a cross between a doughnut and a canelle – from The Ensaymada Project.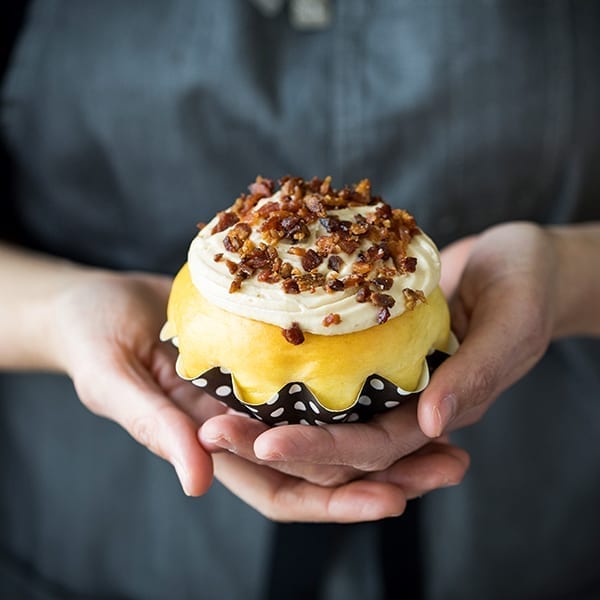 I scratched my street-food itch in one go without blowing my budget. For me, grazing for a few hours at Smorgasburg definitely beats a Sunday roast.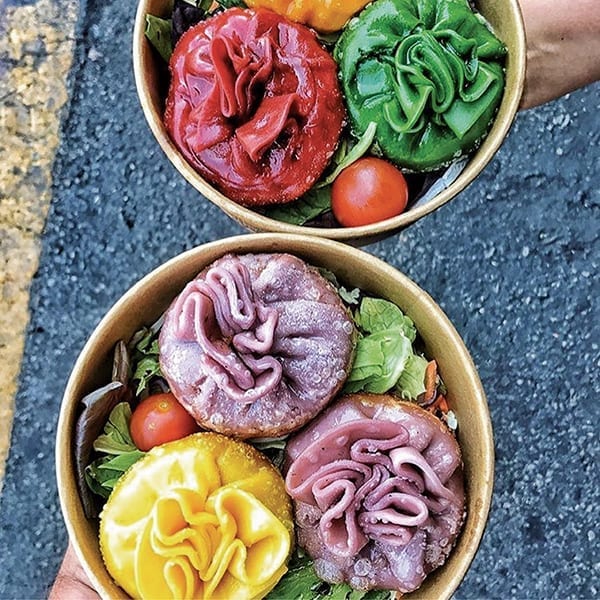 Sit-down dinner
I couldn't afford many of the city's hottest restaurants, but I was keen to hunt out an affordable hidden gem and eat with a knife and fork at a table. Following a tip from my host's housemate I sought out Baroo, a low-key but much-recommended Korean-inspired café with a handful of communal tables and bar seats, tucked away in a nondescript mall on Santa Monica Boulevard.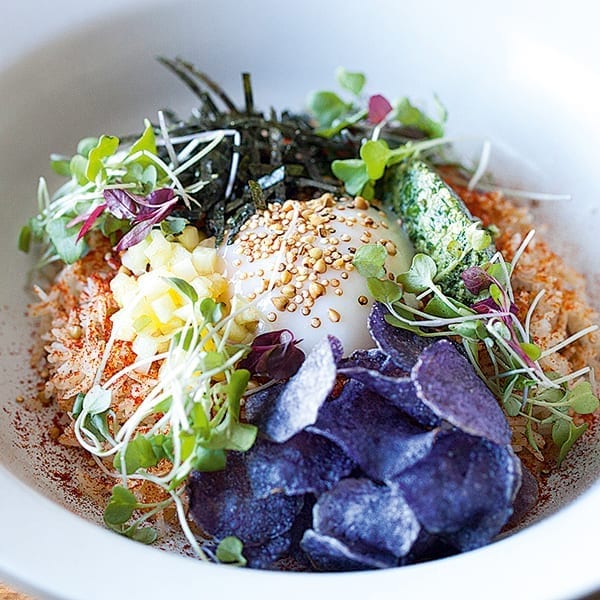 Two of us ordered a selection of dishes from the blackboard, ranging from $2 to $15. Considering it costs $15 for a starter in many places this menu was inviting. We shared a table full of beautiful dishes including pickled watermelon rind and passion fruit, kimchi fried rice with bacon and sous-vide egg, shrimp and kimchi toasts and tagliatelle with oxtail ragù, gochujang gremolata and puffed beef tendons. Everything was unique, generous and great-tasting… And the bill? About $20 each.
Time for drinkies
Sunset is a special time in LA. At around 7pm the sky goes through every spectrum of pink and orange and thoughts turn from food to drink. Planning sundowners became a serious business and I'd swot up on happy hour deals in the area I was visiting that day.
Top discoveries: $5 old-fashioneds at the Thirsty Crow; happy hour weekdays 5-8pm) in Silver Lake; reasonably priced jugs of beer at The Venice Ale House  in the perfect spot for people-watching; and a gorgeous half-price earl grey martini at The Library Bar; happy hour weekdays 3-6pm) in downtown LA.
Don't forget to budget for the $1 per drink tip for the bar staff (this can all add up). I stocked up on craft beers, limes and a bottle of tequila so I could save money by making a round of margaritas wherever I was staying – always a welcome thank you to my hosts (and my wallet).
Rosie French is a freelance food stylist, photographer and writer. She owns street food and events business French & Grace. Look out for them at festivals around the UK.
Subscribe to our magazine
Subscribe to delicious. magazine for HALF PRICE
Subscribe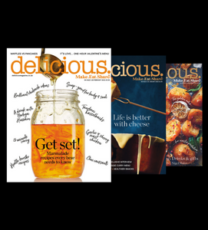 Join our newsletter
Packed with menu ideas, recipes, latest competitions and more...