Cookbook road test: Roasting Tray Magic
The clincher in choosing this book for our road test this month was the subtitle: 'one tin, one meal, no fuss!'
After the non-stop madness of Christmas cooking, partying, feasting and washing-up, the appeal of a meal that pretty much cooks itself – and that doesn't create a mountain of dirty dishes – is nothing short of monumental.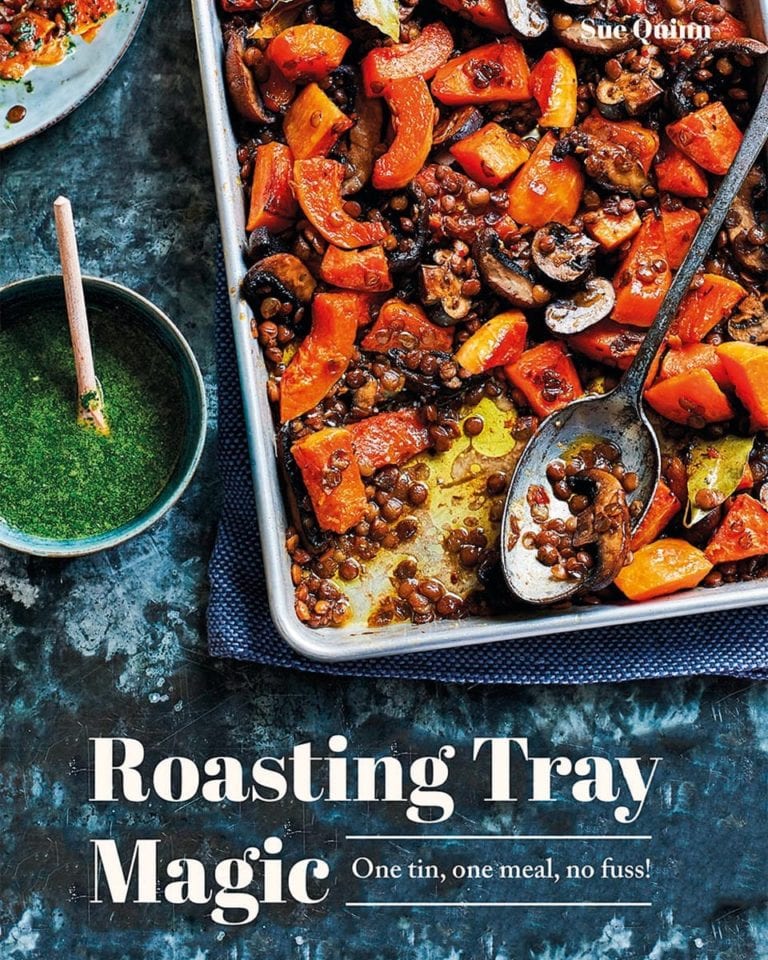 Author Sue Quinn writes regularly for delicious. – her 'sane view' features consistently prick the bubble of hot-air-hyped food fads in favour of proper research from reliable sources – so I was fairly certain the book would deliver practical recipes for great-tasting dishes.
The 'magic' of the title alludes to the alchemy that happens when time and the heat of the oven combine to create a dish that's far more tasty than the simple sum of its ingredients. Recipe-wise, there are, predictably, plenty of one-pan recipes for roast beef, pork and chicken but the book goes beyond these obvious offerings. Breakfast, brunch, snacks and sweet things (cakes, bakes and puddings), all put together in a standard 30 x 20 x 5cm deep roasting tin, get a look-in too.
Quality of the recipes
I tried my hand at two dishes that I would normally make on the hob: a risotto, this one made with smoked mackerel, peas and lemon; and my regular go-to eggy supper, shakshuka.
I'm one of those weird types who actually find standing over a bubbling pot of rice and thinking about nothing in particular in a Zen-like state quite relaxing, but I came on board with Delia's oven-baked mushroom risotto back in the day so I thought I'd re-live the Nineties and give Sue's mackerel risotto a go.
The recipe was straightforward and pretty quick – it cooked in less than half an hour (the only real prep was grating an onion). Made with smoked paprika, sherry, fresh dill and lashings of lemon juice it had lots of my favourite flavours – but without the salty hit of parmesan (the recipe calls for crème fraîche as the dairy finisher of choice), and with just 50ml sherry, it lacked the winey, umami depth I look for in the ideal risotto. And even though smoked mackerel can be salty I thought the dish needed more than the ½ tsp salt specified.
Shakshuka, my next recipe of choice, is a baked egg dish that can trace its roots back to North Africa. It's become popular in Israel and in trendy restaurants all around the globe.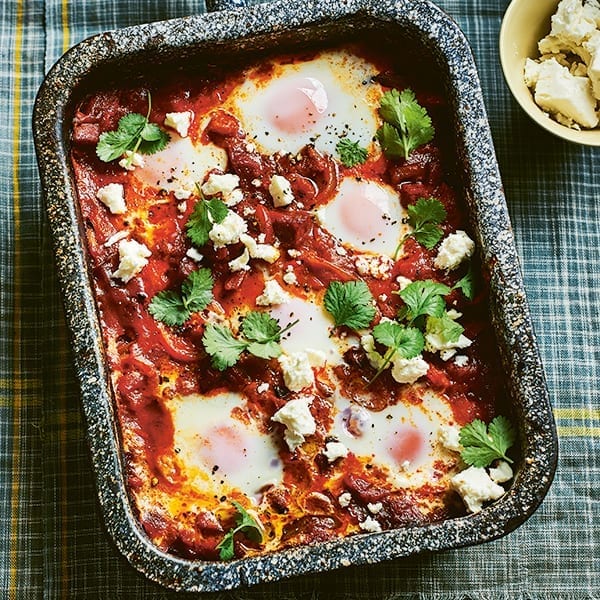 Sue's version is certainly not Kosher, nor halal – it's made with chorizo, which is fair enough as we're not sticklers for authenticity at delicious. as long as something tastes good. To me, chorizo's a bit like catnip, and the flavour of this nicely spiced dish (it's made with rose harissa for extra kick and finished with salty feta) was anything but underpowered. The flavours sang, the recipe was short and it was easy to put together. 
Photography and design
Faith Mason's lovely photographs and the tasteful styling reflect the pared-back simplicity of the book's tone. The photos give a clear indication of what the finished dish should look like.
Who's the book suitable for?
Just about everyone. However ambitious a cook you are, sometimes we all feel the need to shove a few well-chosen ingredients in a roasting tin, sling it in the oven, sit back and let heat and time do their thing.
And cooks without decades of experience behind them will be pretty pleased with themselves when they can turn out a great-tasting meal with minimal effort (and precious little washing-up). This is a practical, useful book – one that you'll dip into again and again – that won't sit on the shelf waiting to be used 'some day' when you have more time.
Roasting Tray Magic by Sue Quinn (£14.99; Quadrille)
Subscribe to our magazine
Subscribe to delicious. magazine for HALF PRICE
Subscribe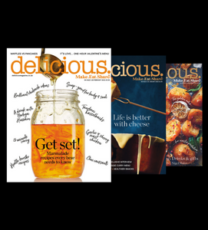 Join our newsletter
Packed with menu ideas, recipes, latest competitions and more...