Cookbook road test: Deliciously Ella
Well-known food blogger Ella Woodward has legions of online fans of her healthy, vegetarian recipe blog, named Deliciously Ella. I discovered her last year and have made a few of her ridiculously healthy recipes, my favourites including her quinoa burgers and sweet potato, lentil and coconut curry – which I've made time and time again.
Lately, her PR team have been working up a storm; Ella is everywhere – on the radio, on TV, in magazines and she even did a stint of modelling (she's a real beauty) for Espirit. It's hard to go a day without hearing her name. And the reason? Her first cookbook has just been published, also called Deliciously Ella.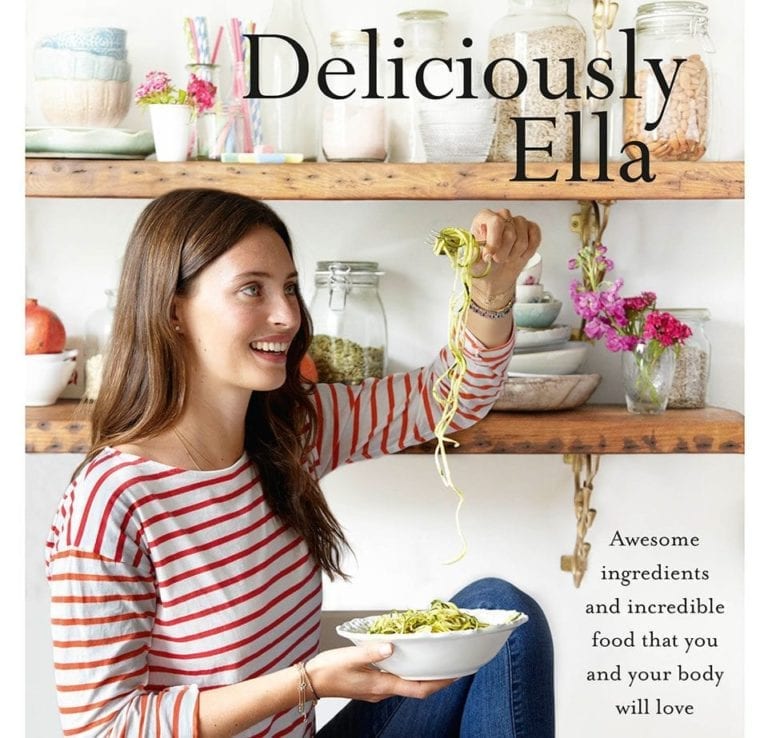 Her story goes like this: diagnosed with a rare illness in 2011 aged just 19, Ella decided to take up a new plant-based diet after conventional medicine didn't work. She gave up meat, dairy, sugar, gluten, anything processed and all chemicals and additives. So that's how the blog started. She already has lots of recipes on her blog and more on her app so the next step, of course, was her own book.
It's filled with holier-than-thou recipes made with ingredients such as buckwheat, tamari, brown rice milk and spirulina – it's definitely not a book to open when all you really want is wholesome meaty comfort food but if you're feeling virtuous this is the place to go.
There's a pizza made with a quinoa crust, butternut squash risotto using brown rice, a noodle recipe of spiralised courgettes and even a Nutella-style spread using hazelnuts, maple syrup and cacao powder.
I made the rather oddly titled warm winter salad, (odd because the main ingredient is the most summery of vegetables – aubergine).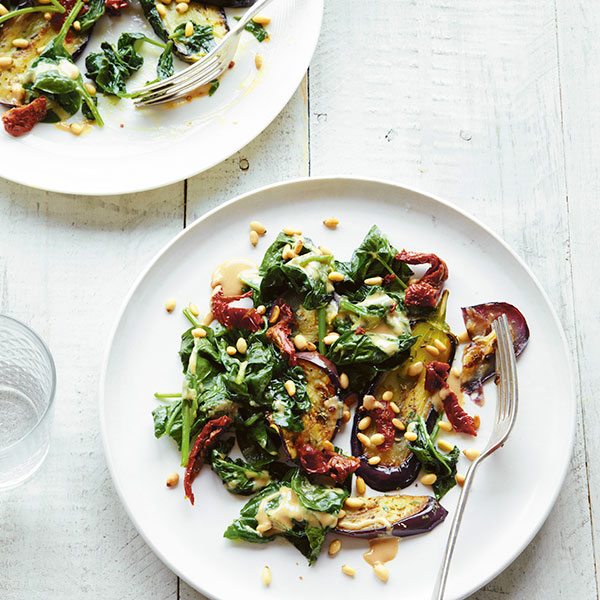 So I winter-fied the recipe and made it with a lovely seasonal squash cut into wedges instead.
Here's the recipe:
Serves 4
4 small aubergines (approx 600g)
olive oil
1 tablespoon dried mixed herbs (Ella suggests herbes de Provence)
500g spinach
4 tablespoons tahini
Juice of 1 lime
360g sun-dried tomatoes
100g pine nuts
Salt and pepper
1. Preheat the oven to 200°C (fan 180°C). Slice the aubergines into thin strips about 7.5mm thick. Place the strips on a baking tray with a generous amount of olive oil, the dried herbs, salt and pepper. Bake for 20 minutes.
2. About 5 minutes before the aubergines finish, place the spinach into a large frying pan with a little olive oil, salt and pepper and allow it to wilt. Once it's wilted, add the tahini, lime juice and sun-dried tomatoes.
3. In a separate pan, toast the pine nuts for a minute or two, being sure not to let them burn – they don't need any oil to cook as they contain enough of their own oil.
4. Add the aubergine and pine nuts to the spinach pan and mix well before serving.
Here's how mine looked at home… with a couple of non-Deliciously Ella-friendly sausages and a glass of wine. Oops.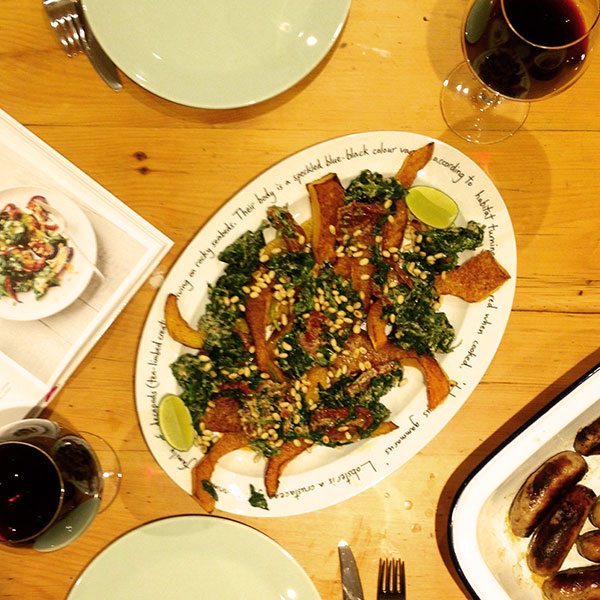 The recipe was easy to follow, quick, and as I had most the ingredients in the cupboard, turned out to be pretty inexpensive too. Now I'm looking forward to the summer and making the recipe again but with aubergines when they come into season.
Recipe extracted from Deliciously Ella by Ella Woodward, out now published by Yellow Kite, £20 © Ella Woodward 2015. Photography © Claire Winfield
Subscribe to our magazine
Subscribe to delicious. magazine for HALF PRICE
Subscribe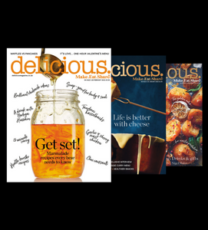 Join our newsletter
Packed with menu ideas, recipes, latest competitions and more...