Five minutes with Conor Gadd
Conor Gadd, now chef-owner at London's Trullo, has headed up the kitchen there for 10 years. He began his career at Belfast's Roscoff, leaving Ireland for Edinburgh to study. In Scotland, he worked in various restaurants, before returning to Paul Rankin at Cayenne while studying at Ballymaloe Cookery School.
We caught up with Conor to find out what Trullo's staff meals are like, how the beginning of his career in Ireland shaped him and why he's angry that as an industry no one is talking about erasing the double shift in restaurants…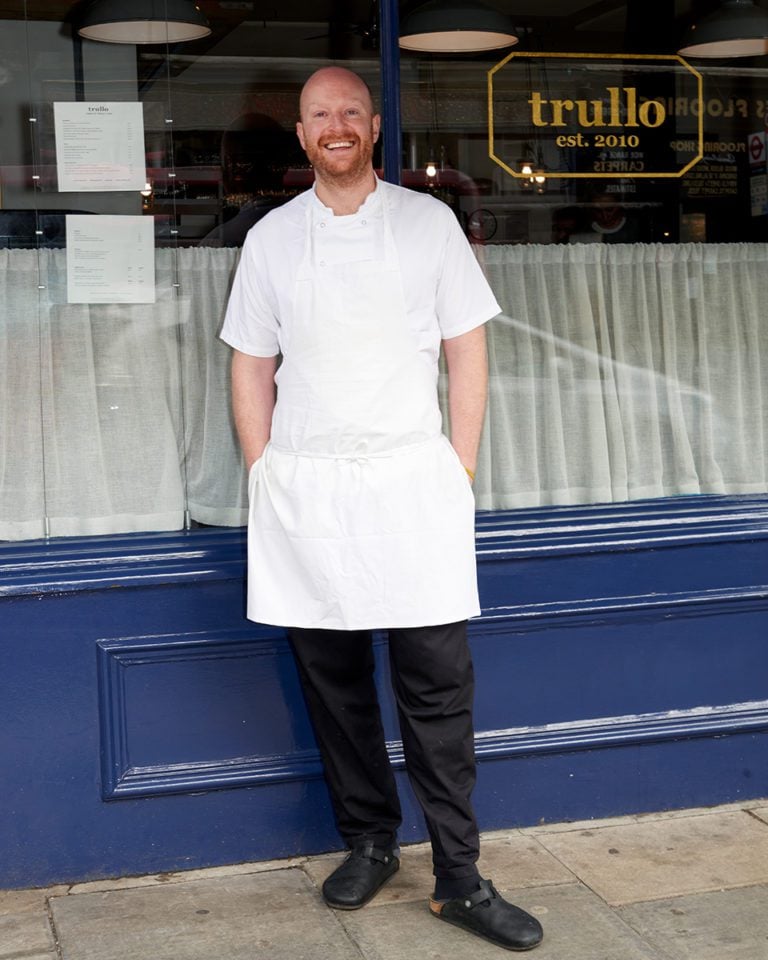 What's your very first memory of food?
Eating lobster on the East Coast of America, south Maine, with a Catholic priest and my mother.
What's the one dish you couldn't live without?
Lasagne or any form of potatoes.
What menu item at Trullo are you most excited about at the moment?
The cherries are sensational at the minute, so anything with them. We're also currently serving Cornish mackerel with panzanella which defines summer for me.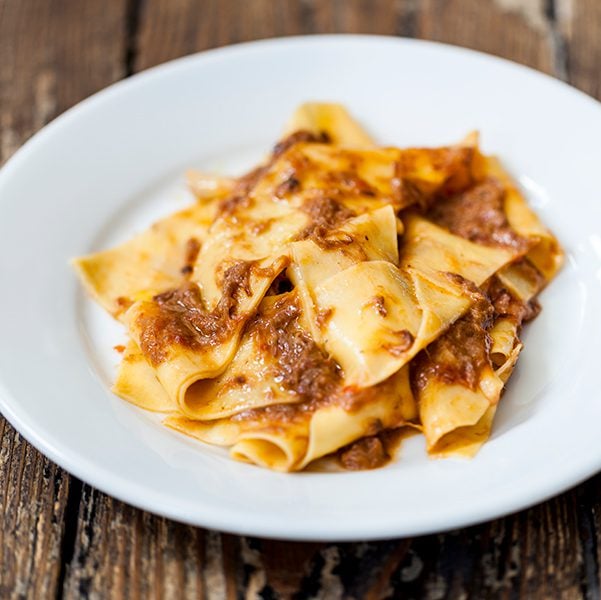 What do you do to relax?
With a busy restaurant and three kids to manage, relaxing is a pipe dream for me.
What ingredient would you take to a desert island with you?
Potatoes and white truffles.
You can have a one-off dinner party on your island… who would you invite?
Michelle and Barack Obama, Michael Jordan, Darina Allen, Christy Moore.
"Chefs, including influential chefs, are far too focused on ingredients and nowhere near focused enough on their team."
Is there anything about the food industry that bugs you? We'd like to hear your thoughts…
Where to start… While this may be controversial, it's time for somebody to raise their head above the parapet. Chefs, including influential chefs, are far too focused on ingredients and nowhere near focused enough on their team. Everywhere is talking about local, seasonal ingredient-lead cooking. Why are we not talking about erasing the double shift in restaurants? Where are discussions to fundamentally change the way in which hospitality is run? Fair parental leave? I could go on…
Can you tell us about beginning your career in Ireland and how your heritage has influenced your cooking?
Humility, if I'm honest. While I could talk about seasonality and so on, Ireland only has one season so that doesn't really work! Those who I worked with in Ireland never let me get above my station and always spoke to me how they wanted to be spoken to. A trait I'd like to think I've stuck to.
What has been the most formative experience of your career so far?
Meeting Tim and Jordan at Trullo. Such optimism and drive at such a young age combined with absolute integrity towards their craft isn't something I'd come across before.
What are your staff meals like at Trullo?
Best way to put it is, if my last meal on earth was at Trullo, I wouldn't know if I wanted to choose off the staff meal menu or the actual menu!
What is the best food experience you've had in the UK? Something that you think everyone should try before they die…
A plate of tagliarini with parmesan, black pepper and an egg yolk absolutely smothered in white truffles at Trullo. Paired with a glass of 2016 barolo.
Do you have any aspirations and dreams you've yet to fulfill?
I want to use cooking as a way to introduce people into the workforce who wouldn't get a look in other industries. The homeless, ex-prisoners etc. I want to train them how to cook in such a way that the course doesn't cost £10-15k, and then I want to help them on their way. Kitchens tend to be meritocracies. If you work hard that tends to be rewarded. It's a great leveller. As such, someone's background shouldn't matter.
Find more of our chef interviews here.
Subscribe to our magazine
Food lovers, treat yourself this Christmas... Enjoy 12 months of magazines for £29.99 – just £2.50 an issue.
Subscribe
Unleash your inner chef
Looking for inspiration? Receive the latest recipes with our newsletter