Halloween cookies – video
Celebrate Halloween with these easy-to-make cookies. With a choice of spooky ghosts or eery bats – the whole family will enjoy these creepy afternoon treats. Find the full recipe here.
This video was made for us by our friends at Fisher & Paykel, using their home appliances.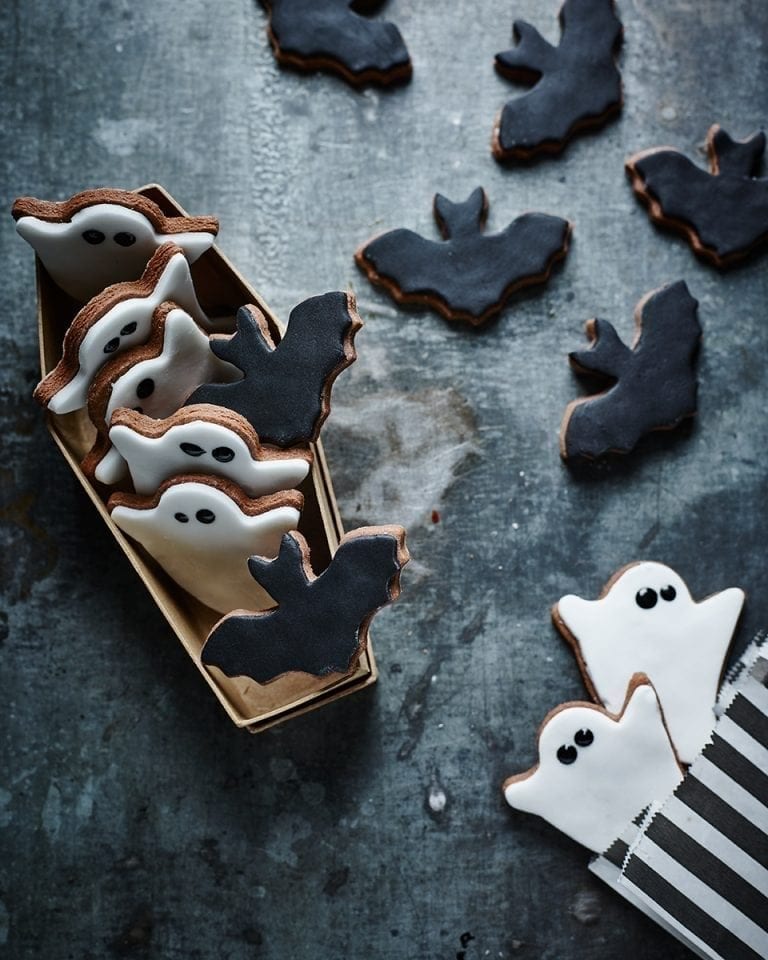 How to make: 
Heat the oven to 180°C/160°C fan/gas 4. Put the butter, sugar and vanilla in a large bowl and using an electric hand whisk (or wooden spoon) cream the mixture until pale and fluffy. Add the egg and continue to beat the mixture until mixed in. Sift over the flour and cocoa powder and using a metal spoon fold the ingredients together. Wrap the dough in cling film and put in the fridge for 20 minutes.
Sprinkle a little flour over a work surface. Cut the dough into 4 equal portions and roll each piece to 3-4mm thickness.
Cut out shapes using cookie cutters (or a paper template), re-rolling any trimmings, then carefully lift onto the baking tray leaving a little space between each biscuit.
Bake for 8-10 minutes, depending on the size of the cookies, until golden and cooked. Cool completely on a wire rack.
To decorate, roll out the black and white sugar paste icing on a lightly dusted work surface and use the cutter (or paper template) to stamp out bats and ghosts. Use a pastry brush to wet the back of the icing and stick to the cooled biscuits. Decorate the ghosts with black writing icing.
For more inspiration, check out our collection of killer Halloween recipes